CD Reviews
Batting a Thousand with Cowboy Mach Bell
You make 'em. I score 'em.
Reviews by Mach Bell
CLICK HERE for more past reviews.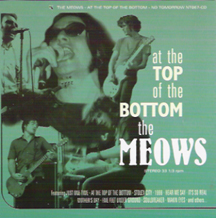 BAND: THE MEOWS
TITLE: At the Top of the Bottom
ON: No Tomorrow Records NT067 - 2005
CONTACT:www.themeows.com
Kittenish Miss Lyn returned from a recent trip to Spain purring about her latest euro discovery... The Meows. The Meows (all boy) line up: Francis (vox), Javi (guitar), Enric (guitar), Jaime (bass) and Foll (drums/maracas). These cats unleash an original litter of 1966-style, dancefloor shakin' nuggetrock that gets exciting results. Every tune had me doing the jerk, the swim and even mashing some potatoes in the corner. "Soulbreaker" with it's Shindig drum breaks and Mark Lindsay (Raiders)-style sing/shouting really got me hot. These guys know how to play anything. As long as it has three chords and a beat you can dance to. Francis sings all 13 tunes (all but two clocking in under 3 minutes) in english and The Meows would sound right at home rocking at the Abbey Lounge on a bill with w/ Coffin Lids, Aram Heller and Monoman. Recorded expertly at Ultramarinos Costa Brava Studio in sunny San Feliu Spain. Sweet production by the Meows and Santi Garcia. This is one fancy feast I'm glad I didn't miss.
Cowboy's picks to click: Soulbreaker, 1966, This Man's Crazy
Cowboy score: 874
---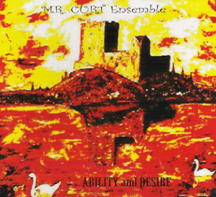 BAND: MR.CURT ENSEMBLE
TITLE: Ability and Desire
ON: Lowbudget Records - 2006
CONTACT: www.lowbudgetrecords.com
This is a fun record. I have been digging Ability and Desire all summer and it keeps sounding better and better with each spin. I've followed Mr. Curt's career since his days rocking the underground with Pastiche, but his newest cd really blew me away with what sounds to me like a complex Pet Sounds type production. We get 10 songs with freewheeling Zappa-esque arrangements and crisp performances from a pile of great musicians. Ten intricate and clever tunes that mix cabaret, lounge, minstrel, pop and jazz styles together into a simmering soundstew. Mr. Curt (Naihersey) co-wrote the colourul songs and leads his Ensemble on guitar and vocals. Solo vocals are also handled by standout talent Cathy Batscha. She also plays keys. The Ensemble also spotlights Sven Larson (bass) Dave Kulik (drums) Jan White ( percussion), Cliff Tetle (clarinet), Mike Macrides (electronic drums), Ruby Bird Mason ( accordian,harmonica, & percussion), Ramona Silver (vocals), Ron Marinick (keys) and Doctor X (synth trumpet). Mr. Curt's posse keeps the swinging groove going throughout. This cd is very easy to listen to, although I wouldn't dismiss it as easy listening music. Bravo to producer Mr. Curt and Bill Mason who expertly handled the recording at Second Story Studio in Roslindale.
Cowboy's picks to click: Doggytown, Sluggo Goes Blotto, Iron Man in the Winter Sea, Mountains and Hills
Cowboy Score: 865
---
BAND: DIN
TITLE:Longhair Music
WHEN: 2005
CONTACT:www.dinrock.com
Longhair Music is a surefooted follow up to Din's excellent "High End" from '03. I hear the band flexing even more muscle this time around. Lead off track "Fly On the Wall" (not the AC/DC song) reminds me of "Electric" era Cult with its strutting rhythm and some damn fine sounding guitar. Din downshifts into the next cut "Funny Man" with a lusher sound and some inventive instrumentation. Lead vocals on all of these 10 catchy songs are shared by keyboardist Carlene Barous and guitarist Glenn Steadman who take turns singing the lead vocals and sometimes sing together. The album is well paced and swings back and forth between the female and male voices while songs alternate dynamically from hard rock to some mellower modes. Some of the songs remind me of things I was hearing out of NYC between 1975 and 77. Din goes Blondie on the brief "Grable" with Carlene recalling a breathy Debby Harry. Singer Steadman digs in his heels on "Lady Killer". I enjoy hearing Steadman most when he drops into this more affected Iggy Pop vocal mode. Masterful fretman Bart LoPiccolo gets great guitar tone throughout the session and sly drummer Bob Palumbo is absolutely propulsive. Longhair Music was recorded at Wooly Mammoth Sound and was produced by Din and David Minehan.
Cowboy's picks to click: Stoned, Devil's Advocate, Closes
Cowboy Score: 850
---
BAND: KENNE HIGHLAND and his VATICAN SEX KITTENS
TITLE: Be More Flamboyant!
CONTACT: Stanton Park - 2003
www.stantonpark.com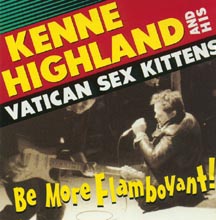 Right now ladies and gentlemen...Brockport, New York names him... Bloomington, Indiana fames him...and tonight Boston claims him!...everybody put your hands together and welcome to our stage - the eighth natural wonder of the world - Krazee Kenne Highland! With "Be More Flamboyant!" Kenne (Gizmos,Afrika Korps, the Klan, Hopelessly Obscure etc.) Highland delivers the hardest hitting album of his career.
Ten smokin' boombox blasters - eight originals with lyrics by Kenne, plus two great covers. Smokey Robinson's immortal "My Girl" (sung Lou Reed '73 style) and The Young Rascal's soulshaker "Come On Up." This recording is almost as exciting as seeing the Vatican Sex Kittens dishing it out live on stage (often accompanied by their posse of femme go-go dancers) while Kenne, standing on a chair in the middle of the dance floor, belts out the good vibes.
Stellar Aram Heller ( lead guitar), Vox-powered Scott Ferguson (guitar), phat Matt Burns (drums) and kingpin Carl Biancucci (bass and cowbell) are a no-bullshit, rootsy rock'n'roll band. Their Stooges/Dolls/Stones inspired raving translates loud and clear into these grooves.
Kudos to noted mixmaster Erik Lindgren who engineered and mastered this release. The sizzlin' session was tracked at his Sounds Interesting Studio in Middleborough MA.
The Sex Kittens close out the album with their controversial "Punjab Dhaba" an extended freakout that finds Aram, Scott and guest Chris George sitting cross-legged on an oriental carpet wailing away on sitars and tabla. Carl and Matt are over in the corner pumping out a good sexbeat while the incense burns and Krazee Kenne goes off about a whole bunch of really weird shit for about 10 minutes. Like I said, this album is a winner from start to finish!
My Picks to Click: She's a Darlin', Not Too Shabby, Vatican Sex Kitten, Be More Flamboyant
Cowboy Score: 850
---
BAND: SONNY VINCENT
TITLE: Soul Mates
ON: Disturbed Records - 2004 www.cargo.records.de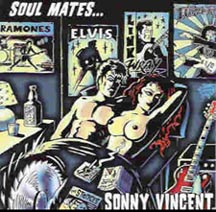 Legendary NYC street rocker Sonny Vincent straps on his 1969 Les Paul and blows down the door with a new batch of angry anthems. Since his days fronting the Testors in the 70's Vincent has been serving time, first in reform school, then behind bars (2 years for one joint) but he prefers to serve time behind a microphone with his growling Gibson guitar.
Sonny delivers true Detroit-style hardrock straight outta the MC5/ Stooges mold. In the past Vincent has teamed with Wayne Kramer (MC5). Scott Asheton of the Stooges is another frequent bandmate. Asheton plays drums on one cut here ("Concrete Poetic") and ya just can't get much more authentic then that.
Vincent opens up the set with "Totally Fucked". Sonny's bad-ass vocals are coughed up in that shouted/strangled style falling somewhere in the aural vicinity of Rob Tyner (MC5) and Lemmy (Motorhead). Cool! His backing band, usually Jack DeAngelo on bass, Bishop on drums and Johnny Rio on second guitar, play heavy and fast, not unlike the Dead Boys or the first version of DMZ - back when JJ was always bashing that old Les Paul.
"All Burnt Down" the lone off-tempo number suprises with a catchy John Felice-esque melody complete with sensitive lyrics giving proof that Vincent can croon if forced to. The nice harmonies on that one are provided by Jamie Ferland and Kristy Hovorak from the band Eivy.
Then it's right back to the nasty attitude & amped-up action with great cuts like "Come For You", "Time Bomb" and "No Detour". Sonny Vincent is known to quote from Noam Chomsky, whom this album is dedicated to, and he can also rattle off colorful lyrics like "Tired of all your fucking shit, (Unintelligible) because of it! You make me puke a lot you know, So kiss my ass and fucking blow!" Those gems are from "You Very Much".
We get 12 songs plus 5 more bonus cuts on "Soul Mates". Ramones fans might be interested to hear track 13, "Answering Machine, Joey, Dee Dee", some late night messages Joey and Dee Dee left on Sonny's phone machine.
As for the final bonus cut "Oriental Actors" ... WTF?
Artist Vince Ray's cover illustration is a pen and ink of Sonny's bedroom incorporating Hendrix, Link Wray, Elvis, the Ramones, the Stooges, Jack Daniels, a Fender amp, a Gibson guitar, Jack Kerouac, cigarettes and a just-laid red head with big tits. Nice!
"Soul Mates" was produced by Sonny Vincent and it's a fitting album title because it includes lots of mates. 5 drummers, 5 bass players, 5 guitarists and 5 different engineers are listed in the credits. Maybe it was recorded in different studios as well - none are listed.
The overall sound is tight, fullbodied, coherent and flowing. It's the songwriting/singing and nasty guitar playing of Sonny that really glues it all together. New York City-born Sonny Vincent has been touring the world, most notably with his band Shotgun Rationale, for the past 30+ years. I plucked the following anecdote out of one of his online bios: "During a recent tour Sonny got arrested for smashing a decibel meter. Sonny took it from the authorities and smashed it. After being arrested he said: "Of course I smashed it, that's an anti-rock'n'roll device... I'm supposed to smash those, right?"
Picks to click: Concrete Poetic, L.S.D. Boy, Come For You, All Burnt Down, Chopping Block Cowboy score: 900
BAND: THE DOWNBEAT 5
TITLE: The Downbeat 5
ON: Sympathy for the Record Industry 2003
www.sympathyrecords.com
Snarling riffs, shaking maracas and a pissed-off chick. Sounds like a typical Friday night at my pad... hey wait a minute... it's The Downbeat 5!
Garage-king JJ Rassler (DMZ, the Odds, the Queers) continues to wrangle those rabble-rousing riffs out of his vintage six-stringers. Bassman Mike Yocco rides shotgun and pounds the Roto-sounds into submission on this 14 song collection. Jennifer D Angora (the artist formerly known as Jen Rassler) charges the microphone and unloads a heap of dirty laundry. "You're too hard to handle! The good's gone! I gotta have it my way. I'm not waiting! Don't come cryin' to me!" Angry doll D Angora has a real toughgirl voice & she does double-duty here, banging away on her buzzsaw rhythm guitar. Where did she get that mad looking axe anyway? I think it has a stickshift on it.
Excellent songwriting takes full advantage of JJ's 60's and 70's proto-punk background and Jen's combative lyrics and catfight vocalizing. This is a killer recording too, made in Austin TX at the Sweatbox, produced by Mike Mariconda (who also plays some keys on here), and engineered by Bryan Nelson.
A triple-shot o' pure-pedigreed-underground-BGN-approved- ghost-of-Cantones-Boston-style rock'n'roll that you just can't ignore. The D5 are promising us another album later this year. Yeeahhiiaaee!!!
Picks to Click: Radiates That Charm, Too Hot To Handle (love that Buck Owens guitar), Don't Come Cryin' To Me, My Way
Cowboy Score: 815
---
---
home | interviews | photos | features |BGN issue list | reviews
links | contact us
Copyright © 2005 Paul Lovell. All rights reserved.