CD Reviews
CLICK HERE For reviews by Mach Bell.
MEET MACH 5
BY NOODLES ROMANOV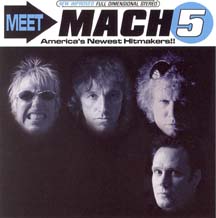 BAND: MACH 5
TITLE: MEET MACH 5
ON: LAWLESS RECORDS, 2005
CONTACT: LawlessRecordsRock@yahoo.com
Lawless Records, PO Box 689 Hingham, MA 02043-0689
Here I am, comfortably ensconsed in my Dorito-encrusted e-z chair, gettin my cerebral exercise watchin' Pat Sajak cause there's nuthin on the radio. A continuous drone of the doorbell forces me to unencumber myself of my beloved throne.
I'm hoping it's the UPS gentleman, delivering the cheese sandwich bearing the image of Michael Jackson that I won on ebay. But, no. It's my weird next-door neighbor. "Here, this came to my address by accident. Hey, is that my daughter next to that Dorito bag?" Oops. "Phone's ringin, gotta go". Slam.
Time to turn off Mr. Sajak, and turn my attention to the CD player, cause the new Mach 5 CD, "Meet Mach 5", has arrived!
Indeed, Mach 5 has arrived.
There is so much to say about this CD, I could spew on for days. But I don't want any of you to become derelict in your duties because of me, so I will get right to it.
I keep listening to this CD over and over, for one simple reason. It ROCKS!
Before gettin into the subject of talented musicians, I feel compelled to credit Producer Richard Marr and the Galaxy Park Studios. I take my ski mask off to them, cause the sound on this CD is nothing short of rabid! The guitar sound... man, I think it was developed in some secret lab at Los Alamos. Close your eyes and you can imagine the orange glow of tubes from 100 angry Marshall stacks, straining to record a guitar sound that will tear your headphones into tiny bits. The mix is just the way I like it - the guitars are way up, and the vocal is ever so slightly buried. In my humble opinion, this is the way a genuine rock CD should be mixed, cause it sounds like a band, instead of a singer with a band behind him. If you have to struggle even just a little bit to hear the vocals, you are more likely to pay attention to them. Maybe even pick up some of the smart, clever, and sometimes funny lyrics that are strewn about these tunes.
A lengthy treatise could be written just about the cover of this CD, but I will address one salient feature: "America's Newest Hitmakers!" blares the headline in living black and white. Hmmm. It may not be entirely serious, but still a bold claim, even for a band consisting of highly accomplished veteran rockers, led by a Boston rock icon. I am pleased to announce that, like a full FedEx truck plunging off a cliff, these guys deliver - hard! There are three great cover tunes on this CD, but it's the original compositions that I want to address, because they are the ones that really make you want to jump up and dance around your puny dorm room (apartment? tent? cell?) in a 70s style hard-rock induced spastic frenzy. After the first tune, "Get It Up", had finished, I thought "Holy ringing ears... they put the best song on first! The rest is gonna suck by comparison". Not so, dear rockers. The hits continue. As each original tune finished, I started thinkin "the next one can't possibly be better"... but it is. My personal favorites are "Through To You", "Quincy Girl" ( a tune that I DEFY you not to sing along with in the car..."Shut your pie-hole, Quincy girl!"), and a song penned from the heart called "Kenmore Square", a lament about the long-gone Kenmore Square of rock legend history.
This CD has enough hooks, harmony vocals, and three-chord nastiness to make anyone who craves some real rock injections to be utterly satisfied. Power drummer Jimmy Birmingham, twelve-string bassist Jeff Thomas, thrash guitarist Dee "Wild Man of Borneo" Stroy and beltsander-voiced Mach Bell have created a band that has more chemistry than MIT.
For anyone who thinks Mach reached his musical pinnacle with Thundertrain or Joe Perry, I've got front-page news for you. He's still climbing.
"Meet Mach 5" is a CD that grabs you by the neck, shakes you, and says "Shut off the damn radio!"
Play it often, and play it loud!
Noodles Romanov
---
home | interviews | photos | features |BGN issue list | reviews
links | contact us
Copyright © 2004 Paul Lovell. All rights reserved.