Lyres and DMZ play the L.A. Shakedown
Excerpts from Rick Coraccio's personal Journal

L.A. and Back Again.
All photos by Laura Markey

PART TWO

Sunday.

11: 00 am 65 degrees sunny 2/16/03

Jack and I took the Mustang to Santa Monica beach. Flying down interstate 10 with 12x5 on the CD player. It was a beautiful day and Santa Monica Pier was bustling. I could live here for sure. We sauntered down to the very end and standing right in the middle of the western most point, was fellow Bostonian Rich Gilbert.
He wasn't in town for the Shakedown, he didn't even know about it. We walked to Venice beach, hitting a few bars along the way. We got back to the hotel about 6:00 and Jeff was still sleeping, curled up into a fetal position.

8:00pm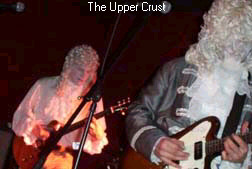 I went to the venue to see The Upper Crust. The place was totally different, they opened up this huge upstairs room that was at least one and a half times bigger than the Middle East downstairs. Plenty of room for everyone, I gather they couldn't use this room last night because of a big Hip Hop event.
I was disappointed in the Upper Crust show because I couldn't hear the vocals at all. I thought the band looked good, they never let go of the schtick, the hand gestures,( Nats royal wave), the look on their faces. They had a lot of fans cheering them on with that two fingered "rock salute". Jim Janota is well "suited" to this type of comedy.
I thought the LYRES played OK. It was a little "unsmooth" but probably close enough. No Vox organ. Jeff freaked when they brought out this huge digital monstrosity with 88 keys and a thousand buttons, luckily, a compassionate kid from another band let him use his portable Hammond. There was the usual discussion as to what song would be played next.
Jarred was perplexed and annoyed by Jeffs "Get away from me" thing, he did it every time Jared got near him. I made a few mistakes, but lately I've become a master a covering them up. The monitors were good, so Jeff did well, as is usually the case when he can hear himself.
During "Help You Ann", a mosh pit developed right in front of the stage. People were falling over like bowling pins. Laura very wisely repositioned herself to a safer location towards the back. Margret and Tara, however, stood their ground.
1:58am
I start the opening bass line to our encore song "Got No Reason To Complain."
2:05 am 2/17
After the set I hung around for a while talking and schmoozing. It always amazed me that people would actually come from out of state to see us. A woman from Wisconsin had some really nice things to say about the LYRES. The very same woman had come to see DMZ last night, she waited 3 hours to get in, left the venue to eat, and was denied re-entry. She had missed the band she had traveled so far to see. I felt more than a little angry at the promoter, Ralph Carrera, for allowing this sort of crap to happen.
I walked back to the hotel with our boyish guitar player Jared. I guess he needed to escape from the bevy of young female punksterettes that seem to always orbit around the guy. The guy's got GRAVITY. Every one of my female friends wants him. I'm hoping some of the "Jared magic" will rub off on me. (Ya right, dream on Coraccio) We kept the conversation light. He's a good kid.
4:00 am 2/17
Jeff was on the phone with the airline. Our 6am flight has been cancelled because of a huge snowstorm invading the Northeast. Jeff caught us a 1:30pm flight. Which later evaporated as well.
Monday Morning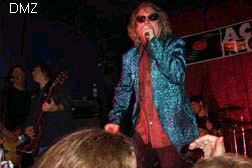 8:00 am 2/17 sunny, 65 degrees

Jack Hickey was heading out to the airport in the hopes that his 10:30 flight to Manchester N.H. wont be cancelled. I bet he ends up back here.
I ran into Jared's adorable friend Alley looking way cute in her traditional "punk rock girl" clothing. Black jeans, black Chuck Taylors, black leather motorcycle jacket, black and red hair. I will take this opportunity to describe Alley's amazing outfit she was sporting last night; Red plaid Catholic school girl mini skirt (devastatingly, dangerously short), Thigh high black leather, pointy, high heel boots that had white garters attached to the top of them and disappeared up under the mini. YOW!!! (And Jared walked back with me?!!!)

Alley was also on her way to the airport. CNN is reporting Logan airport is closed. Jeff booked the next available flight for us, a redeye two hopper, 12:30 am wed. Looks like another day and a half in LA LA land, not too hard to take I suppose.
Jared was leaving with a tall, blonde, punky looking chick, in her RX-7 with Texas plates. He rolled down the window, "Rick, I got a redeye tomorrow. See ya in Boston man, later." Downtown L.A is kinda boring. I walked for miles past hundreds of jewelry stores, Latino restaurants and New York style electronics stores with Latino music distorting through ridiculously gaudy boom boxes, and for reasons known only to my 2nd ex-wife, and a few close friends, I am repulsed.
Occasionally, store barkers would approach me in a effort to entice me inside, always speaking Spanish. I've been told that with my brown hair and eyes, and Italian coloring, I could pass for Spanish. I did find a good cigar store, and after purchasing a few Nicaraguan Flor de Olivas and an interesting fake Cohiba, I went strolling on back to the hotel, happily puffing on a big, fat, stinky, stogie. Life IS good.

12:10 pm
Jeff offered to run for lunch, Takeout at "The Pantry". We ate steak and eggs and watched a movie on HBO called "Augie Rose" starring Jeff Goldblum. "Notice the butter knife." Jeff said, laughingly mocking ex-Lyres guitarist Danny McCormack. Once a catchphrase for an entire tour in the 80's. I have heard this inside joke way too much. I'll forgive him one more time.

2:30 pm 70 degrees, cloudy
It's time to resume my search for the perfect Black Russian. The friendly bartender at the Holiday Inn lounge is expecting me. "Where have you been Rick?" he says with a smirk. "Wise ass." I crack back.
Without asking he mixes me a Black Russian with Absolute. I love this guy. I called my best friend Richie Johnson in Burlington, MA. He had been shoveling snow, he claims it's waist deep and it's going to keep snowing all night. "So, how are the women down there?" I am not surprised that this is the first question he asked me. One his most memorable quotes; "All the woman my age are OLD!"

6:10 pm 2/17 Monday night
Jeff is still in bed, I'm going to see a movie to kill some time. "Daredevil" sounds good, 7:30 show. On the way to the theater, Jack Hickey called me on my cellphone. He had just made it to Cleveland and no flights were going to Manchester, which is where his car is parked. He had somehow managed to get a room at the Holiday Inn, eat dinner, drink at the bar, whatever, all on a credit card with a negative balance.
I found the theater, got my ticket, bought my popcorn, sat somewhere in the middle. I woke up while they were running the ending credits, popcorn all over my lap. Real exciting flick, a 15 dollar nap!

Tuesday.

12:15 pm 70 degrees beautiful sunny day.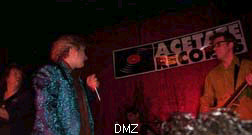 Jeff and I checked out of the hotel and headed off in the rental car to kill the 12 hours before out flight outta here. Our first stop was the offices of BOMP! Records. I met co-owner Suzy Shaw. Real nice lady.
Jeff picked up a royalty check and I got to roam through the stockroom and pick out anything I wanted. I picked out all the "pebbles" cds. Jeff got a "Bomp!" thong for his girlfriend Stacy.
We then took a tour of Mulholland drive. I gather Jeff had been reading "Helter Skelter" and was determined to locate the house where the Sharon Tate murders took place. It was fun, you may find plenty of people who dislike Jeff, and you may say what you want about him, but deep down, he's really a good guy. All his REAL friends know this.

We headed off to the offices of Bug Music, Jeff's publishing company. More royalty checks for the Mann. We hit a few record stores and stopped for drinks at a place called Musso and Frank. While we were sitting there, Elizabeth, one of the girls from Bug music, came in for a drink, we talked and after a while she invited us for dinner at her apartment.
Jeff made a pit stop at Store 24 for some cranberry juice. Just as we were leaving the parking lot, Jeff's girlfreind Stacy called me on my cell. "I KNOW YOU LIKE HER!" Jeff screamed and drove off a curb with such a CRASH, that we had to stop and examine the car. It sounded like we tore the front end off. No damage.
We found her apartment and she made us a great dinner, some kind of pasta dish that she whipped up all the while keeping up a running conversation with both of us. Her ex-husband came by with some beer. It was former Bostonian, Steve (forgot his last name) from The Wild Stares and friend of Rick Harte.

11:15 pm
Dropped off the Mustang, When we got to the ticket counter they had absolutely no record of our reservations. Just great! Fortunately, they had two seats.

3:30 am
Landing in Dallas, two hour delay while someone had to run to a warehouse a pick up a new speedometer for the aircraft.

11:15 am EST
Landing in Boston, I split off from Jeff and ran for a cab. "Charlestown Navy Yard." I told the cabbie. He looked at my guitar case and then at me, and with a Jewish inflection, he asked "So, I should know you?"

THE END

home | interviews | photos | features |BGN issue list | reviews
links | contact us