The BGN News Archive
February 2, 2009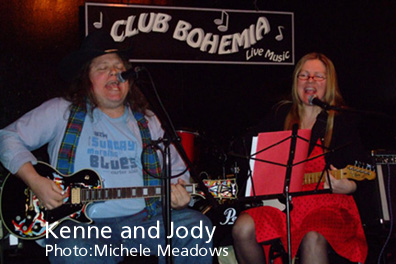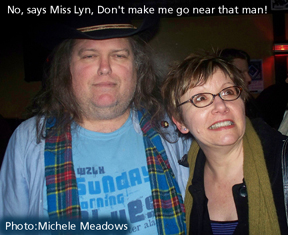 Hey folks…well , with all the past connections and coz of all our years together, I had to make it on over to see the Kenne Highland come back show with Highland Moore at The Cantab…..well was a little taken aback by the way Kenne looks…here's some pics for you to check out..,..and I guess ya gotta know Kenne and appreciate all his strangeness…one bunch sure didn't get it because they left after the first song! But that's OK, now I had a table to sit at! I'd say he still "has it" though rusty it may be right now… he and Jody did some old classics like George Jones's "If Drinkin' Don't Kill Me" and "Poor White Trash" but he had a couple new songs as well like "The Ballad of Jesus Christ Allin".
The first half of the set was a sit down country act then the Hixx got up to accompany Highland and Moore in some more rockin' type stuff. Kenne's guitar work is good, he's learned some things being in those gospel bands…..
In the crowd was Kenny Kaiser and his lovely wife Jennifer. Richard Julio and the singer from The Brood came all the way down from Maine, also there as Doug from the old Allston Johnny D's, Bob Colby, Michele Meadows to name a few…..
.......later in the evening here at The Cantab were sets by Hixx and The New Frustrations but as soon as Kenne's set ended I had to run over to the Middle East down to meet up with Blowfish and see Reddy Teddy, Willie and The Boom Boom Band and Corolla Deville…..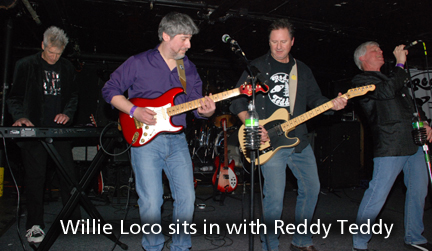 Reddy Teddy continue to do the surprising in a matter of fact way. Just still being a vital working band after about 37 years is a story to begin with. They top it off by releasing a CD that is every bit as good as the one they released in 1979. Tonight they play a set of all this new material and it is as satisfying as a set of their classics. All this done like it's a walk in the park, well it isn't, it's extraordinary.
I realized later that not only did they play the new CD, but they played the songs IN ORDER, proving that it's not only a great CD it's also a great live set. Not once did I feel I needed to hear one of the old songs to make the night complete. I was too happy to hear my new favorites like Is She the One? and Torn Blue Genes and when they hit the harmonies on the chorus of Helpless Eyes I could have just listened to that one section for hours.
Eric Lindgren who produced the CD sat in on keyboards and later Willie Loco did the same. Even though this is their CD release party word is that they already have another set of new songs!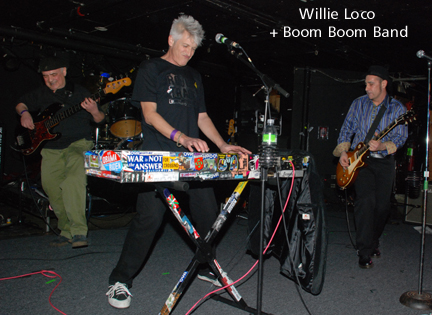 Then Willie Loco and The Boom Boom Band was up…..he started out a little slow but was quickly in full swing. I get this sense that Willie needs a song or two to get it going and get the old crazy WA to come to life from behind that shy exterior, ..he is always successful and was awesome this night too!! He did all oldies and it was lots of fun to hear…he even did "Dirty Eddy is My Best Friend" replete with a long string of uya-uya-uya-uya-uya's which was great to hear…I haven't' heard those in a while and they can sometimes absolutely transport me back to the old days! And of course the Boom Boom Band was in top form sounding very boom-boom and rich and fantastic!!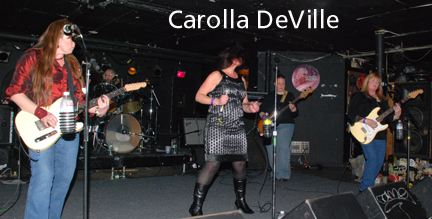 Next up was Carolla DeVille. These North Shore ladies have a lot of qualities that get them on these good bills: a punk attitude, respect and knowledge of their antecedents and how to get and write good songs. Their lead singer Lisa Conelly full of energy on and off stage and a strong lusty voice. They had it all going tonight. The guitarist was getting some great tones out of her rig all to the service of some neat riffs. …
pretty good night all in all I'd say….now….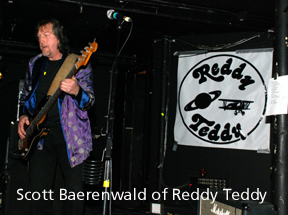 So…what do we have coming up?......
On Feb 7th the Classic Ruins are doing an early set at The Cantab to get you warmed up for My Own Worst Enemy……
same night over at O'Brien's in Allston is The F.U.'s John Sox's band Payload along with Mouth Sewn Shut, Destruct-a-thon and The Screws
Valentine's Day there's some cool shows :
the Lost City Angels are at the Middle East down
And ooooo… go out and go to an awesome show on Friday the 13th…like the Midway where you'll find The Swinedells and The Rolling Pins
Next night is THAT holiday and At Church, February 14th , love will be in the air at The 3rd Annual Teenage Heart Attack with Easy Action, Buried in Leather , The Bad Lieutenants and Wrong Side of the Tracks…yeah!
Over at Great Scott's in Allston later this month is a two day Benefit for the family of Ron Holbrook (a former member of the Welch Boys who passed away last year):
Saturday Feb 21 and Sunday Feb 22
On Saturday the 21st is The Welch Boys, Shiner 8, Mark Lind and the Unloved (members Ducky Boys) The Ashers (members of The Unseen) , Drago (members of Darkbuster), Nowhere USA and The Bloodshot Hooligans
On Sunday the 22nd there'll be Refuse Resist , The Scars, The Spoilers, Burning Streets , The Beantown Boozehounds and Far from Finished - ten bucks to a good cause for each night
And its even a good music night on the next night, Monday Feb 23rd with Sasquatch and the Sick-A-Billys, Soul Reapin 3, and Calamity at The Middle East Up
AND on Monday the 23rd you also have ya got The Coffin Lids, The Murder, The Egos, and The Shitty Future at Charlie's Kitchen in Harvard Square!!....
March 6th is The Johnny Black Trio And Doom Buggies are at The Midway
and March 7th Red Invasion are at All Asia with the Lustkillers….
OK, there you have it for this week friends....email me huh....????.... Lyn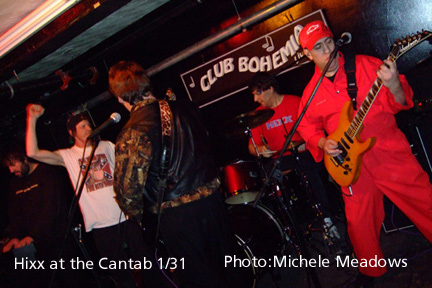 home | interviews | photos | features |BGN issue list | reviews
links | contact us

Copyright © 2008 Paul Lovell. All rights reserved.