The BGN News Archive
February 9, 2009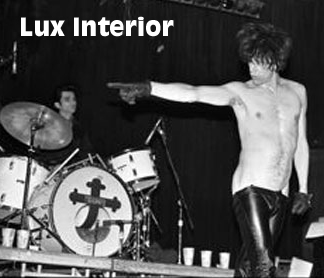 &nbsp&nbsp&nbsp First and foremost I must mention the sad news of our loss of Lux Interior this past week. Lux was as insane on stage as they come!! I'd seen them at the Channel and a couple other venues…I always stared in amazement as his pants and never stopped wondering how he kept those super low-slung things UP! What a fantastic performer he was and I loved the story of him and Poison Ivy meeting and staying in love for all these years.
&nbsp&nbsp&nbsp Our thoughts go out to Poison Ivy now as well, it must be a devastating loss to her…so much more than we can ever feel.
&nbsp&nbsp&nbsp I asked Jan Crocker for a video of the Cramps for us to watch Lux again….
&nbsp&nbsp&nbsp and Jan tells us: "Credit for the video should go to Joe Reese from Target Video. Who was filming in San Francisco while I was filming in Boston back in the day. The video was shot at a free concert given to the patients at the California State Mental Hospital in Napa Ca. 1978. Very fitting for Lux. The Cramps were on tour with The Misfits during that time.." Here's The Cramps at Caifornia State Mental Hospital
&nbsp&nbsp&nbsp And here's an awesome viddy I found on YouTube….perfect Lux video…
The Cramps Tear it Up!
&nbsp&nbsp&nbsp And here's a well written tribute to Lux from our friend Decibel Dennis:
"Lux Interior was the embodiment of all things that made the late 50s/early 60s the quintessentially cool time to grow up, borrowing from what some would call the denizens of pop culture: Big Daddy Roth & Rat Fink; Roger Corman movies on late night TV & the Mad Daddy; rockabilly pioneers & 60s outsiders such as Charlie Feathers and the Third Bardo.
&nbsp&nbsp&nbsp He would swallow the microphone on "Goo Goo Muck," altering Ronnie Cook & the Gaylads' lyrics to "you better duck, you motherfuck," and he never performed the crazed hillbilly Hasil Adkins' "She Said" the same way twice, ever. Both the Ramones and Cramps covered "Surfin' Bird," and as much as I love the Ramones, the Cramp' version was far more gonesville, and while the Ramones had a fairly predictable set list up through "Rocket To Russia," the Cramps always kept us guessing. "Beavis & Butt Head" paid an ultimate tribute while they were watching a Cramps video on TV. They didn't know who the Cramps were but when they saw Lux Interior, Butt Head said "this guy could kick Iggy Pop's ass!" Side note: Iggy recorded a duet with the Cramps a few short years later.
&nbsp&nbsp&nbsp I'm not sure that I ever missed a Boston Cramps show in the last 30 years. In 1979, they were scheduled to play at Lipstick, the smaller disco in Kenmore Sq. They were all set to do an in store at the Strawberries I was managing across the street but it all fell apart, gig included, when Bryan Gregory suddenly left the group. The rumor was that he had joined a Devil worship cult. One thing's for sure: the Cramps reveled in playing what conservative preachers condemned as "the Devil's music" going back to that side-burned cat named Elvis. Lux is in good company now with the King, Vampira, Russ Meyer, Haze Adkins, Tor Johnson, Betty Page, Gene Vincent, Richard Widmark, and all the other cool cats and kittens who didn't follow the path most travelled. "
&nbsp&nbsp&nbsp LUX we will miss you!!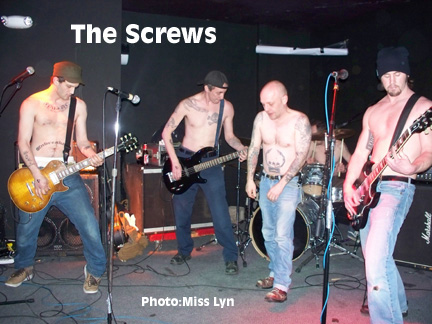 &nbsp&nbsp&nbsp But we gotta keep rockin' and so we thought this weekend we would check out some hardcore bands…we were gonna make it a night and go over to the Radio Silence Show but it was so crowded with such a long line out the door we never did make it in so we went to see bands perform the music instead of picture of band who at one time in the past performed music…of course the club, O'Brien's was empty.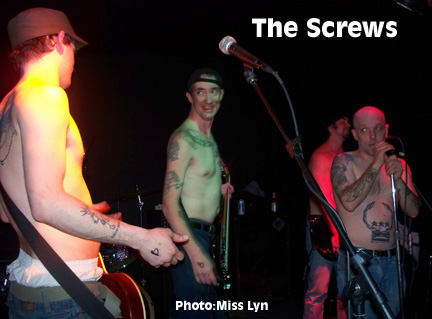 &nbsp&nbsp&nbsp First band up was the Screws from DC. Disappointment. Anyone who reads the BGN knows that I think stage presence is important and these guys just ain't got none. AND everyone in the band takes off their shirts when playing their set…seems to me that anybody younger than me, especially if they are tatted up and shirtless, should be in shape..well that ain't the case with The Screws…geesh, a bunch of flabby assed young guys..I'm thinkin' they are spending too much time drinking PBRs in front of the television! … …and the lead singer seemed very uncomfortable with himself and being on stage…and musically there was nothing to excite us; we left to go have a beer at Café Brazil 'til they were done.
&nbsp&nbsp&nbsp Upon our return we were very bummed out to hear that Payload had cancelled…I'm still waiting to hear from Jon Sox as to why that happened…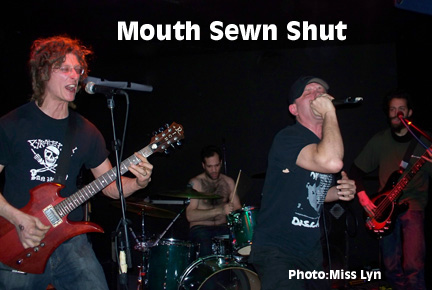 &nbsp&nbsp&nbsp So next up anyway was Mouth Sewn Shut…OK, I love their name and they did not disappoint us! At first I was creeped out by the huge hunk of facial hair on the bass player but he was great!! The band was great!! Their songs are about …politics, animal rights…stuff I want to hear, not just getting drunk and oi oi oi! …Blowfish said "These guys are good! They got chops and well written songs." He bought their CD!
&nbsp&nbsp&nbsp And you should check them out here…
Mouth Sewn Shut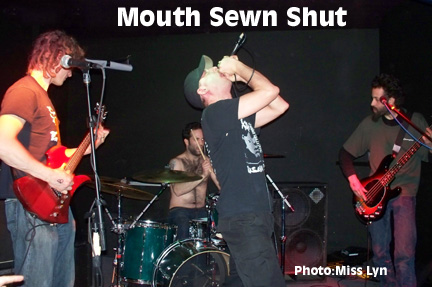 &nbsp&nbsp&nbsp Then Destruct-a-thon hit the stage…ok I've seen it all…a mime inspired punk rocker??? That's what I got from their lead singer at times but wow!! He is a ball of energy and entertainment, no question…they are kinda heavy metal inspired I thought but very good none-the-less. The lead singer was hardly on stage, but in the crowd instead..and spent a few minutes in the men's room while singing even though it was empty and when the time came he could let out a most wonderfully satanic guttural ARGH!!! Like nobody else.
&nbsp&nbsp&nbsp These guys were really good too!!...Destruct-a-thon……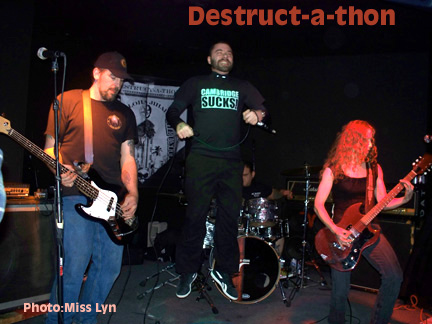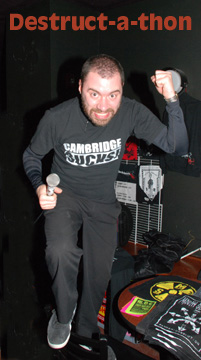 &nbsp&nbsp&nbsp So what is there to see in the next few weeks? Well, ooooo… this Friday is Friday the 13th!! go out and go to an awesome show …like the Midway where you'll find The Swinedells and The Rolling Pins
Next night is THAT holiday and At Church, this saturday February 14th , love will be in the air at The 3rd Annual Teenage Heart Attack with Easy Action, Buried in Leather , The Bad Lieutenants and Wrong Side of the Tracks…yeah!
also on THAT day, this saturday the 14th, the Lost City Angels are at the Middle East down
Over at Great Scott's in Allston later this month is a two day Benefit for the family of Ron Holbrook (a former member of the Welch Boys who passed away last year):
Saturday Feb 21 and Sunday Feb 22
&nbsp&nbsp&nbsp On Saturday the 21st is The Welch Boys, Shiner 8, Mark Lind and the Unloved (members Ducky Boys) The Ashers (members of The Unseen) , Drago (members of Darkbuster), Nowhere USA and The Bloodshot Hooligans
On Sunday the 22nd there'll be Refuse Resist , The Scars, The Spoilers, Burning Streets , The Beantown Boozehounds and Far from Finished - ten bucks to a good cause for each night
&nbsp&nbsp&nbsp And its even a good music night on the next night, Monday Feb 23rd with Sasquatch and the Sick-A-Billys, Soul Reapin 3, and Calamity at The Middle East Up
&nbsp&nbsp&nbsp AND on Monday the 23rd you also have ya got The Coffin Lids, The Murder, The Egos, and The Shitty Future at Charlie's Kitchen in Harvard Square!!....
&nbsp&nbsp&nbsp March 6th is The Johnny Black Trio And Doom Buggies are at The Midway
&nbsp&nbsp&nbsp and March 7th Red Invasion are at All Asia with the Lustkillers….
OK, there you have it for this week friends....email me huh....????.... Lyn
home | interviews | photos | features |BGN issue list | reviews
links | contact us

Copyright © 2008 Paul Lovell. All rights reserved.