The BGN News Archive
February 16, 2009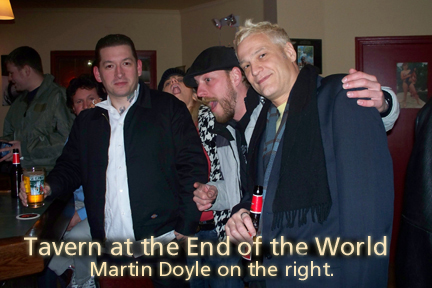 So for this week my newsworthy travels include going to the Opening Party at the new venue in town: Tavern at the End of the World. This little place is in Charlestown but it's in that weird area that seems like it could be Somerville too. It's just a short distance from the Orange Line which is very cool, if you remember Green Street Station its kinda like the opposite of that…take the orange line in the other direction, to Oak Grove and get off at Sullivan Station.
It's one of those famous Cantone's/Abbey type set ups; two rooms, one with a bar and one for the music. It's brightly lit though and as Joanie Lindstrom pointed out they have to get rid of the glaring green light behind the place where the bands play. At this point there's no real stage but it's such a small venue I don't' think it really matters. They have what looks to be very good food there and a really good beer selection as well. Also if you drive its right by 93 and there's lots of parking since this is a weird no man's land area and no one seems to be parking on the street at night!
Martin Doyle is doing the booking here along with All Asia and a couple of other places....I like this Tavern so here's hoping this places keeps having bands for a while...I could get used to this!!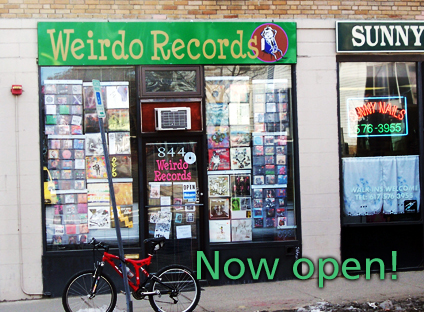 Also...Weirdo Records is now in an actual storefront and is easier to get to and more obvious so you can actually find it!! It's right outside of Central Square at 844 Mass Ave, right next to the infamous Sunny Nails. If you are in Central Sq, walk on the Middle East/Cantab side of the street toward Harvard Sq and it's just past the Post Office and YMCA.
Get more info at Weirdo's site.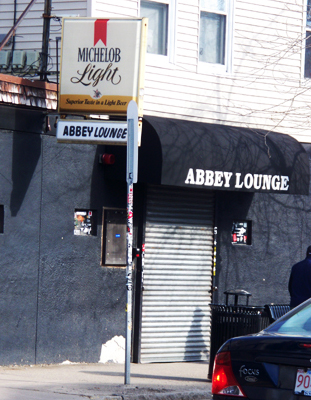 Oh and while I was out and about I passed The Abbey and thought I'd throw in a pic just for old time's sake....
So as always in Boston there's shows to see....this Saturday and Sunday, Feb 23 & 22, over at Great Scott's in Allston there's that two day Benefit for the family of Ron Holbrook (a former member of the Welch Boys who passed away last year):
Saturday Feb 21 and Sunday Feb 22
On Saturday the 21st is The Welch Boys, Shiner 8, Mark Lind and the Unloved (members Ducky Boys) The Ashers (members of The Unseen) , Drago (members of Darkbuster), Nowhere USA and The Bloodshot Hooligans
On Sunday the 22nd there'll be Refuse Resist , The Scars, The Spoilers, Burning Streets , The Beantown Boozehounds and Far from Finished - ten bucks to a good cause for each night
And its even a good music night on the next night, Monday Feb 23rd with Sasquatch and the Sick-A-Billys, Soul Reapin 3, and Calamity at The Middle East Up
AND on Monday the 23rd you also have ya got The Coffin Lids, The Murder, The Egos, and The Shitty Future at Charlie's Kitchen in Harvard Square!!....
Then on Tuesday Feb 24th at The Middle East UP is John Joseph (singer from the Cro-Mags) doing Spoken Word - "I Got Your Back" - this is an early show at 7 PM then stay around for Jason Bennet & The Resistance, The Throwaways ...
Mark Kennedy and Fred Pinneau of The Illegals have put together a new band that includes Joe D'Arco (x-Godsmack, Controlled Aggression & Tin Pan Alley) on drums and Adi Luv (of Noble Rot, x-Defrokt) on guitar. The new band is called 5-Point and their debut gig is next Saturday,February 28th at O'Brien's. They go one first so get there early (on the club site they are listed as The Night Terrors) also on the bill is OneBigMess, Jake and The Jakes and Drunks Don't Lie......
there's some good shows coming up in the next months too: March 6th is The Johnny Black Trio And Doom Buggies are at The Midway
and Saturday, March 7th Red Invasion are at All Asia with the Lustkillers….
and can you believe this we have two months in a row with Friday the 13ths…
March 13th is The New Collisions, The New Alibi's, Televandals, at the Middle East UP...
and March 14th The Throwing Muses (!) are at the Middle East UP!! Wow
BUT also on March 14th, at The Cantab, THE REAL KIDS will be playing..with Jimmy Birmingham on drums! Whew...I hope this happens it will be good to see but I know John Felice has been blogging about not feeling very well and having been in the hospital so I hope all is alright for this show!!! Also on the bill will be The Mezmerines and Corolla DeVIlle...
At Church on Friday March 20th is another DMZ show along with Unnatural Axe (YEEHAW!!! Richie's back on stage!!) Vagiant...if you missed DMZ last time do not miss them this time, they were awesome!!!
In April there's an awesome 2 day punkfest called Boston Rules OK at Harper's Ferry! Check it out: Saturday April 4th is an ALL AGES show at NOON with Far From Finished, The Pinkerton Thugs, The New Alibis, Blood Stained Brindle, Flat Foot 56 and Razors in the Night….THEN that night for a 21+ show you get: Blanks 77, The Wretched Ones, The Skels, The Side Effects and Oi! The Band.....
Next day Sunday April 5th is another NOON , ALL AGES show with The Casualties, Mouth Sewn Shut, Tommy & the Terrors, For The Worse, War of The Words and Word for Word .....
Ok THEN there's the night time 18+ show with Mark Lind & The Unloved, Lost Cause, Nothing But Enemies S.C.F.F., Hammer & Nails, Doggfight U.S. and Red Invasion
Excellent way to spend your weekend!!
Looks like The Damned rescheduled at The Paradise, they are playing there Friday, May 8th!!
But also May 8th there's a killer show down in Providence RI at Club Hell: Mouth Sewn Shut, The Meatmen AND Fear...whew!! worth the drive!!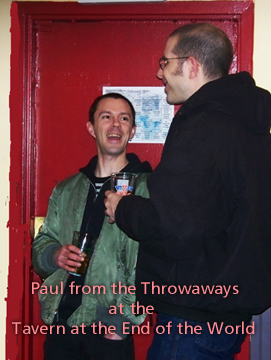 And in June The Blackjacks, one of Amerindie's first ever bands (and in fact Homestead Records first band), are slated to perform on June 19th and June 20th at TT The Bear's Place , hey! It'll be good to see Johnny Angel again!...get ready Boston!
Now for your viewing pleasure we have some links to a few cool videos brought to you by the wonderful Jan Crocker at VINODV: " As many of you know in the late 70's, La Peste ruled Boston as one of the most dynamic and creative punk bands to play the local scene. The power trio packed them into a variety of venues like the Rat, Cantone's, Space, and lofts all around town. Here is a re-edited video of "Spy Master" filmed at the Boston Film and Video Foundation in 1979: Spy Master
" "If you didn't know...and I sure as hell didn't... here is something I learned from Peter Dayton about "Better off Dead" John Peel the famous English DJ who passed a couple of years back, kept a battered wooden box with his precious selection of 7-inch singles that meant more to him than any others did. In that box was La Peste's "Better Off Dead" More on John Peel here: If you haven't seen the "Better Off Dead" video check it out here: Better Off Dead
Another Peel favorite was X-Ray Spex fronted by main muse Poly Styrene. X-Ray Spex was one of the most unique and inventive groups of the British punk era. Check out the clip of "Warrior in Woolworths" filmed at the Old Grey Whistle Test in 1978: Warrior in Woolie's
Also, if you scroll down under this news section there is a review and photos of the Neighborhoods/Mission of Burma Show at The Somerviulle Theater but here is also a link with more, and very good, photos of that night from Richard Pasley so click here for more Hoods Burma pics
OK, there you have it for this week friends....email me huh....????.... Lyn
home | interviews | photos | features |BGN issue list | reviews
links | contact us

Copyright © 2008 Paul Lovell. All rights reserved.