The BGN News Archive
March 9, 2009

Hey!! This Thursday March 12 the Uppercrust will be on the Late Late Show with Craig Ferguson
He's so cute and funny and now he's totally cool to have the Crust in the show!! I think its on at midnight.
And yay!! For Joey Boy of Red Invasion being in the Globe for looking so damned awesome at a local fashion show!! Oh and stay tuned for our new and totally fabulous Joey Boy SHRINE comin'; up in a week or so!!
March 13th is The New Collisions, The New Alibi's, Televandals, at the Middle East UP…
and at Church on the 13th it's the Tommy & the Terrors 16th Annual Drop Kick Murphey's aftershow with The Krays, The Tampoffs , The Welch Boys, and The Scars
And here's THE latest news on March 13th Kim Ackland's birthday - Prime Movers show "Lucky 13: at the Dilboy VFW Hall in Davis Sq. you'll get to see TWO sets of Prime Movers to say bye bye to the boys excellent music DJd between the sets, a fab meal with the price of admission and a very reasonably priced bar all for the mere prince of 7 BUCKS!! …
BUT THERE ARE ONLY A FEW TICKETS LEFT (AND THERE WILL BE NONE AT THE DOOR!!) SO TO GET TICKETS YOU HAVE TO GO TO LOONEY TUNES IN HARVARD SQUARE (1001 Massachusetts Ave - Cambridge) and like we said before ya snooze, ya lose so git your butts over to Loney Tunes now to get yr tix for the fabulous event.
Then next night March 14th The Throwing Muses (!) are at the Middle East UP!! Wow
BUT also just down the street on March 14th, at The Cantab, THE REAL KIDS Also on the bill will be The Mezmerines and Corolla DeVIlle…AND we just heard that Mark Kennedy and Fred Pinneau's new band 5 Point is also on the bill! Excellent!!!
and also on the 14th at Church are The Larkin Brigade's Evacuation Day Extravaganza with Confront + Mouth Sewn Shut + Ten Gallon Scally Featuring Rockin' Bob Cenci
Then at Church on Tuesday 3/17 are Coffin Lids + The Throwaways + Buried In Leather + The Guns Of Navarone, that's a good show!
And a big one: At Church on Friday March 20th is another DMZ show along with Unnatural Axe (YEEHAW!!! Richie's back on stage!!) Vagiant…
if you missed DMZ last time do not miss them this time, they were awesome!!!
In April…well first off the Queers are at TT's Friday April 3rd…
Also on April 3rd at 9:30 PM there will be is a screening of America's Lost Band (The Movie about The Remains) at the SENE Film, Music, and Arts Festival in Providence,
and The Remains will be performing an unplugged set of several songs after the screening. It seems like most of Boston will be headed down to the show!!
Also that weekend there's an awesome 2 day punkfest at Harper's Ferry! Check it out: Saturday April 4th is an ALL AGES show at NOON with Far From Finished, The Pinkerton Thugs, The New Alibis, Blood Stained Brindle, Flat Foot 56 and Razors in the Night….THEN that night for a 21+ show you get: Blanks 77, The Wretched Ones, The Skels, The Side Effects and Oi! The Band…..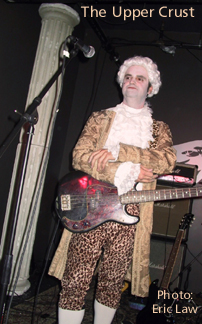 Next day Sunday April 5th is another NOON , ALL AGES show with The Casualties, Mouth Sewn Shut, Tommy & the Terrors, For The Worse, War of The Words and Word for Word ….
Ok THEN there's the night time 18+ show with Mark Lind & The Unloved, Lost Cause, Nothing But Enemies S.C.F.F., Hammer & Nails, Doggfight U.S. and Red Invasion
Excellent way to spend your weekend!!
Looks like The Damned rescheduled at The Paradise, they are playing there Friday, May 8th!!
But also May 8th there's a killer show down in Providence RI at Club Hell: Mouth Sewn Shut, The Meatmen AND Fear...whew!! worth the drive!!
And in June The Blackjacks are back!
Here's all the info you need:
June 18th, Robin Lane/Johnny Angel plus Angelyne and special guests at Plough and Stars
June 19th, Blackjacks, Gravel Pit, (the original)Outlets, Killer Abs, TT's. 10.00 in advance, 12.00 day of
June 20th, Blackjacks, Mark Lind and the Unloved, The New Alibis, Classic Ruins, TT's, same cover
Oh!! Those are some good shows!! See you there!!
And Hey if you need some new, cool, T-Shirts for the spring, now's your time to get 'em my friends: QRSTs has a bunch of new designs like Morphine, O Positive, Nervous Eaters, 3 Colors..and other cool stuff…check 'em out at QRSTs….
OK, there you have it for this week friends....email me huh....????.... Lyn
home | interviews | photos | features |BGN issue list | reviews
links | contact us

Copyright © 2008 Paul Lovell. All rights reserved.