The BGN News Archive
April 9, 2012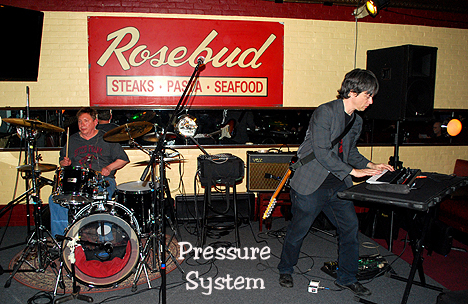 This past Friday night we went to The Rosebud to check out Pressure System. It's electronic music with Danny Lee on the drums and Doug Vargas on Korg keyboard and guitar.
Blowfish writes: I usually listen to this kind of music on CD's only and hardly ever live so this was an experience out of our usual punk ghetto. Doug sets up a loop on the Korg and throws in a few vocal samples (many from Dawn of the Dead we later found out) and then adds some guitar and Danny works on the beat. It's a common set up and Pressure System fits the convention and does it well. I liked them the best at their extremes when they are at their loudest or moodiest. We never lost interest in the songs or the work of these two serious musicians.
Danny Lee has been playing drums a long time. UZI was where we first heard him. I seem to remember through the years that he had tapes of projects being passed around. His playing is understated and assured. There are no showboating moments, he addresses the need of the song. He's not afraid to make it simple and repetitive when that's what the song needs and that was the case on some songs this night. You can tell, and he later confirmed, that he spends time tuning his drums which is a key to his listenability.
Doug Vargas does stuff with the Korg that must involve a lot of prep work yet still requires a lot of juggling when playing live. He keeps most of his guitar playing pretty simple, some repetitive block chords that do the job. After the set we were talking to him but didn't ask the obvious question, what have you been doing since The Young Snakes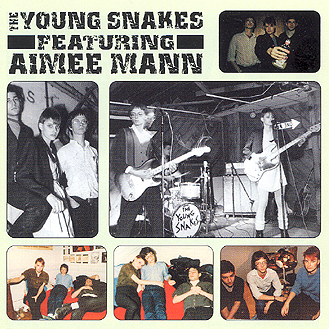 The Young Snakes EP was released on CD in 2004 with some extra tracks. It was squashed by the powers that be.

These two guys have been around for a long while and there IS a lot of history between them.....yup, Doug was in the Young Snakes...the band that Aimee Mann wants to pretend did not exist. I don't understand why either, they were pretty good! Very new wave 80's. You can check out our Young Snakes Interview here...

Danny Lee was in Uzi with Thalia Zedek and Cxema with Doug (it's how they met) as well as the aforementioned projects...he & Miss Lyn were pals way back when in the Allston days. Miss Lyn remembers: Danny has always been a super nice guy! We used to hang out at Johnny D's, a LOT in the early 80's, especially on Sunday nights...this was pre-band days at Johnny D's and all they had was a juke box! So we'd eat, drink and play lots of music...I remember (almost) every time "My Baby Does the Hanky Panky" came on we'd all start doing stupid dances and Danny would jump up on the table tops to dance...This guy named Rick Paige started working there as a cook and one night said to us he came out from the kitchen and said 'What would you think of us having bands here?" A resounding "YEAH!!" was the response and Rick started booking the place and the rest is history....a special era in Allston began.....Johnny D's became one of those home-away-from-home much beloved clubs for many!

Ok, so now for a list of stuff comin' up.... this Friday the 13th !!! The Suicide Dolls are at Radio...

Saturday April 14th, Wayne Viens is having another show over at Store 54: Bobb Trimbull, Steven Brodsky and The Fanatasies.

and at The Plough on the 14th is the most excellent Roy Sludge Trio along with the very popular Asa Brebner's Family Jewels...

The Upper Crust will be gracing the stage at TT's on a Wednesday this April: April 19thits an early show at 8PM...just because they're so special.

April 21st James Straight and the Wide Stance with Cadillac Heart will be at The Magic Room. Third Rail's Richard Nolan will be performing a few songs with Cadillac Heart and Frank Rowe will be doing one of his solo acoustic sets to start the evening.

On Friday April 27th Tavern at The End of The World , you can find Jay Allen and The Archcriminals...and they serve the most fab Fin de Monde here. ...Over at The Plough on that night is Sourpuss...

The Dirty Truckers are having a big record release party on Friday May 4th at Radio! The bill also includes Muck & The Mires and The Scars...cool!!

May 19th we got a Cal Cali Birthday Party to celebrate at The Rosebud with Lyres. Jetset, Classic Ruins and Tsunami of Sound.

Killer show alert: The Ducky Boys and Rancid (unfortunately its) at The House of Blues on May 21!!! - should be interesting given the recent news about how mosh pits have been banned at that place....

And of course Friday May 24th Manitoba is at Church…from all reports that should be an amazing show people !!!

And The Psychedelic Furs and Pop Gun are at the Salem Performing Arts at The Catholic Center in Salem on May 26th!! Get your tix now coz they are going fast!

EMAIL US AT.......misslynbgn@yahoo.com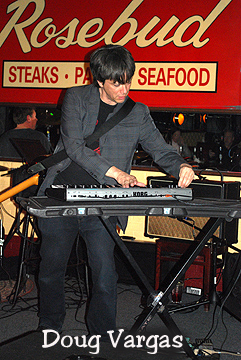 home | interviews | photos | features |BGN issue list | reviews
links | contact us

Copyright © 2010 Paul Lovell. All rights reserved.