The BGN News Archive
May 25, 2009
So this week folks there's a very special show coming up..a great cause:
It's this Wednesday May 27th it's a benefit for Kitty Angels at TT The Bear's
Kitty Angels is a No Kill Cat Shelter It is a wonderful cause we hope everyone wants to support and there is also some great music such as:
The Sharp Lads, The Russians, The New Alibis, Vulgarity and Rick Barton......
it's a super long list so here, go to TT's (click!) and see the list..and then go to the show!!!
X are at The Paradise Tuesday May 26th,
Saturday, June 6th is an excellent night in Allston!!:
First you have an great show at Harper's Ferry: The Unseen, along with August Spies, For The Worse, Razors in the Night and The Morgan Knockers....(note: this is an ALL AGES SHOW to !) and it is an EARLY SHOW at 6PM!!!....
After which you can walk 2 minutes to O'Brien's to catch Pulp 45, The New Alibis and The Allrighters - what a night!!
The Meat Puppets are at The Paradise Wednesday June 10th....
And Jason Bennett and the Resistance, Yesterday's Heroes, Ten Pints In, The Rebel Dead, Burning Streets Are doing at daytime show at 1:00pm @ The Middle East Ups onm Saturday June 20th.......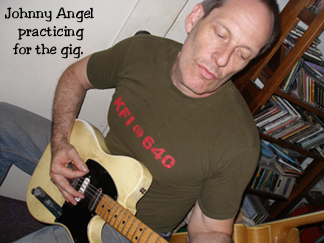 and yes my friends it is getting closer ...
Johnny Angel monumental Mass Ave Tour 2009!!
Featuring the Blackjacks!!!
Here's the ALL info: JUNE 18/Robin Lane/Johnny Angel, Angelene w/special guests, at the Plough and Stars, 9:00 PM
JUNE 19 at TT's - The Blackjacks, Gravel Pit, Outlets, Killer Abs, TT's,
JUNE 20 - At TT's again - Blackjacks, Mark Lind and Unloved, New Alibis, Classic Ruins,

Also since we're talkin; JOhnny Angel...here's a link to an awesome City Thrills viddy: You TUBE There you have it for this week...
email is been very very slow STILL...!I'm STILL LONELY and want to hear from you......click and write me damn it!.... Lyn
home | interviews | photos | features |BGN issue list | reviews
links | contact us

Copyright © 2008 Paul Lovell. All rights reserved.