The BGN News Archive
June 1, 2009
This Saturday, June 6th is an excellent night in Allston!!:
First you have an great show at Harper's Ferry: The Unseen, along with August Spies, For The Worse, Razors in the Night and The Morgan Knockers....(note: this is an ALL AGES SHOW to !) and it is an EARLY SHOW at 6PM!!!....
After which you can walk 2 minutes to O'Brien's to catch Pulp 45, The New Alibis and The Allrighters - what a night!!
Boby Bear will be appearing, on drums, at Plough and Stars on Tuesday June 9th.with Kenny Chambers and bassist Gerry Bellegarde and Bob Metzger, a great guitarist, who happens to be taking a short breather from his touring with Leonard Cohenůsounds pretty good!!!
The Meat Puppets are at The Paradise Wednesday June 10th....
And Jason Bennett and the Resistance, Yesterday's Heroes, Ten Pints In, The Rebel Dead, Burning Streets Are doing at daytime show at 1:00pm @ The Middle East Ups on Saturday June 20th.......

and yes my friends it is getting closer ...
Johnny Angel monumental Mass Ave Tour 2009!!
Featuring the Blackjacks!!!
Here's the ALL info:
JUNE 18/Robin Lane/Johnny Angel, Angelene w/special guests, at the Plough and Stars, 9:00 PM
JUNE 19 at TT's - The Blackjacks, Gravel Pit, Outlets, Killer Abs,
JUNE 20 - At TT's again - Blackjacks, Mark Lind and Unloved, New Alibis, Classic Ruins,
And for the next day, Sunday, June 21, 2009 Time: 12:00pm - 8:00pm a very important show:
MAYHEM LIVES!!!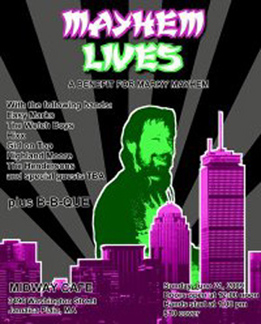 As many of you know, Marky "Mayhem" was ill. So ill, his doctors had to induce a coma to alleviate his symptoms. It was a grave situation. But he made it through!!
Though, he is not completely out of the woods yet and will require more hospitalization and procedures we want everyone to celebrate the fact that our friend Marky Mayhem Lives and to help pay some of those intensely huge medical bills......
Please come support Boston Music's good friend!
Sunday June 21st
Location: The Midway Cafe, Jamaica Plain
Bands include - Easy Marks, Welch Boys, Hixx Girl on Top, Highland Moore(Kenne Highland & Jody Urbati Moore) and The Hendersons
and coming up in July ...<br>
EEEK!! Bunratty's Reunion.....
we mentioned a while ago that AJ Wachtel, infamous Allston personality from the 80's and person behind Allston 'zine The Beat has been working on "Boston Gets a Grip", a CD of Boston bands recording Aerosmith songs (Hmm, OK whatever-Ed) so, the record release party for Boston Gets a Grip will be on Sunday afternoon, July 19 at the Wonder Bar (formerly BUNRATTY'S!!!!) in Allston.
AUJ says: One group I know who will be performing is the Bristols who are getting back together for this show after 9 years. On Boston Gets a Grip, is the song Seasons of Whither, which is the ONLY SONG The Bristols have ever recorded and released. So, if you are a Bristols fan you will want to see the show and buy the cd.
Also, Jody Sandwich (of Highland Moore) and John Felice will be performing too.
Lastly we got a message from Boby Bear....(who needs to grow hair ALL over the top of his head as far as I'm concerned)....he just came back from a trip to LALA Land and met with Johnny Angel AND went to visit old friend Joan Howard Maurer...Three Stooges Moe Howard's daughter..turns out, nyuck nyuck nyuck Boby was friends with both Moe and Larry, well I oughta..... we have a pick of Boby with Moe's daughter holding a piece of artwork he sent to Moe many years ago!.. Niagara Falls....
Ok folks, that's it for this week.....click and write me!.... Lyn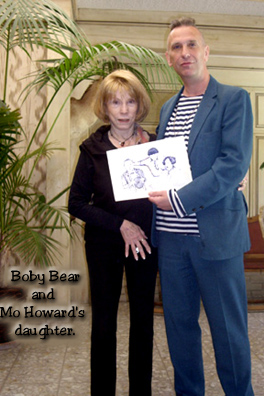 home | interviews | photos | features |BGN issue list | reviews
links | contact us

Copyright © 2008 Paul Lovell. All rights reserved.