The BGN News Archive
June 15, 2009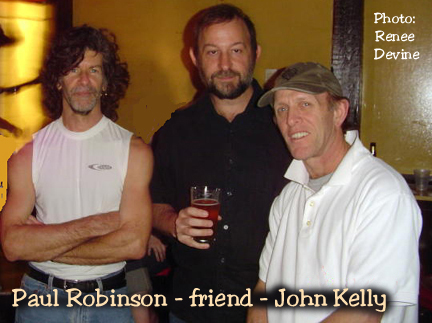 One of our fab and roving reporters; Renee Devine went to see The Boize this past Saturday at The Cantab. Many of you Boize fans may have known that the original Boize drummer Paul Robinson would be drumming withte band this night...and Renee snapped a photo for us: my my my he certainly looks awesome!!
So it's finally here friends:
The Johnny Angel Monumental Mass Ave Tour 2009!!
Featuring the Blackjacks!!!
Here's the ALL info:
Thursday, JUNE 18/Robin Lane/Johnny Angel, Angelene w/special guests, at the Plough and Stars, 9:00 PM
Friday JUNE 19 at TT's - The Blackjacks, Gravel Pit, Outlets, Killer Abs,
Saturday, JUNE 20 - At TT's again - Blackjacks, Mark Lind and Unloved, New Alibis, Classic Ruins,
Also on the 20th Jason Bennett and the Resistance, Yesterday's Heroes, Ten Pints In, The Rebel Dead, Burning Streets Are doing at daytime show at 1:00pm @ The Middle East Ups on Saturday June 20th.......
And actually TT's has really good gigs most of the week, including:
this Wednesday, June 17th with The Pansy Division, The Fatal Flaws and The Motion Sick, then Thursday June 18th they have The Beatings, Ian Adams and Slim Jim and The Mad Cows, who are always a blast!!

And for the next day, Sunday, June 21, 2009 Time: 12:00pm - 8:00pm Please come support Boston Music's good friend!
Sunday June 21st at The Midway Cafe, Jamaica Plain
Bands include - Easy Marks, Welch Boys, Hixx Girl on Top, Highland Moore(Kenne Highland & Jody Urbati Moore) and The Hendersons
FRIDAY 6/26 at Church there's a Super Soul Spectacular!! With The Swinedells , Jordan Valentine & the Sunday Saints, Jenny Dee and the Delinquents, Black Mosettes and The Young Tremors (new band for the fantastic Alan Levesque!!!)....
Also on Friday June 26th, FREE!!!, and at 10 PM at The Middle East Corner is
DJ SMACKDOWN with "The Swede Stampede" (Joanie and Sara from WMBR) and "The Wondertwins Activate" (Ken and Duncan)
Hey Wednesday July 1st, The Germs are at Harper's Ferry!!
and coming up in July
Bunratty's Reunion....AJ Wachtel has been working on "Boston Gets a Grip", a CD of Boston bands recording Aerosmith songs so, the record release party for Boston Gets a Grip will be on Sunday afternoon, July 19 at the Wonder Bar (formerly BUNRATTY'S!!!!) in Allston.
And here's some very cool news:
coming up Friday, August 7th, at Church is Faster & Louder, who's dat??? you say??
Why it's the Neighborhoods rhythm section with members of Unnatural Axe, Gang Green/Band 19, and Johnny Black Trio/Johnny and the Jumper Cables:
See it's like this folks:
Richie "Swinging Dick" Parsons - vocals, "Fritz the Boss" Erickson - guitar, Johnny "Top 20" Black - guitar, Lee "The Lawman" Harrington - bass and "Johnny Rock" Lynch - drums
They will play the entire Bloodbrothers album by the Dictators and a few more 'Tators tunes.
This awesome band even has the blessings of Top Ten and Andy Shernoff - So this is a show you will not want to miss!!
Oh and Charlie's Kitchen: THIS Monday June 15th is Link Wrowe and the Wrowemen, Kermit's Finger and The Egos...... and NEXT Monday June 22nd is The Midnight Creeps, Moto and The Tampoffs, now that's worth going out on a Monday night!!
Ok folks, that's it for this week.....click and write me!.... Lyn
home | interviews | photos | features |BGN issue list | reviews
links | contact us

Copyright © 2008 Paul Lovell. All rights reserved.