The BGN News Archive
August 23, 2010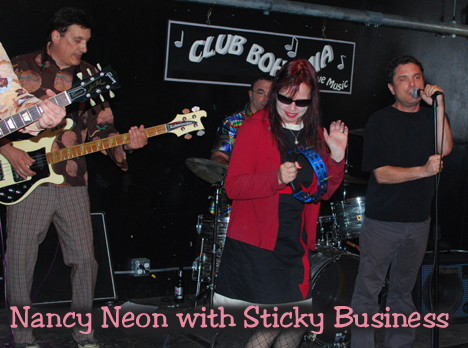 We made it over to the Nancy Neon Birthday Bash, at the Cantab this past Saturday...gotta wish the girl a happy day and say hello..... Blowfish was so happy with the evening's music (understandably!!) that he wrote an excellent entry:
Nancy has the birthday but we get the gift of one of her shows. One of the attractions of this night was the idea of Sticky Business. They play all Bubblegum music. Sure it's simple goopy crap, so I'll have to admit I like simple goopy crap. It's a guilty pleasure. Luckily the band delivered the goods. They played Ohio Express, Partridge Family, 1910 Fruitgum Company, The Archies, et all. It was a blast to recognize the tunes as they began. I had Kim Ackland by my side pegging almost all of them in about three notes. Fun, fun, fun. I recognized the bass player from All Mod Cons the Jam tribute band but didn't know anyone else. It was good playing but there's not a lot of personality emanating from the band... but the fun of the tunes made up for a lot. They called birthday girl Nancy Neon on stage to tambourine to Bang-Shang-A-Lang by the Archies.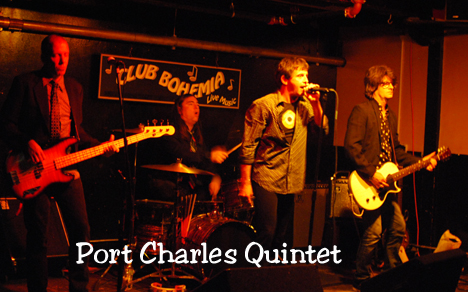 In the wake of the Prime Movers comes the Port Charles Quintet (fictional city of General Hospital ). This group has the same strengths as the Movers, that is: the ability to find and play older songs that will knock you out. This is not unlike the gift the Lyres have. They not only play the notes but somehow bring back the nugget of the tune that makes it magic. I know from talking to Cam Ackland and Dennis McCarthy that they live and die for the good sixties songs. This dedication is translated on stage. This night they floored me with My Pledge of Love by the Joe Jeffrey Group. Cam especially shined on this soulful gem. They also did a Barry and the Remains tune which is always good.
The new guitarist Greg Allen is strong. A healthy razor tone brings home the riffs a la Fred Pineau (currently of 5 Point). Dennis and Greg Steinbaugh on bass are a classic rhythm section. Many times I thought you could just listen to these two play and that would be enough. There were times you just had to block the others out and look and hear Dennis play, he's a classic. One of the underappreciated things around is Cam's harmonica playing. Just warming up he outshines most other players.
Ending up was The Arch McDonald Quintet, although I thought they said they were the Mesmerines. I found it hard to figure out exactly what they are doing but they are doing a lot. The songs have lots of detail and the guitarist has a unique picking technique that makes for some very interesting playing. They also covered a Teddy and the Panda's song which just topped the evening for me.
During the evening I talked to Rayboy who has news that he has a new group with Billy Connors and Scott Baerenwald. He also has projects getting ready to get out including The Varmints and even maybe some live Blackjacks. Hopefully we will have more details soon.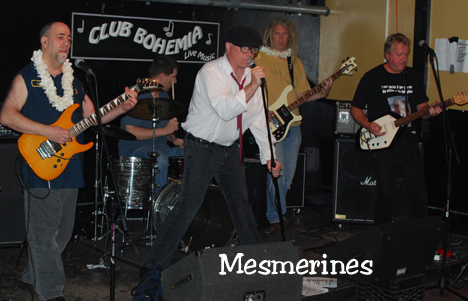 So...Coming up this weekend....looks like a lot of people will be out of town! Everyone will be goin' down the Cape, This Friday and Saturday is the Ray Neades Tribute show Rest in Beef # 2 at The Beachcomber in Wellfleet. With The Cavedogs and Lard Zepplin on Friday and Upper Crust, The Stinkin' Lincolns and Beefy DC on Saturday. Gonna be one great party I am sure!!!
Then on Sunday up nawth, at Club Lido in Revere on Sunday August 29th at 2PM.
In celebration of the film: xxx ALL AGES xxx and it is also a Gallery East Reunion!
Boston pioneer hardcore punk bands DYS, Jerry's Kids, Gang Green and FUs will perform with New York City's Antidote and guests for a monumental reunion show ...AND the show will be featured in the film xxx ALL AGES xxx. Now, if you are staying in town there are some things going on…like Friday the 27th at TT's we got Muck & The Mires, The Egos, The Acrobrats and The Sprained Ankles...that's pretty damn good if you ask me….
Also on Friday and in Central Sq too, at The Cantab is Tommy White's band The Beachcombovers going on early at 9PM!!...
OK, that's it....
... you can email us at: Miss Lyn email......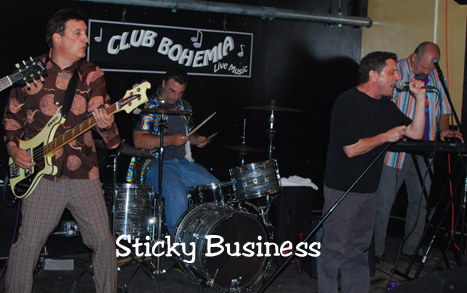 home | interviews | photos | features |BGN issue list | reviews
links | contact us

Copyright © 2010 Paul Lovell. All rights reserved.