The BGN News Archive
August 31, 2009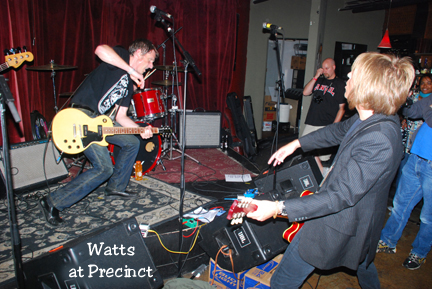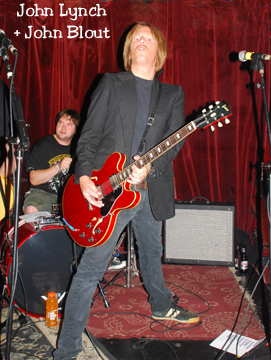 We figured we go check out the show at Precinct in Union Square Somerville, on Friday night. I like this place! It's small but there are two levels, there's a little area in the back that is a couple stairs up and if it is crowded, as it was for the Gentlemen, then there's a huge mirror to the left of the stage and you can look in the mirror to see the band that way. I got a beer for $3.50 so drinks are reasonably priced and the sounds was excellent...it wasn't blast your ears out loud it was loud but comfortable, I didn't even have to wear ear plugs. The sounds person absolutely knows his stuff I would say. The only problem with Union Square is parking but I think since there ain't much else going on in that area your prowl for a spot shouldn't be too long.
So we caught Watts; they sounded really good and have lots of excellent songs....for example One Below The All Time Low .... And of course John Blout is just (as Boby Bear put it ) "a vision " up there on stage...you just can't stop watching him...that hair -do is part 60's british invasion part glam and part heavy metal...it's this amazing hair style that encompasses all the great looks in music!! And of course he's a beauty and has lots of entertaining moves up there as well. John Lynch is a fantastic drummer and paired with bass player Craig they make an awesome rhythm section. Lead guitarist and singer Dan Kopko is a strong presence up there, an excellent front man!!(and if you'd like another chance to catch them they are playing at the Precinct on Friday Sept 11th) .....The Gentlemen were also great this evening...the place got very crowded for their set since they haven't played for about a year and this was their 10 th anniversary.
we have a good week coming up with
The Murder at O'Brien's this Thursday Sept 3rd,
and Friday, Sept 4th is an awesome show at Church ...the New Alibis are back after a month or so off and they are sharing the night with Blood Stained Brindle, Yesterday's Heroes, She Rides, Hold the Morning Light
Saturday Sept 5 you can find Jason Bennet & The Resistance, Lenny Lashley & Friends and Brunt of It at Harpers Ferry
And Whoa Friday Sept 11th at The Middle East UP is The Angry Samoans along with Dirty Tactics, 007 Hundred Club, The Acro-brats, ....
And again a great show at Precinct on Sept 12th with Muck and The Mires and THE ODDS ...yes you read it right, The Odds...their first show in 25 years as a matter of fact...DMZ broke up they split into two bands...The Lyres and The Odds...this is a do not miss show!! And note that Muck is on at 10, the Odds at 12 and Muck again at Midnight.
And coming up Sunday Sept 13th Tommy White... tells me that Unnatural Axe will be playing at The Pawtucket Film Festival and they will be showing their awesome, really really awesome "You'll Pay for This" film AND some clips of their tour in Italy as well! It's at 6:30 on Sunday 9/13, the cost is $10 and it INCLUDES BEER and a T Shirt! As well! And it is at : The Pawtucket Visitor Center Theater, 175 Main Street, Pawtucket RI, 02860
Now also on Sunday is this: at TT The Bear's is Hugh Cornwell(Stranglers) and Mike Gent (Figgs and The Gentlemen) ...sounds like an excellent show!!
And of course The Marvels are playing at The baseball Tavern on September 19th ...YAY!! I'll hopefully get to see them this time!!
And save this date too: Sunday September 20th at 1PM - Harper's Ferry: Ducky Boys, Everybody Out, Confront, Have Nots, Burning Streets
Ok folks, this week I'm off to Houston, TX...where it is gonna be hot as hell but I need some time away.....but email me ....let me know what's happening..thanks!! click and write me!.... Lyn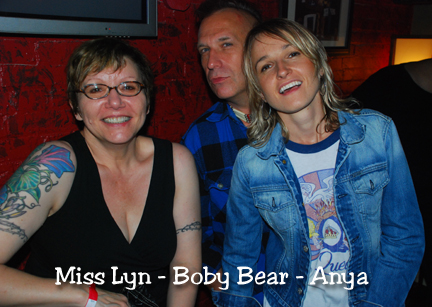 home | interviews | photos | features |BGN issue list | reviews
links | contact us

Copyright © 2008 Paul Lovell. All rights reserved.