The BGN News Archive
October 8, 2012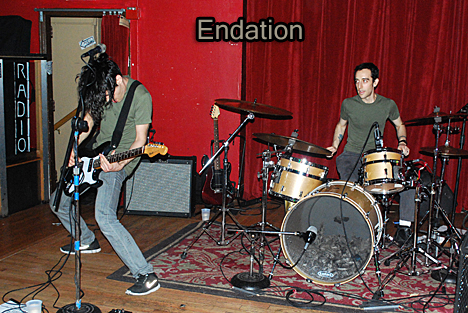 We've been trying to catch the Bluebloods for a while now and never seem to connect. We try again Friday Oct 6 at Radio. Also on the bill is Psycho, a crazy blast from the past.
At the door we get the news that the Bluebloods have cancelled. So, that's that.
Ready to go as we walk in to the upstairs is Gene Dante and the Future Starlets. They proceed to give us their usual Glam/Bowie brand of rock and I love that. The guitarist can do the Mick Ronson thing but does plenty of other riffage too. The drummer has a clean, crisp style unlike most other drummers we hear. All this has distinctly 60's influences. To this they add Gene Dante and his voice, real attention getters.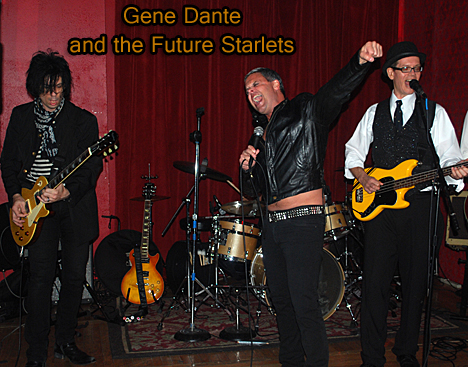 Gene is full of drama and so are the songs, so you feel like you are getting a glam rock opera in every song. It's bit overpowering in some way to hear so many in a row but the songs are very good. Some of the lyrics (even forgetting the melodies for a minute) stick in the head, like: "I am gorgeous and free of disease", and "We are all whores...behind closed doors".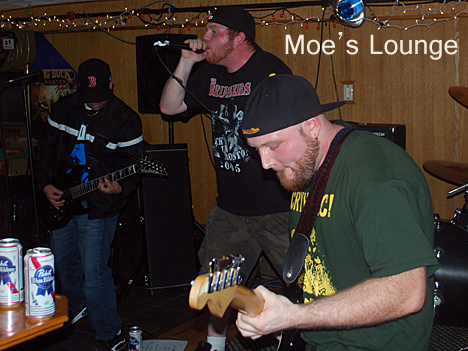 We heard that Psycho was downstairs so we ran down there a couple times but kept seeing some other group on stage. We also found downstairs, or Moe's Lounge, smelled more like Moe's underwear after a bad attack of diarrhea. There's something going on and it's not pleasant. Lots of humidity…locker room levels. And lots of locker room guys grabbing guys but trying to be macho at the same time….even though they are wearing those stupid ass baggy shorts like 5 year old boys….um…….so…
Back upstairs we go. Before we can see anything , we can hear the loud roar of the band. We look and see only two guys on stage. Huh? Yup, only two. Looks like Boston has their own version of White Stripes/Black Keys in Endation. They don't have the songwriting or the blues influences of those people but somehow they did command attention.
The guitarist, Anthony Conley, was energetic, bending over backwards and yelling the lyrics half the time. The jerky staccato movement of the songs helps to keep you interested. The drummer had a busy style, using every drum in his set constantly. During the set I kept thinking this guy must have gone to Berklee…and graduated - yup.
Matt Graber is an amazing drummer! And that's how Conley can get away with playing his "4-string guitar". If I had only two people in a group and one a drummer I think I would want all my strings…at the least. In the end I think the 4 string hurts but hey it's their band. But that said, we ended up staying to watch their set….So then we missed Psycho altogether.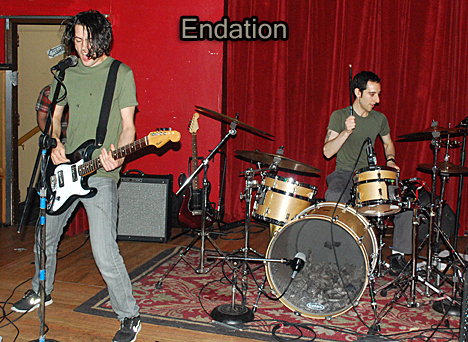 At Radio next weekend there's a lot happening to think about… Thursday and Friday Oct 11 & 12 there are benefits for Barbara Walsh …I don't know her personally but she had a stroke while at the LA Airport and is now headed toward the long haul of rehab...we wish you well Barbara and a speedy recovery!! - this could happen to ANY of us…go and show some support for a fellow rocker:
Thursday Radio UP has the benefit for Barbara with Rule, Jenny Dee & The Delinquents, The Decals, AM Stereo, The Modifiers - Radio Down has: The Charms, Dave Mirabella, Eric Salt & The Electric City.
Friday the 12th is Barbara Walsh benefit at Radio Down with The Dirty Truckers and others - Radio UP has The Dents, Devil On Horseback CD Release, Watts, Gymnasium, Spin Off
And if you can't make it and would like to donate a little dough to the cause go here: Benefit for Babs Donate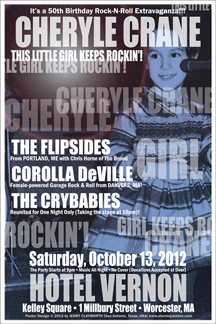 And you might as well come back the next day too cause Saturday Oct 13th is Radio's 1 Year Anniversary!!! The shenanigans start at 1PM and its $12 for the whole day (Bahgin if ya ask me) ….bands on the list are Brownboot, Sidewalk Driver, The Field Effect, Old Jack, The Derangers, The Rationales, Cocked n Loaded, The Acro-brats, Autumn Hollow, and more!!!!
But it sure is a happnin' night the 13th coz over in JP at the Midway there's The FU's with Opposition Rising, The Enemy Within, Live Fast Die Fast and Red Line Rebels.
If you are out in the western part of the state there's a Happy Birthday Cheryl Crane/Crybabies Reunion show on Oct 13th at the awesome Hotel Vernon. Also on the bill is Carolla Deville and The Flipsides with Chris Horne from the Brood.
And of course at the end of October we have the various Halloween gigs so here's a good one to add to your calendar:
Friday October 26th we have the Rosebud BOO! Bash with Sticky Business opening up the night, our faves James Straight and The Wide Stance up next at 10 and then Cal Cali's New Experience for a walk down memory lane followed by My Own Worst Enemy closing out the night.
November 3rd The Neighborhoods and Robin Lane and The Chartbusters are at the Blue Ocean Music Hall at Salisbury Beach…
News from the Magic Room: Sunday, November 4th it The Halloween Hangover Show ! And Butch Patrick aka Eddie Munster, from the original 60s tv program The Munsters ,will be on hand for a "meet and greet " live at the Magic Room Gallery ! Also performing will be the legendary Muck and the Mires , and Tsunami of Sound . Also appearing, will be The King of Pop Culture himself !
And Thursday November 8th Glen Matlock in at the Middle East (up?? Geesh that's kinda sad)
And November 9th!!! Roky Erickson is going to be at the new Harvard Square club Sinclair, which will be at 52 Church Street - it would be awesome if it was in the Harvard Square Theater space…it would be like the old days kind of…when there were bands there. But anyway there you have it….Sinclair…Roky. November 17th there's a another excellent Cal Cali gig at Rosebud….Lyres, Jetset, Foxpass
Finally All Ages- Boston Hardcore the film is available on DVD!!! You can check it out and purchase right here…. This DVD has 30 minutes of extra footage AND The Springa Chronicles…oh yeah!! GOTTA get it just for that…we can never have enough Springa, right?…..
EMAIL US AT…….misslynbgn@yahoo.com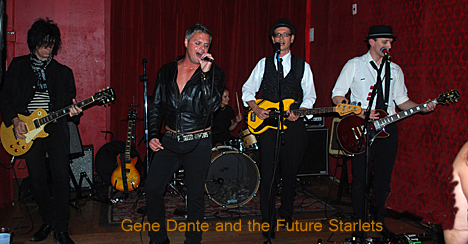 home | interviews | photos | features |BGN issue list | reviews
links | contact us

Copyright © 2012 Paul Lovell. All rights reserved.