The BGN News Archive
November 29, 2010
| | |
| --- | --- |
| TMAX CD | Ed Moose Savage CD |
So there was this 'coctail party' with, ya know, local rockers and everything was very cordial and tasteful....at the begining, then it got OUT OF CONTROL...no, not really but you wouldn't have wanted to be downstairs during the midnight dancing.
We received two CD's at the cocktail party. One was from Ed Moose Savage whose whole life is a performance piece. "It's all art," you can say to yourself, as he zigzags by like he 's walking on the deck of a ship with his drink miraculously not spilling in it's elegant wine glass as his half hour story does spill out of his mouth eventually ending up in another part of the room with another listener. He has a song dedicated to Billy Ruane called Go To Helldorado. It's hard to believe the new digital format can hold this raw messy wonder but it does and that's neat. It's quirky but not jokey. We need a dose of this to keep us real.
Then TMax dropped in from the North Shore. He lives up there and the area is taking its hold on our man. Meanwhile he has been very active in the performance and recording area these days. This CD is of two songs - Gimmee Some Coffee and Chop Chop Chop. I have to go with 'quirky' again to describe this. It is light subject matter which is a change up from his anti-war material of his full CD.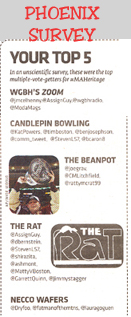 Billy Connors was also present and looking good. He is now in Cadillac Heart and they have a song that has stuck with me since I heard the Boize (We need to get their story up.) do it months ago, it's called FED UP and you can hear that at their ....REVERB NATION page.
 Billy went up to Bob Colby and declared. "You were at our first show." Now, what's more amazing; that the show was around 1973 or that he didn't get to tell him that until 2010?
Cam of the Port Charles Quintet got doored. He showed up though. His finger got screwed, if he were a quitarist he would be out of commision for a while but as a vocalist maybe he's good to go.
The Phoenix had a survey going on in TWITTER asking, "What would you add to a list of Massachusetts's 'intangible cultural Heritage'? " The Rat came up in the top five choices. MASSACHUSETTS SURVEY
I went into the KICKSTARTER site and signed into the JJ & Thee Cuban Heels project. It was a good chance to get in on the KICKSTARTER thing. JJ Rassler is looking to get funding for his ongoing CD work.
You prepay money for the CD and they use the money to record the CD and when it's finished they send you the CD. If they don't finish they don't charge the credit card. What a concept. The beauty of it now for JJ is that they are within $300 of their goal. JJ & Thee Cuban Heels Kickster page - CLICK.
Hey this Friday there's a great show up in Lowell: The F.U.'s along with The Usual Suspects, Bad Lieutenants, Antibodies and Scrapes at this place called Gemstones, cool!!...
Sat. Dec 4th there's a Calling All Angels Benefit at TT's with a bunch of great bands including Sidewalk Driver...an afternoon show, starts at noon! Then you can head on over to the Rosebud for The Last Ones, Thee Cuban Heels and either The Tampoffs or the Coffin Lids, not sure which!
December 10th Watts' CD Release show at The Rosebudů
and over at The Plough they have Three Day Threshold...
and Friday, December 17th is The Raging Teens Rock n' Roll Odyssey at TT's!!...
Also on the 17th is a Yule Twang Holiday night with Twang Em High, The Brooklyns and other Special Guests at The Rosebud...
And for a special show to put you in the holiday spirit...Kilslug are back!!...you can catch 'em on Saturday December 18th at O'Brien's
contact us via email here click click click
home | interviews | photos | features |BGN issue list | reviews
links | contact us

Copyright © 2010 Paul Lovell. All rights reserved.