The BGN News Archive
December 22, 2008
As you might imagine, I am snowed in big time this weekend so I have nothing to report…except that I watched a very cool movie called Sukiyaki Western Django
By famed Japanese director Tikashi Miike a friend of Quentin Tarantino who is also in the film for short bits. I watched it for the hot japanese guys and the extremely cool western/wasteland/punk look everyone had, but its also an mix of western and japanese action...a buckwheat soba western, haha (instead of spaghetti, get it??), anyway it makes for a very interesting combo for sure! ....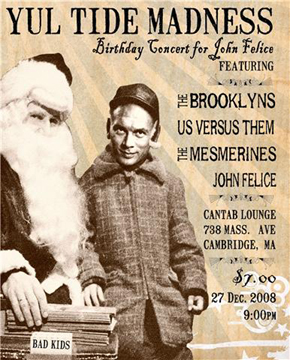 Oh yeah there's all kinds of free stuff to keep ya occupied when you're snowed in..., like for example; you can peruse the Sonic Labotomy Show site
Sonic Lobotomy is completely non profit. The show airs on several community access cable systems throughout New England including Cambridge, Salem, Somerville, and Danvers. Bands that appear on the show also are allowed to use the material for their own needs. TJ Welch is hte mastermind behind the show and its concept, he's also the founding member of Boston bands The Blue Bloods and The Welch Boys.
He's got Darkbuster and Kilslug and Three Day Threshold and lots of other excellent bands on his show ...definitely something you can spend a lot of snow time on...or any other time for that matter!!
And then, if you are still snowed in this week....I forgot to give you the links earlier this month to Jan Crocker's new videos posted on Kinovd...
First off there's a cut from the Unnatural Axe DVD "You'll Pay For This!"
Check out the AXE ripping up Boston's Rat Club with "Tonight We Fight." Unnatural Axe ruled from the front seat in the Boston music scene during the late 70's and 80's. The Axe are still bring it today,
so check them out if they come to kick some ass in your neighborhood. Watch "Tonight We Fight" here
And here's a real cool Christmas gift for you: In case you missed it, the Sex Pistols played in Sweden in 1977.
Swedish parents said: Vad är ett kön pistol? Hide the vodka and the children, the Pistols are on the Eastern front. Seal the border!!!!. Titta på Sex Pistols gift ungdomarna i Sverige med: "Anarchy in the UK"
Its a busy after Christmas weekend my friends:
the Outlets are doing an acoustic set on December 26th at the Middle East Bakery….
Also on Friday the 26th at The Middle East up is Triple Thick and Noble Rot….
AND same day , over at Church is their Boxing Day Extravaganza with All Mod Cons, The Asthmatics, Chainsaw Disasters and Gibby & The Buzzkills…
and the Cranktones are over at The Plough and Stars on Friday as well...
AND The Classic Ruins, The Doom Buggies, The Egos and Intermission are at The Midway in JP
and the next night, Saturday the 27th also, at Church is most awesome with Cocked and Loaded, Red Invasion and The New Alibies…a punk rock Christmas!!
And of course THE Real Kid, John Felice is celebrating his birthday this weekend, Saturday Dec 27th, at The Cantab...will he show up???
You'll have to go to find out!!
On the bill are The Brooklyns, The Mesmerines, Us Versus Them and birthday boy John Felice...I have also heard that Link Wrowe & the Wrowemen (featuring members of The Classic Ruins)will be playing as well. ...
John is going on EARLY as in 9PM early so get there early for John's set. Happy Birthday John!!!
And it looks like it will be a truely insane New Year's Eve at Church with The Upper Crust, The Konks and Watts
Ok I gotta go shovel AGAIN!!....email me will ya??
home | interviews | photos | features |BGN issue list | reviews
links | contact us

Copyright © 2008 Paul Lovell. All rights reserved.