The BGN News Archive
March 3, 2008
Nothing interesting to report this week folks, I'm in a different mode for a while and have not been going out BUT there's A LOT coming up and going on… …. Now, per Lawless Records mogul Eric Law , The Riverboat Gamblers "are hands down the best live band out there these days" so THIS Monday! As in the 3RD… at the Middle East down is Strike Anywhere, Paint It Black, Riverboat Gamblers, Ashers (members of Unseen, Crash & Burn) this is an All Ages early-ish show with doors at 7:30 and Mr. Law thinks you should go!
Good weekend at the Abbey coming up too, this Friday, March 7 we have the Hudson Falcons, The Scars, First Wave and Genuine Rust then on Saturday the 8th its a great show(!) with Necrowafers, Psycho, Padded Hell and Full Blown Aids…oh and speaking of Psycho I sat next to John Wolfe a week or so ago as we were getting our hair done; me a long involved highlighting process, John a quick trim. That was at the way cool Savvy Hair Salon in Inman Square. Helene Martini is an awesome stylist!!...
And Martin Doyle is booking the Midway in JP and you can really see the difference, they have some really good shows (and most of 'em are all ages too) coming up now…like for example in March there's this Friday March 8th with Drago, The Dimwits, Up For Nothing, The McGunks and For What It's Worth…next day Sunday afternoon the 9th (starting at 4PM) Beantown Boozehounds, Doggfight US and The Allston Pants…..Friday the 21st is Fashion Failures, The Killer Abs and The Doom Buggies and then to end the month with a sick bang there's Sunday March 30th is the GG Allin Memorial Show with Murder Junkies, Thunderhog, Mob Hit, Shit F*ck, Eat The Homeless, Iza and DJ Hair Ball spinning scuzz punk... wow. That's a early show at 3PM…so, excellent job Martin and that's not ALL the great shows from this month either so check it out at Midway …..
Coming up later this month: My choice for St Patrick's Day (Saturday March 15th) shenanigans right now is The Men at Church, beyond that …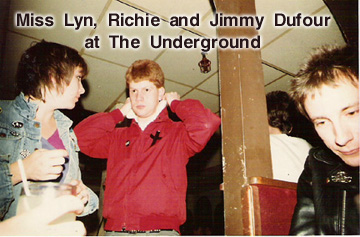 Good stuff like on Friday March 28th TT The Bear's Place has The Shods, The Teenage Prayers, Watts and The Tampoffs
and on March 29th you can take a stroll back in time at The Cantab downstairs and pretend you're back on Kirkland Street at Club Bohemia coz the Modniks are playing at The Cantab along with the most fabulous Hank Susskind as MC!! ……
And since it's the beginning of yet another new month we have the Jan Crocker KINODV links with new stuff for ya!!: Mission of Burma with a live performance of "Eyes of Men" filmed in Boston at the Space and Underground 1979-80. This is about as early as your going to see on Mission of Burma. Jan recently edited this footage and he's posting it for the first time! also
Mission of Burma and Gang of Four played together several times between 1979-82. Jan just had to add the Gang of Four's live performance of "He Would Send in the Army" recorded in London in 1981 and taken from the movie Urgh! A Music War, and as an editor's note Folks if you have not seen Urgh! A Music War you should see it NOW. Its great.
and I forgot to mention about hoity-toity Richie Parsons that not only is he hanging around with the likes of Paris Hilton he's an international jet setter with a band in Italy!! Ya, the band is called Thee Three Will Richie still talk to me when he sees me? Well, Thee Three's hit song Subway is written about me...remembering the days of me and Ritchie in the Subway and Filene's Basement....so go to the site and listen to the song coz I'm telling ya Richie still has it my friends!! The song Subway starts out witht he lyrics "Jean jacket and a Tuff darts pin" well check out the photo folks coz here's me and Richie and the jean jacket too.
OH! and one last note...here's a cool show to tune into, it's called "Strike the Box!" on WMFO 91.5 FM Thursdays Noon to 2PM, great combo of cool music played for ya .... and with the bye for this week.....ML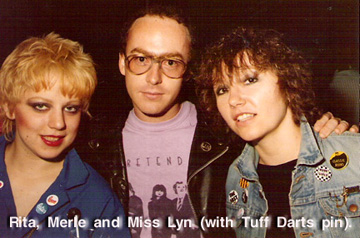 There is a play at BU called Gary that uses the 70's punk rock scene as a backdrop.......
Directed by M. Bevin O'Gara. Music by Rick Sims.
Performances February 28-March 16 as follows: Thurs. 7:30 p.m. Fri. and Sat. 8 p.m. Sun. 2 p.m.
BU alumna and playwright Melinda Lopez, acclaimed author of Sonia Flew and Scenes from a Bordello, weaves a tale of hard rock feelings and rock bottom despair. The howling guitar, the slap of the bass and the slam of the drum all but hide the quiet anguish of these three Indiana siblings. Inspired by the Kenmore Square 70s rock scene. Please note that play contains mature sexual themes.
A video review.....Gary the play.
home | interviews | photos | features |BGN issue list | reviews
links | contact us

Copyright © 2008 Paul Lovell. All rights reserved.