999
Koto, Providence RI
October 28, 2019
Nick Cash and Miss Lyn
Photo: Eric Law
Back in May of this year I stumbled upon a couple Facebook Event pages for a 999 gig in Pennsylvania. What? 999 coming back to the States? WOW!!
I immediately emailed the band and asked if they were doing any Boston shows. Arturo answered and sadly said No but gave me the contact info for the guy booking the tour; John Loftus of The Clap.
John said he wasn't able to get a gig in Boston. HUH?? I asked if I could help coz Joanie Lindstrom and I were ready to go all out on this one. He said the tour was fully booked, something like 15 shows in 14 days. So it looked like we'd had to decide what trip to take where to see them.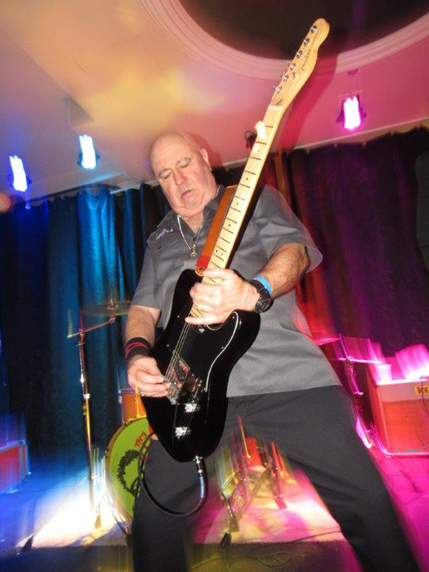 Nick Cash
Photo: Eric Law
Then on October 16th John emailed, there was a cancellation, could I help find a replacement gig for October 28th? YES!!!
I remembered the last time I booked a couple shows – not a good experience. I thought booking king Cal Cali might be able to do it. He jumped at it. I also put the idea out there to the hive mind on FB. Then I started looking for Oct 28 opening. Not many out there. I did find one place, they said yes, but it fell through. Bob Cenci came to the rescue with info that Janee of Koto Salem had an opening at Koto Providence RI. That was that and the date was set.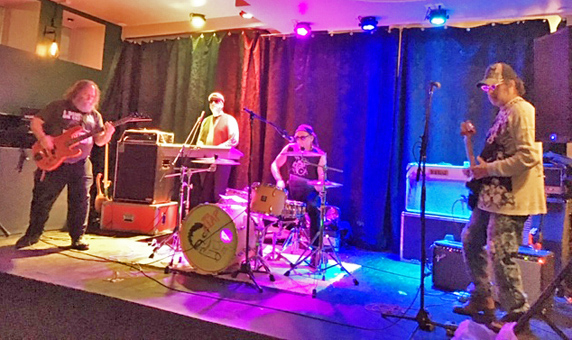 Glider
Photo: Miss Lyn
Brian Young was on board to MC the show. First up was Glider. The band is tight and they deliver a laid back sound. Cal Cali is up front, on drums and vocals, With Kenne Highland on bass they've clicked it up a notch. We've reviewed many of their recent shows.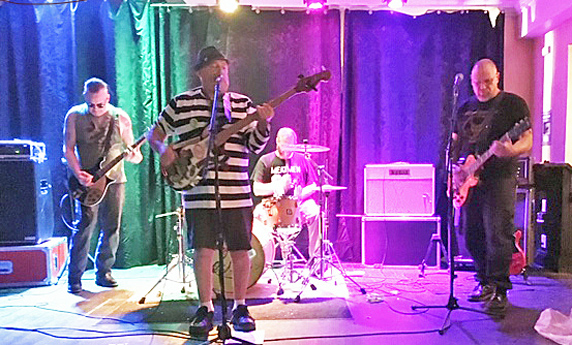 The Clap
Photo: Miss Lyn
The Clap did the second set. These guys were new to most of us. What a pleasant surprise!! Late 70's Pop Punk, and sounding very British. Singer, bass player John Loftus started the band back in 1978, they were the only punk band in their area in PA. They played with a lot of well known bands like The UK Subs, 999, Suicidal Tendencies, DOA, the Dead Kennedy's, The Dickies and GBH. This is a band to look out for when they come to the Boston area in the future! The Clap FB page. The Clap website.
I've been a rabid fan of 999 ever since 1978 when Kim Kane of the Slickee Boys said "I have an album by a band I think you will like" and he held up the debut 999 LP. Here we are 41 years later. These guys still put on an amazing show.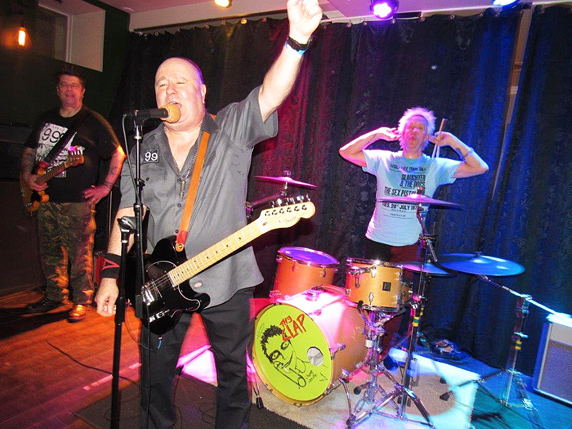 999
Photo: Eric Law
Nick Cash is still a great front man. His voice sounds the same and he is energized no matter how many people are in the audience. He put down his guitar to do some straight singing and was all over the stage.
Original guitarist Guy Days delivers searing leads and bass player for the past 30 years Arturo Bassick has put in his time with the band. His bass sound is BIG and juicy and buoys the band. Arturo is also in the early brit punk band The Lurkers.
Drummer Pablo Labritaine is no longer with the band but for the past 6 years they've had Stu Meadows on drums. He told me "I'm in a great place now, I get to play drums with a band I've been a fan of for years!" How many people can say that?
The band did all the hits, Homicide, Emergency, Let's Face It, Feelin' All Right With the Crew, English Wipeout, Boys in the Band and more.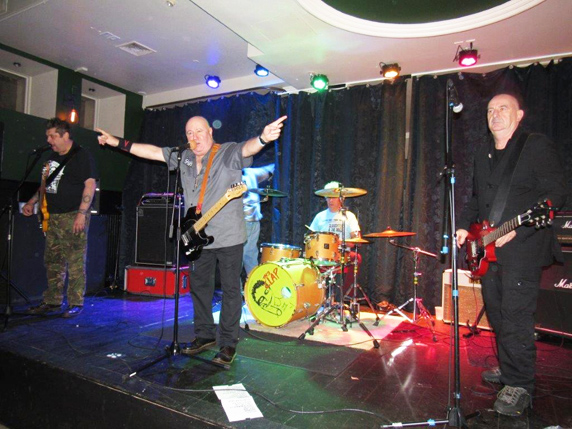 999
Photo: Eric Law
This night it felt like a private 999 showcase for those of us there. With little notice, and on a Monday night, it was tough getting a crowd there. Lee Harrington from the Neighborhoods was there, he recently covered "Let's Face It" at a Jay Allen Mess Around. During the song he was going crazy! You could tell it was one of his faves. Also in the audience were Michele Meadows and Larry, Theo Greenblatt, Jamie Woloff of the Sleazies, Eric Law, Joannie Lindstrom.
Nick told me they do about 50 shows a year over in the UK. Let's hope we can get them back to the US for another go at it next year!!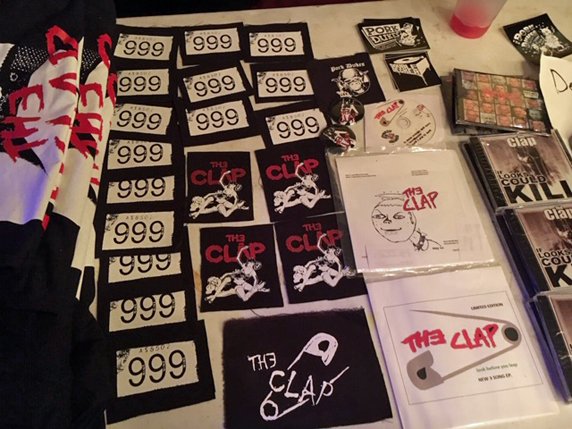 Merch Table
Photo: Miss Lyn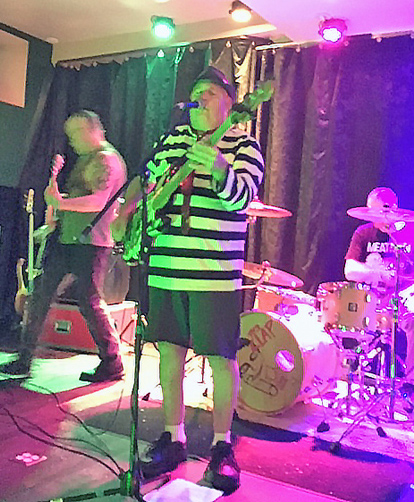 The Clap
Photo: Miss Lyn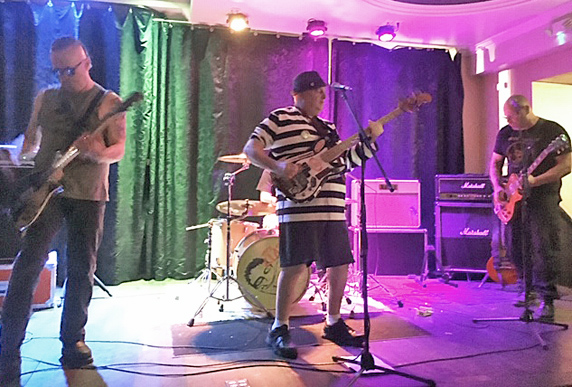 The Clap
Photo: Miss Lyn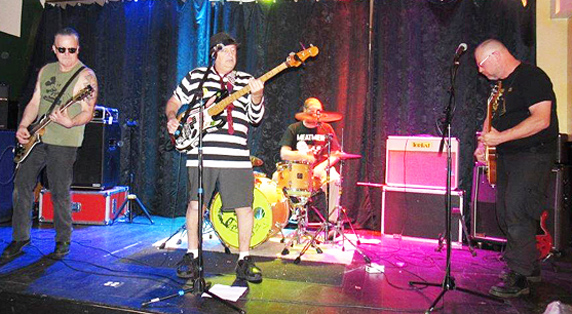 The Clap
Photo: Eric Law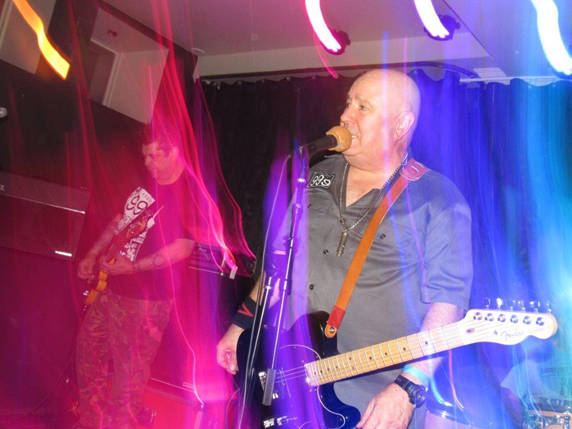 999
Photo: Eric Law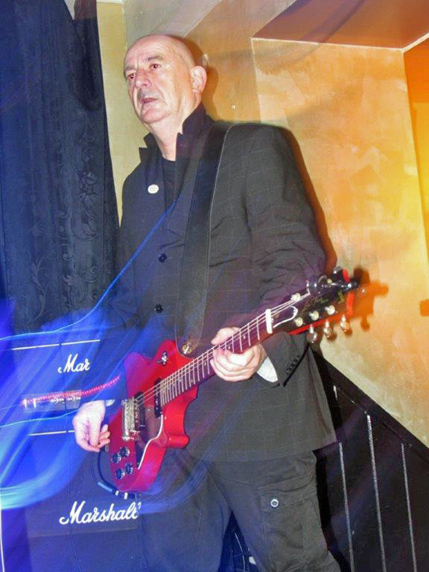 Guy Days
Photo: Eric Law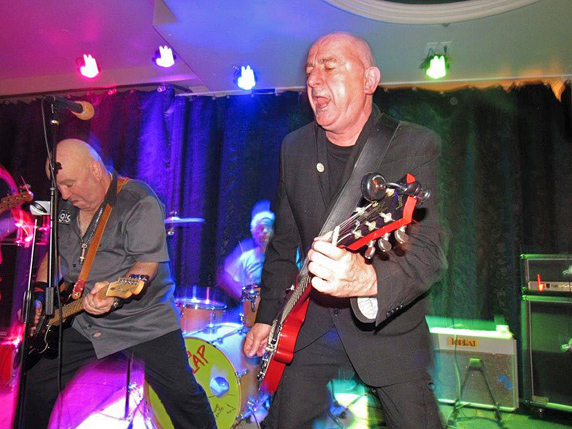 Nick Cash and Guy Days
Photo: Eric Law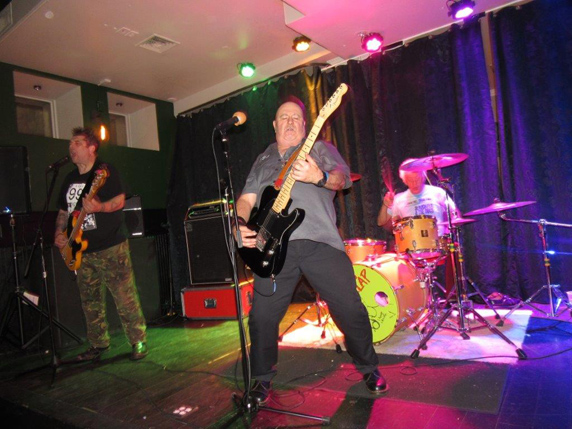 999
Photo: Eric Law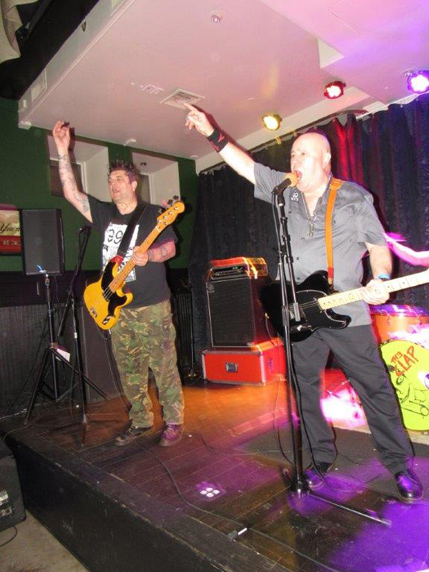 999
Photo: Eric Law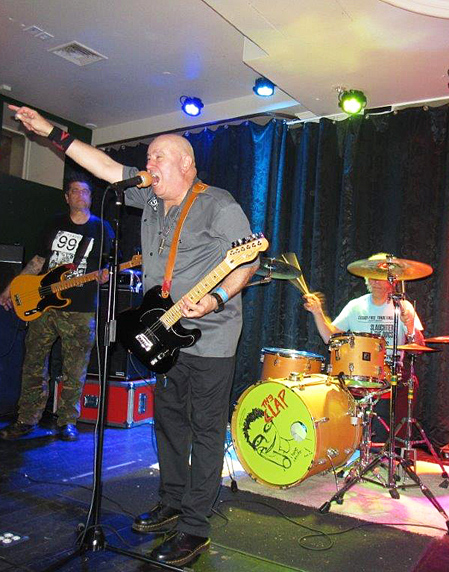 999
Photo: Eric Law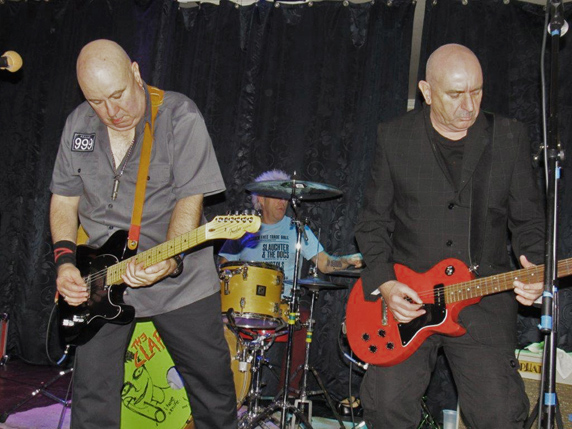 999
Photo: Eric Law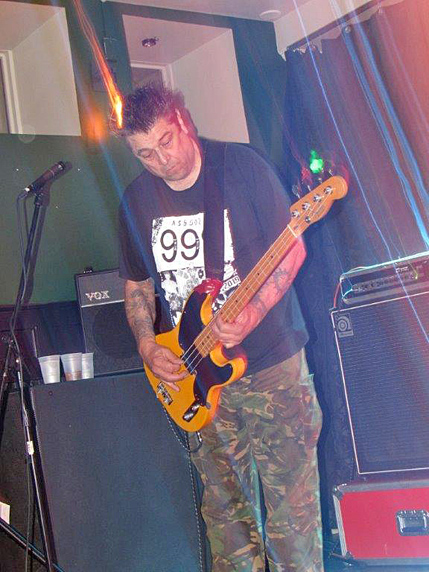 Arturo
Photo: Eric Law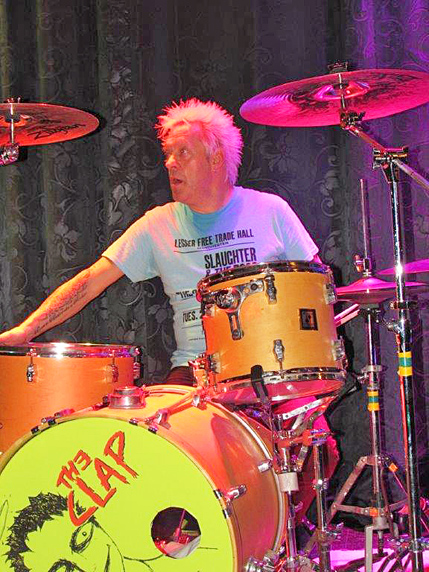 Stu Meadows
Photo: Eric Law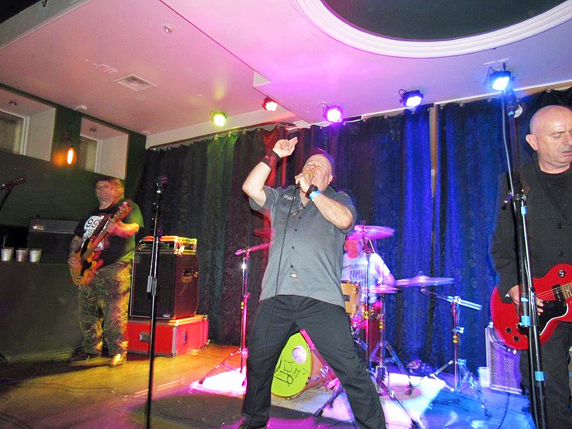 999
Photo: Eric Law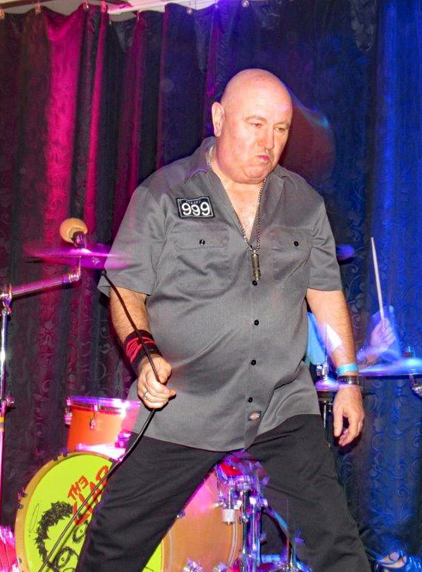 999
Photo: Eric Law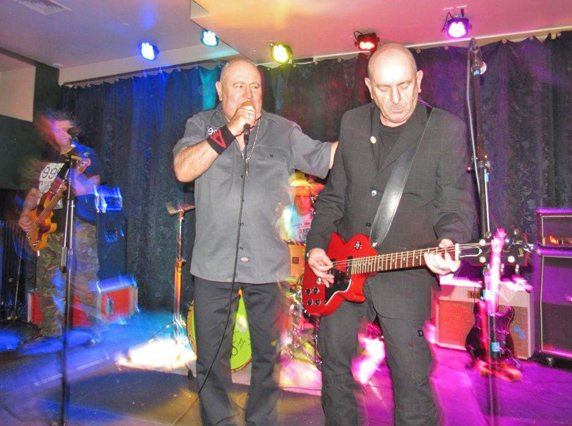 999
Photo: Eric Law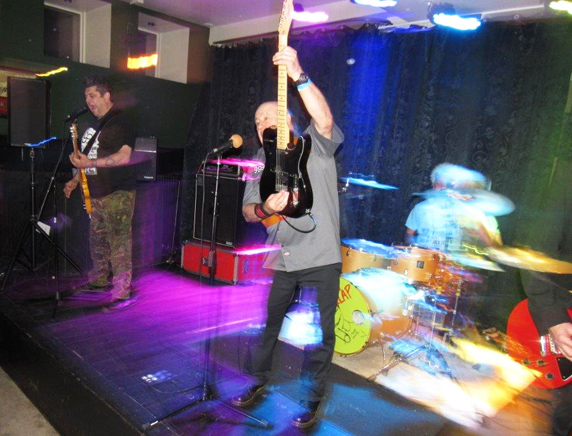 999
Photo: Eric Law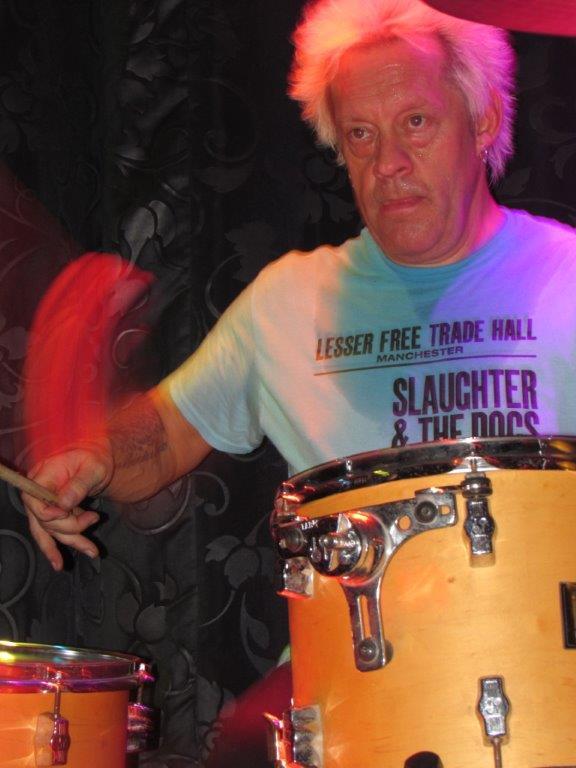 Stu Meadows
Photo: Eric Law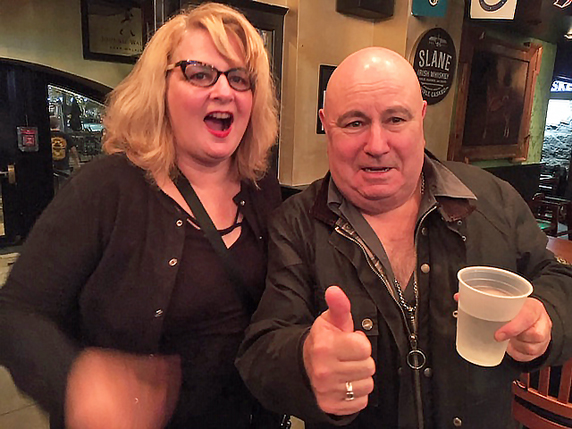 Michele Meadows and Nick Cash
Photo: Eric Law