All Kindsa Girls - Preview
6/3/03 -Zeitgeist Gallery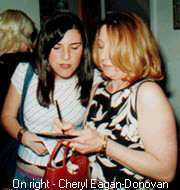 The Boston Groupie News was in attendance for the All Kindsa Girls Sneak Preview Party at the Zeitgeist Gallery, Inman Square Cambridge on Tuesday June 03. It was a great night with lots of old faces that came out to support The Real Kids and Director Cheryl Eagan-Donovan. If you were around during the days of Cantone's, The Rat and The Club you'da loved it!! There was Maria Denisenzo, as well as John Felice's sister Katie and brother Jimmy. I remember Maria being at every gig, right in front dancing and smiling…and there she was Tuesday in 2003 looking just the same as she did 28 years ago!! I thought I was having a flashback when The Real Kids were on stage playing Who Needs You and Maria was up front bopping away right next to Bob "The Boob" Colby!!!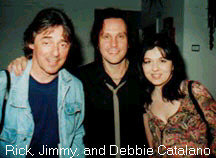 Lots of people showed for the Sneak Preview, many of whom are in the film; Rick Coraccio (Lyres, Last Ones), JJ Rassler (DMZ, Downbeat 5, The Queers), Brett Milano (Boston Phoenix), Tommy White (Unnatural Axe, The Mighty Ions), Jesse Meyer (The Kenmores), Joannie Lindstrom (WMBR), Dinos Mekios of WMBR's Record Hospital, Michelle Paulhus (The Dents & an ex-Real Kid).
We got to see a 30 minute Sneak Preview of All Kindsa Girls. A cut from the middle of the full length film, it opened with The Explosion playing a show at The Paradise in Boston and bass player Damian Genuardi talking about the first time he'd ever seen The Real Kids. There were lots of clips of Billy Cole and John Felice talking about their experiences, thoughts and feelings about being in Rock'n'Roll. There was a great segment of short cuts in which numerous Boston musicians talked about their first guitar; Dave Minehan talked about his candy apple red one, Kenne Highland told of his $9 guitar from Sears, Michelle Paulhus shared the embarrassment of her $75 Japanese white Flying V bass. A great editing job took us from Alpo talking about his Kay guitar right into Paul 'Blowfish' Lovell saying "I thought it was cool coz Alpo had a Kay and I had a Kay".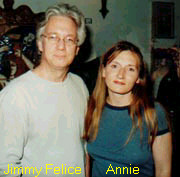 The preview clip also included a truly amusing and amazing segment on Real Kids Japanese fans, featuring the brothers Fifi & Fink from the band Firestarter. There was live footage of the band playing at the Tokyo club Shelter and a visit to their raunchy Rock'n'Roll apartment. The clip walks you through their place shows you the shoes, typical Japanese custom, lined up at front door, then into a tiny little space filled with beer cans, cigarette laden ashtrays and records, records, records. Every Real Kids records you can think of (as well as Thundertrain's Hot for Teacher 45 getting prominent showing)!! One of the brothers went into a monologue on how all great American bands have names that start with the letter R! Really fun!
Though All Kindsa Girls centers primarily on The Real Kids, it is most definitely a tribute to the Boston Scene as well, then and now. It felt really cool to have been part of something finally getting the treatment it deserves and to see so many of the awesome people that made it all happen share their thoughts for the making of this film. After the Sneak Preview, The Real Kids took to the stage for some old and some new songs followed by a short set from The Dents. According to Allan Nidle, Zeitgeist manager, a neighbor, "the troll" who lives adjacent to the Gallery complained about the noise. The bands were billed as doing "low-fi" sets but ah, somehow that just didn't happen. So unfortunately we did not get to see JJ Rassler perform. But it was a great night anyway. Very exciting! By the great turn out you could see that everyone is truly "psyched" for this film!
| | | | |
| --- | --- | --- | --- |
| Bob (The Boob) Colby and friend. | | Kenne Gizmo, J. Leana Ness and Jimmy Birmingham. | Bret Milano |
| | |
| --- | --- |
| Eric and (one foot lower) Sue Safton. | Carl Biancucci. |
---
home | interviews | photos | features |BGN issue list | reviews
links | contact us
Copyright © 2003 Paul Lovell. All rights reserved.