Memorial Service and Thoughts on
Allen 'Alpo' Paulino
My Reflections of a Rock and Roll Funeral
by Ralph "Vinny" Fatello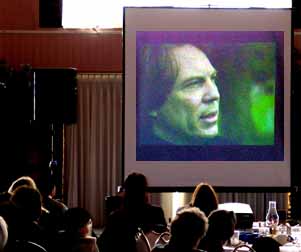 The email that morning from Johnny Angel, came in like a swift, silent sword. Every now and then, I'd get short notes from Johnny. Usually it's to help him find someone's name and or number. This email was different.
In the subject line was one word. Alpo. Followed by this short note.
"Former bassist, Real Kids, as you know. Quintessential "Boston Punk". Rest in peace. Yesterday, so far as I know, either a "bad cold" or a possible OD. I'll have more details soon.
JA"
Alpo was dead. It stopped me in my tracks. I leaned back in my chair, as my mind raced over the last 30 or so years.
Damn, Alpo. When was the last time I saw him?
Then I remembered. Down the street from my house, at 8th Street. Where we all surf. It was a few years ago. I was out surfing. It was a nice, hot summer day the surf was good. I had just gotten a nice wave and was paddling back out when I saw a surfer go by me on a wave that looked way too familiar not to acknowledge. "Alpo is that you?" I yelled out. The surfer looked at me and smiled. It was Alpo! "Hey Ralph how's it going?" He said with a big smile on his face. "Shit man, I can't believe it's you! And look at you surfing here in Hampton New Hampshire without telling me!" I said as I got off my board and gave him a big hug. "Where do we start?" I said.
Well, that was the start of a very long day for the two of us. He gave me all the important updates on his life. And by and large it all seemed to be going his way. I saw his hand and asked what the hell happened? He told me. In fact, he told me everything.
We spent the rest of the day catching up on our lives. I insisted that he come back to my home and join my wife and kids for a barbecue. He did and we had a great night reminiscing about our lives. My kids got a kick out of him. I called my brother John and had him come up from Beverly to join us. When Johnny finally arrived, all the old stories came out.
You see my friends, as much as you all know Alpo from the Rock and Roll days, we go back way further than that. I've known Alpo since he was a "Real Kid", if you catch my drift.
| | | |
| --- | --- | --- |
| Ralph Fatello and John Felice | Granny and Michelle Habor | Miss Lyn and Asa Brebner |
In other words, I knew him since he was 8 or 9 years old. Being 5 years older than Allen, he had to put up with the Big Kid syndrome and me. My brother John and he hung out together. I will not BS any of you here because there is no reason to. But me and my other friends my age took it upon ourselves to keep these little guys in line. Whenever they messed up, they had to pay. It was no different when I was their age and had to deal with kids older than me. It was all part of growing up in Beverly. It was not easy for Allen or my brother. Dealing with us older boys in the mid-60's.
Those were crazy times. The War in Vietnam was heating up, and one by one, a bunch of us left for Vietnam. I joined the Marines and told those youngins to stay away from my guitar and my surfboards. Alpo and my brother Johnny used my surfboards while I was over there. I remember freaking out when I got a letter from my brother telling me that he and Alpo went surfing and they used my surfboards. Damn!
While I was in Nam my brother Johnny started playing guitar…my guitar. Damn those punks! There was a bona fide local Rock and Roll scene in Beverly. But then again, that was the one thing we all had in common. Rock and Roll.
Beverly has always been a hotbed for local Rockers. In fact, it's Boston's "Liverpool." I mean think about it. In the 60's we had groups like Teddy and The Pandas ( who opened for both the Stones and the Beatles), The Warlocks and a host of others.
By the time the 70's rolled around, the Beverly scene had spawned several groups that you are all very much aware of.; The Nervous Eaters, The Fools, The Vinny Band, The Dawgs, Tony and the Mechanics. The list goes on and on. The fact that Alpo was in the Real Kids was all par for the course for us Beverly Boys. Like I said, Beverly was a big part of the 70's music scene. We all Rocked from Beverly to Boston and beyond.
Whenever I'd run into Alpo in the clubs, it was not Alpo, the Real Kid Bassist I talked with, it was Alpo from Beverly. He knew it back then, and he knew it at the beach in Hampton a few summers ago. To me, he was always that scruffy, little punk-ass kid who hung around with my brother and I loved him for that fact.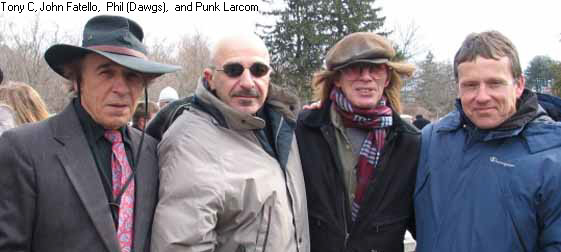 Time is an enemy that can never be defeated by any of us. That simple fact has never been more apparent since the day I turned 50. I guess we all realize that.
When my brother Johnny and I pulled up at the Cemetery in Beverly, that cold Saturday morning at Alpo's funeral, we both took a deep breath. "Hope I don't make a fool of myself forgetting people out there." I said. Johnny just nodded in agreement.
It's strange walking back into the Rock and Roll time tunnel. My eyes strained to see a familiar face. The first person I saw was Richie Parsons. Damn…that was easy. Richie looked the same to me. We exchanged pleasantries… and I mentioned I had seen his brother "Moose" this past summer in Hampton. Moose was a member of the infamous Gremmies with Richie and I. We both chuckled at that thought.
The wind was whipping through all of us at the graveside. It was freaking freezing. It wasn't long before other Kenmore Square alumni came into focus. "Granny! Damn, is that you?" I blurted out at the most famous soundman of the 70's. "Hello Ralph.", said Granny. I was grinning from ear to ear. Granny was an icon at the Rat. I loved Granny…he was always so miserable and happy at the same time. He looked great.
Then I spotted Michelle from the Bristols. She looked as good as the last time I saw her. It was like time had zipped up and closed that long gap. This was good for the soul I thought to myself.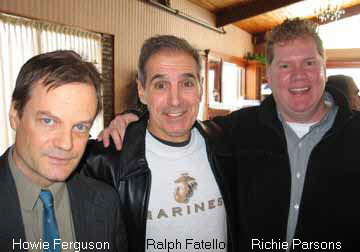 The service was winding down, mostly due to the extreme cold. We would all be heading back to the Danversport Yacht Club. And it would be an eye opener for more than just my brother and I. It was time to get caught up on our lives.
There were so many black leather jackets mingling about. Our colors; Black leather, like some badge of courage…at least, that's how I perceived my own leather. Wear them with pride. We've all earned that right. From the trenches of The Rat, to kitchen of Cantones.
We smiled and laughed, and reminisced about our past, and gasped at our current status and future. Most of us were married with kids, some with grandkids. Most still played music in some form or another and every one of us had an Alpo story. No one was surprised that I still surfed. I mean why would I not be surfing at 55? They did however, laugh at my house rule: "If You Live In My House-You Have to Surf and you have To Rock." Thankfully, all three of my kid's surf and they all love Rock n Roll. Even my wife Cory surfs on occasion. Therefore, I do NOT have to administer any discipline.
Seeing Steve Cataldo was great. And Rob Skeen and a host of other Beverly Rockers; Punk and Phil from the Dawgs, Tony Cagnina and Marky Mussell.
One of my highlights was, talking with one of my favorite, Rockers from the day, Frank Rowe. To this day, no one had a better descending chord progression than Frank. I loved his style.
Seeing Asa Brebner, Scott, and Tim from Robin Lane's band…and even Robin herself. I had to tell her who I was. "Robin do you remember me? You used to call me Mr Vinny." She looked at me and deadpanned "Oh, you were that guy? "Yes, I was Robin…yes, I was…"
I saw and spoke with Maria, Linda Leather, John Felice's sister Mary…so many faces so many names. It was like 1978 all over again.
The true highlights of course, were seeing and talking with Alpo's band mates. They were all there. Both Billy's (Borgioli and Cole) along with John and Howie. John looked exactly the same and so did Howie. John was quiet and somber. Howie was being so reflective on all of it. I truly felt their pain. As I'm sure, the memories came flooding back. Both good and bad. How could they not?
Talking to both John Felice and Howie, it was apparent that our lives had indeed moved forward. Yea, we were all rapping about the past, but the truth is, we were all here in this room, mourning one of our own. Our own mortality hung in the air like a dense fog. Slipping off to get another diet Coke (I've been sober for 19yrs) I ran into the icon of all icons…Miss Lyn! Damn! She looked great! It was like I just saw her at the Rat or somewhere. How long had it been? We talked and smiled and then we all settled back and watched a segment of the movie "All Kinds of Girls".
We listened and watched, with a deep, profound sadness, as Alpo spoke back at us. Seeing him alive again was a bitter pill to swallow. Damn Alpo…
Along with the movie clip, were stills of Alpo playing at various clubs. In several of those stills, were photos of Jeff Wilkinson playing drums. My brother and I looked at each other and shook our heads. Another Beverly Boy, Jeff Wilkinson from the Eaters, gone before his time. "Maybe they are playing together right now," I said to my brother. "Maybe" Johnny replied. "Maybe Hendrix is playing lead guitar!" I said. We both laughed.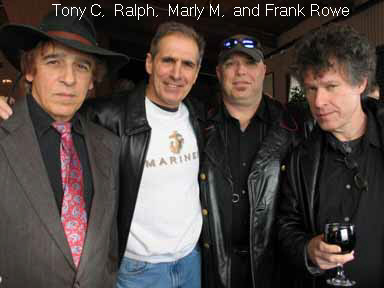 I slipped out of that big hall without really saying goodbye to anyone. I was really sad thinking about all of it. I had lost many friends and relatives over the years and I suppose I'll lose a few more before it's my turn.
Life is like they say…"Too short".
And I guess every time something like this happens, we all step back to reflect, and some of us gain something from it. I know I do. I try to be a good person now-a-days. I'll try and stop to help someone, who needs help. I'll try and put a smile on someone's face. I never forget an old friend, and will always talk about them, as if, they were still here.
So Thank you Alpo, for reminding me about my past and allowing me to see some old friends again.
And thank you, for pointing out to me, to focus on my future with my family and friends.
I hope you are resting in peace Allen.
I will see you again my friend, and we will once again, Rock The House, and then…we will go Surfing…
---
The Burial Service 2/18/06
By Miss Lyn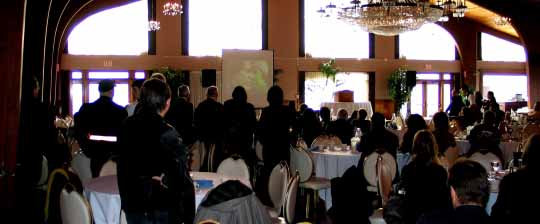 For all of you that could not attend, I want to give report on Alpo/Allen Paulino's Memorial Service at North Beverly cemetery and The Danversport Yacht Club.
Well it was a freezing, freakin' COLD and windy day! As we neared the cemetery we saw that there was a goodly amount of people gathered there at the gravesite. What hit me most was the little black marble box that would be the final resting place of our pal Alpo. That's when it really got to me…along with looking at the grieving family members seated in front of the box in it's glass case.
Everyone was gathered around, all wrapped up and protected from the cold. The priest spoke…and misspoke, calling him "Allen Lupino" (easy mistake, I guess). There was the usual prayer and talk about God…it was a short service.
Everyone that was there from the music scene immediately began greeting and hugging each to say quick hellos before heading over the the yacht club. At the entrance of the hall was a table with a couple of photo albums of childhood photos of Allen. They were fun! All black and white and faded…Allen without any pants on, Allen with some adult's coke bottle glasses, Allen standing on the kitchen counter making funny faces; it was a great peak into a life of a little boy most of us on the scene had never known. And what a ham he was!!
Inside the halll there was a screen set up on to which photos of Alpo in The Real Kids and The Nervous Eaters and with friends and other musicians were continually projected. Everyone milled around meeting and greeting and sharing stories of our times with Alpo.
I spied Rob Skeene who was the bass player for the Nervous Eaters and pretty much just 'disappeared' from the scene 25 years ago!! He's doing very well, lives in N.H. with a family, is very happy and has "more guitars than ever". We reminisced for a long time.
The all of a sudden a guy comes up; "Lyn? It's Ralph Fatello!" wow, actually he pretty much looks the same (as does Rob). Ralph is still doing graphic design (he designed our fabulous Button logo up there at the top of the page, by the way!) and STILL surfing!! He has three kids who have had no choice but to abide by the house rules, which are "you have to rock'n'roll and you have to surf", ha ha, some things never change!!
Ralph told me a great story about hwo two years ago he was surfing up on the northshore and this guy passes him on a wave and it was Alpo! Ralph yelled his name, they stopped and talked and Ralph took him back to the house and they had a barbeque. Alpo started coming up to Ralph's place that summer so they could surf together, he was happy and sober and it was a great time.
Others in attendance were Billy Borgioli (original Real Kids rhythm guitar), Howie Ferguson (2nd Real Kids drummer), Kevin Glasheen (original Real Kids drummer), Jimmy Birmingham (final Real Kids drummer), Steve Cataldo of the Nervous Eaters, Terry Brenner, "Hail Mary", Helanie Saad, Lynn Ciulla, Sandy Beach, Rayboy Fernandes and wife Lisa, Danny McCormick, Richie Parsons, Frank Rowe.
Also thanks must go out to Lisa Connolly (who coordinated the photos and film) and Alpo's friend Jack Donahue for the sound system used both at the cemetery and the hall.
Also there was Cheryl Eagan-D who spoke of good times with Alpo and showed a touching clip of an Alpo interview from her All Kindsa Girls flick. Alpo walks along the beach up on the North Shore and talks about his younger days, joining the Real Kids and about his current job at the halfway house as a counselor and about his love of golf and newly found interest in bowling, he even points out where he lost his virginity!
It was really nice to see, very informative and just what we needed; a wonderful glimpse of a happy Alpo telling it like he always did; just plain real.
Most of us have both good and bad stories to tell about Alpo, but in the end the truth comes down to the fact that he was a good person inside, a tortured soul who lashed out as an angry youth but did finally grow up and become a man who made amends and lived a even more incredible life.
Those that were close to him readily admit he was a fiercely devoted friend. How many folks can you say that about?? And ss the bass player for the Real Kids he strongly affected thousands people all over the WORLD!! He had fans who loved him and were thankful for his music and for his being the personality that he was…BUT to then go on and become a devoted drug counselor (and the best kind: one who speaks from experience) was even more remarkable.
In the end he affected so many people in such cool and positive ways throughout his life! Most people here on this planet could only dream, or wouldn't even dare dream, of touching so many in such ways.
In the end I am sure Alpo had to be proud of his achievements, I know I am proud of him and I am quite sure all his friends and his family are as well.
We will all miss Alpo but we can all be proud we knew him or even knew of him!!
---
Thoughts from Jessica, Allen's step daughter.
Alpo was a Punk Rocker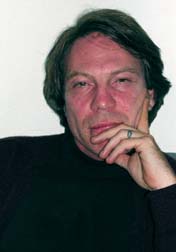 My stepfather was a punk rocker and his name was Allen Paulino. He died on Monday, February 6, 2006.
He was a great musician with a ferociously strong personality that made him popular, loved and hated. He was also an alcoholic and drug addict, and sober for many years. During the years he was clean he loved to play golf and worked to counsel other addicts, but still found no peace and seemed terribly sad sometimes. I remember seeing him lying on the couch after work, just looking at golf on the TV with his thoughts some place else...
Allen was also my father in the truest sense of the word. Even though he was not bound by blood to love me, he treated me better that my own father. Allen loved me as his daughter. And I loved him as the father I needed. Despite his own faults, Allen was an amazingly positive figure in my life. He never talked down to me or told me that I was 'bad' for acting rebellious. Rather, Allen encouraged my ways of self expression which helped me build my self esteem where my biological father has been unable to commend me. Allen may well have saved me with his approval from a life of hating men for the failings of my own father.
My stepfather made me feel good about being unique; being unique was his trademark. Allen helped me accept my immature teenage behavior as a stage of life that some of us needed, because he needed it so desperately when he was young. He believed in me, saw the best in me, and encouraged it. I will never forget this kindness. Allen was such a source of wisdom and encouragement for me, that I am sure I can credit much of my self acceptance to him.
There were also negative experiences in having Allen in my family. I have seen him with his guard down, broken and feeling alone. I was there when he opened his first bottle after the accident took his fingers. Actually I opened the bottle for him (in disgust) because he couldn't physically do it. I remember thinking that he may die for his addictions, but better that he be home and drunk than somewhere that he might get into a car again. It was Christmas time and he had just got home from the hospital. I left him with his bottle, hiding in the basement.
Allen affected a lot of my who I am in some less subtle ways. He lent me my first taste of Charles Bukowski, which I gobbled up in an afternoon. We then spent hours talking about the stories Bukowski wrote. He also gave me my first Aleister Crowley book, although I am not sure he knew what he was doing. To this day I am still involved in 'magical' groups that admire Crowley and perform his rituals. So much of what Allen did for me and the things he said to me remain in my life now. His strength is in my heart and the wisdom of his years is in my mind. He learned so much about life in his short time. And he had developed a gift for transforming that knowledge into words that could alter any listener.
I am a comforted by one thought as I sit in tears knowing I will never see him again: That he knows how much I appreciated him for who he was, because I told him.
He is at peace now.
Goodbye Allen.
I love you.
---
home | interviews | photos | features |BGN issue list | reviews
links | contact us
Copyright © 2006 Paul Lovell. All rights reserved.