A Benefit Concert fot Arts at the Armory
1/24/2008
Photos by Blowfish
Mission of Burma
The Neighborhoods
Faces on Film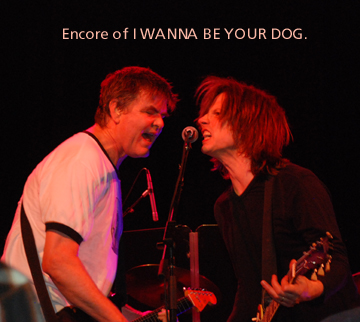 The Middle East owners, the Sater brothers, have renovated the Armory Building in Somerville as an Art Center and this concert was a benefit for that. The theatre seemed full to me although I couldn't say if it sold out.
The Neighborhoods and Burma lineup is a dream bill that was just waiting to happen. It happened once in a smaller club but here was the chance to see full sets in a comfortable setting. They are two of Boston's most popular groups but with two different ways of doing things. The Neighborhoods are romantic and fun and Mission of Burma are intellectual and serious. Tonight these differences could be seen very plainly.

Opening up was Faces on Film. The songs were moody and slow…very, very slow. The pace was damn near funereal. Another problem was that the main guy, Mike Fiore was playing some sloppy guitar. (He had an interesting pick of guitar though, a Harmony Stratotone...see halfway down this page.) The bass player was useless and the drummer worse. The songs did have some substance and I believe in a recording studio things probably end up sounding better.
This is in opposition to the other two groups tonight who excel in live performance and indeed it took one snap on the snare by Johnny Lynch of the Hoods to wipe out all the bad memories of what's their name?
The Hoods were in fine form and played a set of songs I mostly didn't recognize and it all held up. They could play "Mary Had a Little Lamb" all night and it would be enjoyable. They did play "Pure and Easy", "Prettiest Girl" and a cover of Bowie's "Boys Keep Swinging". They could have easily filled up the set with all the recognizable songs and had an easy night but a set of newer songs proves they are moving on and quite successfully too.
They had some funny repartee on stage and all the personalities got their say. David is up front and still moves like he's made of rubber. Lee is solid and Lynch is working and sweating like this is the most important thing one could do; pound skins.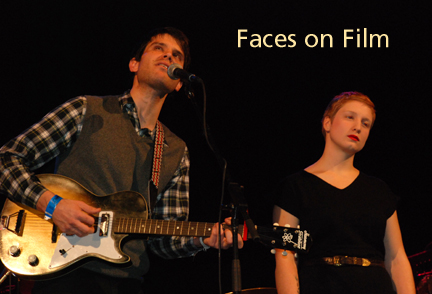 The excitement of Faces on Film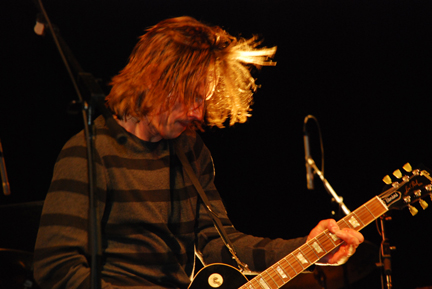 David Minehan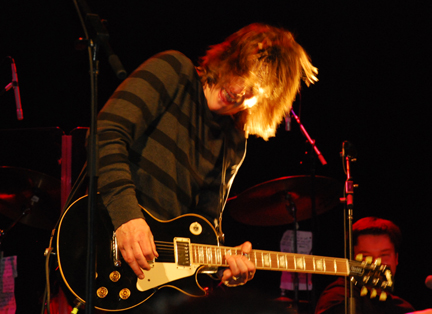 David Minehan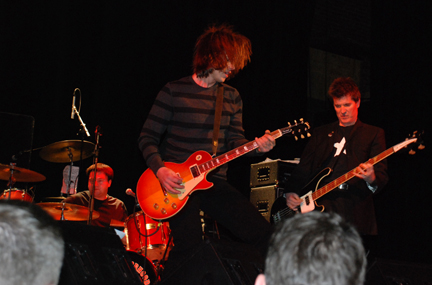 The Neighborhoods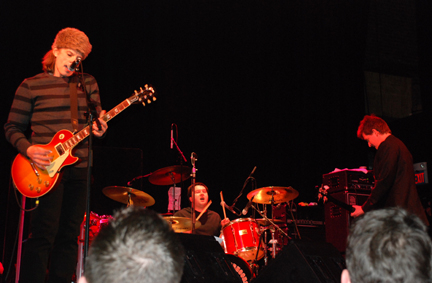 The Hoods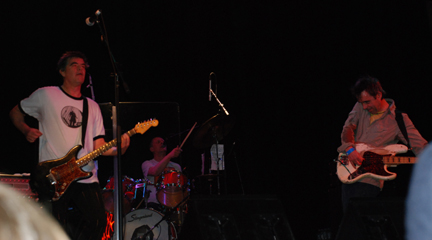 Mission of Burma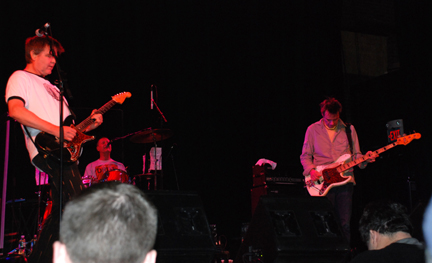 Mission of Burma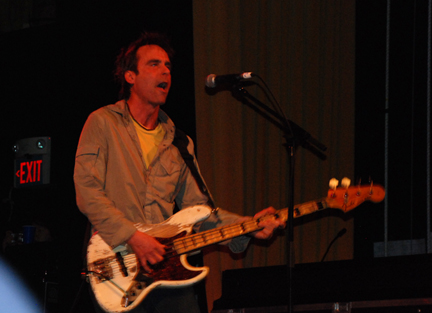 Clint Conley
I always think of the Neighborhoods and Burma as having the same popularity but tonight the greeting roar for Burma proclaimed that they were the main draw. Mission of Burma has received so much praise these last few years and to me it's all deserved. I have never enjoyed them more than tonight. They are still delivering it all.
Their cacophonous roar is symphonic in its power. It's not simply loud, it's commanding. Roger Miller's sheets of sound are created using six string chords in opposition to the rest of the rock world using two string power chords. There's a lesson there if anyone wants it. Roger also had a NOSFERATU t-shirt on; a good version of that movie can be found at LowBudgetRecords a local business.
The songs were from throughout their career. The new and old sit beside each other with equal worth. The music is not neat and tiddy with a pink bow on it, you have to get in and listen close so it opens up.
During Burma's ferocious assault I couldn't help but think back to Faces on Film tink-tinking their way through their set at quarter time.
Roger's guitar playing was sometimes psychedelic, sometimes punky with full control of feedback and a full bag of sonic tricks. It was a joy to see. Clint Conley and Peter Prescott are the foundation of the thundering sound. Prescott said a few things but this is not a chatty group like the Hoods, it's all business.
After Academy Fight Song they called up David Minehan and they saluted Stooges guitarist Ron Asheton by doing I Wanna Be Your Dog. And that was a night.
This concert really got the photographers inspired also:
Here are some pictures by Joshua Pickering for further viewing.
Also, a review and great photos from someone I hope we see more from - DAVE'S PHOTO BLOG.
Some of these photos by Richard Pasley make you feel like you almost on stage - www.richardpasley.com/foftnmob/. It has a fun new interface too.
| | |
| --- | --- |
| David Minehan | Lee Harrington |
| David Minehan | Roger Miller |
| Lee Harrington jumped on stage unexpectedly | Roger and Peter Prescott |
| Clint Conley | Roger Miller |
---
home | interviews | photos | features |BGN issue list | reviews
links | contact us
Copyright © 2009 Paul Lovell. All rights reserved.