Asa Brebner
Memorial and Celebration
Regent Theatre 6/9/2019
Asa Brebner's legend looms large on the Boston music scene. At his Memorial and Celebration concert you could see all the different sides of Asa being brought forward as the speakers presented their memories and musicians played his songs to the sold out Regent Theater.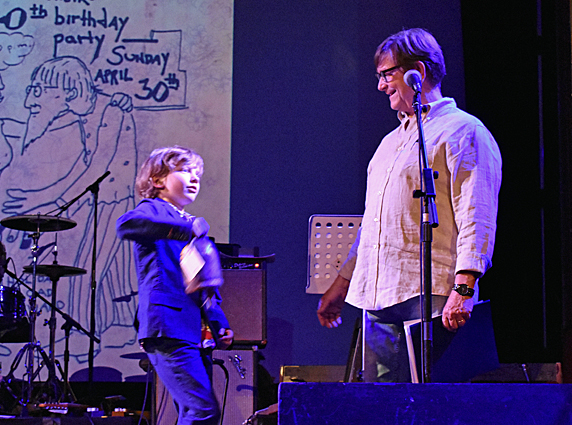 The ringing of the bell
Photo: Blowfish

On stage at the beginning was Ben Adelman, playing bag pipes and Matt Jackson (Tim's son) playing a digeridoo. In the front row was Asa's partner Lori Ray and twin sons. Then one of Asa's sons opened the proceedings with the "ringing of the bell".

John Keegan has assembled his photos of the event in a slide show that we have below.

The five hour concert had a good balance of talk and music. Tim Jackson, film maker, and drummer of Robin Lane and the Chartbusters, was the master of ceremonies. He stated that Asa was "driven to create" and that is one fact that comes out whenever you think of Asa. He also mentioned that as much as Asa would rant about the unfairness of life he didn't criticize people per se.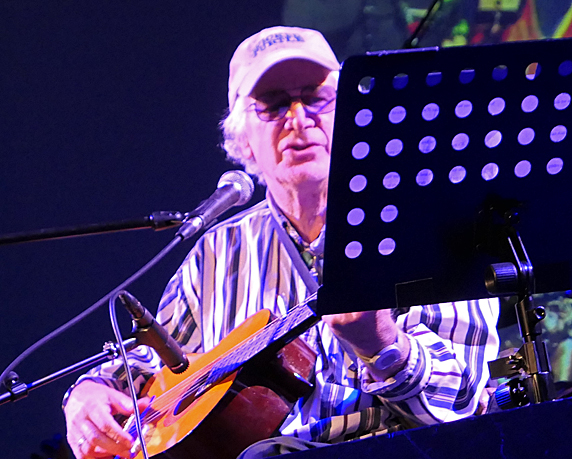 Gary Shane
Photo: Blowfish
Then Gary Shane sang Asa's "Don't Ever Lose a Memory". "You can lose your wallet, you can lose your gold, but don't ever lose a memory, it's the only thing you ever really own", the lyrics say. It wasn't just the lyrics that hit home but the whole folksy storytelling way it unfolds that stamps it as an Asa song. That's one of the ways he could construct a song.
Peter Johnson and Jan Devereux presented a proclamation from the city of Cambridge in appreciation of Asa. Video below.
Carol Fonde was with Asa since that 1974 period and had a lot to relate. She also read a letter from Jonathan Richman. Video above. (Jonathan is still a big letter writer.) Carol gave a list of people that Asa used to talk about all the time. One was living legend Helanie Saad who was present. We have a interview with Helanie providing losts of background.
Later Tim mentioned that Mayor Walsh had designated June 9 as Asa Brebner Day. Video above. Would Asa ever believe that?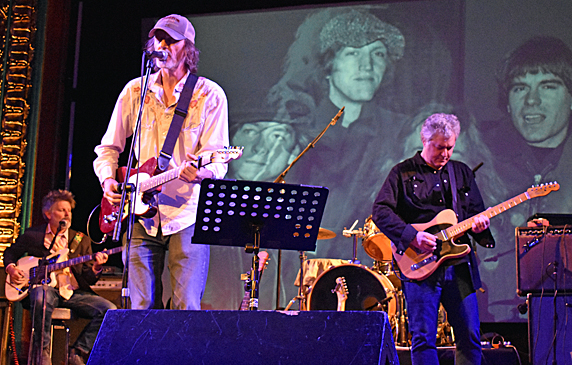 Sean Staples, Cavanaugh, Beard and Levine
Photo: Blowfish
Following was some music by Sean Staples, Duke Levine, Billy Beard and Ry Cavanaugh. The assured tone and tasty playing was typical of all who followed.
This is the musical world that Asa inhabited. That world is in the geographical area of Somerville/Cambridge. This whole night was a display of what Asa and these musicians do, and have done for years, and will do for years to come. After Mickey Clean, Jonathan Richman and Robin Lane this was where Asa knew his music would fit. How many musical memories did Asa create in years of playing those small Somerville/Cambridge clubs?
Family Jewels, one of Asa's groups got up on stage. Leading that was Pat (Trick) Wallace who helped the music end of things go smoothly all night.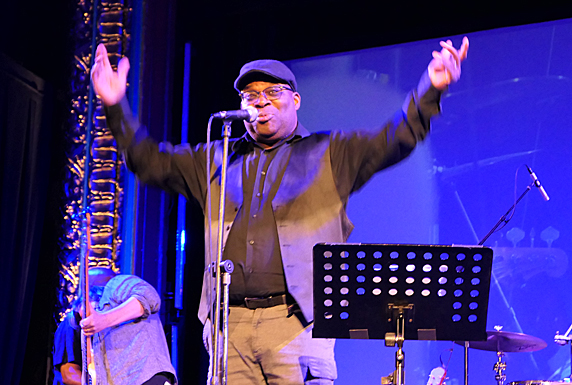 Barrence Whitfield
Photo: Blowfish
Barrence Whitfield sang "Ka Ding Song", and Russ Gershon did "Mother Earth" with the group. Playing lap steel was Steve Sadler, who used to be in the Swinging Steaks and wow, just wow on his playing.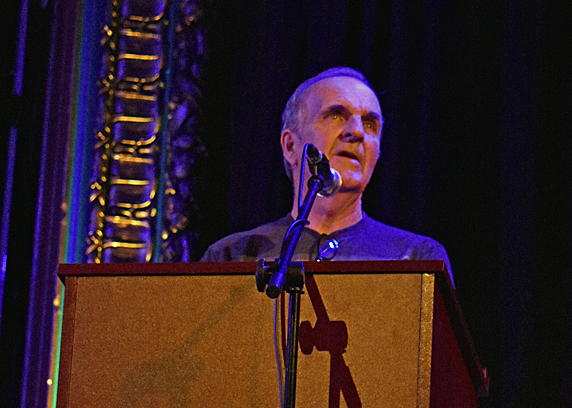 Rob Skeen
Photo: Blowfish
Rob Skeen of the Nervous Eaters got up and had stories that go back to 1974 just before Asa started Mickey Clean and the Mezz. He described Mickey Clean as a "wild monkey on meth". Mickey died a few years ago in Florida. Rob was in an early group with Jeff Wilkinson called the Pycho Punks. Rob told part of his story where he ended up hooked on heroin and had lost years before straightening out. He said that Asa was always in contact through that period. He was obviously in debt for Asa's support when maybe there was no other support.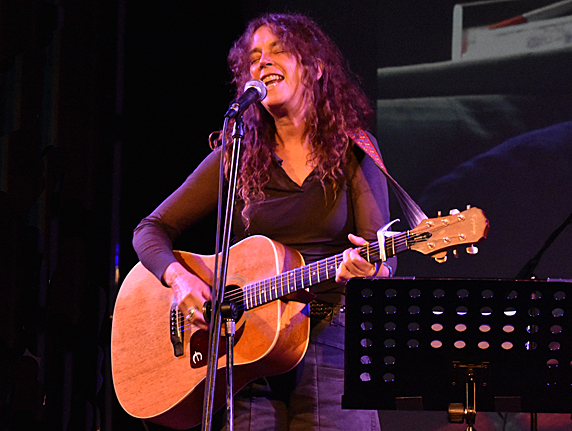 Laurie Sargent
Photo: Blowfish
Laurie Sargent played "Ragged Religion" with Pat Wallace. Then The Naked I's, another group that Asa played with, did four songs.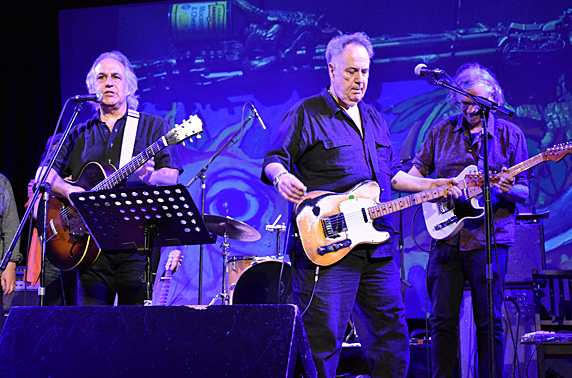 Larry Newman, Trick Wallace and George Hall
Photo: Blowfish
Larry Newman, who has a whole history himself, did the fun "Indian Amusement Park" . Billy Loosigian of the Boom Boom band was up on stage for these songs. Chris Cote (Upper Crust) went wigless for "Goin' Home". Robin Lane did "I Am Not Gone".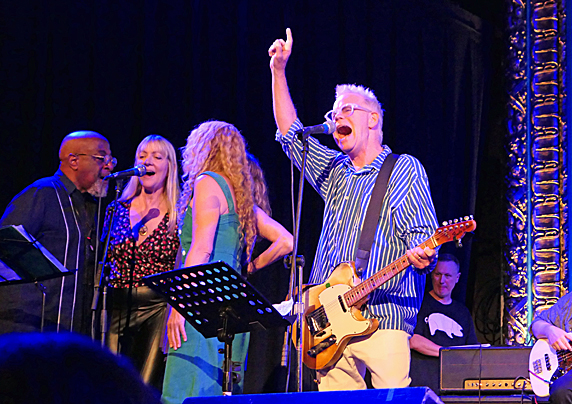 Dave Champagne
Photo: Blowfish
David Champagne, leading a group that was getting larger by the song, sang "Gospel Wheel". He also threw out a piece of advice when he finished. He told people to go to willing.com and make out a will. Asa died without a will. David is right, if you don't have a will think of the people that depend on you and get it done, no excuse accepted.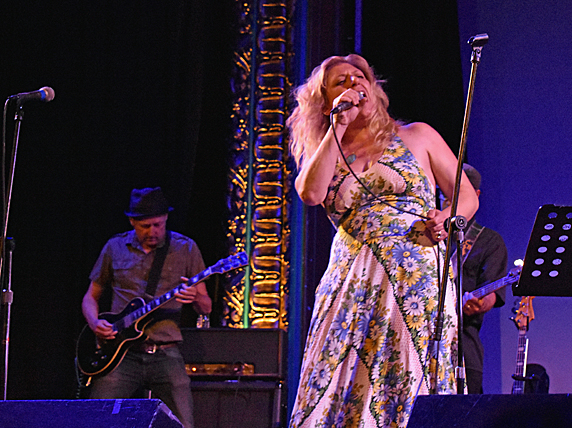 Andrea Gillis Band
Photo: Blowfish
The Andrea Gillis Band did "As the Years Go Passing By". It was deep emotional blues. Charles Hanson in blues mode was awesome. Andrea brought all her vocal prowess to bear and that voice is one of Boston's top treasures.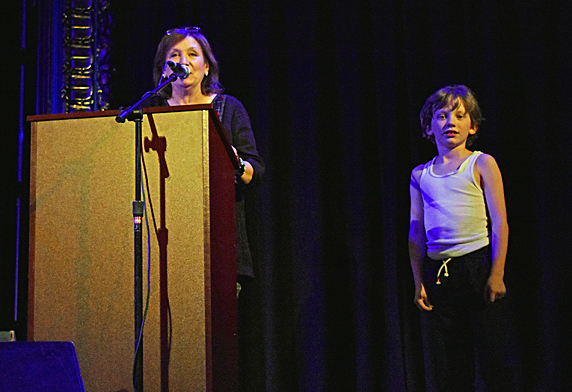 Carmelita and one of Asa's sons
Photo: Blowfish
Carmelita of Bay State Rock fame, had many personal memories. Her talk brought the personal side of Asa to the fore. Carmelita, herself, has been such a constant presence. Older bands like talking to her on her WAAF show because she knows their history and new bands seek her out because she knows what's going on in the current scene.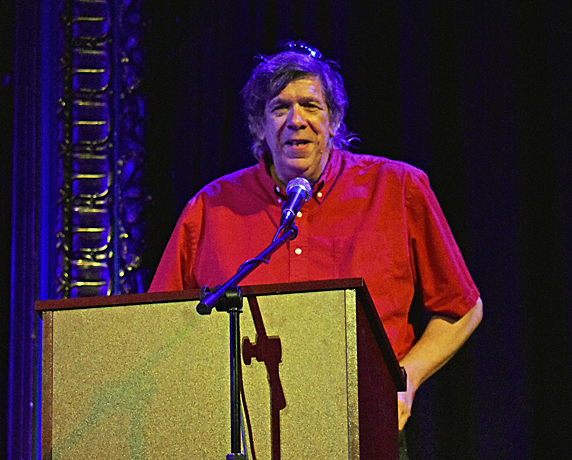 Brett Milano
Photo: Blowfish
Immediately after Carmelita's talk Brett Milano gave another angle to the Asa story. He had personal stories but linked them to Asa's musical output. Showing where some of his songs reflected his outlooks on life. He also was grateful for Asa who took a small attempt at his book opening and ramped it up to a full night of non-stop Boston rock at the Middle East. That was in 2007 and we have a page on that.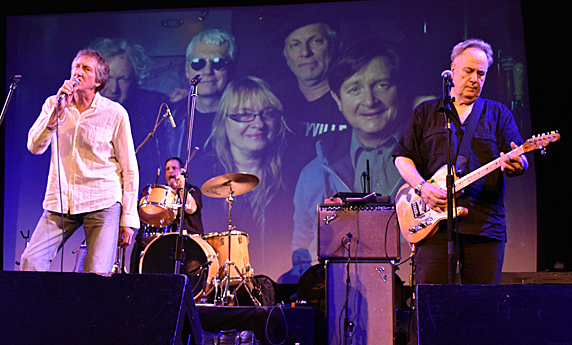 Scott Baerenwald
Photo: Blowfish
Then another Asa band, Idle Hands brought things down the home stretch. By this time the backup singers where in place: Emily Grogan, Linda Viens and Suzanne Boucher. Scott Baerenwald sang "Trapped Inside a Teardrop". We thought we heard a sort of surprised rumble go through the audience when he started singing. He has a stunning tenor voice with tons of character that you just don't hear normally. Video below. Scott's another Boston musician with a long and interesting history.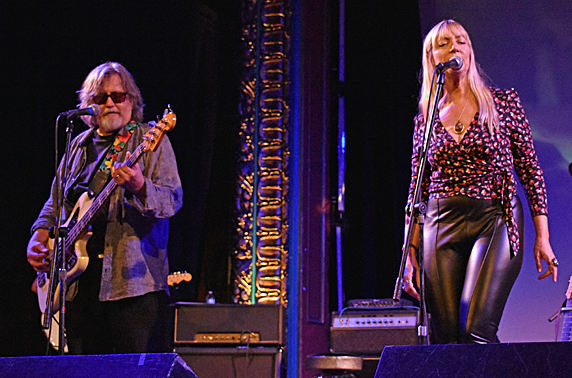 Linda Viens
Photo: Blowfish
Linda Viens, who is called on all the time by other musicians because of her ability to add so much to a song, did "Shelter of Your Love". Amy Matilda did "Don't Forget Me".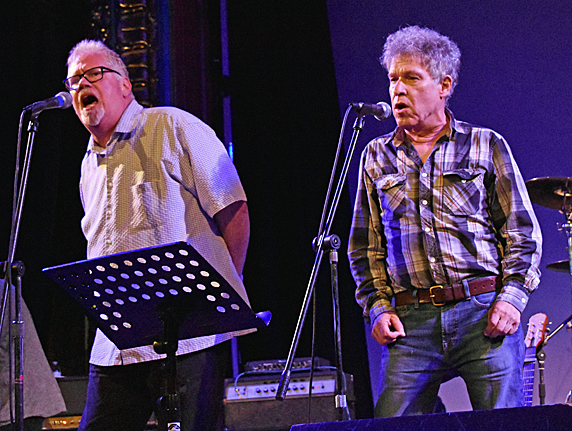 Richie Parsons and Frank Rowe
Photo: Blowfish
Then a duo that probably had to happen sooner or later: Richie Parsons and Frank Rowe performed "Last Bad Habit". Richie looked fantastic. He seems like he has recovered nicely from his back operation. That gave us a boost of good feeling. Frank Rowe managed to inject some of his wry humor by mugging and moving around self-consciously. Video below.
As much as Asa wrote his own material he often covered other local songwriters works. One such song was "Jack's On Drugs" by another most missed musician, Phil Haynen.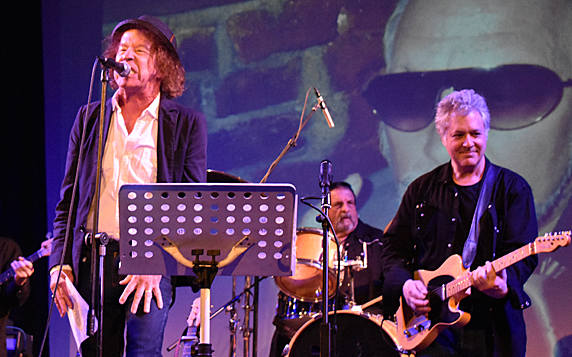 Dennis Brennan
Photo: Blowfish
With all the musicians on stage, Dennis Brennan lead the song. It only took a few seconds before the audience rushed to the front of the stage for a release in joyful dancing. It was a moment to enjoy and I think that whole crowd felt the oneness at that time. Video above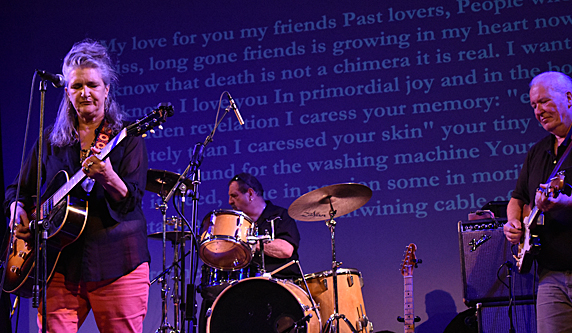 Patsy Hamel
Photo: Blowfish
Patsy Hamel, somehow managed to add to that with a thoughtful version of "Who Know Where The Time Goes" that seemed to tie everything up. Steve Sadler, on guitar this time, turned in another sublime performance.
There was so much music but let's add a few things.
Asa also had his art. A lot of this was seen in the slide show on stage. He was in a lot of the Rock/art shows that have occurred every several years. His signature guitars were covered in skeleton parts, crosses and whatever he collected. Those are out there and will be enjoyed for a long time.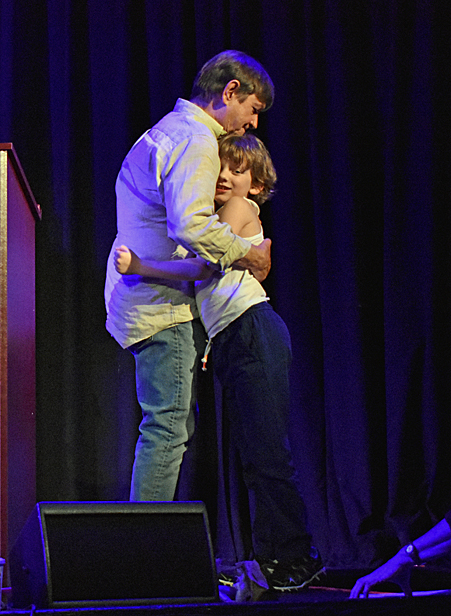 Tim Jackson and Asa's son
Photo: Blowfish
One note on Asa's guitar playing; it's main job was to service the song. He had a trunk load of licks but instead of just blasting them out in a featured solo he would dole them out during the song to move it along. Listen to "When Things Go Wrong" (1980) to hear this.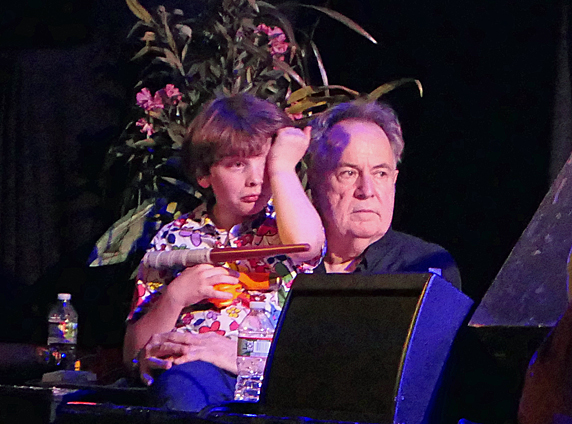 Trick Wallace and Asa's son
Photo: Blowfish
Tim Jackson mentioned that there will be at least three books coming out with material from Asa. One is his novel, Revenge, which is a thinly disguised autobiography. Another book with be unpublished journals and his Facebook posts which have delighted followers for years. The third will be drawings and art.
Larry Newman said that his project was to have a CD of Asa songs done by other musicians.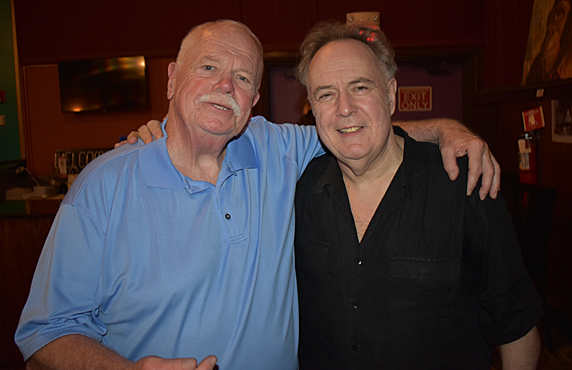 Jimmy Harold and Trick Wallace
Photo: Blowfish
On the way out we saw Jimmy Harold. We marveled at that one moment in 1974 that signaled the beginning of Boston Punk; the audition of Mickey Clean and the Mezz for The Rat.They were way ragged (Knowing Asa he must have gotten the music to the best place he could.) but a light bulb went off in Jimmy and he knew they would be the way to get his club going. We said, isn't it amazing that you knew that? He just nodded, amazed still.
This group that assembled around 1974 and have had amusical journey together has lost one of its most talented founders. Asa's passing is a deep loss, but we have him still in our hearts. In some unexplainable way we are all one, forever.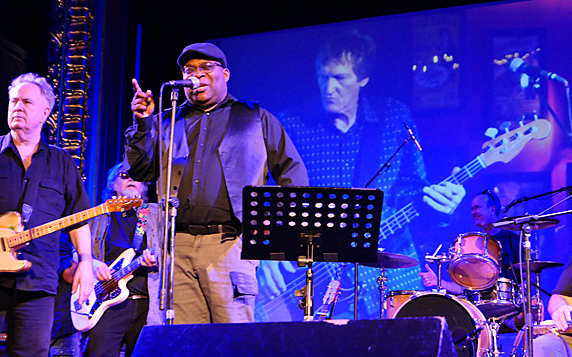 Barrence Whitfield
Photo: Blowfish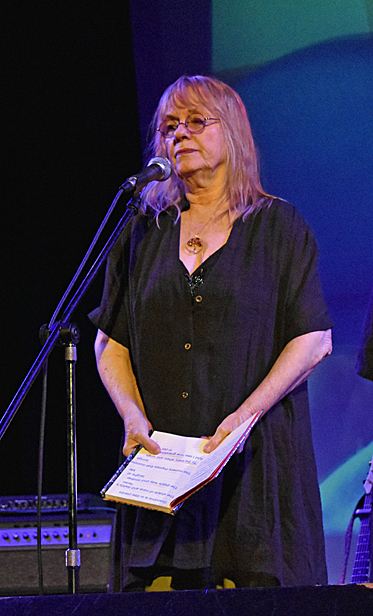 Robin Lane
Photo: Blowfish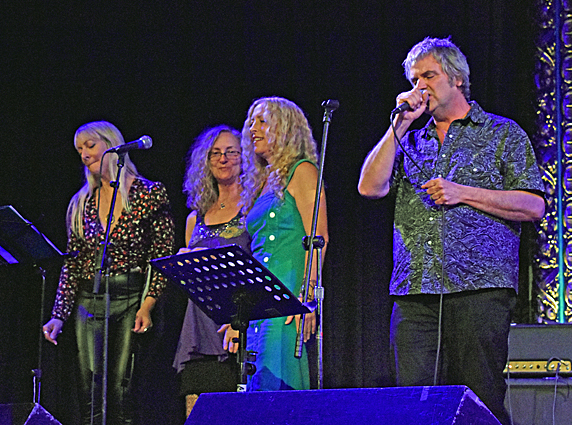 Chris Cote
Photo: Blowfish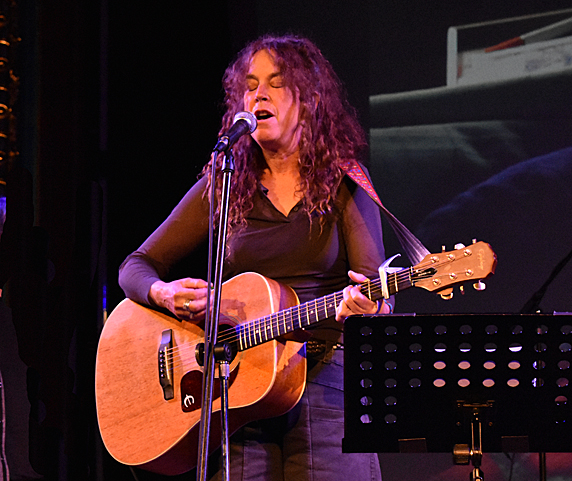 Laurie Sargent
Photo: Blowfish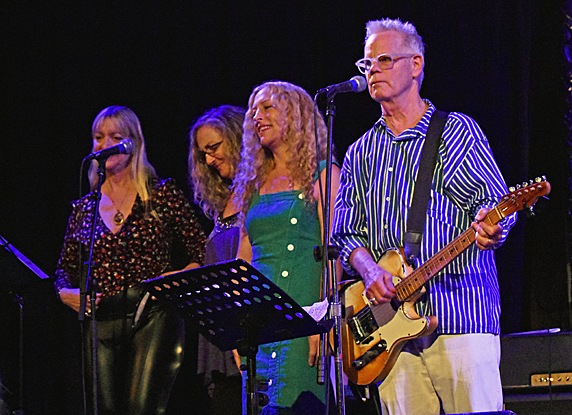 Dave Champagne
Photo: Blowfish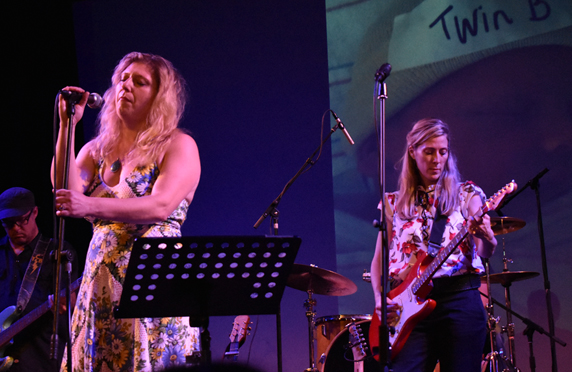 Andrea Gillis Band
Photo: Blowfish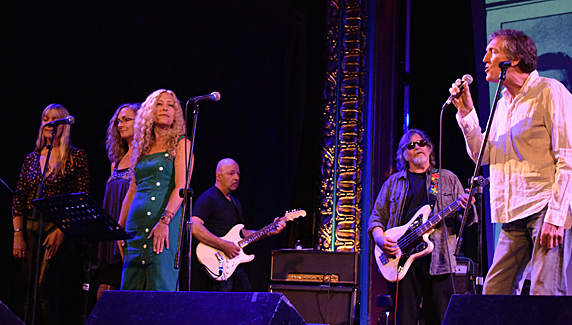 Scott Bairenwald
Photo: Blowfish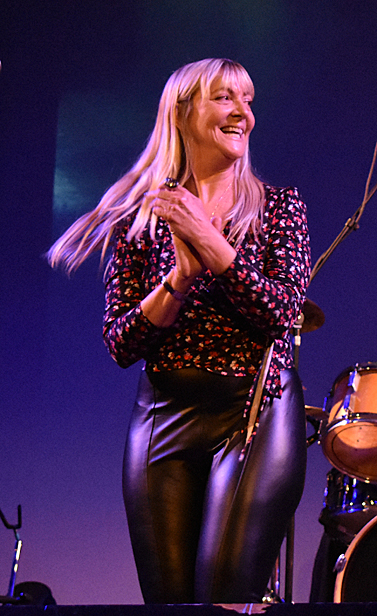 Linda Viens
Photo: Blowfish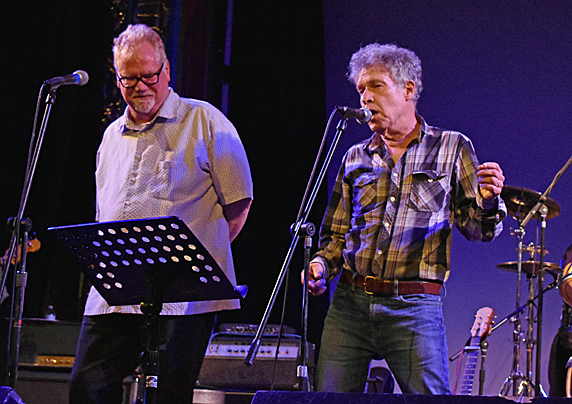 Richie Parsons and Frank Rowe
Photo: Blowfish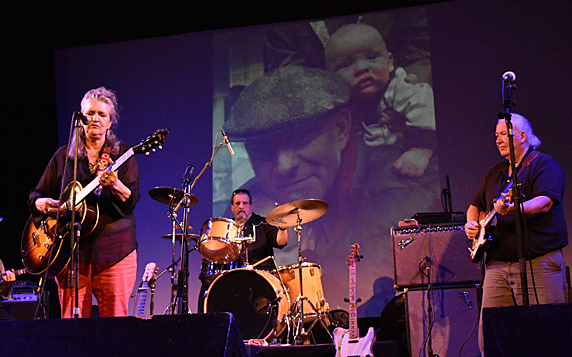 Patsy Hamel
Photo: Blowfish