BGN "We're Back" Bash
6/20/03 at the Abbey
All photo links come up as a pop up window. If you have a pop up killer program make adjustments.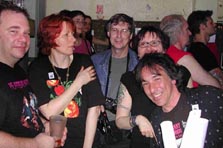 Well folks as you know, we here at the BGN decided to celebrate our return to life with a big Boston Groupie News "We're Back" Bash at The Abbey, Friday June 20th. The Bash was a huge success! The Abbey was PACKED! As a matter of fact it was sold out by 10:30! Oh yes my friends, everyone who is anyone was there that night!
There were lots of old familiar faces as well as many new ones which is always a great combination!
The Last Ones and The Vatican Sex Kittens were all there around 9:15 and we were awaiting the arrival of The Other Girls since they were slotted to go on at 9:30. Well, 9:30 came and went and no Other Girls! Eventually they showed up…fresh from a barbecue/party down the street. They brought the party feel with them for sure. They pounded through a set of great fast covers while downing brews and laughing it up on stage! What a great way to start a great night!
Deniser Donahue Photos
Click on name and picture comes as a pop up window.
Linda Khory,Artie Sniderman and Aram Heller - Brenner and Brett Milano
Frank Rowe,Eliasa Bernstein, Kenne Highland
Dan McCormack, Richee Johnson,.Rick Caraccio and Helanie.
Helanie with Boys - Chuck continues to lick. - Kenne Gizmo and Girl
.Linda Viens - Mach Bell - Billy Borgioli and Nancy Neon - Another wet willie
Frank Rowe, The Count and Billy Borgioli
Next up was The Last Ones; Rick Corracio, Richie Johnson, Bruce Hamell and Danny McCormack. They did a great set of originals with Rick on keyboard!
It was during The Last Ones' set that I was told they place had sold out! It was amazing! I looked around and saw so many people I hadn't seen in years. There was Jon Macey! Singer of Fox Pass and writer of the original BGN #1! Tim Kelly of WMBR's Late Riser's Club was there. Tim posts his Top 10 weekly on The BGN…well kinda weekly "You gotta start getting it together!" Julie Rae admonished Tim about his delinquent Top 10 entries. Thank you Julie!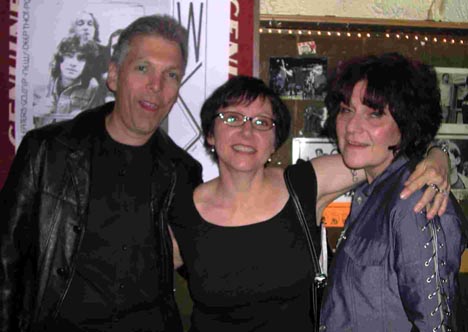 "Cool Gene" Provost

(Thundertrain guitarist) walked in and was soon followed by his brother Rick (Thundertrain bass player)! Whoa, these guys have been living in Florida for years and are up here getting ready for their big return tour of the North East in August! Frank Rowe arrived with his wife, Denise Donahue, BGN Photographer extraordinairre! Helanie (former Queen of the Scene and Groupie Supreme) was traipsing around always surrounded by a bevy of boys. Joannie Lindstrom of The Late Risers Club was there and stayed till the end of the night! Linda Viens of The Crown Electric Company was running around socializing and Springer (SS Decontrol) was talking up his usual non-stop storm and had brought along his high school sweetheart (?).




Springa and highschool girlfriend




Springa tounge and nose melee




Springa takes a licking
from Chuck White
I also spied Springer stealing the Unnatural Axe BGN Cover Poster that was hung on the back of the stage! He ran out the back door and hid it in the back of his SUV!! Terry Brenner, long time scenester and Dodge Street Grill booking man made off with TWO BGN Posters; The Neighborhoods and The Nervous Eaters Covers!! I had to run after a girl who tried to abscond the Real Kids Poster since I had promised it to Nancy Neon, I mean she does live with an original Real Kid!! Also on the scene that night were Richie Parsons (Unnatural Axe), Kenny Kaiser (Hopelessly Obscure), Karen DiBiasse (Girl On Top), Brett Milano (The Phoenix and The Globe). The list just goes on and on and on…..
Miss Lyn Photos
Click on name and picture comes as a pop up window.
Joanie and Evan Shore - Dinos and Laura M of the Noise -
Richie Parsons, Kenne and Jessie Mayer (Kenmore/Marvels)
Frank Rowe and Bruce Hamel (Last Ones)
Nancy Neon and Jon Macey - Eric Lindgrin - Blowfish and The Count
Laura and Rob of Silverstar and the Jukebox Angels who came from LA for the party!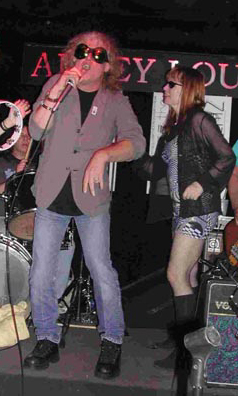 Kenne Highland and his Vatican Sex Kittens did a super powerful set. Kenne certainly was trying his best to show everyone who was mod, HE was mod!! Kenne was putting out his usual "200%" as Laura M (The Noise)aptly described. And Kenne's band Carl, Matt, Scott and Aram were in rare form that night…they were awesome! Cowboy Mach Bell got up on stage, replete with giant bug-eyed goggles, to do a few blues number with Kenne as well as a really great version of Thundertrain's Cindy Is A Sleeper.
Last up was The Prime Movers who usually bring the party with them anyway. Cam was constantly jumping arournd. Dennis McCarthy (like Linda Khory) is such an interesting drummer that one could have a group with just him and a singer - that's it. The Movers were so good that the Abbey was packed right up to their last note. No early leavers or MBTA last bus runouts. As proof look at the picture in the banner at the top of the page, that is the end of the night.
As I made my way through the room I just kept running into more and more people! Rob and Laura from Silver Star and The Jukebox Angels, Artie Sneiderman from The Crybabies, Chuck White from The Boston Rock'n'Roll Museum.who kept licking everyone's face.....and of course…the many many readers and visitors to our site! I talked to a bunch of people who were BGN regulars, thanks you guys for helping to make it such a fantastic evening!!
Oh ya, the groups!!
Click on name and picture comes as a pop up window.
Prime Movers - One -Two | The Last Ones - One - Two - Three - Four


The Other Girls - One - Two - Three | Vatican Sex Kittens - One - Two - Three - Four
---
home | interviews | photos | features |BGN issue list | reviews
links | contact us
Copyright © 2003 Paul Lovell. All rights reserved.