BOSTON GROUPIE NEWS
home | interviews | photos | features |BGN issue list | reviews
links | contact us
KENNE HIGHLAND
BGN Interview #9 1978
PART TWO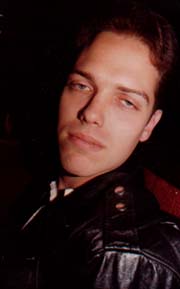 P- What about The Creem thing? That's probably how most of us heard of you.
K- That was from Rich Johnson. Eddy and Rich were on the phone and Eddy put me on and I did my best Lester Bangs impersonation. I was gross, I was obscene. Half of what he said was bullshit but he asked where I was gonna be stationed and I said "Camp Penis, Alabama., motherfucker!" So he wrote about us, submitted it and voila! It was printed in the June issue.
L- So then what happened, as far as your recording career?
K- At the time I didn't give a flying fuck!
L- So WHAT HAPPENED THEN?!?!?!?
k- The next thing was I see The Ramones out in California and that blew my mind. I had just gotten outta Bootcamp and I tried to talk to this girl and she wouldn't have anything to do with me 'cause I had short hair. I said "Listen I used to play guitar and have the same poses as Johnny Ramone and my hair used to fly in my face like his." And she still wouldn't talk to me! And I thought "That's it man. This is fucked up! What am I doing in the service?" It took me 4 months. Then I wrote 'California Gurls'; "The weather here is hotter than hell, California gurls, they sure do smell. Compared to the east they come in last place, They don't even rate to sit on my face."
Then I recorded the O. Rex single and Solomon said "We really have to get a band together and put out an album!" I was stationed in Maryland and I was going out with this girl, Patricia Ragan and she said "You really ought to be a rock star." A month later she and I went to a Ramones concert and she introduced me to Marty Kane of The Slickee Boys and I told him how Solomon and I were gonna do the album. He said he'd like to be in on it.
That was my introduction to the 'D. Cene' and they all became my friends. So '76 was over and in '77 we commenced work on the album. We recorded seven songs, Solomon's, with Tommy our drummer. And they were so bad we only kept two.
L- How did Kenny Kaiser get into the band?
K- I had sort of made friends with a marine down in Maryland who said he had a friend, Ken Kaiser, who had a band…which didn't exist..but we met and we jammed. We all decided he was cool so we finished the album with him.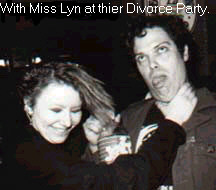 P- So when did you meet Miss Lyn?
K- By now I had already met her in April. I went up to Boston and stayed with her for a few days and asked her to marry me.
L- And I SAID NO!!!'
K- then I went to Bloomington and did two gigs with The Gizmos. We recorded two EPs worth of material. 11 songs.
P-You met Miss Lyn through the mail?
K- Eddy Flowers is responsible for it.
P-That's another good point for the guy!
K-That's one of the many few of which he doesn't have.
P-You've got out three Gizmos EPs and you disown all that stuff?
K- Oh yeah, 'cause it's not where I'm at. All those songs are 1976 or before. I've advanced so much since then.
L-The thing is people expect him to be a real animal because of his stuff back then. Like eating puked up hamburgers and stuff like that.
K- So I'm disowning the image.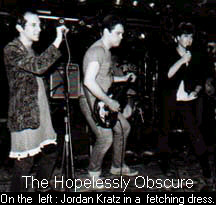 P-So after the Afrika Korps album you ditch the Gruebergers?
K-Well, after our last Cantone's gig in December of '77.
P-After the Gruebergers are gone you stay with Kenny Kaiser?
K- Yeah. We started working on our album alone and now its done. It'll be out on the Limp label, Skipp Groff's label down in D.C. and it should be out sometime around Christmas.
P- OK, now we're up to date. Now what about your songs? You've always been fast and furious. Especially the Afrika Korps. "Faster than the Ramones."
K- Ever since I've been playing music I've always liked it that way. Chuck Berry, John Lennon and Bob Dylan, those are the 3 reasons I picked up the guitar but I always wanted it faster. Like the way the MC5 do "Back in The USA". I've always wanted to be crazy. Name any crazy frenetic rocker that ever existed and that's it. Chuck Berry, Jerry Lee Lewis, Eddie Cochran, all that kinda stuff, only faster, harder and crazier than before.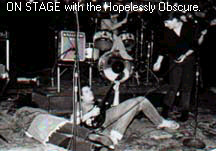 P-When you write what do you write about? What does it take for a song?
K- I had this Fats Domino record when I was 14 and on the liner notes it said how some one would say a colloquialism like 'ain't that a shame' and Fats would make a song out of it. That's the way I do it. My latest song is a cross between The MC5's and The Monkeys. It's called "Trick or Treat".
P-You're mellowing out?
K-No, just progressing. Every time I meet a person it helps my music grow. Johnny Angel just taught me how to play octaves at a party the other night. My retarded cousin taught me the 'Satisfaction' riff and my brother said "Gee. He sounds better than you, Ken."
P- How many times have you been on stage? Not many right?
K- Yeah, in 75 with the Dr. Yow, in '77 with the Blank Generation All Stars in D.C., three Afrika Korps gigs, 2 Gizmos and when The Count's band or the Slickee Boys let me get up with them.
P- How many records have you made and sold?
K-The first Gizmos EP sold out the 1000 so 200 more were pressed and sold out. There were 2 more Gizmos EPs at 1000 each and they sold out. The O. Rex single had 200 pressed and they're all gone. There were 1000 Afrika Korps LPs pressed and they sold out. The Ken Kaiser single had 1000 but didn't sell well. So all together I've sold about 5000.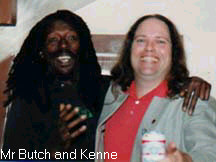 L-You're still in the Marines. What are your future plans?
K-Now I'm stationed in South Carolina where I'll get back into rock writing. I'll have my guitar and I'll work on my style and write a million songs. The whole thing is I hope people will keep my spirit alive while I'm away.
P-You're so hyper! What was it like in school for you?
K-John Lennon did the same thing I did in school. I was in the accelerated level but I quit caring and all I could think about was music. In my seventh grade notebooks I'd always be writing down Beatles songs I was groovin' to in math class.
L-When I first met him I couldn't believe how hyper he was! All I did was laugh for 2 days straight!
P-It's every minute everything is a song or a line from a song or a germ of a song.
K-I'm like Kiki Dee…'I got the music in me' and in me and in me…I got a musical library in my head. Anything you wanna know, just ask!
L- The 'Ken-puter'.
K- That's right!
---
home | interviews | photos | features | BGN issue list | reviews
links | contact us
Copyright © 2002 Paul Lovell. All rights reserved.