Monique Ortiz
Interviewed by Willie Loco Alexander
When we asked Willie Loco to interview Monique we thought it was a good idea, and it was. We weren't prepared for the format the transcript showed up in...Large sketchbook pages scribbled in the old Willie GAGA style...just like old BGN Deep Thot columns or Al Lorenzo Drake flyers. It looked like a piece of abstract impressionism and was unreadable...almost..we finally got it deciphered and available for you to read....we and Monique are fascinated by those pages.
---
November 7, 2002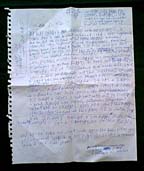 My wife thinks I am obsessed with Monique Ortiz. Two years ago I had a chat with her at The 1369. She complimented me on the job I'd done at the Mark Sandman Memorial Show. I'd sung "Supersex" with the All Stars. Mark had been gone for about a month. She also told me that people were trying to fit her into categories she wasn't into. She sounded like an original and she looked like Ava Gardner.
I started collecting her posters and using her image in my own posters and collages and on my piano. I found her Bourbon Princess Stopline CD at Disc Diggers and a week later we saw a live performance at The Zeitgeist Gallery. I gave her an envelope of promos and photos using her image. It was a 3 ring circus. "A girl and her bass". Larry Dersh on drums and a lunatic blond Go-Go dancer who did bumps and grinds and took out her teeth to illustrate a point Monique was making between songs about losing teeth in dreams. She'd never met the woman. After the show she gave us her new CD to listen to.
November 20, 2002
Monique and Jim Moran (her partner in crime plays piano & guitar on her CD's) arrive at 13 School Street, Gloucester for a conversation for the Boston Groupie News.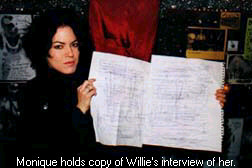 W- I'm so glad you don't suck since I've been putting your picture around town and on my piano for the last two years. Where are you from?
M- Lancaster, Pennsylvania. Amish country.
W- Music Scene?
M- In basements and lofts. I've played in cover bands, original bands and improv bands. Didn't start writing though until I came to Boston. My Dad was an influence. He played Latin percussion and is getting back into it after 20 years. He has reels and reels of tapes. He was a DJ in Korea. My grandfather was a musician too. I get my artistic side from my Dad and my practical side from Mom, like balancing my checkbook.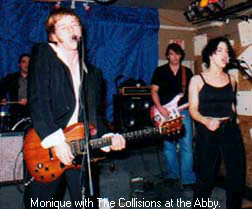 W- Where'd you go to school?
M- I went to Pennsylvania School of Art & Design.
W- Do you paint?
M- I've got lots of large paintings back home. I'm doing drawing right now. I don't have the space to paint right now.
W- What artists do you like?
M- Actually I like two photographers; Joel Peter Witkin and Roy Stewart (Leg Show photographer). I've got two of his books. It's not like porn, there's this picture of a guy fucking his wife in a field with flannels on and you look at it and say 'Yeah, that's nice'. My song "Sunset" is like a Witkin photograph. I've yet to write a happy song.
W- What are you reading?
M- I've just started a brand new Bio of Beethoven. Nabokov is my favorite. I went through a period of listening to Stravinsky and reading Nabokov. Jim can do a great James Mason imitation. I like romantic music and country, it's my new Punk Rock. We even went to see Willie Nelson recently.

W- What do you call your music?
M- I've been calling it "Blue Wave".
W- What do you do for work?
M- I'm a vet tech at the Animal Rescue League. You help animals but you also kill them. I get up at 6 in the morning and go to work. I don't want to do this forever. I've been bitten and scratched. I've lots of new scars from this job.
Monique Ortiz' songs hang in the air like a painting by Edward Hopper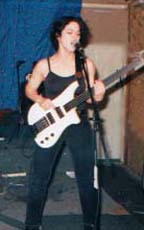 W- Favorite ice cream?
M- Turkey Hill. It's from my hometown. It's better than Ben & Jerry's. The secret is the Amish cows not hippy cows in Vermont. I had a job with them. I'd drive my '56 Chevy with its trunk loaded with samples and deliver them to my family and friends on Sunday. I also had my own Ice Cream Truck and I'd drive around blaring Morphine and Tom Waits. Turkey Hill is the best. I always have some in my refrigerator.
W- Favorite key?
M- D. I've got to get out of D. When I first came to town Jessica Ryland helped me out. We recorded with Goya cans for mics. The first songs came easy. Hard to play and sing some of them. I'm always doing things the hard way and getting good at it. I'm really proud of this new album. The Morphine guys helped me out. Fantastic musicians. It sounds better than I could ever hope for. I hope it gets my foot in the door.
She has "volumes of lyrics in notebooks. No single M.O. for songwriting. The pentameter shit got to me. I feel guilty if I don't create everyday."
Monique rides the early train. "Early Train" sounds like a hit to me. All her songs do after a while. (Am I obsessed?)
P.S. Monique just signed to Russ Gershon's Accurate Records…YEAH!

Monique Ortiz with The Bourbon Princess - Pictures 1 - 2 - 3 ............With The Collisions 1- 2 ....Looking at Willie Loco's Transcription 1 - 2.

Copyright © 2003 Paul Lovell. All rights reserved.