VARMINT INVADES LOCAL ART GALLERY !
BILLY BORGIOLI, original guitarist of the REAL KIDS and current leader of THE VARMINTS had his first art opening at the new Zeitgeist Gallery in Cambridge. The opening was held from Friday,October 11 to Sunday,October 13 with the reception on Sunday from 4pm-8pm. The folks that attended read like a virtual who's who of Boston garage rock. Here's the review by Nancy Neon.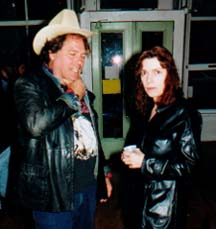 The first attendee, unfashionably early was Kenne Highland who later treated art lovers to his new song, "My Buddy Felice". Kenne's Vatican Sex Kittens that attended were bassist, Carl Biancucci, drummer, Matt Burns, keyboard player, Rachel Lee, and guitarist, Scott Ferguson. The only VSK member missing was guitar hero and Stanton Park record mogul, Aram Heller who was rumored to be at Terrastock.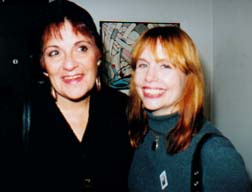 Former Kenne Highland Clan, singer/percussionist, Miss Ruby Starr was there and gorgeous as ever in her black striped trousers. With her was Helanie Saad who is currently handling stateside promotion and booking for British recording artists, Ivan Beech and former Spaceman 3 member, Stirling Rosswell.
BGN editors, Miss Lyn and Paul Blowfish Lovell with Mary Kiwi came and we were all excited to hear about BGN's presence on the web! Video archivist and fine art photographer, Artie Freedman took pictures of the art and the artist. Filmmaker Cheryl Eagan-D, director of the Real Kids' documentary, All Kindsa Girls got some new footage as well as giving Borgioli a rare AKG t-shirt.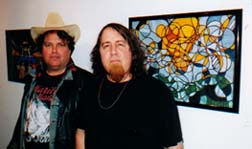 Borgioli's show was called Thirteen and he showed thirteen pieces. Borgioli says "My pictures are mixed media mostly multicolored, sometimes monochromatic often in a 19" X 24" format. I call what I do 'original geometric design'. Although I have a general idea when I begin a picture, my concept evolves organically according to my mood as I work." In addition to showing 13 pieces, Borgioli has a new CD Assorted Varmints/The Varmints which has 13 cuts which was played at the show along with music from other bands he was in like the Real Kids and the Classic Ruins.

Real Kids' Billy Cole and John Felice showed up with the great news that "Just Like Darts" from the first Real Kids' album will be on a MOJO magazine compilation. Felice feels that this is a great achievement. Both Felice and Borgioli are excited to know their song will be heard by people who weren't even born when the first album came out. Borgioli show was well received and his guest book was filled with one word exclamations like "mental","pisser","best","bravo",etc..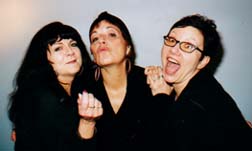 There were offers to buy several pieces. Yet at this time, Borgioli is not selling his originals but he does plan to make prints available for purchase. Borgioli's show caused a ripple effect amongst his friends. Miss Lyn spoke to Zeitgeist gallery director, Alan Nidle about showing her pastels. Artie Freedman also plans a show of a series of powerful portraits of the homeless that he has been working on recently.
As for Borgioli's future plans,he says "I'm planning to do some Varmints shows with the Classic Ruins. As for my art, I'd like to do another show in six to twelve months and show some of my photographs. It might be cool to have a show with some fellow musicians who are also artists like Asa Brebner, Frank Rowe, Peter Wolf,etc..