Big Dipper Reunion
Middle East Downstairs 4/26/2008
Everyone was looking forward to the Big Dipper Reunion at The Middle East. Big Dipper is one of those beloved Boston bands.
We got there at 10 and were shocked there was no line at the door. But just before Big Dipper went on the crowd poured in and the place was packed. Dipper was in fine form with a tight, full band sound. When they cranked it up, which was most of the time; they created a sonic, metallic waterfall that crashed through the club. They played all the favorite songs and looked like they were having as much fun as the crowd.



Gary Waleik
Photo:Miss Lyn




Bill Goffrier
Photo:Ed Moose Savage


Steve Michener
Photo:Ed Moose Savage




Gary Waleik
In a studious mood.
Photo:Miss Lyn


Billy Ruane
Of course he was there.
"Buy the T-shirts", he bellowed.
Photo:Miss Lyn


Vintage T
Photo:Ed Moose Savage
Big Dipper is/was one of those sort of art rock bands but with a sense of humor, which is important. I kept hearing a mix of the musical sound of many 80's Brit bands but with American sensibility in the lyrics.
There's no doubt about it though, these guys still have it and they sounded well-practiced and really together and powerful!
The crowd went nuts at the end when they called for Fertile Virgins to make up their "chorus" on stage, every one jumped on the stage, not a virgin among them I am sure, but it got the crowd going even crazier.
They did TWO encores, because people wanted it…that's something I have not seen in a while. They did an hour and a half set and every song was great!



Steve and Bill
Photo:Miss Lyn




Bill Goffrier
Photo:Miss Lyn
Here's what Joe Harvard has to say about the band and it's a perfect summation: "The beautiful thing was they were one of the few groups that managed to combine the rich layering, lush vocal harmonies, and polished arrangements of a great Pop outfit with a driving, balls-to-the-wall instrumental approach, heavy on the guitars, and with a lyrical IQ far too high to hang the standard "power pop" tag on them. Yum, yum, pop rock well done...just like I like it!"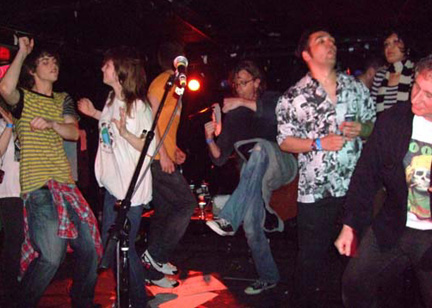 The Fertile Virgin Chorus
Photo:Michele Meadows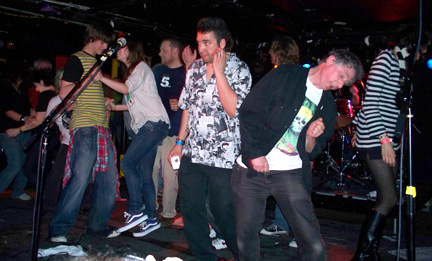 The Fertile Virgin Chorus
Photo:Miss Lyn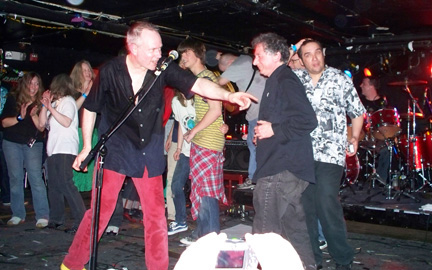 Not a virgin amoung them.
Photo:Miss Lyn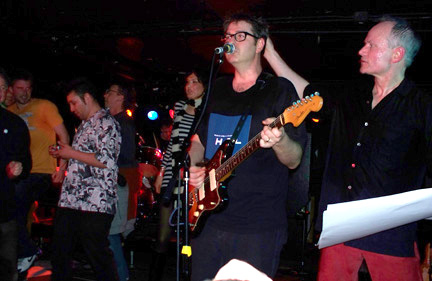 Crowd antics and some Dippers.
Photo:Miss Lyn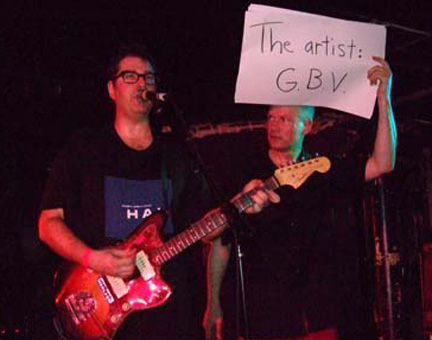 Gary with Bill prompting the audience
Photo:Michele Meadows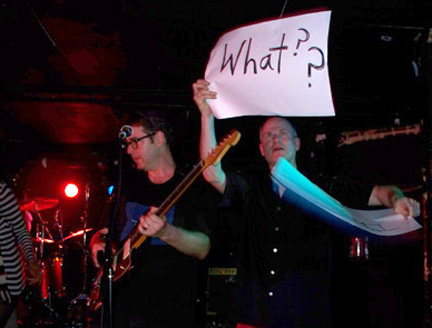 Are These signs helping?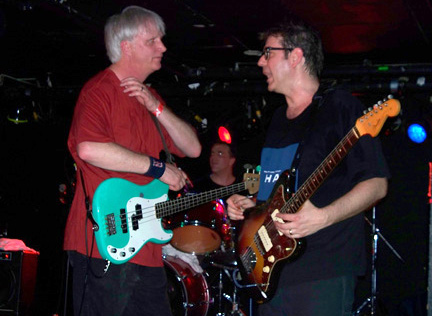 Steve, Jeff and Gary
Photo:Miss Lyn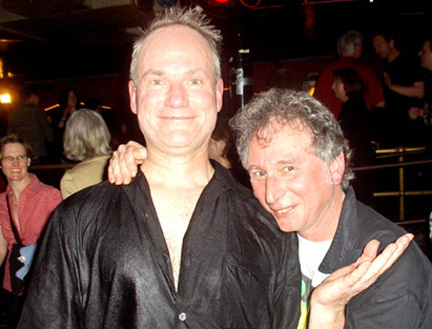 Bill and Ed Moose Savage
Photo:Michele Meadows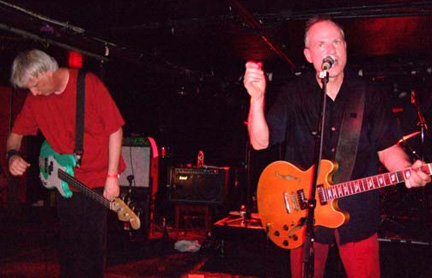 After so long they were a little rusty playing.
Steve:"Now, what do these knobs do?"
Bill:"What do I do with this plastic thing? Anybody?"
Photo:Michele Meadows
---
home | interviews | photos | features |BGN issue list | reviews
links | contact us
Copyright © 2008 Paul Lovell. All rights reserved.