CD's of Interest

| Artist | CD | Comment | Contact |
| --- | --- | --- | --- |
| Willie Loco Alexander | Various | He's the MAN | Willie Alexander.com |
| Blackjacks | American Independents | Attitude | Retrospect |
| Coffin Lids | Rock'N'Roll | Munster Rock | Bomp |
| Kenne Highland | Be More Flamboyant | Fantastic | Stanton Park |
| Girl On Top | Two CDs | Good Lyrics | Girl On Top |
| Jon Macey | Actuality In Process | Career best | JonMacey.com |
| Reddy Teddy | Best Of | Great. 1972-'78 | Not Lame |
| Three Day Threshold | Behind The Barn | Rock'n'Roll Moonshine | Pigpile |
| Thrills | Recorded Thrills | Barb's voice!! | Dionysus |
| Thundertrain | Two Cd's | Classic cheese | Thundertrain Site |
| Vagrant Saints | Mammon's Little Baby | With Kit Dennis | CD Baby |
---
MEET MACH 5
BY NOODLES ROMANOV
BAND: MACH 5
TITLE: MEET MACH 5
ON: LAWLESS RECORDS, 2005
CONTACT: LawlessRecordsRock@yahoo.com
Lawless Records, PO Box 689 Hingham, MA 02043-0689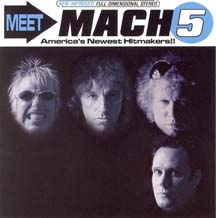 Here I am, comfortably ensconsed in my Dorito-encrusted e-z chair, gettin my cerebral exercise watchin' Pat Sajak cause there's nuthin on the radio. A continuous drone of the doorbell forces me to unencumber myself of my beloved throne.
I'm hoping it's the UPS gentleman, delivering the cheese sandwich bearing the image of Michael Jackson that I won on ebay. But, no. It's my weird next-door neighbor. "Here, this came to my address by accident. Hey, is that my daughter next to that Dorito bag?" Oops. "Phone's ringin, gotta go". Slam.
Time to turn off Mr. Sajak, and turn my attention to the CD player, cause the new Mach 5 CD, "Meet Mach 5", has arrived!
Indeed, Mach 5 has arrived.
There is so much to say about this CD, I could spew on for days. But I don't want any of you to become derelict in your duties because of me, so I will get right to it.
I keep listening to this CD over and over, for one simple reason. It ROCKS!
Before gettin into the subject of talented musicians, I feel compelled to credit Producer Richard Marr and the Galaxy Park Studios. I take my ski mask off to them, cause the sound on this CD is nothing short of rabid! The guitar sound... man, I think it was developed in some secret lab at Los Alamos. Close your eyes and you can imagine the orange glow of tubes from 100 angry Marshall stacks, straining to record a guitar sound that will tear your headphones into tiny bits. The mix is just the way I like it - the guitars are way up, and the vocal is ever so slightly buried. In my humble opinion, this is the way a genuine rock CD should be mixed, cause it sounds like a band, instead of a singer with a band behind him. If you have to struggle even just a little bit to hear the vocals, you are more likely to pay attention to them. Maybe even pick up some of the smart, clever, and sometimes funny lyrics that are strewn about these tunes.
A lengthy treatise could be written just about the cover of this CD, but I will address one salient feature: "America's Newest Hitmakers!" blares the headline in living black and white. Hmmm. It may not be entirely serious, but still a bold claim, even for a band consisting of highly accomplished veteran rockers, led by a Boston rock icon. I am pleased to announce that, like a full FedEx truck plunging off a cliff, these guys deliver - hard! There are three great cover tunes on this CD, but it's the original compositions that I want to address, because they are the ones that really make you want to jump up and dance around your puny dorm room (apartment? tent? cell?) in a 70s style hard-rock induced spastic frenzy. After the first tune, "Get It Up", had finished, I thought "Holy ringing ears... they put the best song on first! The rest is gonna suck by comparison". Not so, dear rockers. The hits continue. As each original tune finished, I started thinkin "the next one can't possibly be better"... but it is. My personal favorites are "Through To You", "Quincy Girl" ( a tune that I DEFY you not to sing along with in the car..."Shut your pie-hole, Quincy girl!"), and a song penned from the heart called "Kenmore Square", a lament about the long-gone Kenmore Square of rock legend history.
This CD has enough hooks, harmony vocals, and three-chord nastiness to make anyone who craves some real rock injections to be utterly satisfied. Power drummer Jimmy Birmingham, twelve-string bassist Jeff Thomas, thrash guitarist Dee "Wild Man of Borneo" Stroy and beltsander-voiced Mach Bell have created a band that has more chemistry than MIT.
For anyone who thinks Mach reached his musical pinnacle with Thundertrain or Joe Perry, I've got front-page news for you. He's still climbing.
"Meet Mach 5" is a CD that grabs you by the neck, shakes you, and says "Shut off the damn radio!"
Play it often, and play it loud!
Noodles Romanov
---
CD Reviews
Batting a Thousand with Cowboy Mach Bell
You make 'em. I score 'em.
Reviews by Mach Bell
BAND:THE NERVOUS RETURN
TITLE: Wake Up Dead
ON: Salle Records 2004
CONTACT: thenervousreturn.com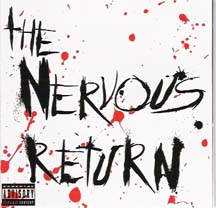 A prolific quartet out of LA. This is the follow-up to their debut album Headshots, the cover of which was a "headshot" of a young lady aiming a pistol into her mouth.
The music on Wake Up Dead is more rock than rock'n'roll. The jangling electric guitars and stacked vocals by Jason Muller (guitar) and Anthony Crouse (bass) remind me of David Bowie's experimental Tin Machine. Modern euro-influenced rock.
Shane Gallagher on guitar and Greg Gordon on drums are on the money as is the entire production, credited to the band. These guys have returned to the studio already with producer Joe Barresi (Queens of the Stone Age, Weezer).
Apparently they have a nice buzz going on in SoCal. Still, after multiple listenings this one doesn't really rock me. I think I gotta check them out live.
Picks to Click: Red Camaro, Dramahead
Cowboy Score: 680
---
BAND: The Adolescents
TITLE: OC CONFIDENTIAL
ON: Finger Records
CONTACT: www.theadolescents.com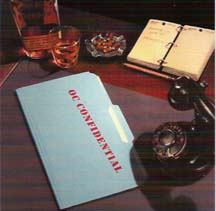 This album rocks like crazy. Our editor sent this one to me just before I left for my traditional Christmas trip to Malibu. I cranked it up everytime I cruised up the PCH.
This Southern Cal quartet features ex-members of Social Distortion and Agent Orange. Singer, lyricist Tony Reflex delivers on 13 skatepark approved rockers. Dig the opening line of title track OC Confidential: "I grew up in Orange County in the shadow of a mouse".
Ripping punk guitar and bass work from Frank Agnew and Steve Soto support Reflex's big hooks and melodies. I found it impossible to resist singing along to "California Son". Produced and engineered by the Adolescent's drummer Derek O'Brien in his Glendale studio.
Picks to click: Lockdown America, California Son, Pointless Teenage Anthem
Cowboy score: 875
---
BAND: THE GLASS SET
TITLE: The Glass Set
ON: self released 2005
CONTACT: myspace.com/theglassset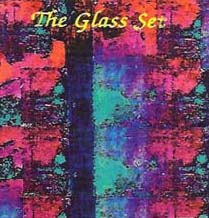 I am bringing this one along to our next BGN slumber party.
Singer composer Leah Callahan fronts this Boston based quintet. "Deathmask" would be perfect for a D'Argento Italian slasher movie soundtrack. "Jealous Dead Girl" is another toe-tapper.
The review of this album in the Boston Globe said that it is a rock opera. I don't understand the storyline too good. But I dig the album all the same.
Leah's buried-alive vocals are backed by mad scientist guitarwork by Andy Doherty , downwardly spiraling bass lines from Erik Szyska, spirited casket thumping courtesy of Allen Esser and spooky key tinkling by Jennifer Dines.
Produced by the zombie-like Richard Marr who put together this studio project in his dimly lit Galaxy Park Studios.
Picks to click: Titticut Follies, Please, Leave Me Alone, Good-bye Troubles Cowboy score: 825
---
BAND: THE MIGHTY IONS
TITLE: Face Rakin' Rock
ON: Dino - 2000
CONTACT: www.dinorecords.com
Pile-drivin' retrospective (1981- 1999) from Boston's top ranked wrasslin' rockers -The Mighty Ions.
Originally formed as a trio in the summer of 1980, the Ions were Bob Mackenzie (drums & vocals), Carl Square (bass & vocals) and Unnatural Axe's Tom White (guitar & vocals) these guys entered the squared circle with just one thing on their minds "We Want The Belts"!
You don't need to be a fan of Fred Blassie to appreciate pulse-pounding garage rock like this . Ferocious tunes with sing-along choruses (She Won't Shut Up) alternate with some good yucks (One Of Those Girls, Bill Tupper Rap). These 24 vintage recordings were culled from various studio sessions made around Boston as well as a 1982 WERS broadcast and rare live recordings captured at the Underground (1981) and Streets ('82). By that time a fourth Mighty Ion had joined the tag team, Dan McCormack (guitar, organ, backing vocals) plus the late great Roger Tripp (La Peste), soon signed on to give the Ions drumset a nightly beating.
Carl provides fantastic ringside commentary in a photo-packed 16 page booklet. The Mighty Ion saga includes free-for-all action at long lost venues like Cantones, Spit & the Rat. We also get to relive the Mighty Ions still controversial face-off with western Massachusetts' rock'n'wrestle title-holders The Foreign Objects (also on Dino Records), held at the sorely missed Inn Square Men's Bar. While the outcome of that Cambridge bout is still hotly debated, no one denies that the Mighty Ions were undisputedly a real bunch of winners.
The Mighty Ions reunited in 1999 with John Jules (Fox Pass) on drums to record several of their two-fisted tunes that had gotten lost in all the years of brawling.
The quality of these Euphoria Studios cuts (Michael Gatzios, engineer) is outstanding as is everything on this first rate release. Included are some nice live cover tunes: Next Big Thing (Dictators), Tonight We Fight (Unnatural Axe) and Somebody's Gonna Get Their Head Kicked In Tonight (Fleetwood Mac).
I also must mention that Tommy White's collage of George "the Animal" Steele punishing the Mighty Ions is a classic!
My Picks to Click: Government Workers, Andy & Bill, Pedro Morales, Australopithecus, One Of Those Girls
Cowboy Score: 875
---
BAND: WILLIE ALEXANDER & THE BOOM BOOM BAND
TITLE: The Dog Bar Yacht Club -2005
ON: Fish Eye Records
CONTACT: http://www.williealexander.com/htm/music.html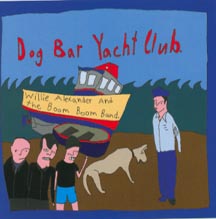 Boston's premiere underground rockstar Willie "Loco" Alexander reunites with his 70's hotshot Boom Boom Band and comes up with stunning results. Alexander is the artist who effortlessly bridges the gaps between the beatniks, rockers, numerous "new"waves, jazzbos, psychedelics, punks and poets of the past 6 decades.
A major label garage rocker in the sixties, Willie was a leader of the early 70's DIY music movement but the power and popularity of his 1976 Boom Boom Band propelled Willie back into the majors.
It's been twenty-five years since those big budget albums and national tours. Willie has continued to perform and record stacks of recordings over the years but somehow, right now, the original Boom Boom Band have returned to us! The band still sticks to a simple but devastatingly effective blueprint. Drummer David McLean gets a hypnotic beat rolling. David and bassman Sev Grossman pump up and deepen the groove while wide-eyed Willie relates his story-songs and adds occasional keyboard flourishes. Once the mixture is really cooking, fretmaster Billy Loosigian slinks out of the shadows and drops 16 tons of Gibson guitar into the stewpot and blows the roof off the joint.
Loosigian is co-writer on four songs here that showcase his distinct style and an attack that frequently takes cues from Jeff Beck's pre-Stratocaster years ( soaring slide work on "Gravelly Hill") and seminal Jimmy Page riff rock ("High Tide Heroes"). I know, a lot of guitarists like to list Beck & Page as influences, but Billy Loosigian is one of the few guys I've ever seen who can truly pull that stuff off. At Boom Boom concerts you will always find an army of axe grinders hanging out in front of Billy's side of the stage studying this overlooked guitar star.
The ever charismatic Willie Alexander returns to his rock'n'rolling roots with these 13 big songs. Willie writes about what he knows. A lot of his best lyrics come out of what WA watches going on outside the window of his hilltop pad in the old fishing port of Gloucester MA. "Fred Buck's Footsteps" earns a place in my All-time Top 10 and rocks with one of the most infectious rhythms ever devised. Willie leads the way shaking an empty ginseng soda can filled with black beans. A real beauty is the opener "Gravelly Hill" with lyrics by Charles Olson, brilliantly adapted by Alexander.
Another slice of life (and death), this time inspired by Willie's old Somerville neighborhood, is "Who Killed Deanna" and you can find a mellower version of this same haunting song on Willie's majestic "The East Main Street Suite" (Accurate 5034) album. Two more treats, "Oh Daddy Oh" and "Telephone Sex" recall the ever popular "ga-ga" Willie "Loco" vocal-style from "Live at the Rat" days.
This recording was done by David Minehan at his Wooly Mammoth Studios. Cleanly tracked and unobtrusively produced, the cd isn't as gloriously heavy as the band sounded on stage at a recent Cambridge concert, but it still sounds great.
Word on the street is that Willie Alexander and the Boom Boom Band are headed to Europe for a tour. Bon Voyage and please keep this reunion rolling boys!
Cowboy's Picks to Click: Gravelly Hill, Fred Buck's Footsteps, High Tide Heroes, Mystery Training
Cowboy Score: 950
---
BAND: READ YELLOW
TITLE: Radios Burn Faster- 2004
ON: Fenway Recordings
CONTACT: http://www.fenwayrecordings.com/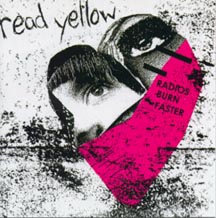 Frightening quartet out of Amherst MA unleashes a torrent of stabbing guitar jabs and politically charged ranting. It's hard to decipher some of the lyrics but Read Yellow's unsettling message still comes through loud and clear.
The ferocity never lets up and the violent attack of drummer Paul Koelle and bassist Michelle Kay Frenald seldom veers off target. Evan Kenney and Jesse Vuono are both on guitar, employing feedback and noise washes to good effect, these guys sure know how to get some good air-raid-siren tones. Everybody in Read Yellow sings.
While the sound has a sharp bleeding edge, the tunes actually stick to solid arrangement techniques: verses, middle eights, hooks and lots of call and response choruses. Read Yellow excels at herding up all their emotion and noise and galloping it forward, until it finally hits a stonewall head-on with repeated bludgeoning climaxes. Nice!
Formed in 2001 these artist/punk rockers have found success on the road, with tours of the midwest and northeast (USA) as well as several European road trips to their credit.
Radios Burn Faster was tracked in Brooklyn NY and finished up here in Cambridge at Camp Street Studios. Helmed by producer Paul Kolderie (Hole, Radiohead) the album was completed in 10 days. I'm gonna be watching these guys.
A lovely booklet comes along with this 11 song longplayer, featuring unsettling song lyrics, some Ralph Steadmanish gonzo-style inkwork and a bunch of exacto razor blades falling from the sky.
Cowboy's Picks to Click: The Association, The Art, A Love Supreme
Cowboy Score: 795
---
BAND: The Afrika Korps
TITLE: Live at Cantone's 1977
ON: Gulcher - 2002
CONTACT: www.gulcher.gemm.com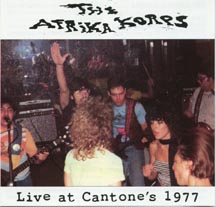 Rock history is made when the Afrika Korps show a packed Boston club their stuff. Readers of the Boston Groupie News and fans of the 70's Boston underground should check out this 20-song set, recorded live at Cantone's on August 20, 1977.
The Afrika Korps was formed in 1976 by three pioneers of the American DIY punk movement Solomon Gruberger (O.Rex), Kim Kane (Slickee Boys) and Kenne Highland (Gizmos). All three had already released their own indie records at this point, and with the addition of Ken Kaiser on drums and 16 year old Jay Gruberger on bass, The Afrika Korps recorded their highly recommended debut "Music To Kill By" (Gulcher 405). Fresh out of the Marines, Kenne Highland managed to wed our editor Miss Lyn (but she's single again right now boys!) and "Live at Cantone's" was recorded at the blushing couple's well attended post-wedding ceremony show.
Featuring all the Afrika Korps garage-rockin' faves (Fox Lane, N.Y. Punk, Make Her Know She's Getting Laid) with Gizmo and O.Rex tunes thrown in. The unstoppable Afrika Korps also blast through Willie Loco's "At the Rat", "Hit Her Wid De Axe" and even Thundertrain's "Hot For Teacher!"
This lo-fi recording captures the ambience of a hot nite at Cantone's, with plenty of stage asides, putdowns and banter from a crowd of inebriated Boston rock scenesters of the era. Cool liner essay by Kenneth Kaiser, who recalls the tragic death of gifted Afrika Korps bassman Jay Gruberger in a 1993 automobile accident.
Three original members of The Afrika Korps played a surprise 3 song set at the Midway Cafe in Jamaica Plain on July 16, 2004.
Picks to Click: Califawnia Gurls, You're A Tease Baby, Jailbait Janet, My Head's In '73
Cowboy Score: 808
---
BAND: NERVOUS SHAKES
TITLE: Separate Beds? I Don't Think So
ON: Nun Records (2004) - Distributed in U.S. by No Fun Records
http://www.nofunrecords.com/store/storecds3.htm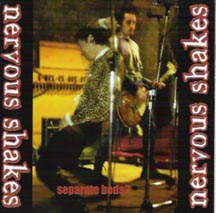 These four snotrockin' sprouts out of Belgium have a Boston connection. This debut CD was recorded at Studio Molière in Brussels on the corner of l'Avenue Albert and l'Avenue Molière, the very same joint where the Real Kids 3rd album was recorded. And, Downbeat 5's own JJ Rassler wrote one of the best tunes on this disc!
Nervous Shakes (1Irish guy,1Italian,1Flemish and a drummer who sounds like New York to me) open up with a big Bo Diddley beat on "Get The Fear" I thought they were saying "get the beer" so I did. When I got back "Hey Baby" was shaking my blasterbox. Maracas rattling in the back of that track scored Nervous Shakes an automatic 10 point bonus. I didn't dig "Bad Like Me" so much. Ivan (the singer) goes on about how nice he thinks his ass looks for 3 minutes. Things really pick up with "Number One" a rocker with a sha-la-la-la hook (this is the one written by JJ Rassler & Joe King). Guitarist James Cain and vocalist Ivan Dreini are the principal songwriters on these 12 bashers.
The high-energy sound is New York Dolls, Ramones and Stooges inspired. Nervous Shakes would be a perfect fit on a Boston rock stage. Sounding kinda like if the late Matthew Mackenzie came back to join forces with the Vatican Sex Kittens... Flup'K (Fender P bass) and Motor Hagen (drums) complete the 'Shakes line up. James Cain and Eric Renwart are listed as producers and the recording is loud and clear.
These dudes tour around the continent a lot, let's hope they will pay Boston a visit sometime soon. Miss Lyn told me that they can all bunk in with her.
Cowboy's Picks To Click: You Hypnotize Me, Number One, Swedish Love Gun, Be A Man, Panzer Division
Cowboy Score: 855
---
BAND: DIN
TITLE:High End
ON:self released (2003)
www.cdbaby.com/cd/dinmusic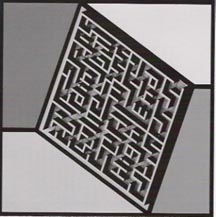 The editor of the Boston Groupie News sent me this gem. I'd avoided listening to it at first because with a name like Din I was expecting to endure some face-melting, ear-bleeding noise ala the dreaded Slick Pig or Government Dictatorship. Din turns out to be a very catchy pop-rock band featuring dreamy-voiced Carlene Barous (also on keyboards and bass) showcasing plenty of strong material all expertly captured on disc by David Minehan. Carlene floats her melodies over tight hooky backings on "I'll Find a Way" and "I Want You". Co-writer, singer Glenn Steadman ( also on bass and guitars) keeps things edgy, executing his very convincing baritone Iggy vocal track on "Crazy". Expert drummer John Gulizia ( ex- Moving Targets) and rocking guitarist Bart Lo Piccolo (ex- Scatterfield) complete the quartet.
These Boston players all have straight-ahead punkrock in their blood but now they have chosen to slide sideways into this groovy sounding Din territory.
The smooth sounding 7 song collection was recorded and mixed in Boston at Mr. Minehan's Wooly Mammoth Studios with mastering done by Colin Decker at M Works in Cambridge. Don't miss this one.
Cowboy's Picks To Click: I'll Find A Way, Crazy, Hung, I Want You, The Fall
Cowboy Score: 845
---
BAND: 27
TITLE: Let The Light In (cd/ep)
CONTACT: Hydra Head - 2004
www.hydraheadshop.com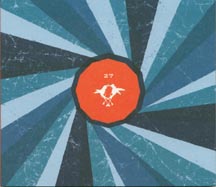 Yummy! Six diverse slices of hypno-rock dripping with melodies that echo in the cranium for days. This Boston-based quartet features Maria Christopher (Dirt Merchants) on vocals. Maria purrs her innocent sounding lyrics effortlessly over a clever backing of bass and drums augmented by everything from jazzy piano to wood flute to synth to Indian drums. It all fits together really well and what we are left with are a bunch of really addictive songs.
I understand that this band recently returned from a lengthy European tour supporting their label mates, Isis.
I hope to catch 27 live in concert back here while they are in town, if they sound anything like they do on this disc live they will be crowned with the Cowboy's green light to go all the way.
27 recorded this ep themselves and also designed the striking packaging. I find it interesting how 27 downplay themselves, no band photos and their names appear in type too tiny for me to read. None of the self-hype that so many bands (at least the ones I'm in) usually employ. Bring on the full length cd!
My Picks to Click: The Cause, Make Love Not War, Try (part 2), April
Cowboy Score: 850
---
BAND: THE RUDDS
TITLE: rudds
ON: Sodapop 2003
www.sodapoprecords.net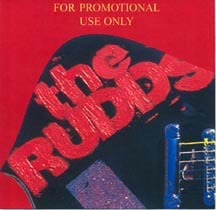 The Rudds are a showcase for the unstoppable, untoppable John Powhida, singer/songwriter/multi-instrumentalist and rock frontman of the first order.
Boston native (by way of Albany) Powhida dazzles with high-flying vocal chops (an unusual mix of Robin Zander and Prince) on these 13 hard hitting rockers. Powhida is joined on this recording by the most excellent Brett Rosenberg (lead guitar/vocals), Jamie Griffith (bass) and Pete Caldes (drums) . The Rudds (named after AC/DC's drummer Phil Rudd) cook on these uptempo rockers and Powhida is at his best when his appealing tenor voice rockets into top-gear falsetto (Oh Delilah). Another highlight is a well picked cover of "Burning Up" that tops Madonna's original. The other 12 cuts are all J Po. originals, peppered with references to Boston and Cambridge streetlife and nightspots.
Hardworking Powhida can pull all this tricky shit off live too. He's an engaging frontman and plays hot guitar, and most impressively, when his drummer didn't make it to Charlie's Kitchen one nite, John grabbed the drumstix and took over on the skins for a full set while singing all these soaring leads.
Produced with flair by Mike Gent and Powhida, I don't know where they recorded it but it sounds damn good. Deep tones with a crisp and big-bottomed mix. The Rudds aren't garage style, the sound is more polished, with pro harmonies and hooks, a real classic rock sound. John has the charisma and talent to take the Rudds to the next level. Don't be suprised if he shows up at the Abbey with Sheena Easton on his arm.
Picks to Click: In Lieu.., Burning Up, Rock World, Oh Delilah
Cowboy Score: 835
---
BAND: BLOWFISH
TITLE: Blowfish in the New Wave
ON: no label 1977
www.punkblowfish.com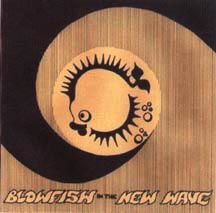 Oddity from the glory days of rocking Kenmore Square. Funnyman Blowfish takes satirical aim at Willie Alexander, local radio, the Modern Lovers, punk rock, the New England Music City record chain and the Boston rock scene in general in this collection of novelty tunes and radio bits.
Recently re-issued on a rather brief cd, this stuff was originally released on Varulven Records back in 1977 - the same year the "Live at the Rat" double album pushed Boston's underground rock explosion into the spotlight. The back cover of "Blowfish in the New Wave"' notes that "This was recorded on a Sony 4-track with only a pause button for editing". Pretty impressive considering that Blowfish must have been constantly pushing that button to construct these multi- soundsourced comic cuts. The Infliktors, George Harrison, Johnny Barnes, the Ramones and even Thundertrain's singer (Hey! Who hit me with that rock? ) get the wacky Blowfish treatment. The comic/ writer/ deejay puts his mimicry skills (Hit Me Wid De Ex-Lax) and decent guitar chops (Chord Book Blues) to good use on this nugget from the past.
Many of these bits first aired on the Oedipus Demi Monde show on WTBS and it will certainly add to your enjoyment factor if you recall the 70's or perhaps spent some time hanging at the Aku Aku bar or the Aegean Fare restaurant over by New England Music City (Pew England Music City).
We all knew we had a really healthy rock community thang happening once Blowfish (a.k.a. Paul Lovell) crashed the party and began skewering us with his inspired lampoons.
My Picks to Click: Glue England Music City (The Goys Are Back in Town and a funny Jonathan Richman parody), 40 Seconds of Ramones, Rock And Roll Cook, Live at the Rat
Cowboy Score: 775
---
TITLE: REDDY TEDDY / MATTHEW MACKENZIE
BAND: Teddy Boy (2 cd retrospective)
ON: Notlame - 2004 www.notlame.com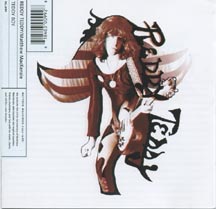 Amazing journey deep into the heart and soul of the late Matthew Mackenzie, songwriter/singer/guitarist and leader of Boston's flash-foursome Reddy Teddy.
Disc one is the "Best of Reddy Teddy" featuring studio and live tracks from 1972-78. Opening with the Pete Townshend laced "Teddy Boy" (1973), Matthew & crew launch into the Rickenbacker-driven, triple vocal, anglo-harmony sound that became the Reddy Teddy hallmark. Matthew and hip shakin' vocalist John Morse are joined by Scott Barenwald (vocals/bass) and Bug Witt (drums) on many of these classic tracks.
Also included are cuts from the original line up that included Matthew and John's sixth grade classmates from Winchester Mass, Joe Marino (drums) and Ted von Rosenvinge (bass). Matthew's unforgettably melancholy melodies, fiery riffing and witty lyrics (Moron Rock, Babycycle, Sobourbon Lady) soar over gemlike musical arrangements that wink at big beat contemporaries like the New York Dolls (Helping Hand) and Willie Loco Alexander (Novelty Shoes).
Disc two, "Matthew Mackenzie and Friends" kicks off with the beautifully orchestrated "Crazy Jane" plus 4 other ambitous Reddy Teddy songs. Many of Mackenzie's delicately constructed compositions are veritable mini-operas and perhaps his romantic artistry was just too much for the mainstream to handle. Following the break up of Reddy Teddy, Mackenzie continued to rock and his excellent solo work from 1980 (Here By My Side) and with his later band The Roosters (Girls of the State) are well represented here.
Fascinating demos from 1972 (with brother Mike on drums) reveal the "Surrealistic Pillow" side of Mackenzie (Haunted). Courted by Mercury Records and adored by their Baystate following, the Teddy boys lived the true rockstar life in their Brookline mansion, Kilsyth Manor, surrounded by groupies, fellow musicians and other artists.
The band and their fabulous fans later adopted The Rat as their homebase, helping to turn that Kenmore Square cellarhole into an internationally known scene. Matthew Mackenzie and Reddy Teddy trail-blazed a market for original Boston rock that future beantown bands like the Neighborhoods, Mission of Burma and The Cars would later enjoy.
This forty song collection (all but one written by Matthew) has been lovingly restored and produced by Reddy Teddy singer John Morse and original RT bassist Ted von Rosenvinge with superb liner notes and vintage photos.
Picks to Click: Holy Poses, Goo Goo Eyes, Boys and Girls, Moon Out, Shark in the Dark, Madonna, Ooh Wow
CowboyScore: 950
---
TITLE: SUGABOMB
BAND: Sugabomb
ON: Lawless - 2003 www.sugabomb.com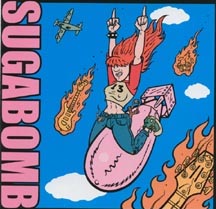 Sugabomb spits out 12 nasty nuggets of greasy garage sleazepunk scraped from the underbelly of the Boston rock underground . Hell-kitten vocalist Vikki Sixx gives out free woodies while shredding axe-dude Dee Stroy grinds out a full-frontal-garage-meets-metal attack. Drummer Dave and bassist Sandybomb complete the fantastic four.
Kustom-made for the underground club scene that they call home, Sugabomb offer up plenty of hotroddin' sex (Bar Whore), violence (I Wish You Were Dead) and even some Motown (Get Ready).
Mouthwatering Vikki and her dirty little band play it straight and mean while the humor that fuels their repetoire (Titties, Eastie Greaseball) shines thru.
A highly recommended live band, Sugabomb cranks out their lightning-paced set Ramones-style, tossing in unexpected crowd-pleasing grenades like "I Believe in a Thing Called Love" or "Highway Star".
Sugabomb's showstopper is "(Do You Wanna Touch My) "Titties" (included on this cd) where Vikki shares the uplifting tale of the day she got unwanted attention sporting her "tight blue shirt" while getting soaked to the skin in a sudden downpour.
Songwriting is good throughout and is simply credited to Sugabomb. Production by Ed Riemer, Eric Law and Sugabomb, magnificently recorded at ER Studios, really nice cover design by CheesyGraphics.com too.
Picks to Click: Speedthrill, Sugardaddy, Highschool, Titties
Cowboy Score: 815
---
Band: COFFIN LIDS
Title: Rock'N'Roll
On: Bomp - 2004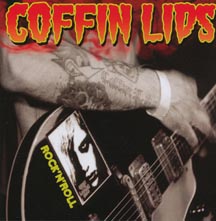 Fearsome foursome out of Boston grind out a horrific platter of Farfisa organ-driven teenbeat Munster-rock. The Coffin Lids never let up on the throttle. "Rock"N"Roll" keeps the dance floor packed solid with 14 real gone gassers. The rhythm section have a strong Boston-style garage rock attack with arrangements that throw occasional curveballs just to keep everyone swinging. Coffin Mike (vocals, guitar, Farfisa) claims The Mummies and The Sonics as his main songwriting influences. I think I can hear echoes of Sam the Sham, The Astronauts, George Romero, Sandy Nelson & even some Afrika Korps floating to the top of this bubbling cauldron. Bloody good cover design by H13D on this baby too!
My Picks to Click: Nite of the Zombies, Supercharger, Vampire Girl and Smokin' Monkey.
My Big Beef: The production budget might have been a bit slim this time around. "Rock'N'Roll" has a frighteningly fuzzed-out carnival ride sound. Y' know, like when you're riding the Scrambler down at the Marshfield Fairgrounds and the ride operator (the fried dude in the Motley Crue t-shirt) blasts his older sister's "Theater of Pain" tape thru a huge stack of blown out Cerwin Vega speakers straight into your face.
Lo-fi can be kool - but these The Coffin Lids have a razorsharp sound that deserves a real studio job next time around. Cowboy Score: 775
---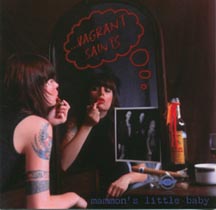 Band: VAGRANT SAINTS
Title: Mammon's Little Baby
On: ASP-2003
Nashville rock trio with a funky groove and plenty of twang. Guitarist Michael Saint-Leon sings about the upside of lovin', gamblin', drinkin' & losin' in his friendly, shantytown drawl. Co-songwriter Paul Snyder adds vocal color and impresses on the drums. Standout is bassman Kit Dennis, best remembered up here in Boston for performances with his seminal underground band, The Infliktors (Live at the Rat 1977). If you dig groovy bass, then Kit Dennis' lowdown fretwork with the Vagrant Saints is well worth the price of the cd. These rebel dudes make it all sound so easy with well honed chops and amusing lyrics. Recorded at The Switchyard in Nashville. It looks like the group handled all the production themselves and the sound is full flavored and sharp throughout. Cover art by Boston photographer Mike Mayhan (Subway News) looks great. I am a sucker for any album cover that features a hot babe sitting in front of a big dressing table mirror with the band's name scrawled across it in lipstick...

My Picks to Click: "Teenage Booze Hound" is a good example of how the Vagrant Saints remind me of vintage Joe Walsh with their hooky riffs and clever lyrics.The heartfelt "Too Far Gone" is a Jaggeresque gem. Snyder's bayou flavored drumming rolls right into my current fave: "Coffee Cup Kicker".
Cowboy Score: 815
---
Band: THREE DAY THRESHOLD
Title: Behind The Barn
On:Pig Pile - 2002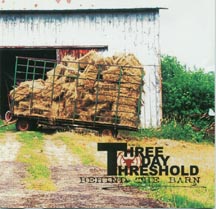 Hundred Proof roadhouse rock is on tap when this Boston quartet rolls into town.Three Day Threshold distill a brew of hillbilly stomps, pirate sea chanties, rave ups & Irish drinking songs and what they deliver is pure rock'n'roll moonshine. Strong songwriting here from Kier Byrnes & Sam Reid. Two guys who know how to borrow from folksy backwoods melodies and anglo roots music but twist it into a new kind of pretzel. Drummer Jack Morris drops the hammer down while guitarist Sam Reid keeps flinging those greasy licks into the fire. Bassman Johnny Ransom can rock like a Georgia Satellite or pull it back like a Buffalo Springfield. Kier Byrnes has a superb voice for this wild colonial boy stuff and his electric banjo playing adds to the distinct Three Day Threshold sound. I like the straight ahead, non-ironic, simple and true lyric writing and singing that is "Behind The Barn". I've been spinning this disc regularly since last summer. A winner for sure. Don't just take my word for it. Three Day Threshold have already appeared on the Van's Warped Tour and millions heard "Behind The Barn" when it was featured on the soundtrack of Paris Hilton's "Simple Life" tv show. Recorded at New Alliance Studio in Boston by Marc Schleicher and Nick Zampiello, "Behind The Barn" packs a lot of sonic punch. The engineers capture a big, deep sound but they leave the really energetic rough edges on there too. One of the best sounding records to come out of Boston yet.
My Picks to Click: Pub With No Beer, For Russ, 25 Minutes, Man With A Pitchfork and Behind The Barn. Next time you have to muck out the horse stall be sure to bring this baby along.
Cowboy Score: 960
---
Review by Holly Daisyn-Dassun


Thrills-Recorded Thrills
The Blackjacks-- American Independents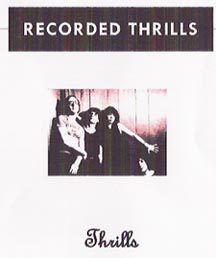 June 2004 was declared Johnny Angel month, in recognition of Mr.Carmen's return (for one week only) to Boston and why not? The Cherubic One was all over town on his 7 day weekend. A good excuse as any, I say, to talk about two recent releases, one by Thrills, one by The Blackjacks, which demonstrate pretty well why this Angel fellow was such a legend around these parts. With all due respect to Sean, Merle, and Mike, Thrills was really the Barb Kitson-Johnny Angel show. Barb , on vocals and mini-skirt, had Mrs.Philip Spector down pat, with Johnny playing punk rock guitar (with some country licks thrown in here 'n there), writing the tunes ,and bouncing all over the stage. Imagine The Buzzcocks playing 60's girl group songs behind Ronnie S.and you have Thrills. This CD is a low-tech (homemade?) collection of the band's Modern Method single, their Star Rhythm EP, an unreleased studio track (the fantastic "Wait"), and two tunes recorded live at Metro. "Not Another Face In The Crowd", "Sorry", "I'll Be The Heartbreaker" and other faves are here for the greybeard/crow's feet set to enjoy once more, and this is a good primer for the young 'uns who like it fast, energetic and catchy all at once. I'm not sure how this collection was put together- my guess is from the actual records, and from cassettes. I mention this only because the sound levels vary dramatically from song to song, and I don't want you to be surprised. Highly recommeded, all the same.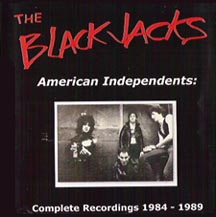 Thrills were forced to endure a name change followed by relocating to NYC in their quest for fame and a decent egg cream, and that was the end of them, so our Johnny returned to Boston and formed The Blackjacks (initially a trio, then a quartet, the latter featuring Rafe Mabry on guitar and big hair) American Independents (get it?) is an entertaining collection of the many moods of the band. Their great "That's Why I Always Dress In Black" (with it's spoken verses) is Boston garage punk at it's 80's best, and "Generic New York City Woman" sounds like it's an outtake from L.A.M.F. And remember the "Blackjacks Manifesto"? That's here, too. The, er, BJ's, venture into power pop territory as well ("Simple Math", which sounds better today then back in yesteryear, "Dreaming Of Saturday Again") and wear their Stones influences on their sleeves (think "Between The Buttons" and "Exile"),even including their cover of "Dead Flowers". Johnny also does his imitation of Ian Hunter imitating Bob Dylan .
17 songs in all by the 'jacks, rarely a dull moment. Johnny left our low taxes, mild winters, and pennant-winning baseball team for California sometime in the late '80's/early '90's,and continued recording out west and 4 cuts are included. "Rosa Maria" is a straight ahead 70's rocker, but the next two show Johnny trying to join the '90's- "Ain't Gonna Beat My Head Against The Wall" sounds like the Red Hot Chili Peppers (if they didn't suck) with JA doing a pretty good Anthony Kiedis impression (normally, not a good thing, but perfect here) "Suzie's On Prozac" finds the boy doing his drop tuning, minor chord, flannel shirt grunge thing, a noble effort at the very least. Finally, one of my faves on this whole mess, called "Last Ride", featuring Johnny with two drummers (combined, they still make Meg White seem like Gene Krupa),doing a Stooges "No Fun/Wanna Be Your Dog" soundalike (with background vocals sung by Patti Smith's unknown twin) 21 tracks totals, good sound quality (would it have killed Mr.Carmen, who has been a professional writer for years in El Lay to whip off some liner notes??????),lots of variety, lots of fun, lots of dirty words ,too (a no-no in John Ashcroft's America, so be careful).
Thrills-Recorded Thrills
Available from www.dionysusrecords.com
The Blackjacks-- American Independents
Available from Retrospect Records
http://www.retrospectrecords.com/index.html
---
BAND: Thundertrain
TITLE: Teenage Suicide and Hell Tonight
CONTACT: Thundertrain Site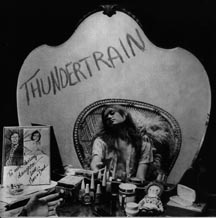 This July, the (cough) esteemed Governor of the Bay State took some time off from drawing mustaches on John Kerry posters to personally arrange a police escort to ensure safe passage of the legendary Thundertrain, from their Concorde (now retired) to their private suite at the Madison Hotel.
Why all the fuss? Simple! The ORIGINAL "MC5", as in "Middlesex County Five" were back in town, for one week only, to save the young children from Limp Bisquiks and Not So Hot Chili Peppers, and the older crowd from parrot heads and any/all new Stones studio recordings. Not an easy task, but somehow, the Nabobs of Natick took over stages in Boston, JP, Nashua, Woosta and Salem, and by gawd, once again, they showed we mere mortals HOW it should be done.
Since that week, the electricity and running water have been restored in these communities, and the sudden increase in pregnancies seems to be leveling off finally....
For the two or three of you who don't remember this lethal quintet, Mssrs.Bell, Silva, Provost (TWO of 'em) and Edwards were the link between good hard rock (with a twist of glam tossed in) and garage/punk at a time when rock and roll was going through much needed changes.
The '70's started off ok, lots of heavy bands playing lots of flashy stuff but things got a little silly after a while. 20 minute songs,10 minute solos, ... Thankfully there was Bowie/ Bolan/pre-perv Gary Glitter, Sweet, Stooges, the Dolls, and Slade to keep things fun and unpredictable, but it didn't last, and soon we were back in the soup again; Rick Wakeman, Jackson Browse, and solo LPs by Bill Wyman and Ron Wood! Thankfully, the CBGB's scene was happening, as was the London scene, not to mention our very own Boston scene, and before long, it was back to basics for rock and roll, and here's where Thundertrain come in.
Here was a band with an outrageous lead singer and front man who moved like the proverbial 'tiger on vaseline' and sang/shouted like Slade's Noddy Holder; Mach Bell. On guitar, playing guitar hero, Steven Silva, playing as fast and furious (and as nimble fingered as) Johnny Winter in his prime. Swooping in and then out with his killer riffs, short, sweet, to the point. The Provost Brothers, Ric and Cool Gene keep the rhythm solid ,tight, powerful,(Gene doing some nice Thin Lizzy dual lead stuff with Steven once in a while, too) all the while driven by the secret weapon of the band, Bobby Edwards (Bobby!) on drums, keeping the beat strong ,with serious monster flash to top it all off.
They were the bridge between the best of early '70's rock AND the return of straight ahead stripped down rock, with feet in both camps. 30 years later, Thundertrain came back to town to play for us for one special week, with TWO recordings on Gulcher Records for our approval! The first, Teenage Suicide, was the first-time-on-CD 2003 release of their original Jelly Records album (recorded 1976),featuring the infamous "Hot For Teacher" and "I Gotta Rock", plus extras including the song Tyler/Perry only WISH they wrote, "Cindy Is A Sleeper", live stuff, PLUS interviews, an ad for a gig back in the day, and a cool booklet with interviews, pix,history, etc.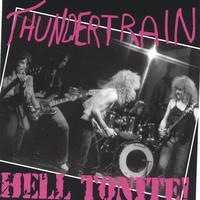 The second CD, "Hell Tonight" is Thundertrain live, on stage, recorded for WCOZ (!!!!) broadcast back in '79, all material seeing the light of day for the first time now. "I Gotta Rock" is here, as is Slade's "Mama Weer All Crazee Now", "Hot For Teacher" and the gem of the set, the Standells' "Dirty Water", with Mach poking fun at all of the crap on the radio at that time (disco, Barry Manilow, disco, Debby Boone, and disco). You haven't lived until you hear Mach parodying "At The Copa". (note:'COZ had to bleep Mach's cry of 'disco sucks' during the broadcast;1979 was such a quaint time, wasn't it?)
I'd love to hear Mach's take these days on Eminem, Britney, Godsmack and 50 Cent from the stage sometime- maybe next year?
Both CDs have great sound quality and demonstrate Thundertrain's energetic riff-rock to it's fullest. I like the live one a tad better, with it's louder sounding guitars and that extra "oomph" that a live show can bring out. Then again, the studio ain't chopped liver either.

These guys do one thing, they rock hard, and if that's your thing, you need one or both of these. ( Mach writes for the BGN sometimes, maybe he'll sign 'em for you at the premiere of the Thundertrain movie!!!!) I'm hoping hoping hoping we'll see the boys in these parts in '05, perhaps raiding the vaults to put more madness on CD.
Fellas? Gulcher? Whaddya say?
---
---
home | interviews | photos | features |BGN issue list | reviews
links | contact us
Copyright © 2004 Paul Lovell. All rights reserved.