Carmelita's Baystate Rock 20th Anniversary
The Abbey, January 27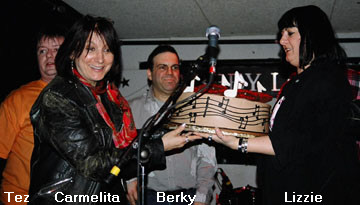 There's no denying that time is piling up around the Boston Punk scene and anniversaries remind us of that. So, here's Carmilita working her way through twenty years on the Baystate Rock show on WAAF 107.3 FM. Carmelita has been in the trenches for longer than that. Lots of us still remember Metrowave on WERS back in the day when there wasn't much credible punk anywhere on the dial. There is a web page for the show BAYSTATE ROCK and a link there to get Carm's story from herself. She also hung out in the Broad Street area, home of Cantones and some other denizens.
She has put out a quality show for a long time. She has played a wide variety of local rock. She hasn't got stuck in a rut, or a trend, or played into the "in" groups of any kind. We're lucky to have her good taste and discernment for all this time.
All this gets us to Saturday, January 27th at the Abbey for the celebration show and Carmelita did it so right. There was a buzz on for this show and we knew it would sell out. We got there at 9:30pm and at that point the club was already sold out a half hour before and we had to wait 15 minutes to get in. Skinny Mike was doing a good job at the door, it's not easy turning people away.
We could hear Hooray For Earth from the other room and they were sounding good. They have a nice mix of synth and strong guitar and know how to write a tune. Their CD is very good and they are putting a lot of work into getting themselves out there in print, the web and playing live.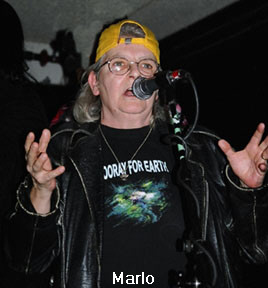 We also heard that Marlo was on stage earlier playing spoons and yodeling. I'm alternately surprised about how much people know and how much they've forgotten. In this instance it seemed like a lot of people have forgotten Marlo. Carmelita hasn't and neither has Lizzie Borden and they gave their salute to her on stage later. Marlo helped them back in the day and that would be their story for them to tell, for the rest of us it was Marlo running Cantones and The Space for a while.
She was a character in a long line Boston Punk characters. She made the night-out a little more homier. When you went into Cantones you knew she would be there and she would greet you and you'd feel like you were right where you should be. At the end of the night she might be standing on a table or on the bar and telling you to go home. She was a hoot. We want to get her story on the BGN soon.
The surprise of the night was the news that Marlo's son was in the group Hooray For Earth.
We recognized a lot of people who came to give Carm her propers: Spenser Gates (Mystery Girl-WMBR) and Jane, Rick Harte, T-Max, Wayne Podworney, Joanie Lindstom, Eric Law, Boby Bear, Anya, Tommy who booked the Rat Balcony, Jordan Valentine of The World's Greatest Sinners, Mung four-stringer Tom Carnali and, you know, tons of people.
Springa was a big presence. He was broadcasting from the DJ both on his own station; "WABY". He was playing some old school punk and doing fake commercials and flogging his paintings on the wall that were for sale. I forgot to take pictures of them but he has his own style. I guess they are drawn on glass and feature primitive portraits of food logos among other things. At the end he jumped on stage with The Outlets. There was no way to ignore him. And he was very entertaining in a way that only Springs can be!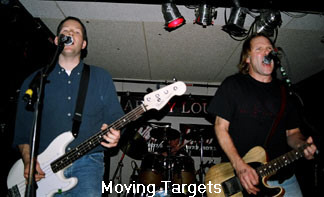 Next up was Moving Targets who I missed seeing in their time so I was glad to get a chance to hear them live. I always catch Kenny Chambers name when the group is mentioned but the drummer Pat Brady was the man I was paying attention too. He's strong, creative, a pleasure to hear. They do a large percent of instrumentals that requires Kenny to do a lot of detail guitar work and he is very good as is the bass player. Glad I had a chance to see these guys. I hear they may do some more gigs in the future.
The early line up for the night had a reunion of Busted Statues< which didn't happen but they did get Bob L'Heureux up for one song:Red Clouds and that was a highlight. With the Moving Targets doing a good cover job Bob showed off his vocals that used to transport us to a different place. No one really ever sang like Bob. He has some sort of ethereal thing going on, an other worldly falsetto ...or something. It's unique and uplifting whatever it is. He had one song and he delivered. Now, that we are reminded we NEED that Busted Statues reunion. (Bob get it together!) This is a group with only a few recorded efforts so a reunion could bring them some needed reevaluation of what they did back then. I heard them do Light in August once in their rehearsal room and it is one of my most memorable musical moments in Boston rock.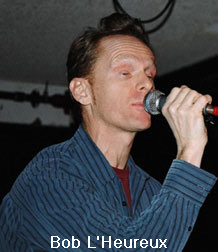 It was now time for Carmilita to get her kudos. She received a huge cake. With chocolate records on it. Where did that come from? She shared the stage with Tez and Brian from the Baystate Rock show, Marlo and Lizzie Borden. They had a raffle for one of Springa's artworks and some Outlet records. There also was a jar in the club for donations to Jon Eric Johnstons' fund to help his family and people were very generous giving to it.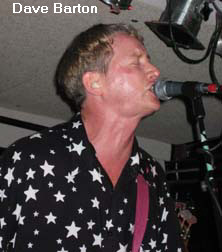 Getting up to play The Outlets had an amp problem and that took a few minutes to rectify but the second and I do mean the second they started to play everything changed. They sucked the air out of the club and proceeded to give a blistering set that no one there will ever forget. It was the sort of set that makes you readjust your idea of what groups are supposed to be doing on stage. They have the songs and the stage presence of only a few other groups in town. Sheila, Best Friend, Knock Me Down..etc. They played them all. A mosh pit formed and stage diving ensued. It was very, very exciting.
The Barton brothers look great. One of the big kicks is when Rick marches to the front of the stage plants his feet shoulder width apart and drills a rhythmic chord blast that nails the song.
Dave Barton of course is the focus and the girls were lined up to drool, and drool they did. I'll remember this when some one knocks me for slobbering over some saucy vixen on stage. It's sex appeal and all humans are affected by it. I feel vindicated. I could hear conversations of people who recognized each other from shows through the years. This is a band with a loyal following.
Everyone who has heard them knows they are one of the greats. If you weren't there for this, catch them next time. This is one of the reasons why this is a great scene, you can see a group like this in a small club. If things were right The Outlets should be playing somewhere where you have to spend $20.00 just on the ticket surcharge. Why aren't they? Well there's a story I'd like to hear.
That was the cap to this wonderful night. Carmelita and those that helped her should be proud of themselves.
Happy Anniversary Carm. You've been doing the good work for so long and we all have benefited from your hard work and talent.
| | |
| --- | --- |
| TexMax - Carmelita - Rick Harte | Vikki - Miss Lyn - TexMax |
| Moving Targets | Outlets |
| | |
| | |
| | |