The Cars
The House Of Blues- May 26, 2011
Photos/Story by Ralph Fatello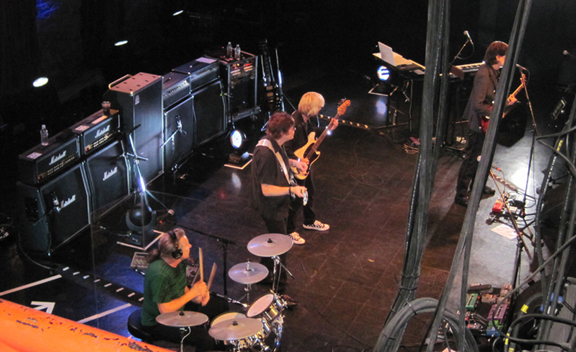 It would be easy to start this review with series of clichés using song titles from the many hits that the Cars have produced since the mid 70's...but I'm not about to do that. I have too much respect and admiration for them, and for what they did for Boston and the suburbs.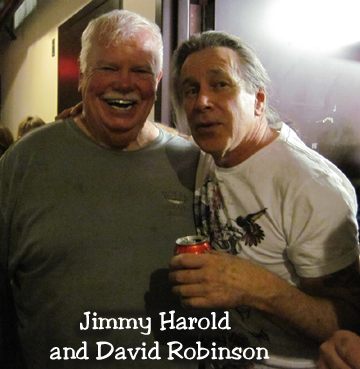 Say what you want about the Cars, they were one of the top bands to break it out of here and beyond. The others, J Geils, Areosmith, and Boston all had their own niche and mass appeal, but The Cars were closer to all of us who were in the trenches battling it out week after week at the Rat, Cantones and The Club.
They broke with the release of all things, a demo tape. DJ Maxine Satori from WBCN played "Just What I Needed" enough times back in 1978...and the big wigs heard it, and saw the potential in this "New Wave" band. They got signed to Electra, Roy Thomas Baker produced their first record and the rest is, as the old saying goes...History.
With a series of successful hit records, tours, and slick videos, they help put us on the map. Ric Ocasek, Ben Orr, Elliot Easton, Greg Hawkes, and David Robinson had a unique sound and style that to this day stands alone. David being the true local kid from Boston played with Jonathan Richmond and the Modern Lovers and then with DMZ. In fact, it was David's vision that helped package and market the whole Cars look and concept.
They played and recorded for decades. They shot countless of MTV videos. Then eventually, like all bands, broke up. But not before leaving behind a legacy that will be in the Boston rock archives as the only real band that emerged from the punk/new wave days as a bona fide success story. Fast forward to the year 2000. The year that bassist, lead vocalist with looks to match, Ben Orr, passed away from cancer. I remember talking with David saying "This is like the Beatles now, there can never be a reunion." And he agreed. How could they? Ben was the voice. Ben had that look, that smile, that personality. The Cars could never be the Cars again without Ben.
They sort of got together in 2005 as the "New Cars" with Todd Rundgren. But Ric and David were not part of that..and well, that was clearly Not the Cars...not even close.
By 2007 the New Cars broke down…wait is that cliché? Doh! But seriously, it seemed that the Cars that we had known were doomed to oldie stations and nostalgia infomercials. And then in the year 2010...something clicked...Ric, David, Elliott and Greg got together and decided it was time to put aside whatever happened in the past and create some REAL new Cars songs. And they did. Move Like This is the latest Cars record. The first time I heard it I found myself tapping my foot and eventually like all Cars songs and their clever hooks I was singing along.
Ric Ocasek is a creative genius. That man can craft a tune as good as anyone. And his voice is as unique as his writing. Elliott Easton is hands down a GREAT guitar player, any guitar player will attest to that. Greg Hawkes and his keys are a huge part of the sound. And with Ben being gone, Greg had to play all the bass parts. In fact, they recorded some of the tunes using Ben's old bass. And David Robinson, who had not touched his drum kit in years, had to suddenly get back in the saddle and get his chops together . The end result was, the new record sounded great. It sounded contemporary yet familiar enough for us older fans. When David said they would play some selective shows in smaller venues across the country…well I knew where I would be there at The House Of Blues show, right around the corner from the Rat, where it all began for them back in 1977-78.
The buzz before the show was a mixed bag of older men and women (like me) straining to get the perfect vantage point and younger types just amping on the whole scene. It was a night filled with seeing friends that we had not seen in 20 + years, and to a person we were all wondering what the band was going to sound like. Then the stage went dark and the crowd went wild. The opening chunk of chords in Good Times Rollwas the spark that lit the fuse. My wife and I were blown away by not only how good they sounded, but how good they looked.
Seeing Ric Ocasek standing there looking like he was 9 feet tall with his signature Gibson SG, belting out this classic song had the sell-out crowd roaring. They went right into Blue Tip , one of the new tunes from the new record; and it fit perfectly. In fact, the night was filled with a clever set list that mixed the old with the new and damn if it didn't all just blend together like a Cars show.
One might think that hearing Ric sing all night would make the loss of Ben that much more evident. But, it was not that way. Greg, Elliott, and David sang their hearts out backing up Ric on each song. They made a group decision that if they were to tour they would not find a replacement for Ben. They would go out as the four of them. And good for them. That took some balls.
They banged out song after song mixing the new with the old, and it just kept getting bigger and better all night. One of my favorite Cars songs is I'm Not the One…such a pretty song and Ric sang it beautifully. All night EE played his intricate solos as if he'd never stopped. It was awesome to see him playing again. Watching Greg be Greg was fun. I love his keyboard lines and his uncanny ability to keep the computers synched up with his live playing. And the biggest surprise for me personally was watching David play. He was in the pocket all night. Solid drumming with all the perfect fills. He was working out like he was in his 20's. It was great.
I'll admit, I'm not a big fan of reunion shows. But this was something more than that. After all, that new record was climbing up the billboard charts. Sad Song is the single off the record and hearing it live with the other Cars songs just connected all the dots for me. This was not a reunion show. This was a Cars show. The show kept building momentum. That's what a Rock show is supposed to do. You come out blasting, and then settle down, and then you leave them with their hearts on fire, and their adrenaline overflowing. And it was. For the encore they played Moving in Stereo then went right into Just What I Needed -the crowd went crazy. Even without Ben singing it, it almost sounded like he was there and I'm sure he was in spirit. They ended with You're All I Got Tonight and the crowd agreed.
We all needed this; it was a fulfilling night all around.
Backstage was filled with all kinds of friends and old familiar faces. We have all grown older, but there's something about being around Rock and Rollers…that brings out the youth in all of us. We're lucky to have that in our lives. That Rock and Roll heart and soul. When I saw Ric and Jimmy Harold standing together, I asked them if I could take their photo. Ric looked at me and said "Of course, I owe everything to this guy. He gave us a shot at his club back in the day..."
I took the photo and stared at the image of these two Boston Rock icons, and my mind raced back to those days at the Rat.
From 1977 to 2011 that's 34 years.
Time just slips away.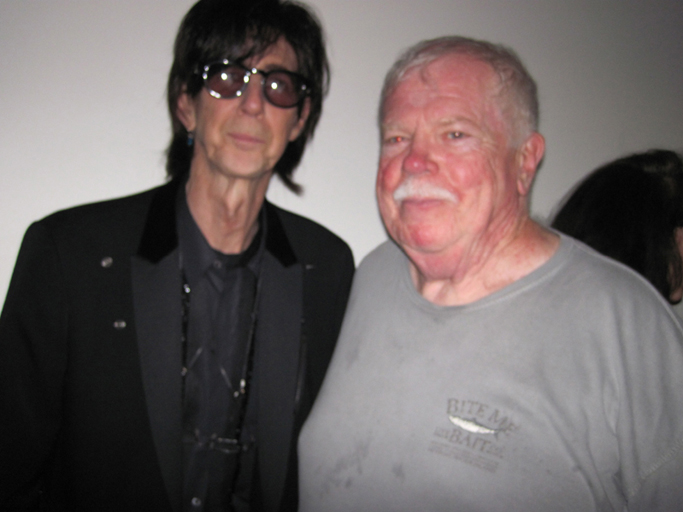 Ric Ocasek and Jimmy Harold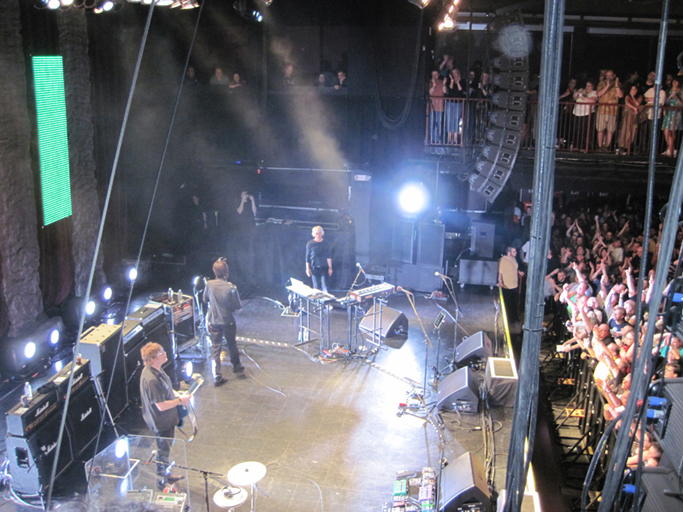 Cars - House of Blues, Boston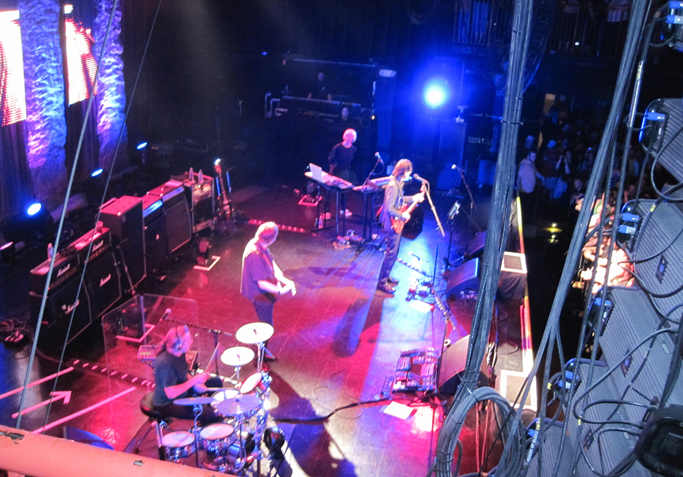 Cars - House of Blues, Boston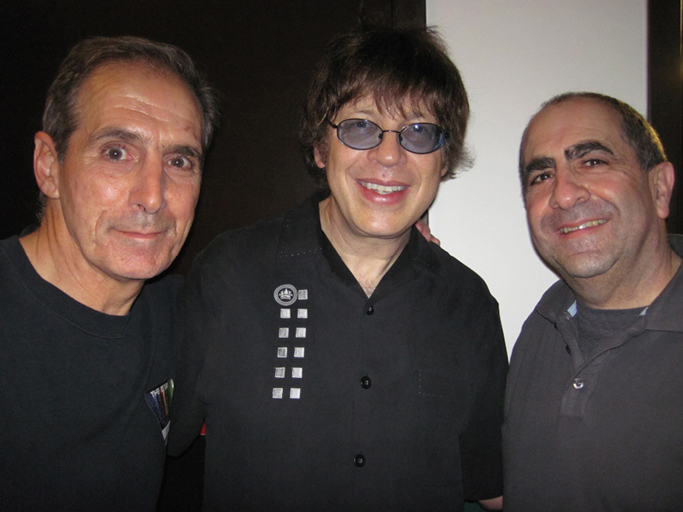 Ralph, Elliot and Gene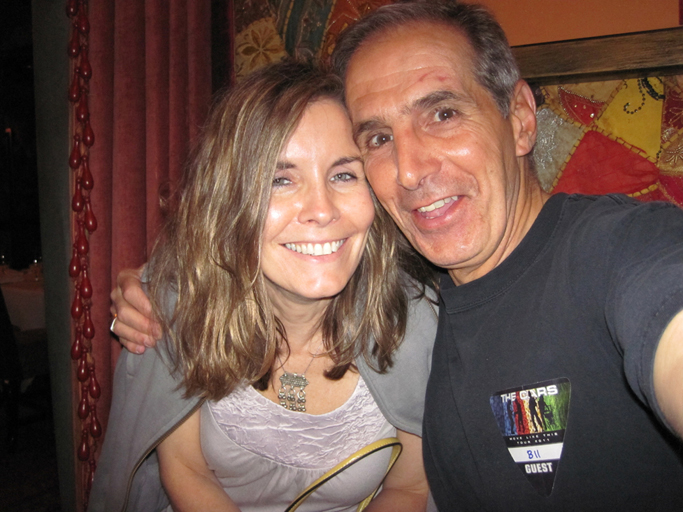 Ralph and Cory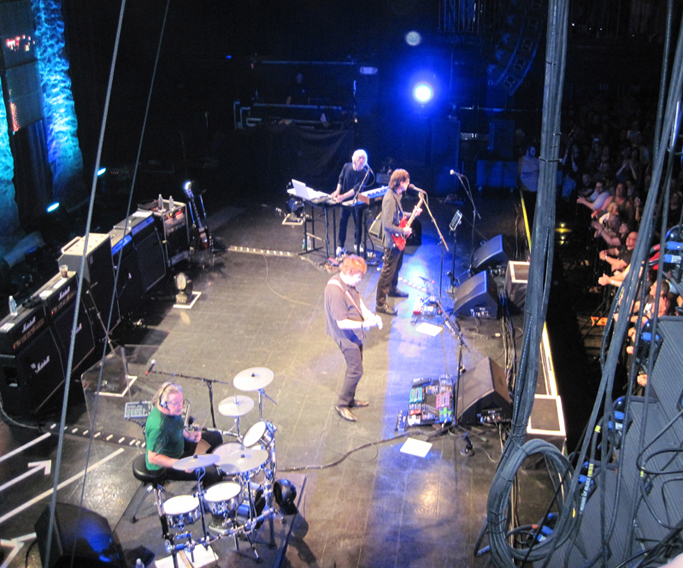 Cars - House of Blues, Boston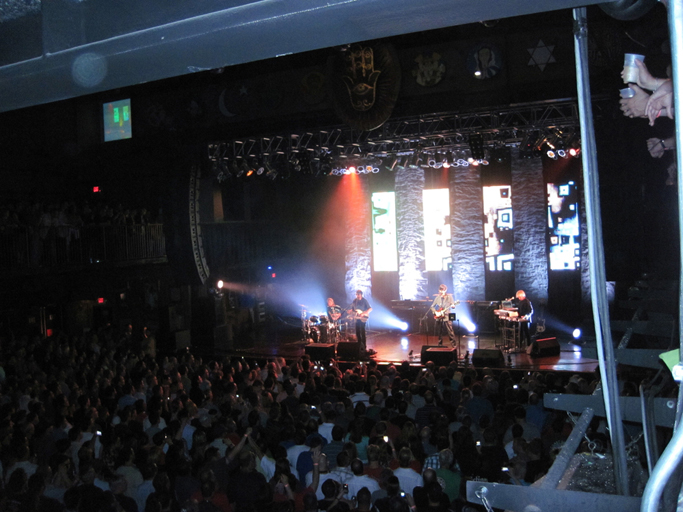 Cars - House of Blues, Boston
---
home | interviews | photos | features |BGN issue list | reviews
links | contact us
Copyright © 2011 Paul Lovell. All rights reserved.