Charlie Chesterman Benefit
TT the Bears June 12
Photos by Miss Lyn
And on Sunday June 12th - we went over to The Charlie Chesterman Benefit atTT the Bear's - this is a benefit to raise money for Charlie Chesterman's costly battle with cancer - my mother had colon cancer so the cause id dear to my heart....beside Charlie being a much beloved member of the Boston music community!!
As promised they started promptly at 12:30 pm with a set by The Upper Crust. These guys have gotten new wigs and new stately and shiny outfits and they look as majestic as they should ...for men of their station....and the British Invasion stuff they do is just loads of fun and they have such a great sense of humor....great set!!
Next up was a bunch of rockabilly and then some R'n'B...great great music!!
The Roy Sludge Trio featuring Duke Levine got on stage.....WOW!!! Roy has an AMAZING voice and he does a lot with it...they are true to their roots, truck drivin' , beer swillin', heart achin' songs...and Duke Levine is just such a fabulously talented guitarist!! And I love the stand up bass so they were real blow me away material!!
Next up were The Raging Teens, more awesome rockabilly, more stand up bass...gotta love it...and their lead guitarist Amy Griffin who floors me with her picking and her excellent rockabilly sound....they have a new drummer; he's that super handsome Mr. Charming bartender at The Plough and Stars!! ...everyone was dancing to these guys and singer rhythm guitarist Kevin is great to watch, so much fun!!! Peter O'Halloran got up with the band to do a number on the stand up bass, which was so cool since we didn't get enough of it on friday night at The Paradise.
And Wooooo away we go kids..Scruffy The Cat reunion was next!! Oh yeah...they hadn't rehearsed and hadn't played together since they broke up something like 20 years ago...I remember seeing them a few times at Johnny D's in Allston....keyboard player Burns Stanfield literally walked in the door and onto the stage with his coat on like two minutes before set time!! They rocked to say the least.....some serious time traveling there...
The Ray Mason Band was up next, all impressive musicians to say the least!, They were more mid=stream but really great.....they did a Charlie Chesterman song...
The Weisstronauts were next....these guys are mostly instrumental...and the most wonderful George Hall is the guitarist for the band....the lead singer or the guy that stands in the place where the lead singer stands...and who does do the singing for the few songs they have with lyrics was an awesome mix of nerdy cool...I mean real not fake.....
Barrence Whitfield was rocking the r'n'b numbers big time...plus he has the Roy Sludge guys backing him up for added punch!! and was joined by Peter Wolf for a couple songs...everyone went nuts as expected.....
Brian & David Charles played next...more influenced by stuff that came after the 80's...though they did a Charlie Chesterman songs as well. The party was still going but it was time to head home to write the news and get the pics ready....
Also if you were not able to join us for the show and would like to donate you can do so by going to Charlie Chesterman's webpage ....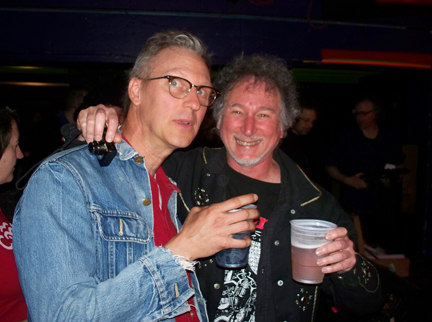 Charlie Chesteman and Ed Moose Savage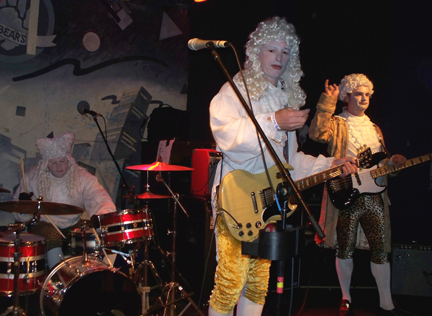 Upper Crust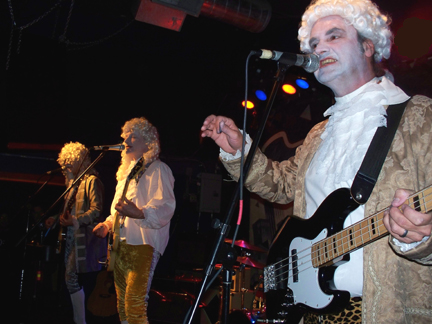 Upper Crust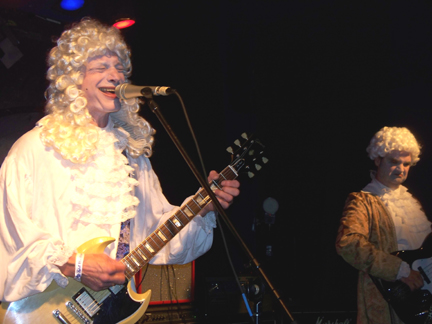 Bendy and Duc Upper Crust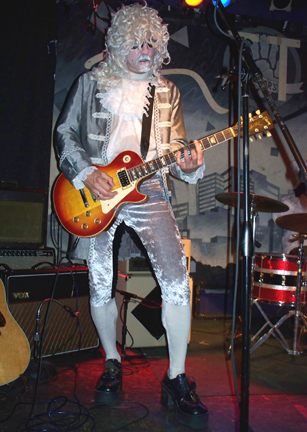 Count Bassie Upper Crust
Jack Kickassis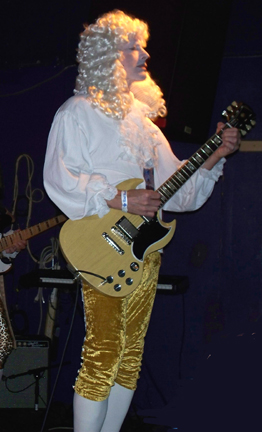 Lord Bendover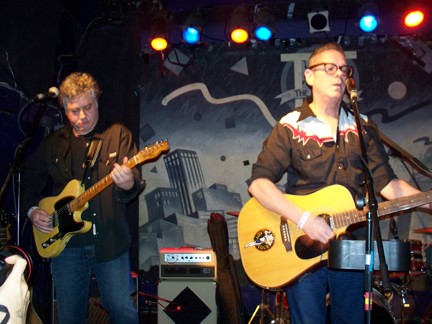 Duke Levine and Roy Sludge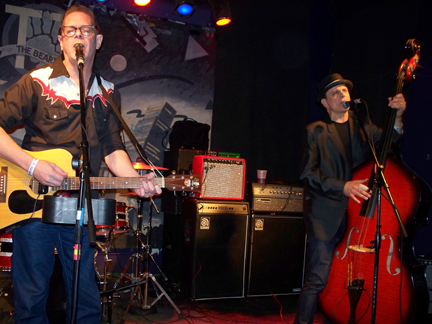 Roy Sludge and Jimmy Haggerty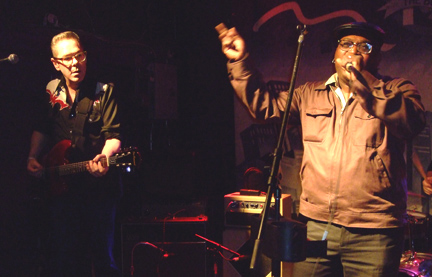 Barrence Whitfield and The Monkey Hips - Barrence & Roy
Photo by Michele Meadows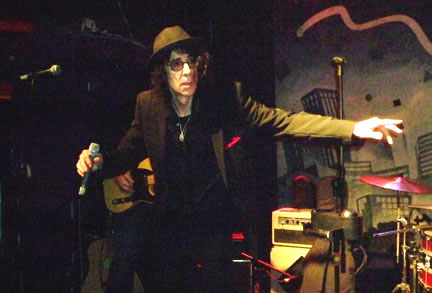 Barrence with special guest Peter Wolf
Photo by Michele Meadows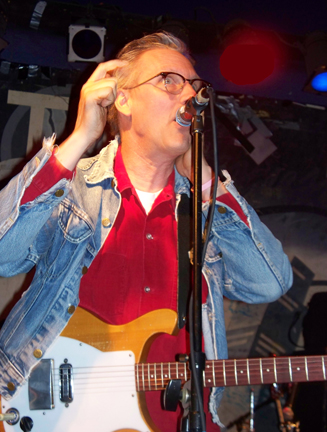 Charlie Chesterman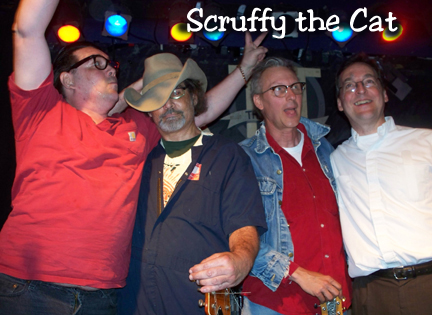 Original Scruffies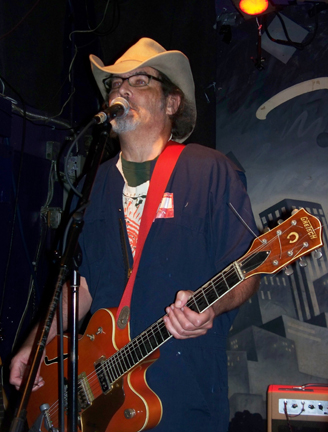 Stephen Fredette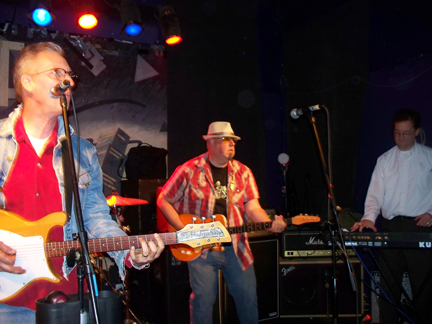 Scruffy the Cat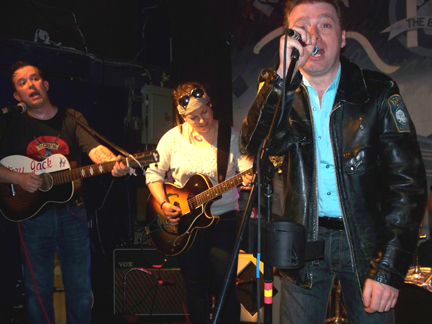 Raging Teens - Keven and quest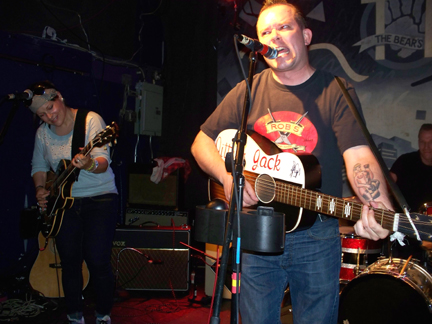 Raging Teens - Kevin and Amy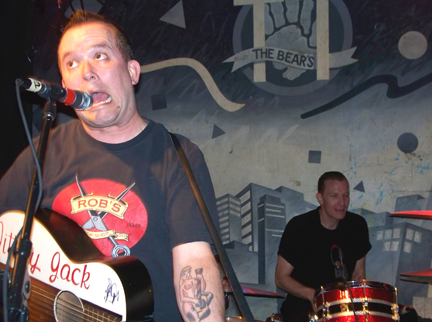 Raging Teens = Kevin and Drummer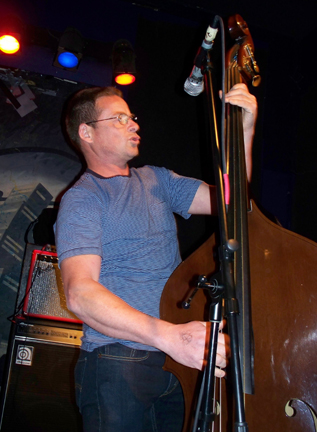 Raging Teens - and Peter O'Halloran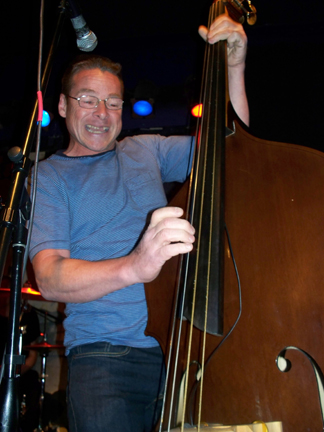 Raging Teens - and Peter O'Halloran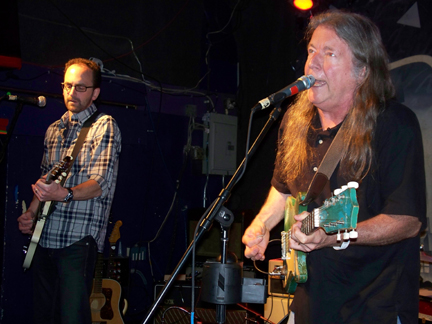 Ray Mason Band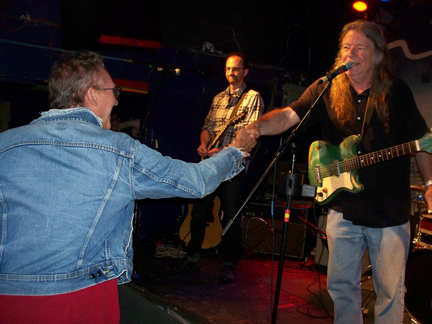 Ray Mason band - Ray shaking hands with Charlie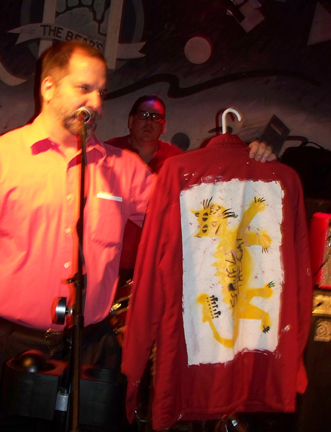 Raflle Prize: shirt with an Charlie Chesterman Scruffy The Cat painting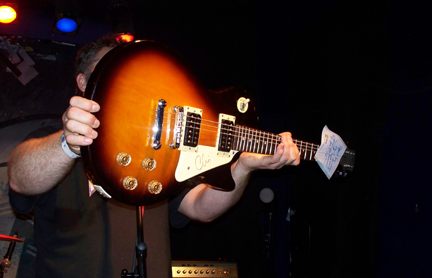 Raffle Prize: Charlie Chesterman's guitar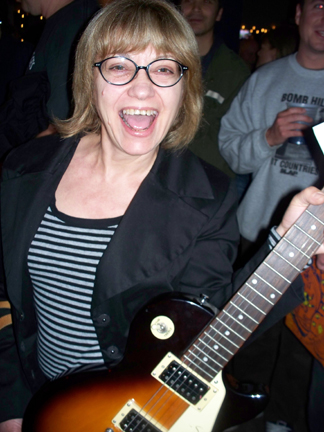 Aimee Hanley wins Charlie Chesterman's guitar!!
---
home | interviews | photos | features |BGN issue list | reviews
links | contact us
Copyright © 2011 Paul Lovell. All rights reserved.