Tenafly Vipers / 5-Point / Up Your Bucket / Vogon Poets
Church 3/11/2010
The bill looked good but it was Thursday. So, Iím thinking long night and work the next day. Iím in the mood for rockiní and have got shut out of clubs full to capacity on the weekends so I figure, go for it.
Right off the bat, good news, thereís plenty of parking in the back of Church. The set times have changed a few times during the week (Iím checking NoiseBoard posts.) and sure enough when I get there it had changed again. I walk in to the Tenafly Vipers instead of the Vogon Poets and dispite the available parking there is a respectable crowd.
The Vipers sounded refreshingly loud. Itís just what I wanted to hear. Itís like I had a loud rock deficiency or something. Iíve heard the band name bouncing around and never got to hear them until now. They have a very thick bottom end that grounds their assault. The songs are good and at one point a tandem lead line sweetens up a tune. One of the guitarists has a shiny Flying V guitar that gave me stabs of jealousy. The set is very satisfying and I feel like even if I leave now Iíve heard good music.
I see Matt Burns and John Hess and they inform me that they are in Vogon Poets. The group is basically Awakening Stick with a new bass player. They have been slotted in to the end of the night. Matt has rumblings of a V reunion.
Next up is Up Your Bucket with Larry Kelly of Kilslug. The group is not a sludgy as Kilslug. They have a strong Black Sabbath influence. The difference would be the singer. This guy did some serious yelling/screaming. I thought after the first song he would be unable to utter a syllable for a week but no, he kept up the deep throat action all set.
The first song went like thisÖ
ARGHHHHHHHHHHHHHHHHHHHHHhhhhhhh
AWWWWWWWWWWWWWWWWWWWWW
HAWWWWWWWWWWWWWWWWWWWW
YOU SUCK ME DRYYYYYYYYYYYYYYYYYYY
ARGHHHHHHHHHHHHHHHHHHHHHHHHH
It wasnít American Idol material but I have to say I liked it a lot. The singer was writhing about on stage and brought a lot of drama to the affair. Iíd like to see them again.
Next up is 5-Point. Itís been a while since Iíve heard them but I have seen Fred Pineau recently in Big City Rockers, playing the Atlantics songbook. He brings a lot to a group. 5- Point is tighter than two coats of paint. Their songs are so strong I can still remember them from a year ago and they have new material that is just as strong. Mark Kennedy is a strong lead man. With the singing he does some amusing mugging and while not loquacious has some humorous patter here and there.
The two guitarists have a great chemistry and know how not to step on each other. There are plenty of local groups who would learn a lot from checking out their arrangements. They were talking of a CD in the works and indeed are way overdue for some recorded material.
Meanwhile the next day, Fred got hit by a truck while walking and it threw him 12 feet. Miraculously he wasnít hurt too bad but, ya know, he was banged up! From what he says it seems like it will take a while for him to completely mend.
I was impressed that the crowd stayed through the night but they did thin out after 5-Point. Vogon Poets did a fast set up. John has a psych edge, playing though about 6 effects pedals. I thought the lyrics were pretty good and the group was beginning to get in a groove when the club pulled the plug. Church has that neighbor who doesnít like noise, so all ends at midnight. Matt was quite pissed at the fifteen minute set. All sets had run late so the short set disaster could have been predicted.
So, now Iím big on going out mid-week where there is good music and with the plethora of parking.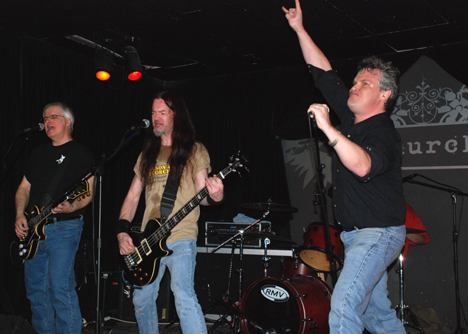 5-Point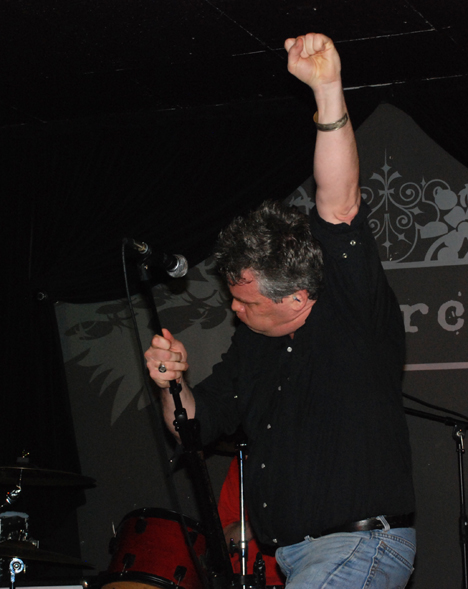 5-Point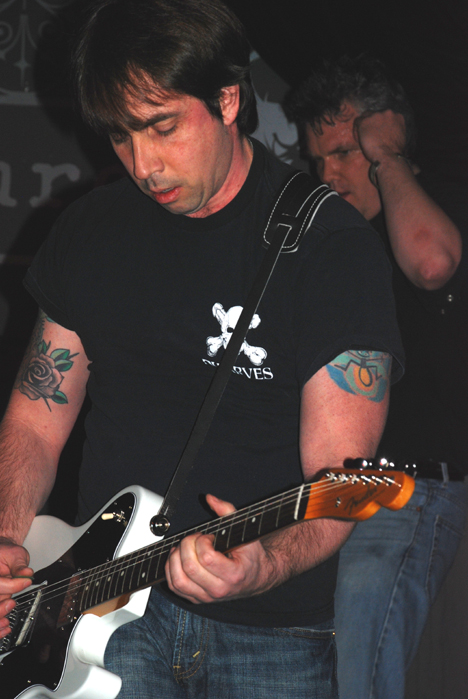 5-Point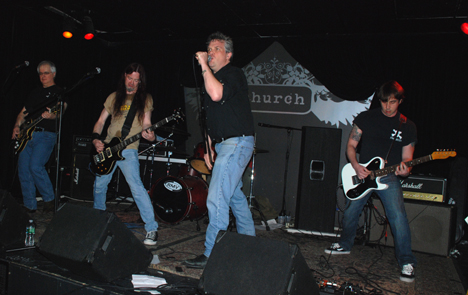 5-Point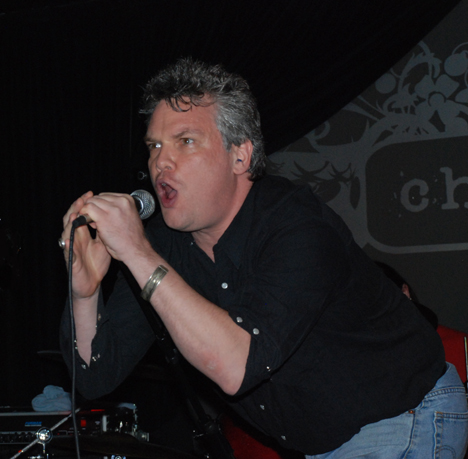 5-Point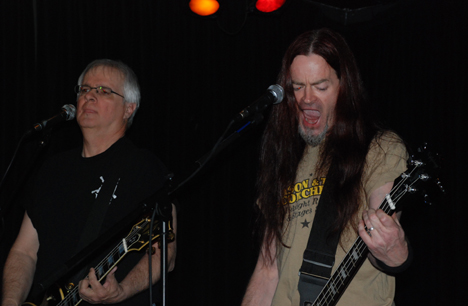 5-Point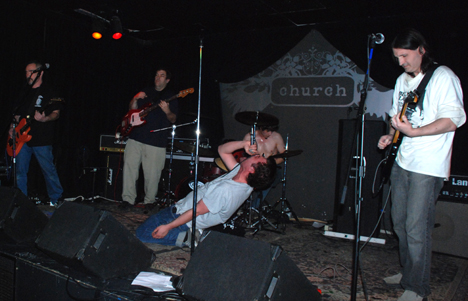 Up Your Bucket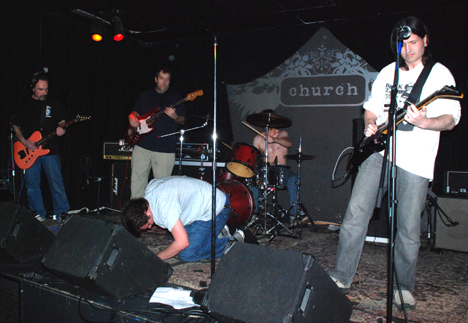 Up Your Bucket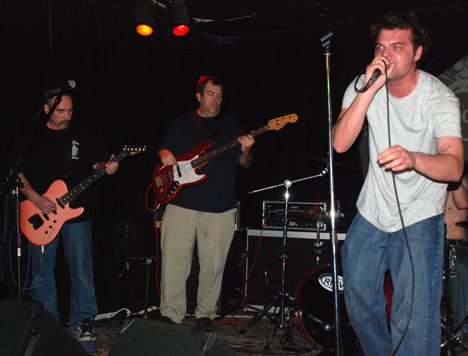 Up Your Bucket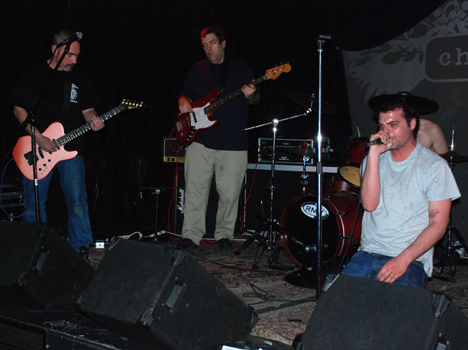 Up Your Bucket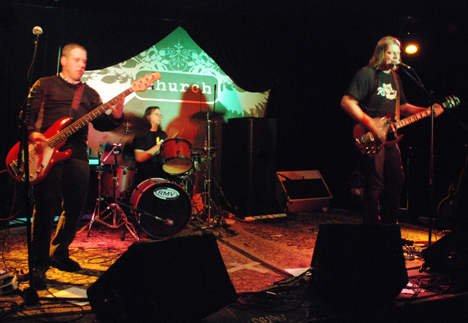 Vogon Poets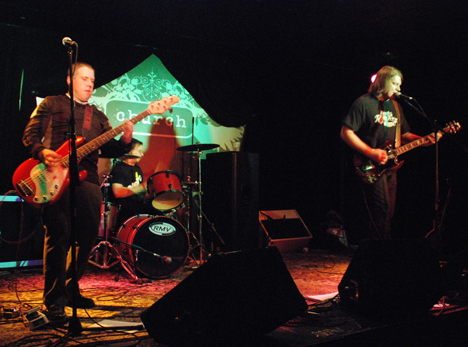 Vogon Poets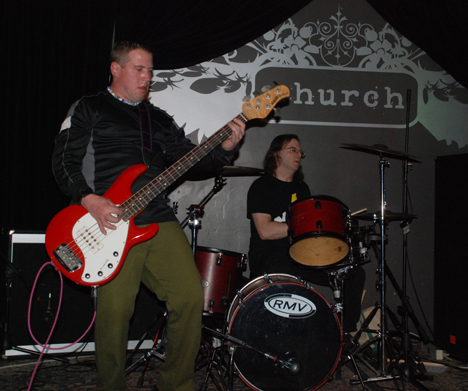 Vogon Poets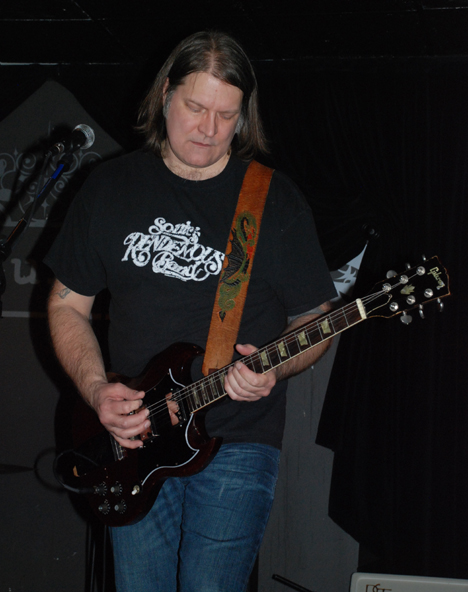 Vogon Poets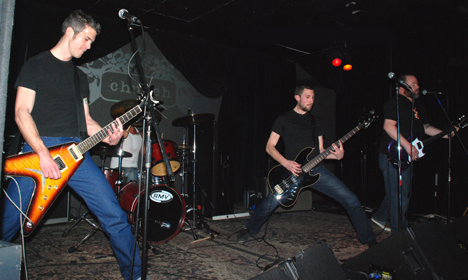 Tenafly Vipers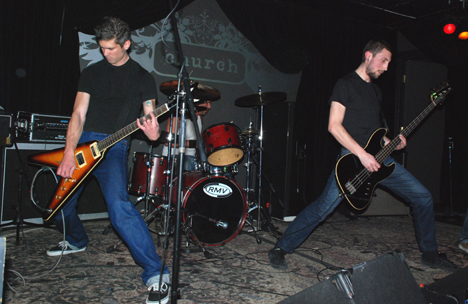 Tenafly Vipers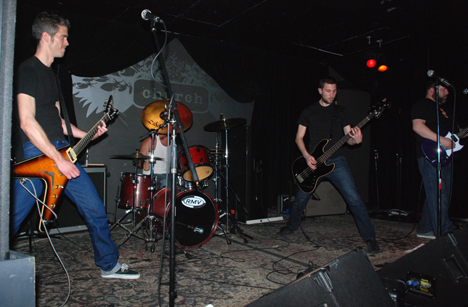 Tenafly Vipers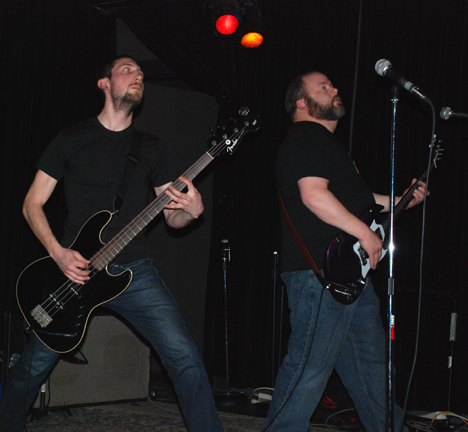 Tenafly Vipers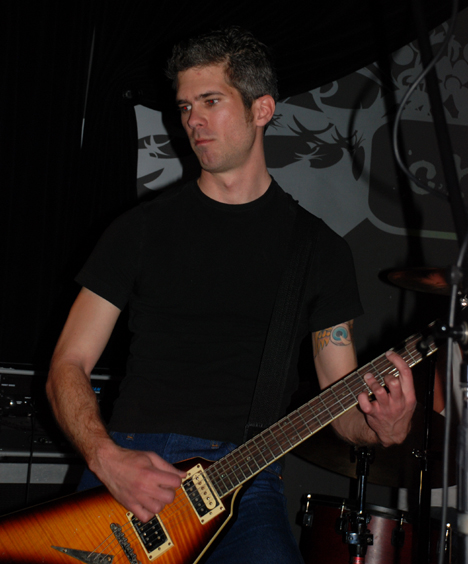 Tenafly Vipers
---
home | interviews | photos | features |BGN issue list | reviews
links | contact us
Copyright © 2010 Paul Lovell. All rights reserved.