Past episodes ...Click Here
Little Steven's International
Underground Garage Festival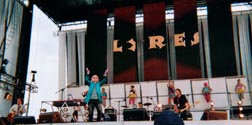 Aw MAN! What a day. What a fabulous memorable day. One of those days that ya just can't stop thinking about.
Can you imagine a rock and roll event that actually catered to the bands just as much as the audience? I can't. I can't ever remember a gig where I felt as comfortable as this one; Little Steven's International Underground Garage Festival (as it was officially called).
A mammoth achievement involving 45 bands from all over the world. An incredibly well planned extravaganza, the logistics of which must have been daunting to say the very least. Yet somehow it was pulled off under the direct supervision of the amazing Mr. Steven Van Zandt a.k.a. "Little Steven". His presence was felt everywhere by everyone involved. The great lengths (and expense) that he went to to make every band feel special is just mind-boggling.
For starters; each and every band was provided with their own air-conditioned motor coach to use for the whole event. Food and drink (including BEER and wine) was free and readily available to all band members and their guests at all times during the entire event. WOW! Parking was arranged for and totally free for band members (We parked 20 feet from the LYRES motor coach) The passes we were given allowed us access to all areas including backstage and the V.I.P. viewing lounge. To top it all off the entire staff including security, bartenders, sound techs and other support members were extremely friendly and courteous. We soon knew everyone's first name.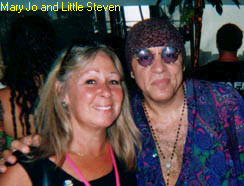 Little Steven is on a crusade to save Rock and Roll. In his own words published in the New York Times on 8/11/04: "Everyone was ignoring this contemporary garage rock movement, which was to my ears a possible rebirth of rock and roll, nothing less. So why weren't any record labels signing it?… How could our culture have gotten to the point where we have a format for everything except rock and roll?"
I, for one, couldn't agree more. Sign me up for the crusade. I am tired of the oldies stations with their limited play lists. I can't listen to the hip hop and monotonous unromantic rap artists. The pop divas (although extremely attractive) offer me nothing in the way of music. Even modern country music (with one or two exceptions) has morphed into something that I feel is not pleasing. I am not cutting anybody down. On the contrary I encourage you to listen to any type of music that pleases you no matter what is. There is a lot of music out there. Listen to the stuff you like.
Unfortunately, rock and roll (the stuff I like) is damn hard to find on the airwaves (or anywhere else) The profit driven and restrictive music industry is literally cramming this other type of music down the throats of our young citizens without even offering rock and roll alternatives. It's so unfair.
In a perfect world, there would be a radio station (with decent power and range) that would feature Garage Rock as their main format with Alex Piandes, Dinos Mekios and PIP as the DJ's who would spin cool rock music all day every day. It has always been like a dream. But now dear reader, thanks to Little Steven, the renaissance of our (as he put it) "rough, honest, beautiful garage rock" has begun.
Sat. 8/14/04, 7:30 am, Red Roof Inn Milford, CT., sunny, 72 degrees F

"That's got to be Danny" I said aloud when the cell phone on the dresser sprang to life. "Are ya ready to go to breakfast?" The voice in my ear asked. "Gee Dan, we're just kinda wakin' up now" I mumbled. ( I must have been stoned when I agreed to do breakfast this early) "Why don't you two go eat and we'll meet ya back here at about 9:00. Room 337." " OK man. See ya at 9:00." he said. I flipped my cell phone shut like Captain Kirk. In the old days when Danny and I were touring with The Lyres, the kid could sleep until noon no problem. Now he's up at the crack of dawn all showered and ready to go. In retrospect it was good decision to drive to Milford, Ct. on Friday night so we could get a good nights sleep and take a leisurely one hour drive to the gig in New York. It made a lot of sense because it's a hell of a lot cheaper than a hotel in Manhattan. As soon as I proposed the idea to Danny he booked a room online and saved ten bucks.
9:00 am, RT.95 South
The sun was shining. Danny and his girlfriend, Janice, carpooled with Mary Jo and I. Warm behind the windshield we chatted the whole trip and missed our exit before the Triboro Bridge. I paid a four-dollar toll, banged a 'youie' and paid another four-dollar toll. We all agreed that the signage was screwed up. (Probably a deliberate attempt to screw up us dumb New Englanders. It worked!)

We entered the "event area" and headed directly toward the stage. We could see it looming over us like a monolith at the far end of the open stadium. "There's supposed to be VIP parking for one car per band. Let me do the talking." Danny said and rolled his window down to talk to the security dude who just turned away three cars, a motorcycle and a couple on foot. "Hey! Isn't that Mike Quirk?" Janice asked. "Yeah. It's Mike and Nancy." I answered. The security dude wasn't gonna let them pass into the backstage area. He pointed them toward the stadium entrance and approached our car. Danny did all the talking. The security dude yacked into his two-way radio, a voice squawked back at him and soon we were waved ahead through a heavily guarded gate. Inside the gate were 45 mobile homes arranged (for the most part) in an oval forming a perimeter around an area that could only be accessed by persons wearing a laminated pass around their neck. The laminated pass said "TALENT" on it. (Now I can actually prove that I have talent!) We parked the car and donned our passes.
Each mobile home had a custom made cool poster with the band name on it. Nice touch! As luck would have it, The Lyres mobile home was located right next to the beer tent. (Ya, FREE BEER!). The beer tent was sort of a meeting place for everyone (Go figure!) and the acts performing onstage were displayed on two wide screen monitors with surround sound.
| | |
| --- | --- |
| The Charms | The Fleshtones |
Boston was well represented by Muck and the Mires, The Charms and of course the Lyres. It was so way cool to just walk around and see all the rock people. It was so exciting. At any time you could run into Bo Diddley or Chuck Barris. Sylvain Slylvain or Alex Chilton and then walk out into the audience to watch The Electric Prunes, The Chocolate Watchband or maybe the Fleshtones or the Dictators. An MTV film crew was making the rounds. This is truly Garage Rock Heaven.

11:30 am
After a good breakfast of white wine and Dunkin' Donuts with the charming Charms, Ellie and Kat, Jo and I headed to the stadium to watch a few bands and generally check the scene out. The Swingin' Neckbreakers, The Fuzztones and Nancy Sinatra. All before Noon. How cool is that? There was a dozen Go-Go dancers on stage at all times. They looked so 'other worldly' dressed in DayGlo hotpants and wigs. There was a crew of about a hundred of them, They kept rotating on stage and they were just walking around everywhere. SO COOL!



On Left:Bob Green
of Creem Magazine




Bo Diddley




Sugar Daddy,Chuck Barris
1:30 pm, cloudy skies but wicked warm and humid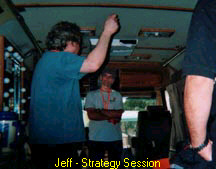 It's time to start thinking about going on stage. Jeff has worked out a reasonable game plan for our ten minutes of allotted time. In the cool air-conditioned motor coach he loudly and excitedly explains the strategy. (Perhaps I should explain that the stage is circular and rotates so that the next band can set up and be rotated to face the audience, thus totally eliminating the set up time. Pretty ingenious huh?) "If we start 'Don't Give It Up Now' while the stage is rotating out and end with 'She Pays The Rent' while the stage is rotating back in, we can do four songs. I worked it out. We can do it!" he said. Wow! Pretty cool idea. We all nodded our heads in agreement and broke the huddle. Murphy wrote down the four songs on a little piece of scrap cardboard and handed it to me. (Jeez! Do I look that drunk already?)
1:45 pm
Danny and I headed up the long ramp to the backstage area. Jeff came running up to us and said. "The stage has stopped rotating. It fell off the track or something. We can only do two songs, 'Don't Give It Up Now' and 'I Wanna Help You Ann'." I was waiting for Murphy to write me another set list.
The Charms were minutes away from their set time. Ellie and Kat were wicked chatting up this guy standing next to me. It was The Boss himself. Bruce, Mr. Springsteen, Sir. ( I am not absolutely sure that Kat knew who she was talking to) I was immediately impressed with the fact that he was not a very imposing guy. Average height, average build, black jeans, black shirt. black shoes. No "bling bling" or flashy stuff. Just a regular American guy quietly talking to a couple of cute girls. I was wearing the exact same clothes!
Jeff has got the equipment staffers hopelessly confused with specific instructions about the care and feeding of his prized English Vox Continental (with real wooden keys) After he left, the older of the bunch looked at me with a quizzical expression on his face. "Center stage" I said. (A man of few words) A smile and a thumbs up was my reward for a successful interpretation.
2:10 pm Time to play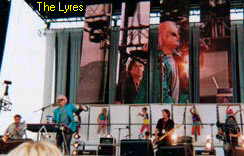 Things happened so fast. I walked out onto the stage with my guitar cord in hand. "Where do I plug this?" I asked the stage hand. "Here" he pointed to a quarter inch hole in the face plate of the humongous stage amp. Jeff Conolly breezed onstage in a sparkle tux and pink wig.( Yes! I said PINK WIG) Danny looked at me from across the stage and cracked a smile at the spectacle. Murph just gave me a 'seen it before let's play' look, and so with the go-go dancers in place behind us, and 'LYRES' written in huge letters above us, Danny ripped into the 'Help You Ann' riff. Behind the white mesh curtain beside him I could see Little Steven and Bruce Springsteen run over to check us out. They were smiling and commenting to each other. I wonder what they were saying. It was so unreal! Thirty thousand eyes looking at us. The stage sound was excellent and I felt great. Comments from people in front were favorable. This gig will definitely be logged into my brain as one of the most memorable. Right up there with opening for Areosmith at the Worcester Centrum, and opening for R.E.M. at the Lyceum in London.
2:30 pm warm, humid, cloudy skies
As I left the stage area I walked right past Pauley Walnuts (The Sopranos). I also ran into Brian from Muck and the Mires who was all excited about the fact that they got to share their mobile home with Pete Best, one of his hero's.



Norton Record's
Mirriam Linna
and Billy Miller




Are you sure you want
my autograph?




Brothers Mire
Brian and Frankie
I was so glad to see that Billy Miller and Miriam Linna (Norton Records) were able to somehow obtain All Access passes. When I got to the motor coach there was a record collector sitting in front. He asked me for my autograph. He had everything, even 'The Last Ones' 12 inch EP from 1983 on Star Rhythm (only 500 copies produced) complete with the sticker that said "Featuring ex-members of The Lyres and DMZ"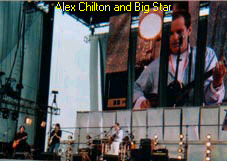 3:00 pm or so
Time to hit the food tent. Nothing too fancy but everything was good. Burgers and dogs, a good assortment of hotplate stuff and fresh salad. After Jo and I munched we went back out front to catch a few more acts. One of our favorites was 'Big Star' featuring Alex Chilton. Mary Jo was hoping that he would play her favorite song "September Girls" (He didn't). We ran into a displaced Bostonian and former LYRE, Dave Bass.
8:30pm (I think) humid, occasional raindrops
The word was going around that Little Steven was speeding up the schedule because the weather was deteriorating rapidly. We headed backstage to watch The New York Dolls from behind the aforementioned white mesh curtain (stage right.) David Johanson looked great! He was fit and had that thin sinewy Mick Jagger thing going on with pegged black pants, sleeveless shirt and long blonde shag/ pageboy haircut. We were standing next to Greg Prevost of The Chesterfield Kings. He was taking fashion notes as he watched the legendary outfit. The only other surviving New York Dolls member, Sylvain Sylvain, (dressed in black leather motorcycle jacket and big blue hat) looked happy and well. At one point during the middle of the set, there was a touching moment when Johanson came over to Sylvain and with arms around each other they eulogized dead members Kane, Nolan and Thunders with the song "You Can't Put Your Arms Around a Memory" Tears streamed down Sylvain's cheeks. It was a wonderful moment. They had a New York tough Johnny Thunders clone on lead guitar. I didn't think they needed the keyboard player. He didn't seem to interfere with the sound but it just didn't look authentic. The set lasted about 35 minutes and they did all the hits like 'Jet Boy', 'Looking For a Kiss', 'Pills' and 'Personality Crisis'.




Andy Babiuki
of Chesterfield Kings




Sylvain Sylvain (center)
with new 'New York Dolls'




Greg Prevost
of Chesterfield Kings
9:30 or so (maybe)
I don't know what was up with those "Strokes". They just took such an infuriatingly long time to play that everyone was grumbling. When they did finally go on they were all drunk and you could barely hear the vocals. After only a song and a half we were so bored that we decided to leave.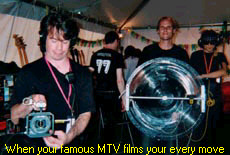 Wouldn't it be nice if playing rock music was a full time job. A job that paid well enough to free me from getting up early and bustin' my ass for someone I don't really care for. God knows that I'm not into it for the money because there is none, but it's the only thing that can get you out of your day job and give you the freedom to use your time the way you want to. Sadly, none of the bands I have been associated with have ever brought me to that level. I suppose I have been close a few times.
When Sire Records signed DMZ I thought I had made it for sure( being the dumb, starry eyed kid from Beacon Hill that I was).
And when "Lyres on Fyre" showed up on the Billboard Charts and we started playing everywhere, again I was thinking THIS IS IT.
Well it wasn't "IT" but I've had a damn good ride with the LYRES. Lots of European travel, gigs throughout the States and Canada, a boatload of records, many new friends and the HONOR of being a Rock Musician. RC
This episode's song is......
"We Don't Feel Good"
performed by The Last Ones
Click Here
---
home | interviews | photos | features |BGN issue list | reviews
links | contact us
Copyright © 2004 Rick Coracio. All rights reserved.