Three 45's from DUI Records
The Real Kids/The Lyres/Unnatural Axe
New local music is always a pleasure to get, but these three singles were a surprise too.
There was no indication that they were coming and where they came from; Mt. Clemens, MI was an eyebrow lifter again. Three 7-inch singles in excellent packaging that just screams COLLECTABLE. The Unnatural Axe single is on white vinyl and limited to 1000 copies. All three 45's are latter recordings (1998-2003) that capture the groups in full form: loud, full of energy with performances that reflect their best times.
Well let's look at what we got.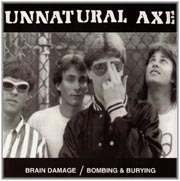 Unnatural Axe: Recorded in 1998.
Richie claims he wrote Brain Damage while walking down a flight of stairs...the whole thing. In the song Richie says he's bleeding from the head but the doctor says he has nothing to lose. It's a statement on the medical care in our country today...not. Tommy continues to upgrade his guitar playing and here sticks in a lick from Caravan after establishing a rumba beat. Axe couldn't have done that years ago.
Bombing and Burying is the apocalyptic yell-fest that we love from the Axe.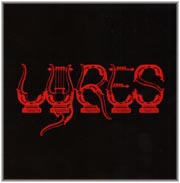 Lyres: These songs are from 2003.
Tear You Up is a typical slice of Lyres, which is to say a simple song structure and catchy. The guitar riff dominates with not much organ on this side. Steve Aquino does the guitar this time. Murphy's drums are loud too and have become so familiar they evoke other great performances in the Lyres history. It's just great to have some new Lyres to listen to again.
Felice Noddydod is a song everyone was talking about. It is basically an instrumental with a phone call overlaid on it. Everone seems to know about it but will not talk about it. Well, it's more than a little embarrassing. You can figure it out it you look at the title and hear it.
Rick Harte was involved in the recording. Now, there's a guy who should be doing more high profile projects.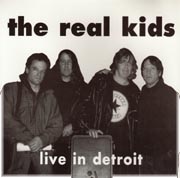 The Real Kids: The songs were recorded on The Real Kids tour in 1999 which was done with the original members !! Yes, Billy Borgioli, Howie Ferguson, Alpo, and John Felice.
I'm always amazed at how straightforward what they do is but they seem to be the only ones doing it. Felice's songwriting ,of course, is what raises everything from plain to glorious. The whole group's playing is so in the pocket that they just hammer the songs home every time. People went crazy on that tour. The Real Kids got lots of reviews praising their performances. Now, you can hear it here.
I Can't Kick and Who Needs You have a very rough live quality to them and I mean that in a good way. On each song Felice delivers blistering guitar solos with a razer tone. Listen and understand why we still worship at the alter of Felice.
Doug Giovanni:
It turn out that the singles were the work of Doug Giovanni from Mt. Clemens, MI. that is just outside of Detroit. Doug got interested in the Boston scene a long time ago. He caught the Boston groups as they came around and through the years has booked shows for the groups.
He's done everything right here and has done us a great service. He has lots more stuff but is just one regular guy trying to do a little. If these singles sell out he could do some more. So, then it's up to the fans to scoop these up.
Here's the ordering info (Or check out the web site www.duirecords.com):
$5.00/US ( $7.00/other) for The Lyres
$5.00 for The Real Kids
$5.00 for Unnatural Axe
includes shipping
Send money order (no checks) to: D.U.I. Records
P.O. Box 46073
Mt. Clemens, MI 48046
---
home | interviews | photos | features |BGN issue list | reviews
links | contact us
Copyright © 2004 Paul Lovell. All rights reserved.