Interview with David Bash
of International Pop Overthrow
November 2015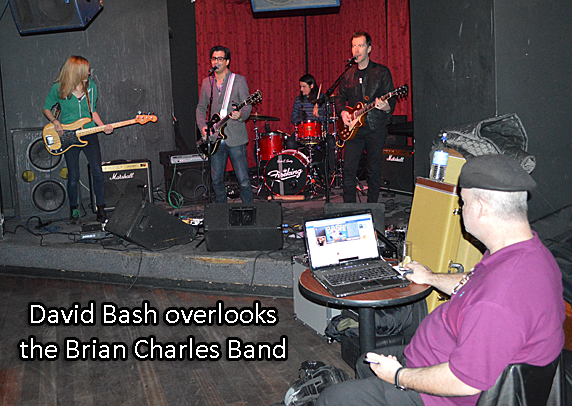 Bash at last years IPO at O'Briens
We caught up with David Bash who created and run the International Pop Overthrow Festival. Be sure to check out the upcoming shows this year at PA's Lounge Wednesday Nov. 11 through Saturday Nov. 14
How did IPO start?
In the mid '90s I started writing for several pop music fanzines, and through that got to know a great many bands from all around the world. In the course of speaking to them I heard from several who expressed the desire to play in Los Angeles, which is where I was (and still am) based. After a couple of years of this I decided to put together a festival where not only local pop bands, but pop bands from all over the world could play under one umbrella, in front of people who would dig what they do. Our first IPO took place from August 21-30, 1998, and it featured 120 bands from Los Angeles, the U.S., and around 15 International bands. I'm happy to say it was a big success, and it served as the impetus for doing future festivals.
We did IPO exclusively in LA for the first four years, until some bands suggested that I take it on the road. One in particular, from New York, offered a lot of help, and for that reason our first IPO outside of LA took place in New York, in December of 2001. That was filled with uncertainty and lots of trepidation, as it was only three months after 9/11, but I'm happy to say it was a big success!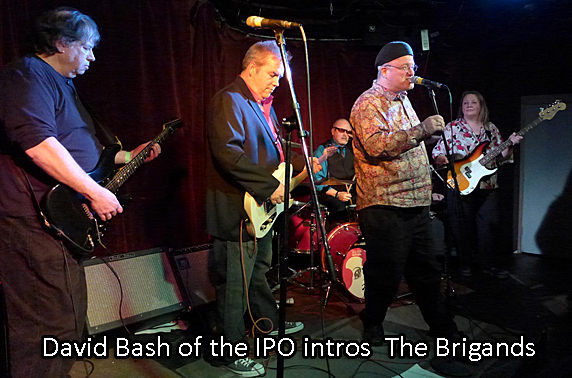 The 2013 IPO at Precinct
In addition to world domination, what is IPO's mission/vision/goal?
Other than what I mentioned earlier, IPOs goal has always been to put this music into the hearts and minds of the mainstream. Of course that's a lofty challenge, and one which after 18 years we still haven't met, but I'm not giving up!
How did you manage to not only maintain, but expand, a relatively fringe event?
Probably by keeping it at a grassroots level. Other people like me have put together similar festivals and tried to maintain them, but in my opinion overreached themselves, trying to make them bigger than could be handled, and they ultimately found a quick demise. I keep things under control and keep it real, and granted the festival hasn't maintained the lofty heights I had hoped it would in 1998, but on the other hand we're still here after 18 years, and most of the others are not. The festival also would not exist without the help of my girlfriend, Rina Bardfield, who goes above and beyond in searching for bands, maintaining the website, and doing so many other things, made all the more remarkable given the fact that her day job is that of Aerospace Engineer, which you can imagine is quite intense. Somehow, she finds the time and energy to give me the help I need, and I owe her a great debt of gratitude (and I love her very much).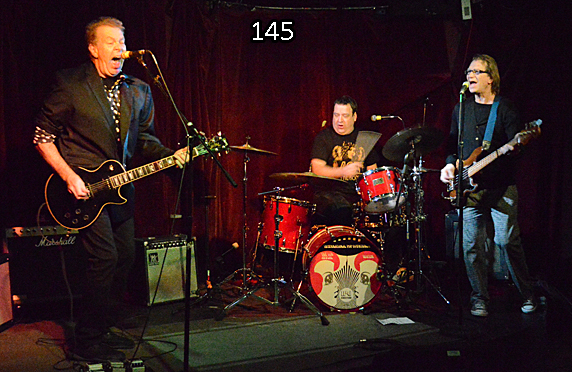 The 2013 IPO at Precinct
How many cities have been involved total? 2015?
We've been in more than 20 cities all told, but some of them didn't take for more than a year or five. In 2015 we will be in 16 cities, which you can see by going to the About section of the IPO site.
What are two of your favorite IPO cities? Why do they stand out?
My favorite is Liverpool, far and away. We just did our 13th year there, all of them at The World Famous Cavern Club, which of course is where The Beatles made their name. For that reason we are able to get several amazing bands to come and play there, and it's always a wonderful time. IPO Liverpool is the only cities which still retains the original ethos of having a worldwide pop scene under one roof. My second favorite IPO city is Vancouver, BC, because it's beautiful, the people are awesome, it has a healthy pop scene, and the crowds are always good. Plus, it's my favorite city to visit, so I was really glad to be able to begin doing IPO there in 2006!
As a postscript, we did IPO in Stockholm for the first time in May, and if it continues to be as successful as it was this year, Stockholm could easily move into the number two slot as that city is amazing, as well!
Tell us about your Boston plans.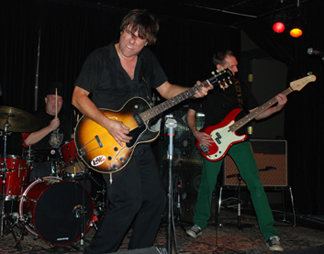 Fireking at the 2009 IPO

Well, obviously there are the shows, and I'll be at all of them running things and serving as emcee. Other than that, I will be working on upcoming IPOs like Atlanta and Austin, and hope to sneak in a bunch of record shopping with my good friend, Tony Kaczynski of the awesome band, Fireking!

Pop is a little word that covers a lot of territory, how do you define Pop in general and specifically for IPO?

That's always a tough one, but the most concise definition I can give pop as we at IPO think of it is "melodic rock 'n roll". IPO styled pop is often influenced in some ways by the music of the '60s and '70s, generally without sounding like it came from those decades (there are some exceptions). Melody is the key, and if a band is not melodic, they will not be invited to the festival. For sure there has to be some rock 'n roll element to it, as commerical acts who sound like Justin Bieber or Britney Spears wouldn't be welcome, either.

What are the criteria for picking a band to play IPO?

Well, as I said, they need to play melodic rock 'n roll, but I also have to like what I hear. If I don't think the band is up to it vocally or instrumentally they won't be invited. I also try to get as many local bands as possible to increase the draw, and if a band doesn't draw well they are unlikely to be invited back the following year. Liverpool is an exception in that The Cavern itself is the draw, and for that reason we're able to invite bands from all over the world, with just a smattering of locals.

How Pop do they have to be?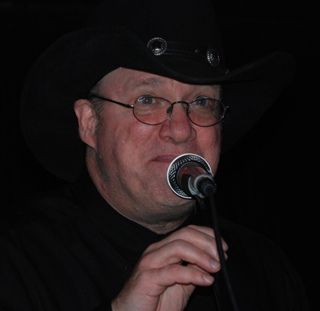 David Bash 2009

Well, we don't want them "too pop", where their sound is too commercial and doesn't bear much of a resemblance to rock 'n roll, but one thing that does help is if their sound is grounded in power pop, which is guitar oriented pop with strong hooks and harmonies, and harkens back to bands like The Raspberries, Badfinger, Shoes, and Big Star. IPO was founded mostly on that genre, and although we've spread our parameters quite a bit since that time, we still really love power pop bands!

Do bands come to you to play IPO or do you seek out specific bands you want to play at the event?

Both, actually. My girlfriend and I do a lot of searching on the internet for bands from particular regions who we think would be good for the festival. In the past, before every band had three or more music pages, they were much more proactive in contacting us; even 10 years ago I'd receive several unsolicited packages a month. Now bands figure that they will be found without having to promote themselves. Sadly, this isn't the case most of the time, so if we want to find them we have to really work at it. Having said all this, we still get unsolicited e-mails every now and then, plus we have a Boston-based partner called Sonicbids, through which bands have a platform to submit music directly to festivals; we get several submissions each year from Sonicbids, and I find a lot of worthy bands through them.

Is there anything we missed that you want to discuss?

The question of why people should come to IPO and check out bands that, for the most part, they've never heard of. The answer to that is: if you like melodic rock 'n roll of the type I've described, you should definitely come to IPO in Boston or anywhere you're based, because you'll discover some amazing bands!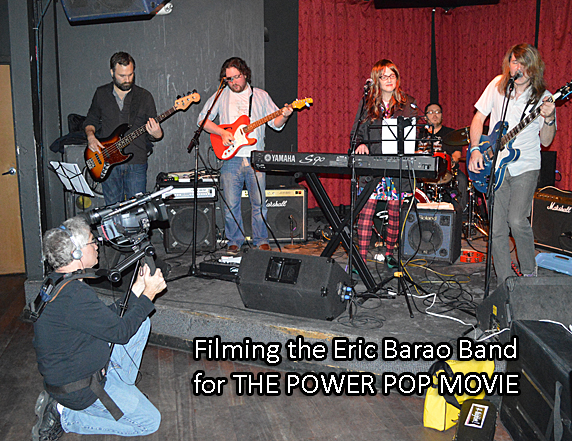 The 2014 IPO at O'Briens

We do an annual IPO three-disc compilation, featuring almost 70 bands who have played the festival in most of our cities, and when I play it for people outside the pop circle, their response, invariably, is "wow, I didn't know there were still bands out there who are doing this kind of music!". If you come to IPO you will find many of them, and you'll be very impressed by the level of talent. I can't tell you how many times sound engineers have praised the bands they mix, and to me that's the highest praise, because engineers see thousands of bands a year. You will find the experience to be more than worth the admission price, so I and the bands hope you come out to IPO Boston at PA's Lounge. You will be glad you did.

Our past coverage of the IPO:
http://www.bostongroupienews.com/PopOverthrowChurch.html
http://www.bostongroupienews.com/News112414.html