The Dead Boys
The Dead Boys were the ultimate punks back in the mid-70's. Their legend lives on and they are still held up as Punk Icons today, continuing to influence many bands and fans. We were there for their first show and many others. We loved 'em back then and still do. Beloved Boston scenester Terry Brenner was kind enough to share one of his many tapes of Oedipus' Demi-Monde Show (on WTBS, now 'MBR) with us. A written version of the tape appears below followed up, for this occasion, with memories of the Dead Boys from various members of the Boston rock scene. We also got some awesome photos from Bob Mackenzie too! Enjoy…..
Oedipus' The Demi Monde Show on WTBS

Dead Boys Interview - Stiv Bators and Jimmy Zero
September 24, 1977
The tape opens with music:

The Cars- You're All I Got Tonight
Blowfish - Lawrence Welk Demi Monde promo
Boomtown Rats - Never Bite The Hand That Feeds
Oedi- This is the Dead Boys doing Caught with the Meat in Your Mouth. This goes out to Richard Nolan of The Untouchables.
Dead Boys - Caught with The Meat in Your Mouth
The Weirdos- Destroy All Music
Sex Pistols - God Save the Queen
DMZ - Busy Man
The Clash - I'm So Bored with The USA
Dead Boys - All This and More
Oedi- That was All This and More by The Dead Boys. Stiv is that your theme song?
SB- No.
Oedi- Who wrote that one?
SB- Jimmy wrote the music, the lyrics and he arranged it.
Oedi - Is Jimmy the main song writer?
JZ- No. We have a very democratic procedure. Cheetah and I write the music…on our own…and ah, Stiv has pretty much come out as the lyricist of the band. So he's handling, right now anyway, almost all the lyrics.
SB- It's cuz I need the money.
JZ- He's going after the royalties.
Oedi- Now that the record's come out on Warner Brothers, Stiv, you were saying it was changed to your liking. Last time you heard it you didn't like the mix on it.
SB- Ya, like I said it was too clean, too produced, so ah, it didn't sound like us. We wanted to get it more like it sounded live.
JZ- It wasn't loud enough either.
SB- it didn't sound like us live and that's what we wanted.
JZ- A dishonest recording.
SB- They not only brought a lot of things 'up' on the record but they removed a lot of things that shouldn't have been on it. Seeing that it was our first recording we didn't really know what we were doing and took a crash course in how to make a record. After living with the tapes for six months I realized what was dishonest about the record and what was honest about it. Now I think it's an honest record…and I'm glad we came out with it. We got jived into thinking that Genya was giving us a raw deal on this, that it was her fault. But it was other people. And finally we got to change it…we got almost everything we wanted but we never allowed her to mix it.
Oedi- So now that it got released on Warner Brothers is this the beginning of a tour that you're going on?
SB- Ya, from here we go to CBGB's again and then from there we go to Delaware, Toronto, across the top of the states, like Chicago, Detroit…
JZ- to the West Coast
SB- We go to Seattle and then down the coast and from Frisco we fly out to London.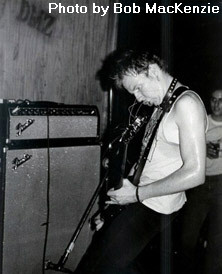 Oedi- Oh yeah? When will you be over there?
SB- We head over there on November 9th. We're going on tour with The Damned over there.
JZ- We've got twenty dates with The Damned.
Oedi- Ah great! Hey where's Jimmy and Cheetah?
SB- Jimmy's right here!
Oedi- I mean Johnny!! Did you leave them back at New England Music City signing records?
SB- Naw, back at the hotel.
JZ- Cheetah's having his shoes sharpened. Johnny's filing his teeth.
Oedi- Jimmy, another guy on Warner Brothers with you guys is Richard Hell. We don't know too much about him except that he came up here and played once with The Heartbreakers.
JZ- Richard, as you DO know, has a very big following in New York City. In watching Richard play it's greatly due to the fact that he has a very original new sound. I don't know how well people are going to react to it, I like it myself and it's interesting. Different, different, totally non-derivative. It's not like anyone I've ever heard before.
Oedi- So let's hear a cut by him.
Richard Hell and The Voidoids - Down at The Rock'Roll Club
SB- Yeah, down at the rock and roll club, at the Rat. That's where we want you tonight coz we haven't gotten laid yet since we've been here! We need somebody. This next song was a hit song in Cleveland. How many times in one year?(to Jimmy)
JZ- I don't know, I was like three years old then, it was in about '66?
SB- Ya, it was a hit like three times in a row in one year. It's an old garage punk single. This is going back to the Dead Boys' roots. People in New York have never heard this it's called "Little Black Egg" by The Nightcrawlers. It's dedicated to Bobby's mother, from Thundertrain, she's dead.
The Nightcrawlers - Little Black Egg
Dead Boys - Hey Little Girl
Oedi- We are WTBS in Cambridge, the Oedipus Demi Monde Show featuring today, The Dead Boys.
SB - We're gonna have a contest.
JZ- Holy cow!!(sarcastically)
SB-We're gonna send out 5 Young Loud and Snotty albums by us.
JZ- The Dead Boys.
SB - All you have to do is call in and give the sexiest breathing over the phone. Who ever gives the best….breath, gets an album.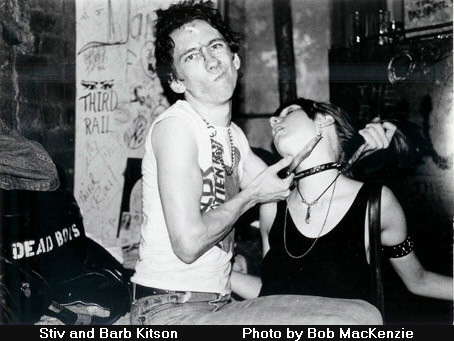 The Cortinas - Facist Dictator
The Boize - So Depressing
The Buzzcocks - Boredom
Oedi- OK we've got a contestant on now….
SB- OK go ahead Breathing………
Contestant - heavy breathing
SB- Oh come on we ain't even getting' a hard on!!
Contestant- How 'bout I just come over and give you guys a blow job?
SB- OK might as well.
The coversation is obviously cut off as Oedi puts on...
Dead Boys - Ain't Nuthin' To Do
Oedi- OK I think we have another caller on the line…..
SB- Hello?
Contestant- oh hello…
SB- You gonna breath? You're on the air.
Contestant - You have to inspire me.
SB- If you were here in person….
Contestant - You have to give me some inspiration…
SB- Come on, just breath, you don't need no foreplay….
Talking Heads - Burning Down The House
Nervous Eaters -Loretta
Dead Boys - I Need Lunch
Oedi- We have all our winners, lot of heavy breathers out there. The people who won albums are Trisha Brown, Dave Brown, Rita Daniels Alias Moose Cholah, Joanne Green and Nadine San Antonio. Those are our five winners. Now, Jimmy, what's this about Sire moving to Warner Brothers?
JZ- I think it's really good; for one thing it restores my faith in the record business, which was failing totally. When we signed with Sire I was really happy that a label would believe in a band like us and then when Warner Bros picked up Sire, with the emphasis on Sire like Richard Hell, The Ramones, us, The Talking Heads, I was glad to see the New Wave could become a reality and not something just confined to a bar or a club playing to 15, 20 people. Warners is handling it really well. The treatment we've gotten is really cool. There's no star trip going on or any of that shit we don't' like. Everything has worked out really well.
Oedi-But you are still playing in the bars though.
JZ- I hope we always do! Even though there's not really any money involved, that's where you come in contact with the people. We prefer an intimate relationship with an audience rather than this Peter Frampton trip where you have twenty thousand people in a hall with you and the closes one is like thirty yards away. We're not into that at all.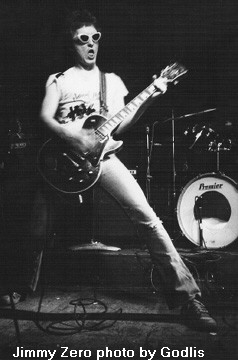 Oedi- And both Sire and Warner Brothers are committed to more than one album, say, and to be behind the band?
JZ- Oh yeah! They've given us total commitment. Both labels really believe in us and I've learned to really believe in those labels. I think it was a brave move on both of their parts to release and album like this because it kinda goes against, what I think is, the commercial grain. Like I said it really restored my faith in the business; there's a label that will put out what I consider to be something new and something slightly different instead of all this formulated, predictable garbage which American, and people all over the world are subjected to, it's ridiculous. So the new bands with new attitudes and new ideas, making honest music can come out and do something. I think it's great!
Oedi- Yeah I do too. On a slightly more serious note, we have queued up on the turntable "Thirty Seconds Over Tokyo". Let's see, Peter Laughler, a member of Pere Ubu, died recently. You guys knew him. Stiv, you knew him didn't you?
SB- Ya, that's how I met Cheetah. Cheetah was in a band with him; Rocket from The Tomb. Me and Jimmy were startin' to hang out with Laughler, in one of my old bands. Laughler wanted me to sing so I joined cuz me and Jimmy wanted a band together but we wanted Cheetah. So we joined the band and stole Cheetah.
Oedi- So did Cheetah have something to do with this song here?
SB- 30 Seconds? Yeah , he wrote all the music.
JZ- Contrary to what might be on the label. I haven't seen the label. But ah, when Cheetah wrote the song and the band performed it, it sounded much different than the version you're about to hear. Not putting down this version, but it was a lot stronger song, more akin to the Dead Boys sound than what we have here. And Peter, what can you say about the guy, he's dead. He wouldn't mind me laughing, he was going to kill himself all along, it was the perfect situation.
SB- In Punk magazine they had a, you know , Pick Who's The Best Punk and he won Scond Place. He wrote that " A punk is to know you're going to die but you don't' care." And that was printed what, a year ago?
JZ- He contributed quite a bit to a scene that Boston people probably aren't really familiar with and probably would care about but that was the scene in the Midwest. He was writing for Cream and he was probably in the forefront of the New Wave in the Midwest as a guitarist and songwriter. He was also doing a lot of things with Lester Bangs.
Oedi- Unfortunately Pere Ubu never made it to Boston. They were scheduled but cancelled.
SB- Probably couldn't find a way to ah, get Crocus here.
Oedi- Apparently he's a big guy.
SB- Oh ya, very big.
Oedi- To the original dead boy
JZ- The original beached whale!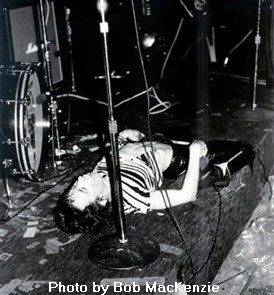 Pere Ubu - Thirty Seconds Over Tokyo
SB- That was Pere Ubu. They're from Cleveland. They're boring.
Oedi- Kind of a profound song actually.
SB - (sarcastically) Very conceptual!
JZ- Ya, very…artiste..artsy farsty.
SB- The kind of thing Kid Leo would really…ah…modulate his voice to….no in all seriousness aside!!!
Oedi- So we'll see you at the Rat night?
SB- I certainly hope so…and tomorrow night too. Everybody come down if ya want to, nobody's gonna force you. And you should buy T-Shirts when you're there cuz we need to eat…cuz Jim Harald doesn't pay us…..
JZ- Ah that was…
SB- Cheetah Chrome said that!!!
JZ- No, ah what's the name of that band? Ah, Thundertrain! It was one of those guys. It was Steven Silva!!
SB- Yeah, he ran right up to the mic! Anyway we'll be there and we'll be young, loud and, snotty for all you Boston kids tonight. And party on so we can afford our plane tickets home. And this goes out to Cheetah who is beating Geeta right now at the Howard Johnson's and ah, to Jeff and Johnny who are beating meat-a.
Dead Boys - What Love Is
Oedipus follows the interview with the Concert Report:
The Rat - Dead Boys and Slash, tonight and tomorrow for both of them.
On Monday there's a Special Showcase of Rat Single artists with The Nervous Eaters , Third Rail and Buck.
Tuesday and Wednesday- The Inflicktors (with new bass player)
Thursday through Sunday - Reddy Teddy (Thursday & Friday with the Nervous Eaters and Saturday with The Streets)
Cantone's tonight- The Knobs along with Bloody Virgins, The Bonjour Aviators and the comedian Mario Cantone
Monday & Tuesday at Cantone's a band called Elixir (funk)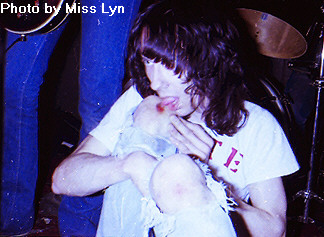 Wednesday - The Real Kids
Thursday & Friday - La Peste
Saturday - The Nervous Eaters
The Club tonight The Marshalls with The Criers, Cat's Ass and The Cars doing one set.
The Bird Cage tonight and tomorrow are The Real Kids
The In Square Men's Bar tonight's the final night of The Baboons
On Sunday and Monday The L & M Soul Drivers
Wednesday is Jamaica Way a reggae band
Thursday through Saturday is Private Lightning
At Gladstone's on Monday and continuing through the whole week until Sunday; Sass
At Jonathan Swift's on Sunday, one night only for Sleepy La Beef the great rockabilly artist
Monday through Wednesday Orchestra Luna's playing. And this will be the farewell show. The girls are going solo and the guys are forming The Luna Band.
On October 14th, that's a Friday, at the Orpheum Theater, Iggy Pop is performing along with Bee Bop Deluxe.
Coming in future The Jam is booked to play the Rat, we heard The Ramones are too but we're not certain and Robert Gordon is booked at The Paradise Theater in October.
Mink DeVille - Gunslinger
Lisa De Michael - I'm Just a Little Rock'n'Roll Machine
Dead Boys Remembrances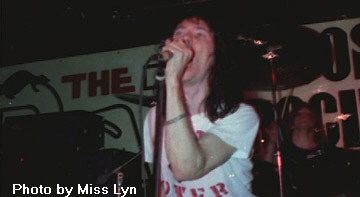 We have gathered together a few memories from some Boston old-school notables.
To start out here some of the memories I have of The Dead Boys:
Miss Lyn When I think of the Dead Boys and knowing them a bit as I did, I think about being young and inexperienced because that's what we all were at that time…we were breaking ground musically, culturally and within our own lives and experiences as well
I remember being excited that the Dead Boys were coming to town, they were the ultimate punks at that point! I absolutely HAD to be at the Rat for their first show! They still had long hair then.
Stiv all skinny, crazed and crawling around on stage, cutting himself up, licking the blood from his knee, head in the bass drum… The big thing was that they didn't have a bass player….Jimmy's guitar playing was strong enough to carry it off too! And I thought Jimmy was just the cutest thing ever then!!!
So they get off stage and I, of course, end up in the dressing room with Jimmy which was exactly what I wanted ….we were sitting up close to each other in some crappy metal chairs…he kept asking me a question and pushing me each time to punctuate the question, each push was harder until I was practically pushed off the chair. I told him to stop but he wouldn't. So on the next push I reached over and grabbed my glass of whiskey, which was on the floor, and when I came up from the push, my arm continued up and over so I poured the full glass on Jimmy's head. His reaction??? Utter shock, mouth hanging open for a second, hand to his wet hair and face….and then "Wow, that was SO cool!" he said….I think I moved up a few notches in his mind from that point on.
After the show, that first night, we all went to a party at an apartment at the foot of Beacon Hill…I think it was the apartment of a blonde woman named Annie. Stiv was with the hostess that evening. And, I happen to know coz Stiv told me later that she went missing during the party and he went looking for her. Well, he opened the bathroom door and found her in there with some other guy and THAT was the inspiration for "Caught with the Meat in Your Mouth".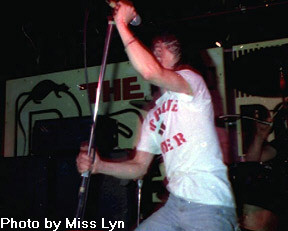 After that Jimmy and I and Stiv remained in contact via phone until their next visit to town…that visit had them in town for a few nights and on their last night we all went to a party at an apartment on Comm Ave…..they must've played with Thundertrain coz all those guys were there….we were listening to the advance tape of their LP Young Loud and Snotty….at some point I realized I was in the living room all by myself! I was supposed to be with Stiv that night and was wondering "Hey where is everyone? Where the hell is Stiv?"
So I started walking around and heard noise from a bedroom down the hall, I opened the door, stepped in and see this girl, all fours tied to the bed posts of a little single bed. All the Dead Boys standing around, lascivious and drooling…I remember seeing some one with a leather watch band trying his best to seem S&M-ish…
I turned to leave post-haste and Cheetah tried to close the door and not let me out…you know, the combo of fear and adrenaline can be pretty strong, so I easily pulled the door open , pushed Cheetah out of the way and got out in the hallway. Stiv came bounding out of the room and I turned to him and said "Hey what's the deal?" and he said "Oh I was with her last night, I hope you don't' mind…hey let's just go to your place now…" so off we went, fine with me.
At my place, Groupie Towers, there was no living room, so we headed straight to the bedroom.. I left for a minute and when I came back I open the door and find Stiv poised, crouching in the middle of the bed holding a switchblade, turning and pointing the knife out to me…."Phhht, yeah right Stiv" …oh yeah we were just SO punk then
The next day the band was leaving town and I drove Stiv to South Station to meet up with the rest of the other guys ….as I went around to the trunk of my Maverick, Cheetah came running over and without a word gave me a kiss on the cheek then ran back to the curb smiling….even later on they always remained sweethearts in my mind…great guys all of them, especially Stiv who will always be dear to my heart…and we were young and new to so much back then…it was an incredible time for all….
but my last story above 'ties' into to a story from........
Frank Rowe of The Classic Ruins so read on my friends:
when Denise and I were living in the Reddy Teddy house, the room next to mine was occupied by one of the Nervous Eaters, (we had three living there at the time,) and they opened for the Dead Boys at the Rat. Naturally, the after-gig party was in the big, run-down old mansion, which always seemed to be the site of some kind of party. The Dead Boys were also crashing for the night , and made themselves at home.
When Denise asked where one of her friends was, a girl who hung out on the scene a lot, the Eater next door said," Oh, she's tied up right now." As Denise walked by the door, it opened suddenly to reveal a leering Stiv standing over the girl, on the bed, who was...tied up.
Mach Bell
Mach Bell and Thundertrain were a great help to The Dead Boys.
Mach has posted his story here http://www.glampunk.org/mbell.html - Click
From Johnny Angel:
First time I saw them, was a Wednesday night at the Rat, maybe 20 people there. They had no bass player and were kinda amatuerish--but did cover Mott's "Death May Be Your Santa Claus". So, they passed.
Second time, was on a weekend night, maybe with Thundertrain. I had been laid up all week with flu and was miserable enough with illness and cabin fever. Bators comes out and says "You know, some of my favorite lampshades are Jews".
I realize that Stiv was hardly in the Mel Gibson range, profile wise and this was, after all, punk rock. One expected outrage and the first dozen or so Thrills songs were loaded with that same kind of misanthropy, so it isn't like I didn't ride the same gravely stupid train myself. But it didn't sit well with me in the least, so after the set, I went up to him and said "You're a funny guy with the lampshade joke--let's go out back, because I'm gonna fuck you up".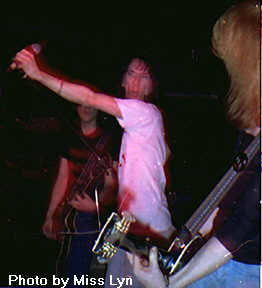 He freaked and stepped away and I was surrounded by Jimmy and Cheetah and Blitz post haste. I expected that I might have to fight my way out of this, but instead, they were very concilliatory and apologetic, which only made me more contemptuous of them, as in "what a bunch of posuers".
After a few more local appearances, I sorta dropped the rage and grew to really like their stuff.
Loved their 1st record. Stiv and I became pretty good friends when I did see him, as he was a literate, witty, clever guy. And not an anti-Semite, what with Hilly, Genya and Seymour essentially bankrolling him.
And I got even with him in 1986. The Blackjacks played with the Lords of the New Church at the Channel and he was jonesing for cocaine in the worst way. So, I set him up with a friend of mine, Charlene and told her to sell him a gram for double what it was worth--and (according to him, I didn't sample it) it was very poor and speedy. Which he liked, anyway.
God rest his soul.
From Bob McKenzie (Pull Chain):
After a Rat gig, the Dead Boys needed a ride out to Mach Bell's house in Holliston where they were staying. Along with our friend, J.D., we all piled into my shitbox and headed down the Jamaica Way. A few beers from the Rat were passed around as was some butyl nitrate "Lockerroom", We reached the traffic circle, and had just started heading up towards the VFW Parkway when, you guessed it, we got pulled over.
Beer bottles were hastily hidden , all windows opened, and everybody tried to look their best...all 7 or 8 of us that were jammed into my 2 door coupe.
Stiv and myself did all the talking, and behaved like the perfect gentlemen that we were. Soon we were on our way, hearts pounding -- more from the Lockerroom than anything else
From Fred Pineau (The Illegals):
Back when I was in Bonjour Aviators we began playing at CBGB in 1975 with Television, Talking Heads, etc., and we were on the bill the first time that the Dead Boys played there. They had no bass player and were really nice guys despite the punker than thou image they gave off.
My memories of their set that night, other than the fact that they kicked ass, are that Stiv kept sticking his head inside the bass drum while the band was playing, and then at one point in the set managed to knock himself out. The rest of the band threw down their guitars, trashed the drums, and left the stage to squeals of feedback. They also left Stiv out cold on the stage floor. After several minutes they finally came back, shut off the amps, and hauled Stiv into the back rooms that served as dressing rooms.
Now THAT is rock & roll!!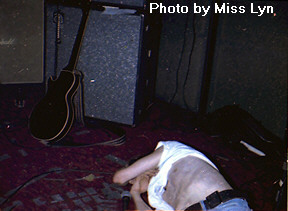 From Danny McCormack (Lyres):
I met Stiv in '87 on a Lyres tour in Europe. We played Paris and Stiv showed up as if out of nowhere. We went to another club where he was performing with a local band. I think Jeff did a song with them, not sure.
Stiv and I jammed on the back stairs of the venue to "It's Cold Outside". We hung out at his apartment in Paris the next day. I found him to be a very genuine fellow. Totally unpretentious.
The next time I heard from Stiv was later that year. New Year's Eve. The Dead Boys were at the Rat. I knew this and even still planned to pooch out and stay home until I got a phone call.
"Danny"
..yes?
"It's Steve"
He invited me to the show. How could I refuse? I hung out and was introduced to the rest of the band. He made me feel at home, like the smelly backstage of the Rat was his living room.
Stiv balanced his great talent with his openness and warm heartedness.
One of the nicest people I ever met. I never saw him again after that night. I still miss him.
From Jesse Meyer (Wild Zero): A Dead Boys show at The Paradise (which may have still been called The Boston Club) back then
was the 1st punk rock show I ever went to. Maybe around '77... Changed my life.
That show had as much to do with forming my ideas about rock's possibilities as any other single event I can think of..