Des Desmond on his new Magic Room
All photos by John Keegan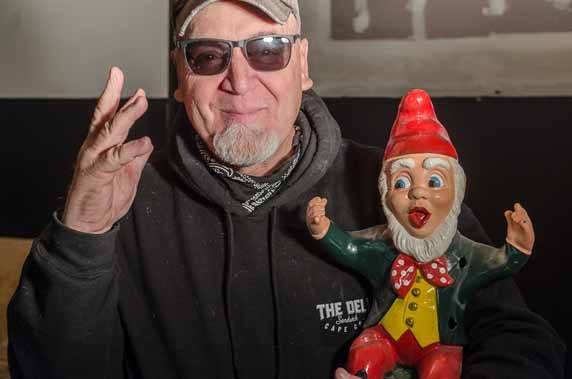 Des Desmond with friend


BGN- The Magic Room in Brighton was such a great place!! The ambiance, the community, bands and events you put on...all so great. That place was dear to the hearts of many of us!! We are thrilled to hear you are back at it with a space in Norwood. It's been several years….What spurred you on to open another club?


Des- First off I would like to thank you for your interest in the new Magic Room! I'm so happy you have fond memories of the old place in the Sound Museum. We all have some great stories about the old performance space. By the way, that space is being used as a place of creativity still! For things like video shoots, private parties, hourly rehearsal rentals, recording etc etc. It's a great sounding room!

BGN- Why way out here in Norwood? It's a long way from Brighton.

Des- We picked the space in Norwood because it has good bones, was cost effective out of the gate, has plenty of parking and we can get a beer and wine license! But we are mostly doing the performance space here because we'll be working with the David Beiber Archives on shows that involve celebrities at times because the space will act as a VIP spot for all kinds of acts as we will be showing a history of the artists' works many of the pieces coming directly from the Archives right next door.

The Magic Room will also be open to local bands and artists ... as always. We'll mix it up with all kinds of shows and art openings!

We're also banking on this being a destination spot, since you will need a car to get here. I have seen that many acts from out of state are in large part bypassing Boston. The parking sucks, the costs are high to run the venues, which reflects on revenues at the end of the night...numerous reasons. The Norwood area already has a big music scene and a big populace. We feel it's very possible to tap this and the people that come will come back again and again as we will be a very interesting spot to take in a show.

On the property there's also a large room that holds 500 peeps! We'll be working with the owner of the Space Center organizing the entire property as one big event as well. We have plans to cross pollinate with other shows that are at the Norwood Space Center.

Oh and you asked about the big red brick wall as you enter the space, Well that will be where we hang works of art for those artists that have showings here. The wall is huge and beautiful and we intend on lighting it properly for art showings! The David Bieber Archives will be using that wall to display things as well. also photographic works will be displayed there as well.

Variety will be the name of the game.

BGN- You're expending a lot of time, sweat and treasure on the new room - what's your motivation?

Des - The reason I'm building another performance spot is simple - I LOVE IT!

BGN- Do you miss the community you had at the other Magic Room in Brighton?

Des- YES! I miss the old place and the fun, meeting new people and having my old friends come out to a show! I miss the old crew that found their way to that original space. What an eclectic group of wonderful weirdos! We all had a blast at the Magic Room! That's one of the reasons I want to build another one.

BGN- In addition to a psychedelic carnival look, I recall the Magic Room had fine, big sound and cool lights.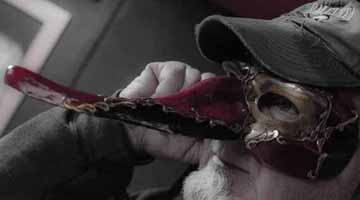 "that weird ambiance I'm known for"


Des- I plan on keeping that weird ambiance that I'm known for! I plan on having a trippy looking venue, an intimate place that feels like a living room but also has that big sound!

BGN- What else can folks expect in the new room?

Des - Lights lights and more lights!! The rectangles in the photos are going to be screens for up to 7 video projectors. We'll have one 10 foot screen on stage for independent film showings and blasting the bands as a light show. The place will light up like a christmas tree if I have my way. Over the top!

BGN- Can you give us some logistics? Like the capacity of the space? The size of the space?

Des- The size of the room is intimate, but over double the size of the old place. The estimated capacity will be between 125 and 150 people. The final tally will depend on how many bathroom fixtures we can get in those areas to code. That will have a lot to do with the numbers. We are ok with the smaller number in any event as we truly want that intimate feeling. The feeling that comes with a living room setting.

The floor space is about 2800 square feet overall. The stage is awesome, at 24 feet long and 22 feet wide, there is plenty of space for most everyone and we have a real nice area for a green room to accommodate just about any act. My long time friend, Drew Townson came in with some great suggestions as we started to build the stage. So the stage was pro-built as I see it. The sound system will be next, Drew and myself are out there looking for the right pieces.

BGN- So Drew is helping you, anyone else?

Des- This will be a family affair as always! My daughter Casey Desmond moved back recently from California to help facilitate and manage the venue, help with booking, organizing and promoting shows. My younger daughter Marylee Desmond as well as my son William the 3rd will all have roles yet to be determined. Katherine Desmond also has many ideas for planning events at the space! We helped each other with the old space so its only natural that we give that family thing a go.

Casey's husband Levon Fox, who is very experienced with lighting, sound stage, movie set installations, will be helping with setting up the lighting in the room.


BGN- Who's doing the booking?

Des- The acts we'll have here will vary quite a bit. Casey's doing some of the booking, and she will lean towards EDM and electronic acts. I'll be booking everything from old school Prog to modern progressive rock to single one-offs. We haven't actually inked anyone in as of yet but we are talking to members of the old Captain Beefheart's band, Brand x, Don Preston of Zappa fame, Adrian Belew, Jerry Marottas band Security Project, are all possibles. I would like to get The Residents as well, but not sure on that as a founding member died recently sadly.

Some of the acts we get will have a hefty ticket price as well; 40 TO 50 bucks! We do feel there is an audience for this. To see a celebrity act in a living room is all the rage, and no wonder why!

The room will have sit down shows and standing room only shows like the old place. The place will be set up as a VIP room, a meet and greet type feel! A place you can see a killer show up close and in your face! But there will be shows with a reasonable ticket price as well. It'll depend as always on who is playing, and their draw is also a factor. The usual things. The space will be available for rental of private showings or parties. We'll make the space available for practices of all kinds, and movie showings. We are open to everything as this is not only a passion, but a business! If we are successful we will be around for some time. If not, well we will go the way of the buffalo.