GG Allin 10 Year Memorial
6/29/03 at the Middle East
All photos by Miss Lyn
GG Allin died 10 years ago June 28th but his spirit still lives on. Brother, Merle Allin is making sure of that with a 10th Year Memorial tour, though the multitude of GG fans will keep his memory going for quite some time as well!!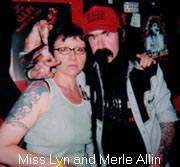 The Jabbers and The Murder Junkies (GG's first and last bands) toured New England for this 10th anniversary memorial. The actual anniversary show, on the 28th, took place in Littleton, NH where GG is buried. The whole police force showed up, as well as about 200 fans. Merle says the powers that be in the town tried to stop the show but it went on...without incident. The police force was pumped because they are continually dealing with GG fans who come to his grave...and desecrate other graves, piss on tombstones, burn flags snatched from other graves and as Merle said "do all the stuff that GG would love." As a matter of fact those powers that be want to exhume GG and move him…hide him even! Anyway…the show must've been awesome if what we saw at The Middle East on Sunday June 30th is any indication!!
The Meat Depressed open...they were Ramones like popish punk, longer songs. It must've been tough for any opening band on this day, in fact there was hardly anyone there 'til about 1:30 since The Jabbers were scheduled to go on at 1:45.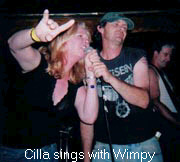 The Jabbers did a really tight set. They say they have not played since the days when GG sang with them but they sounded great!! Rob Basso, Chris Lamy and Alan Chapple, the three way original Jabbers still sound awesome! As soon as The Jabbers opened with Drink, Fight and Fuck the crowd went nuts. Wimpy Rutherford from The Queers, the stand-in front man, did a great job tying off his arm with the mike cord, spitting and spewing and staring menacingly at the crowd. During "Bite It You Scum" he grabbed Elyse Perez (of Cock e.s.p.) by the hair and smushed her face into his crotch...and bite it she did!! Click here to see photo. Cilla McKenzie (wife of ex-Jabbers & Thrills drummer Bob McKenzie got up (on a dare) during Don't Talk To Me and help scream at the crowd during that one. I'm sure GG was looking up at us all and lovin' it!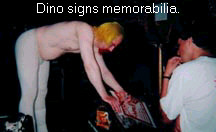 The Murder Junkies had Jeff Clayton from The Antiseen as lead singer for their set. Big bad southern mountain man for sure!! And Merle Allin's bass really helps create the heavy menacing Murder Junkies sound. Merle, always one to make a fashion statement, sported knee length dreads locks from his head and his beard, wore a "GG Allin Scum Fuc" redneck hat, cowboy shirt, below-the-knee cut off jeans and cowboy boots showing off his tatted up legs. Last time I saw Merle was in an Osco store in Allston in maybe 1983 and he had a mohawk, skin tight black patent leather pants and jacket. But this time Merle was definitely outdone by drummer Dino , who says he channels Moe from the Three Stooges and the Lunachicks, wore only a pair of very thin white tights that showed off of every jiggle in his sagging butt and boobs. To top it off he jiggled his dick! Click to see photo. His skin was as white as his tights and the only color on this guy was his hot pink beard and eyebrows and bright yellow hair!!!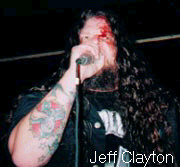 Their set consisted mostly of latter day GG stuff like I Kill Everything I Fuck. GG's spirit started to kick in cause Jeff C smashing himself in the forehead with the mike until he had blood running down his face. A few songs later he attacked one of the guys up front in the audience with the mike but I guess it wasn't enough coz the kid motioned to him for more, to which he happily obliged, until the kid had blood streaming down his face too!! (See picture at bottom of page.) He kicked Elyse Perez off the stage and was howling and screaming. Then Chad Ginsberg, of CKY, came up to sing a couple songs and Dino finished off the set with a 15 minute drum solo after everyone else had left the stage.
All this seems quite tame in comparison to the actual stuff GG did in his latter days. I don't know what happened to GG. For the young kids, like most of the audience at The Middle East this day, GG is limited to what they see in the movie Hated. But there was another GG who was, believe it or not, sweet, polite and did not abuse himself or others. I remember that GG and this memorial of his death makes me sad because I don't know what sent him off the deep end. Some say there was a pre and post-prison GG. Some say it was his divorce, near the end of The Jabbers. Maybe it was drugs and alcohol or the people around him.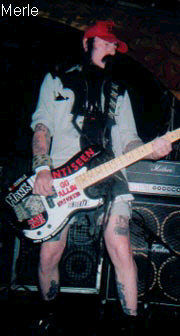 I asked Merle about GG. He says "I think it was a combination of all things. Our parents were divorced, our dad was abusive but GG was definitely our father's favorite son. I mean he named him Jesus Christ when he was born. I don't know what might have happened that he blocked out or never talked about that could be part of it too." But Merle adds that "GG was always picked on as a kid and was very tolerant of it all until he reached a point when he would snap and freak out on anyone in his way.
Before prison he was more abusive to himself. He would get on stage and be so drunk he couldn't stand up. During prison he cleaned up but when he got out he was pissed at the system…and people. '91-'93, that's when he became abusive to everyone else. He was pissed at the boring, commercia, lame music industry…he was pissed at everything and everyone. But contrary to popular belief GG was not a junkie! He was a drunk. That day he died he was drinking all day, did some coke then someone offered him some heroin. That's probably why he died, he never did heroin!"
I noticed that during The Murder Junkies set people kept bringing shots of liquor to Jeff and I realized it was Jim Beam, GG's favorite drink! 'Hey that's not GG!' I thought but as Merle said "The kids bring it up to whoever is singing because GG's spirit is always on stage with us whenever we play!" So the legend of GG Allin will live on in the minds and hearts of his fans and in his music. RIP GG!!- Miss Lyn
Chad Ginsberg of CKY

Boston
Groupie
News

The Bleeding and Happy fan.

Boston
Groupie
News

Merle Allin and Elyse Perry
---
Home | Interviews | Photos | Features |BGN Issue List | Reviews
Links | Contact us
Copyright © 2003 Paul Lovell. All rights reserved.