Interview with Dan "Bootleg" Anklin
March 2023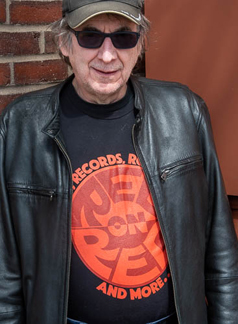 BGN - Your name is starting to come up in conjunction with a lot of local - and beyond - band booking. Before we talk bands let's take a step back and talk about how you got to this. How did you get the Bootleg moniker?
DA- It came from Justine (Covault, Red on Red honcho) at a Cheap Trick show. After having a drink or two Justine declared that I needed a nick name. She came up with Bootleg Dan. That fit me because I've collected bootleg recordings for 40 years. I have thousands of the things. When I meet people, we talk music, and they tell me the bands they like and I burn a "bootleg" for them. They always appreciate it and it became a sort of calling card for me. It was a great way to meet people and talk music.
BGN - What turned you on to Rock?
DA- Mom. It was 1964 and she gave me Meet the Beatles. From there she gave me every Beatles album until I bought my first, the White Album, with my paperboy and lawn money. I went from a transistor radio to a shitty turntable. I hit up Columbia Record Club's 'a penny for 12' deals and I was off to the races. For my teenage years my buddies all played high school football. I ended up hanging out with their older siblings and getting into Hendrix, Family, Doors, Zep, Stones, Who, Moby Grape, Humble Pie, and early Santana - whatever they liked.
And then there were concerts. I saw a few hummers like Slade, Tull, Uriah Heep, Zappa, and Bad Company. I had a thing for English bands.
BGN - Where did the road take you on your way to Boston?
DA- I grew up in the underrated rock town of Syracuse, New York. I left for Columbus and Cleveland after high school. I spent a lot of time at the Agora and other dives digging Bowie, Roxy, Tubes, Devo, ELO, and Mott the Hoople. I left Ohio and returned to Syracuse. Then I discovered how easy it was to fly to NYC.
BGN - What drew you NYC?
DA- My best friend lived there and he was working all the five star restaurants in NYC. He was the powder keg and I was the match. He knew the people, the clubs, the scene and next thing I knew, so did I. We hit all of the classic, late 70's early 80's joints, like CBGB's, Hurrahs, the Peppermint Lounge, Mudd Club, Bonds, and the Ritz. NYC was still the Wild, Wild, West back then. I remember the 14 night run at Bonds when I caught the Clash with Grand Master Flash and later - also at Bonds - the Plasmatics blowing up a car on stage. I caught the Ramones at CBGB's, and vaguely recall going from Joan Jet at the Peppermint Lounge to Kid Creole and the Coconuts on NYE at the Ritz. I left for Boston on NYE and met my future wife at Axis. I've been in Boston ever since. I have to admit that I don't think I would be here to tell this story if it wasn't for the past 35 years of sobriety.
BGN - How did you move from attending shows to booking shows?

DA- I got to Boston in '91. I always saw a shitload of shows. I met my buddy Dean Milite of Black Crow Productions (who now books the Worthen House Attic in Lowell) and Dean hooked me up with The Darlings who I started booking in early 90's. I got a taste for booking back then. Fast forward a quarter century or so and I met Malibu Lou who introduced me to Justine Covault on Rumbar Records. Shortly after, Justine started Red on Red Records. I had recently retired from my IT profession and I was looking for a way to do something with my love of the Boston scene.

Justine had her hands full with running the label. I offered to help do something. We landed on distribution. From there it became clear that the Red on Red stable could use some help with booking outside of Boston. I had the not exactly brand new idea to reach out to regional and, potentially, international bands and clubs to play shows with Red on Red bands. Timing is everything.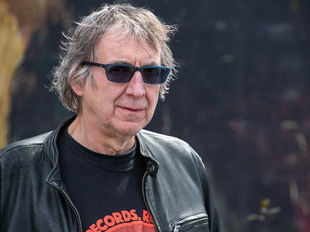 BGN - Who are the local bands and clubs that you are currently working with?
DA- I've been booking the Square Root in Roslindale, the Burren in Somerville, and the Worthen House in Lowell. Heading out of town, I've been working with Geno's in Portland, Electric Haze in Worcester, The Bull Run in Shirley, the Divine Theater in Holyoke and the Parkside Lounge in NYC. The Divine is a new place with a large (500- capacity) room and a smaller (120 capacity) room. I have Robin Lane out there in July and Mach Bell Experience there also in July. I'll have Speedfossil, Kid Gulliver, the Chelsea Curve and the Stigmatics at the Parkside Lounge in NYC with the help of Kipp Elbaum booking shows.
BGN - It sounds like things are heating up. That's for sure! You are not just working with local bands and local clubs. What do you want to accomplish from a regional perspective?
DA- We have a great, vibrant local scene. I'd like to help local bands expand that network. As for regional, I want to help bands get gigs and create relationships outside of the metro Boston area and visa versa. I am getting positive vibes from Rochester, and Troy, NY Erie, PA, and NYC, So we'll see how far it can go. The flipside of that is getting some of the great bands from other cities to spice up local bills.
BGN - We hear you have some out of town and international talent coming to Boston. Who's on deck?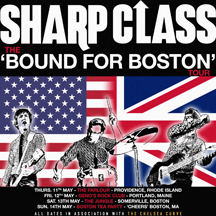 DA- I'm working with Chelsea Curve's man behind the curtain, Calvin Ill, to bring the English mod rockers Sharp Class to town in May. Also from the UK I have the fabulous Len Price 3 coming in for rare US gigs in October. Both bands will do short tours. Sharp Class will be rocking Providence, Portland and Boston. Len Price will be doing Portland, Boston and NYC.
I'm working with Zuzu from Soraia, Red on Red Records, and Wicked Cool Records to bring the ass kicking Diamond Dogs to town sometime in November.
BGN - We sense a growing buzz around town. Bands and audiences want to get out their Covid imposed isolation. How do things feel to you?
DA- I don't have to twist many arms. Bands and clubs in the region want to see more action and opportunities. Boston, Worcester, Lowell, Troy, Providence, Portland, Albany, Erie, and NYC all seem to want in on it. I'm psyched to part of helping pull it together. I've been in love with the Boston scene since I came to town in '91. To play a role in spreading the Boston Rock gospel is a dream come true.
BGN - Anything we didn't ask about that you want to mention.
DA- I want to thank Justine Covault and Red on Red Records for this amazing opportunity!!!!!