JJ's New York Diary
Illustrated by Blowfish
We really liked this NY Diary when JJ sent it. He said he had pictures and we waited. The pictures never came. After remindeing him several times, the pictures still did not show up. So, I have taken it in my own hands to illustrate the text. Having a Bachelor of Science in Geology did not prepare me for the effort. However, I have used all the technology available to me to forcibly bring home the thrust of the story. I hope you like it.
Blowfish - Geologist,Illustrator
Local News from Non-Local Locales...
Lyres Haunt The Downbeat 5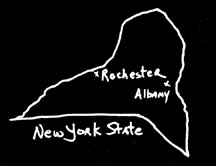 Mid November saw the Downbeat 5 do a quick upstate NY run with dates in Albany and Rochetser. Albany was at Valentine's with a group of record collectors named the Staynz who seemed to be itchin to be from Boston. They knew the music and bands like a Brett Milano book. Picture-Click here.. They were all stoked, as well as stained, to play with us Friday, but only, as it seems, as an appetizer for their Sat gig in Troy NY with the Fleshtones and Danny McCormick's re-debut with Lyres. Meanwhile that Saturday,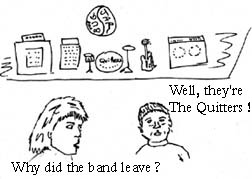 The DB5 pushed west to Rochester for an afternoon stop-by to a great vinyl heaven, the Bop Shop, in a great little indie mall type thing, kinda like the Allston Mall of the 80's, with vintage clothes and book stores etc...one-stop shopping for us. That night we played with a local band the Quitters who were awesome!!! Great 60's R&Bish style, kinda like contemporary bands the Drop Outs, from Texas, or the Come-Ons from Detroit. The club, the Bug Jar, was great and asked us back, and, about a Boston weekend there, maybe with Lyres...is this group haunting us....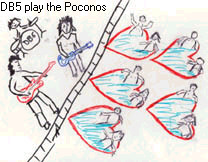 The Next Weekend....
Friday: The Downbeat 5 play tourists in the Poconos on their way to Bethlehem PA for a quickie at the Happy Tap...what a joint that was!!...The promoter had lined up a DJ with a case of records from Boston Bands to spin. This was a tiny bar with Bikes and 4x4's out front....3 bands of which the Lo Fi's were great.
When we hit the stage, shouts of "Lift Up Your Shirt" had nothing to do with any DMZ reference. Sensing that perhaps the leather and bikes were a "different" crowd, I am aimed to please and lifted my shirt....I then figured it they meant they other DB5 guitarist...too late...we were in to the first number. At the end of the night the promoter was quick to show us the venue where he'd promoted a Lyres show 12 year past...and did we know if they were still playing....looking puzzled, I replied, "who?" and quickly, but with no luck, tried to change the subject...which way to the motel...I'll refrain from making any cracks about the Holiday Inn, in Bethlehem, not having any rooms...they did. The Lyres hadn't stayed at this motel, but probably did shop at Play It Again Sam's record shop, the local garage-punk treasure trove we found the next day.

| | | |
| --- | --- | --- |
| | BossGroupNew | |

On to NYC .


Unseasonably beautiful weather brought out all the nuts this Sat night. CBGB's was gettin full early. Taking no chances, the opening act had 'canned' stadium audience response and after every song, a thunderous cheer roared from the PA...whatever helps I guess.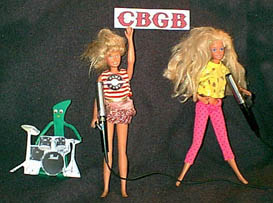 Sylvain Sylvain and Jayne County fronting the She Wolves.
(Please people, work with me.)

Next up, the She Wolves...more Boston connections, they just played the Abbey with Kenne Highland, bassist Laura and drummer Tony lived here at different times. Tony and I recognized each other, but from my days as a Queer, a refreshing change. We all recognized the guest lead guitarist that they brought up, a new 'member' of the band... Sylvain Sylvain....no wonder the place was packed so early..... a great set followed of She Wolves tunes, Syl tunes and a Dolls finale....this brought up dozens of memories for many, but the CBGB's flashbacks were far from over. Sylvain introduced their "guest" vocalist, a viscious vixen still veering on the virle....Jayne County....who lifted her skirt as they stormed into "If You Don't Wanna Fuck Me, Baby, Fuck Off" and a half dozen other lilting yet lustful melodys. And we had to follow that...OK...we were all pie-eyed and slack-jawed....as Syl jumped off the stage he impishly sneered to me, "your turn" ...thanx pal.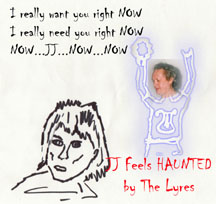 By then the New York contingency of the Hoping To Be, and, the Once Were, Beautiful People were out in droves...Little "Silvio" took the night off from the Bada Bing and made his way to the nearby Lake Side to catch yet another Boston band on the town, Muck and the Mires, who spun the crowd round on it;s heels and after their blistering set, and sent them down to the Bowery, entourage in tow. The Downbeat 5 had their work cut out for them. Lost serious lb's through sweat on that set, but with good results. Gettin off the stage afterwards, a glad-handing Sylvain was thanked for "warming them up for us".
The Coffin Daggers, the host band of the night, were up next and their brand of instrumental madness leveled the place. They do Noir, Sc-Fi themes, early Pink Floyd and Shadows tunes with a full Light Show and Movies playing behind them.....We've had them up here with us a few times and this was proof why they're one of my fave bands....ex-Reagan Youth guitarist, Victor is untouchable. Red Hot...speaking of which, next up was some group called Lyres...I'd been hearing about these guys for weeks now...they looked familiar enough. Finally face-to-face with this band that's been haunting us at every turn. Perfect set to end a perfect night. Afterwards, the reminicsing of everyone and past shows together, shows to come was all put in to perspective when Jeff and I touched on the 2 dogs that used to live at CBGB's.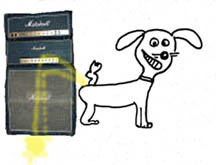 These 2 Afghans used to double as music critics. One day in the last century, we'd brought our gear in to set up early, only to see someone had set theirs up already...huge stacks of Marshalls on stage. One of the 2 dogs watched us coming in while the other dog, not at all sheepishly, lifted high and pissed all over those Marshall's. Being a "Fender" man myself, I always had a little more fondness and respect for those dogs after that.
Back to Boston and Mass Ave as the sun rose.
---
Next time JJ send those pictures.
I accept the responsibility but not the blame for this....Blowfish
---
home | interviews | photos | features |BGN issue list | reviews
links | contact us
Copyright © 2003 Paul Lovell. All rights reserved.