Joanie Lindstrom's Berlin/Krakow Trip
10/2008
For past vacations - Click Here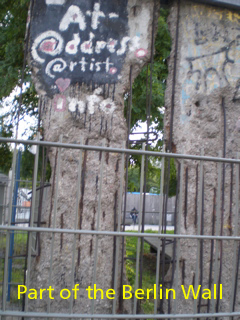 So I finally listened to Blowfish and took lots of photos of my trip so he could post my little travelogue on Boston Groupie News. This was my first real vacation with a digital camera (finally) so I snapped away. I'd hoped for a 20th anniv. trip to Berlin (and a hop over to Vienna) last year with long time travel buddy Dave to celebrate our three trips there (and other cool cities) when Peter Gates was an ex pat in Berlin for 7 years.
Unfortunately, that didn't work out but this summer I saw that the Hellacopters' final tour brought them to Berlin in the fall and knew this was a good time to go. And my new desire to hit cities off the beaten track had me add Krakow to the itinerary. While Krakow isn't that out there, it's not on most people's top destinations.
Except for Bradley Jay's whose enthusiasm was part of what made it high on my list. I asked another travel buddy Andrew what he thought and he was up for it. The airfares were actually reasonable for these days ($789 RT which I'm glad I hopped on cuz it soon went up) and I've got the secret to beating jet lag (email if you want the tips), so other than the crying baby, it was a good flight. We ended up with a free place in Berlin compliments of Peter's old roommate Hans who very kindly picked us up at the airport. He has a huge nice place in a nicer part of Berlin and our only complaint was those damn hand-held showers they like so much over there.
After lunch and a quick walk up to the Brandenburg Gate, we went to chill, regroup and head out to the Hellacopters show. I had emailed the club SO36 way back to find out how a couple Americans could get tickets for this show and started a correspondence with Nanette who worked there and was super helpful. We decided it was easiest just to have her save our tickets and we'd buy them when we got there (20€ which was a little high with the shitty exchange rate). The club was in the Kreuzberg section and was a pretty long subway ride that we made several times during our stay (Hans' neighborhood of Schöneberg was pretty but not much in that area for the rock side of things). Even tho Nanette and I had talked several times, you're always worried when you go to pick up the tickets but they were there. And the show was actually on an earlier schedule than we thought so the Hellacopters were almost ready to go on. That meant no little spots for good viewing, esp. with those extremely tall Germans all around.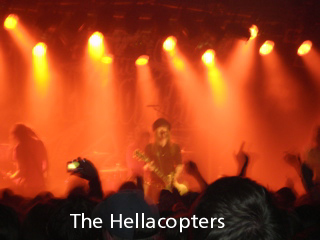 I knew the Dutch were the tallest people and feel like Germany must be up in the top 5. As far as the show itself, it was a little disappointing. They opened with "Hopeless Case of a Kid in Denial" from High Visibility which made me happy, but then it was a bunch of songs that were not their most rocking until a fun cover of "We Will Rock You" and *finally* "Soul Seller" and "Gotta Get Some Action". Maybe we were in the minority cuz the crowd seemed psyched, but it wasn't quite everything I hoped it would be. Of course, getting jostled by a ton of drunk people with no place to escape didn't help either. I did see a lot of Turbojugend guys around and talked to some of the Dresden kids.
And ran into Eric the Backyard Babies' merch guy who was on the road for this tour. I didn't get a t-shirt deal this time tho like he gave me in Boston, another 20€ and it wasn't even a girlie shirt but I had to have the tour shirt since that was half the reason for being there. We then went to a cool bar down the street called Cake where the guy made fun fancy drinks (once he actually paid attention to us).
The next days consisted of lots of walking around (where Andrew had a hard time keeping up), and not eating so much due to timing mostly. We did have some of the best doner kebabs (why are they so much better in Europe?) and a couple good traditional German meals. Unfortunately, the fancy dinner fell apart (and that whole Sun. was a mess but was basically the only day that didn't fall into place). We also hit a couple museums, the big Sun. Mauer Park flea market, the Sat. food market at Winterfeldplatz, some cool bars (Bar, Last Cathedral, looked into Wiener Blut, Wild at Heart and White Trash), and record shopping at Vopo and Cortex. Cortex was one of the few places that took a normal Visa or Mastercard. A pain in the ass. Even when we bought bus tickets to Krakow, no credit card was allowed.
I did manage to get on a couple guest lists across the ocean which is always nice, thanks to Nanette and Mick from the Business for one nite at SO36 and Silke from the Helsinki label Full Steam for Disco Ensemble at Magnet. We also had a fun nite seeing Nanette's boyfriend's band the Not Amused (Nanette knew of WMBR cuz Sara had played the NA on her show before, small world) at Schokoladen with The Bottrops. That was a fun little club, pictures of the band and Urs included.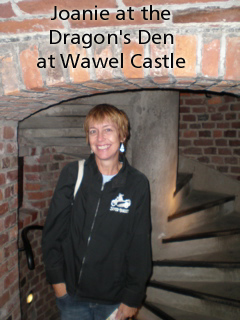 We'd reserved a car to drive to KRK even tho neither of us ever drive sticks (way more $$ to rent an automatic) but we would have to lie about going to Poland cuz there's a surcharge due to lots of theft and bad roads. So we grappled with whether to keep the relatively reasonable rental rate and lie, pay a bunch extra and tell our destination, or take the bus or train. We opted for the bus which is a great deal if you make sure you come back on one of their scheduled days and don't have to buy a one way ticket from another company. Which we ended up eating cuz that was a much longer ride returning at almost midnight and we found a decent train fare in KRK coming back earlier. A lot of woulda/shoulda/coulda to not have bought the bus fare in advance, but since there were only 3 seats left on the way over, we figured we better have a seat back since there was no not flying back to Boston on Sun. (the 5th, a good way to spend my b-day).
Then it wasn't easy for Andrew to find a bank to cash traveler's checks in KRK, you have to go to the big banks in the main square. (ATM cards work fine 95% of the time, except that stupid bus station whose ATM also wouldn't take my card; thanks to Hans for lending 100€ at that point). Once that was out of the way, KRK ended up being great. A wonderful, pretty little city that's easy to get around but with tons of cool stuff. We walked everywhere, our hotel in the Jewish section Kazimierz was super convenient (although the hot water was only lukewarm the first two days due to road construction), and there are so many awesome bars and cafes as seen in my pictures. I must have said a million times "why doesn't Boston have cool stuff like this" (why don't we?).
We also hit a couple more "Boston style" bars like Apartment 14 and Martini (where they really didn't care about martinis). Record stores weren't so plentiful although I did find a good punk comp at the flea market in town and a couple other stores I tried. We took the obligatory trip to Auschwitz which of course packed a punch. The saddest part for me was the fact that people would come off the train and a doctor would decide right away who stayed and who went immediately to be killed. Pretty much all children under 14 went away so a photo of these cute little kids being led to their death was very sad. And the stacks and stacks of shoes and glasses.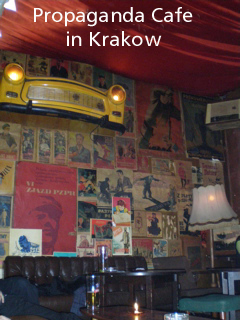 When we came back to Berlin for the last nite, we were in the Charlottenberg section which is more upscale and has the famous fancy dept. store KaDeWe. The place is pretty pricey but I could spend forever in their food section upstairs where besides selling amazing things, they had tons of little bars where you could eat sushi, oysters, traditional German food, etc. Very cool idea that I'm surprised no one in the US has done. Glad that we spent a little time away from Kreuzberg and Prenzlauer Berg, although that's where I'd be hanging out for the most part again. The sections where graffiti is on pretty much every building as opposed to every other building in the nicer parts of town. In general, the amount of graffiti boggled my mind, even on apartment buildings away from any "typical" places you'd expect to find graffiti. Kind of a pain. Berlin is fun and there was so much I didn't get to, but Krakow is more my kind of city.
So that's about it. The weather was great except for one gloomy day and rainy night. The bus ride was actually fine, no bathroom on the bus but 3 pit stops that I prefer (as long as you're not desperate). You do notice the difference in paper products, the crappiest paper towels and toilet paper ever (a memory I have of my first time crossing into East Germany). The food was good and cheap in KRK. All the food I didn't eat in BER got eaten in KRK, I was an eating machine. And I drank more beer in 10 days than I drink in certainly 10 months, maybe even 10 years. But they charge for every glass of water (those of you who know me know my need for water) and beer was a better deal. If you want more details on food, you can find that here: http://chowhound.chow.com/topics/563854 And of course I'm playing the Polish and German stuff every Thurs. morning at 10AM on 88.1 WMBR, wmbr.org (always schilling).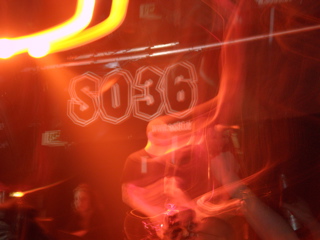 SO36 was the club where we saw The Hellacopters on Thurs.
then the Business on Fri.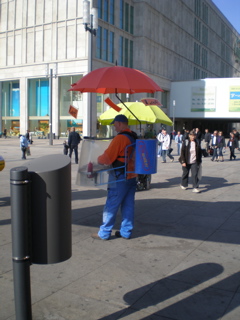 Self-contained sausage guy on Alexanderplatz.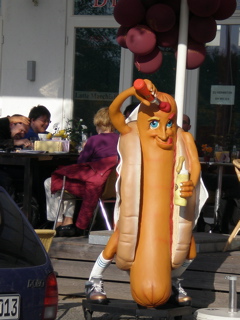 Hot dog guy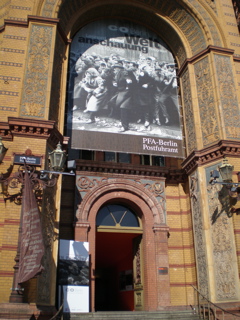 Museum with a great photography exhibit, beautiful on the outside....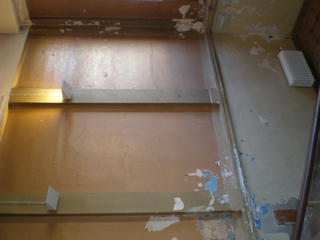 ...not so pretty on the inside.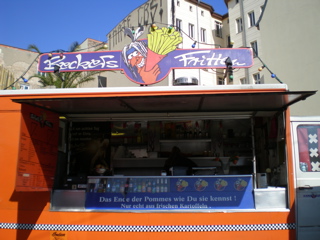 Frites stand called Beckers Fritten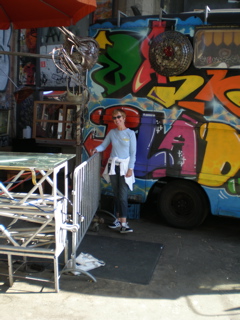 Graffiti (all over the freaking city)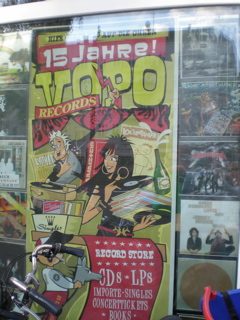 Vopo, cool record store
(as was Cortex records who actually took credit cards)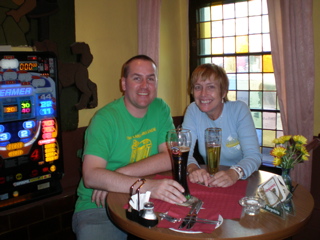 German lunch and me with a beer (!)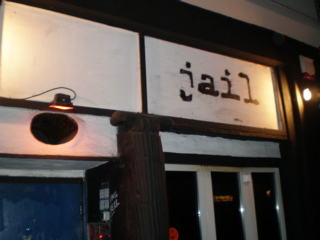 Jail, where you buzz to get in w/ good rock music playing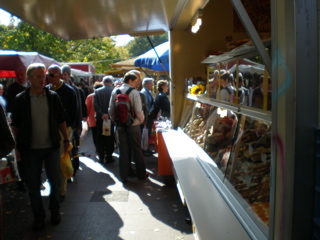 Winterfeldplatz Market
with a ton of great food stands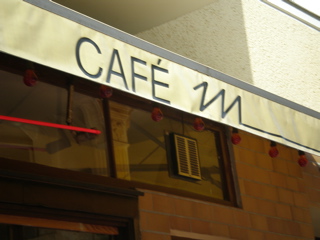 Café M, Peter Gates' old haunt
from his days in Berlin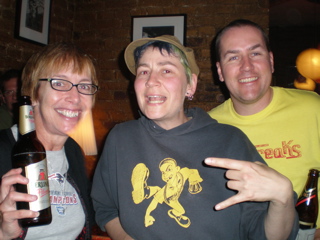 Nanette our helpful person at SO36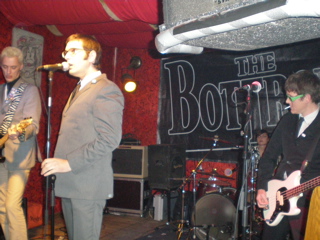 The Not Amused at Schokoladen, w/ Nanette's boyfriend singing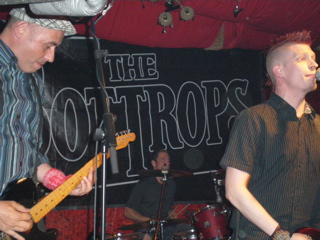 The Bottrops headlined the show at Schokoladen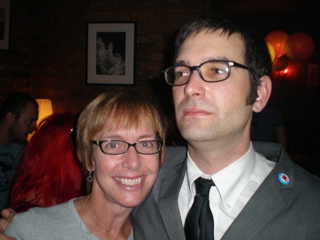 Joanie and Urs.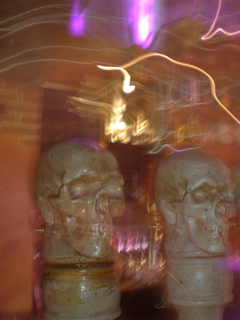 This was the goth bar Last Cathedral, down the street from Schokoladen, next door to cool rock bar White Trash.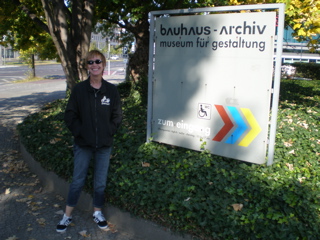 The Bauhaus museum, I'm sure I have this same pic kicking around from my first trip to Berlin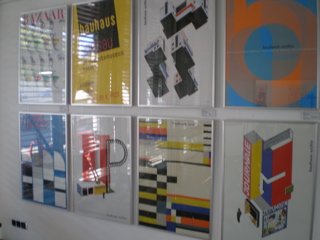 Bauhaus museum posters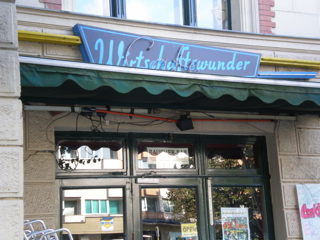 Café Wirtshaftswunder
was my hangout for the first 3 Berlin trips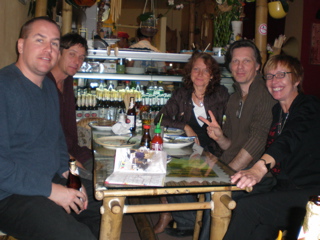 Andrew, former Bostonian Paul , Vanya,Hans and Joanie .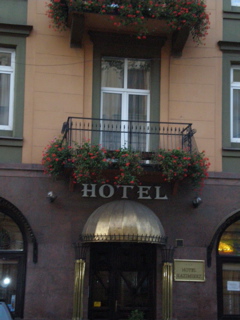 Our little Hotel Kazimierz.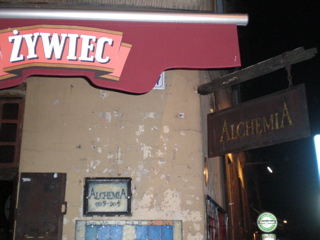 Alchemia in Kazimierz, the old Jewish section of Krakow (a Bradley Jay recommendation); Zywiec is the famous beer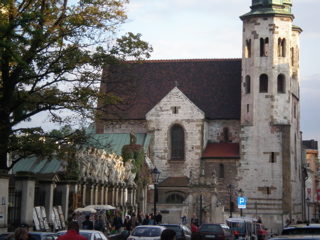 View down Grodska, the main drag.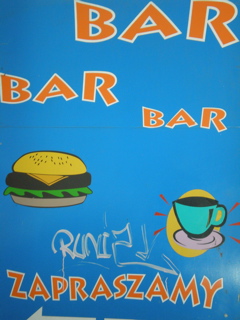 Just a pic for a burger cafe.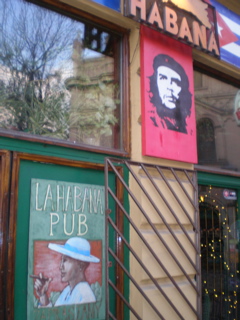 La Habana café in Kazimierz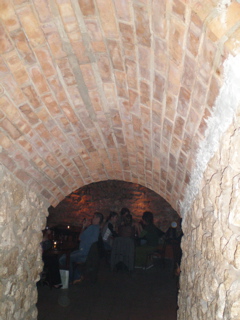 The Lizard King
club in Old Town, swanky rock club.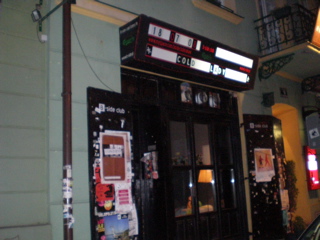 The B Side in Kazimierz.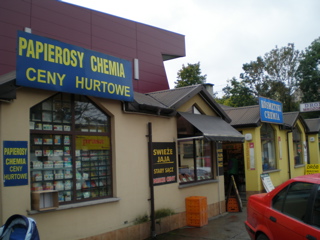 A flea market where I got a good comp of Polish punk rock.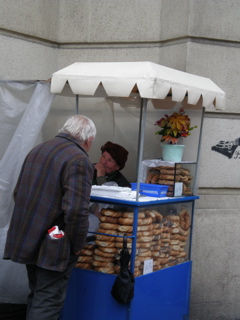 Old Polish lady selling braided bread.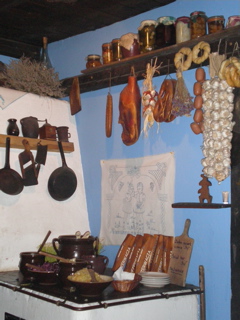 Mmm, sausages (at Chlopskie Jadio).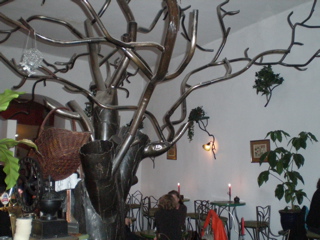 Café Botanica.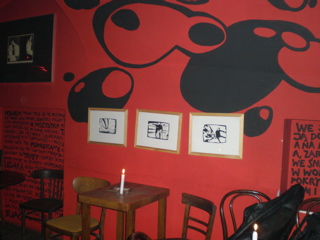 Lokator Cafe.
Two nice guys working at Lokator Cafe.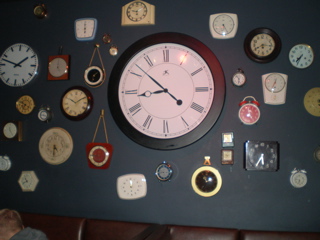 The more upscale Moment Cafe with tons of clocks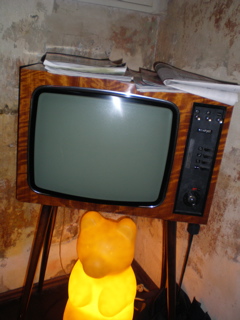 Miejsce Café with the 60's look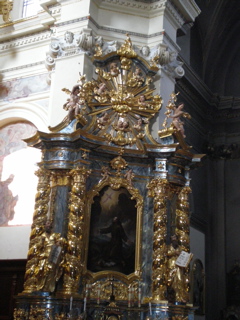 The interiors of the churches were crazy ornate.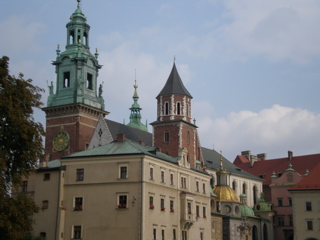 Wawel Castle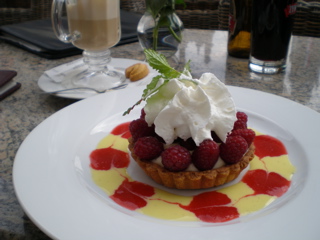 Fancy dessert and latte on the square (supposedly the biggest square in Europe)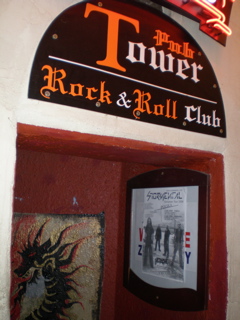 Tower Pub was a cool hangout with metal music.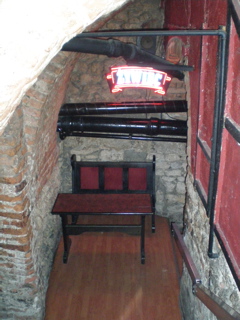 Interior of Tower Pub.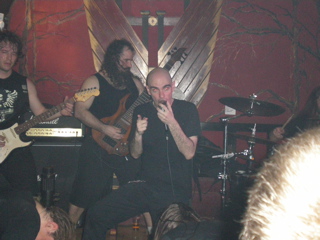 The Brazilian band Stormental at the Tower Pub.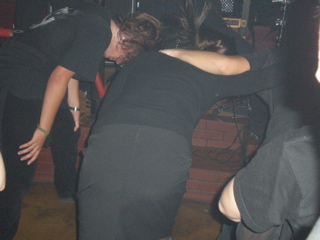 Headbangers enjoying the show.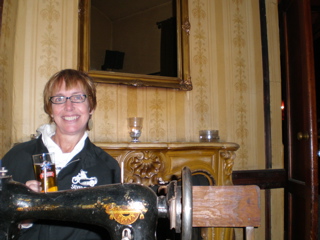 The café Singer had a sewing machine on every table.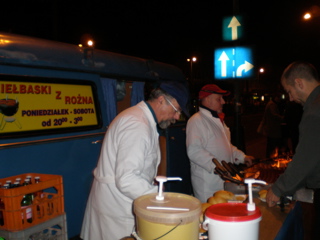 The famous kielbasa guy under the bridge.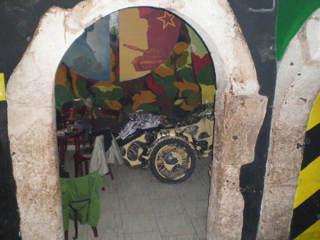 Carpe Diem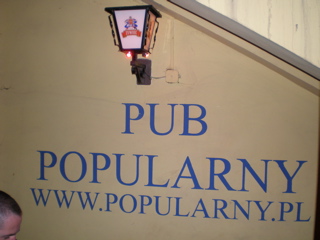 Pub Popularny known for playing death metal then inexplicably, Meatloaf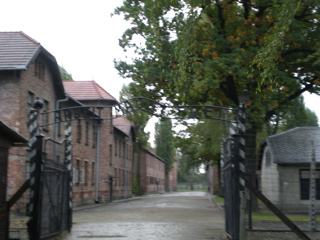 The trip to Auschwitz. was of course sobering.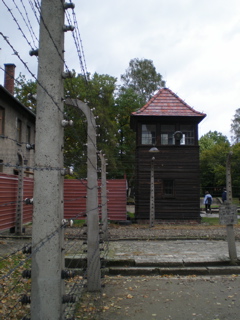 Auschwitz.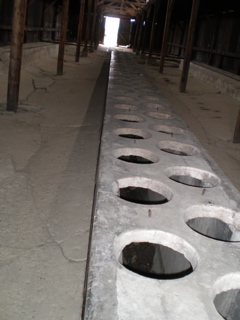 People had 20 seconds to use those "toilets" with no toilet paper.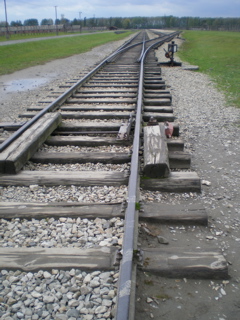 Auschwitz.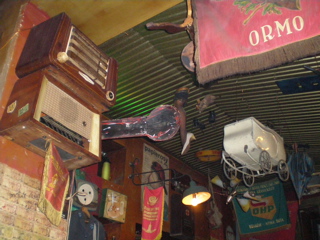 Propaganda with the old car and radio gear on the walls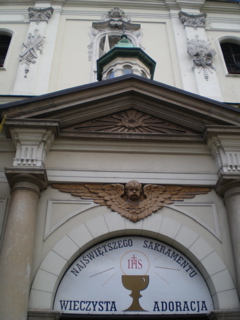 A church exterior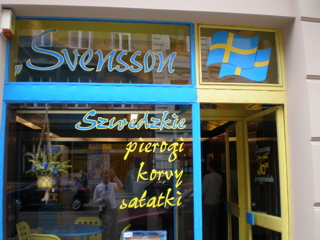 We Swedes will not be denied.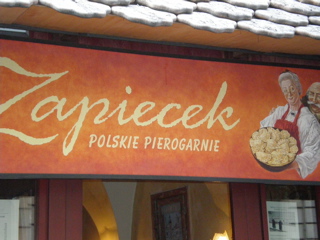 Famous pierogi place, dare I say I like the way I cook up Mrs. T's better?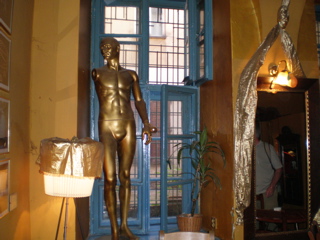 Cute funky Gotebia 3 in the Old Town

.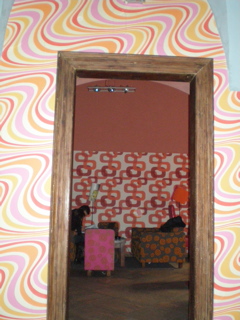 Psychedelic Cztery across the street.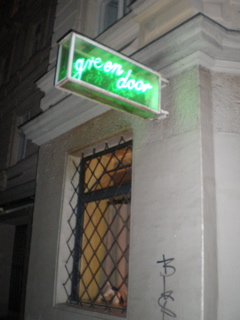 Back for our last nite of the trip in Berlin at the Green Door, another place you buzz to get in. And they take their cocktails seriously.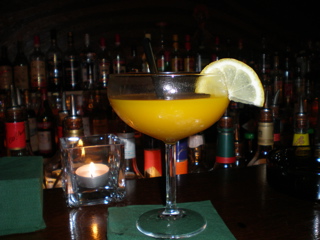 My giant beverage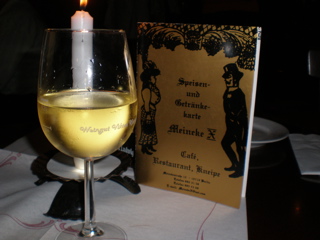 We took Tom Carnali's recommendation for dinner at Meineke X and my only grüner veltliner of the trip.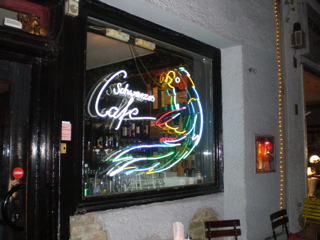 Schwarzes Café with the nice Scottish waiter.
---
home | interviews | photos | features |BGN issue list | reviews
links | contact us
Copyright © 2008 Paul Lovell. All rights reserved.