Joanie's Buenos Aires Vacation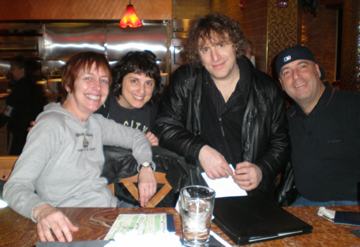 My 2nd trip report for Boston Groupie News, to the southern hemisphere this time and Buenos Aires.
I'd had it in my head I was getting to this city sooner rather than later since I heard it was a great place (the "Paris of the south"), the exchange rate was good and it's not a place that everyone goes to. Tom from Mung said he was up for the trip if Bradley Jay didn't go so that's what happened.
Ran into Muck & the Mires at Logan on their way to London so that was a good start. Got a great fare of $726 w/ one change but maybe I'd go thru Miami next time cuz it's a long ass haul from NY (11 hrs). Things went smoothly (esp. for Tom who had about 14 drinks) and for the first time ever, I had someone waiting with my name on a sign.
The weather was unusually hot for the fall down there which isn't necessarily a good thing for me but can't complain about sunny and no rain too much. I'd arranged an apt. which seems to be the way to go in Bs.As., esp. with a deal like ours (1.5 bathrooms, 1 BR and LR w/ sofabed, balcony, roofdeck w/ pool for $350/week; bytargentina.com/).
Click on thumbnail pictures to bring up
another page of pictures.



First Day in Bs.As.




Club Life




Recoleta Cemetery
and Evita Museum
We immediately started exploring our Palermo neighborhood, the "cool" place to stay. Lots of Italian influence in the city so we started with pizza which was okay but icy cold sodas in glass bottles on a very hot day were awesome. I knew I had to get in a different mindset down there since everything happens late. Somehow I did it, this from the woman who wakes up at 5:30AM every weekday and seldom stays til the end of a show. Our part of Palermo was a little removed from the more "happening" part which we walked to many times during our stay. That's where La Cabrera, a famous place that gets raves for their steak, was. Stopped at the funky Hollywood in Cambodia on the way for a frosty Quilmes, the Budweiser of BsAs. It was a 45 min wait at La C. so we walked around the neighborhood and got a cocktail at a lounge across the street. I have to say, cocktail culture didn't seem so great in my bits of sampling, I gave 2/3 of it to Tom (I think he called it rocket fuel). Then took advantage of the free champagne that LaC offers that to those waiting for a table, nice huh? While waiting, I noticed this guy's awesome Vans and we started talking to Tyler, who now lives in Seattle but had lived in Waltham, so he joined us for dinner. We also had fun talking to our Toronto friends, eating outdoors at midnight, the good life. Tyler came with us to Mundo Bizarro, a cool 50's looking bar then word was you go to Salon Pueyrredon after 2AM on Thurs., so we all headed over there. Music was good but it was a little bit like generic young punk nite out. Got home at 4:30 and was ready to go by 10 or so every morning we were there.
| | |
| --- | --- |
| The Motörhead show | Bond Street |
Fri. nite was the big Motörhead show and my crazy roadie friend Jef, aka sac_religious on myspace, talked to someone who talked to someone who got us VIP passes. Also got my new friends Fernando and Pablo in. Fernando is doing an article on women and punk rock and we'd met via myspace, so since I could swing it, they came with us. Which was a good thing cuz figuring out how to get to that stadium then where the heck to go for the guest list would have been horrible not speaking Spanish. This was an experience, from walking down the dark streets toward the stadium to bottles breaking to police on horses to Hell's Angels arriving to people yelling and storming one doorway. We missed the local openers but got in right before Motörhead went on and just found a spot to stand (not knowing where exactly the VIP passes could take us). As you can see in the pictures, it's a different experience seeing them down there as opposed to the Palladium, about 10 x the crowd for one thing and into it for the whole show, singing that soccer song, just loving every minute of it. After more walking back and forth, we finally realized we could get backstage but had to stand around forever first. Lemmy didn't grace us with his presence, so much for my hope of a "now and then" photo but we did talk to the drummer a bit. And the guys were happy to see a big pail of cold beer provided (of which the kids stole a couple). By the time we left, it was deserted and Tom was scared but we made it back to the main part of town, got some food with the kids and while they were just getting going (2:15 or so), I couldn't bear the thought of going some place else after that long, hot nite. Too bad cuz I never got to Requiem, a semi goth club that sounded good and that was probably the time to go (cuz you don't want to be there earlier than 3AM), but just didn't have it in me.



Sights
Faena Hotel
and San Telmo




More Sights in Bs.As.




La Boca
We did meet up with Fernando and Pablo for my interview on Sat. and I blew it by meeting them at the end of the afternoon rather than before going out, since I was a sweaty mess and the bathroom at the 007 bar of the "punk mall" had a non working sink, so I couldn't even wash my hands or the sheen off my face. That I'm sure made for an even uglier video than normal, me and Soo Catwoman among others, ha ha. I think Fernando was expecting me to have major opinions on how great women in punk are but I told him I just like what I like and until recently, that was seldom woman-oriented music. That nite was my travel agent dinner with Tom where the side of spinach au gratin was the highlight and vodka drinks at the swanky (and Scandinavian) Olsen. Then on to La Bartola to meet Pirulo from Rastrillo Records, his gf Vanessa from the band Los Colmillos and their crew. It was a reggae/ska kind of nite for music (okay for me but Tom's favorite place) and really fun people. Also had dinner at V & P's house our last nite in the Burzaco neighborhood where one of the record store guys asked me "are you taking the SWAT team with you?". It didn't seem that scary but I didn't tell Tom so as to not worry his pretty little head, ha ha. Every Tues. is rock dinner at their house and we had a great time talking about music, showing pictures of the Dwarves to their #1 fan in South America, eating meat (big surprise), etc. Even tho it was after midnight on a Tues., people were selling all sorts of stuff on the street. This city just doesn't like to sleep.
| | | |
| --- | --- | --- |
| Food and Drink | Uruguay | Our New Friends |
Our time in the La Boca section was really fun. A colorful, touristy part of town where you can sit and watch free tango and gaucho dancing. We thought we'd see a proper tango but there was too much to do in too little time so this was good enough. We sat at Cepas de Salta where our friendly Motörhead fan Julio worked then ate some of the best food from a cart on the street. Tom was psyched to see the Boca Juniors football/soccer stadium. We also saw the Recoleta Cemetary which was impressive with their above ground mausoleums and an outdoor market there. Checked out the big San Telmo flea market and the Evita Museum. We walked to the Puerto Madero section to the swanky Faeno Hotel where all the celebs stay. Our champagne mojito cost more than 95% of the meals we ate there but it was nice sitting in luxury and using real toilet paper from their over the top bathroom. Paper products reminded me of East Germany before the wall fell. (One other mark against the city, dogshit all over the place. Keep your eyes open as you walk down there.) We took the hour ferry ride over to Colonia del Sacramento, Uruguay (I've never seen such brown water) but only had an option of coming back too early or too late and since we opted for the former, didn't really do much more than walk around, buy stamps at the post office and eat from another cart. While some parts of it looked cute like Jamestown RI, others looked more third world (and leaving ended up being very 3rd world as we waited for the customs agents to come back to their posts). If you had more time, you could rent scooters, golf carts, etc. and really check it out, get a nice long lunch, etc. And the capitol Montevideo seems like a rocking city.
I hit a couple great record stores, La Lupita and Guitarras, both with very nice employees who were happy to play me all sorts of stuff. One guy at La Lupita was a big Slapshot, 10 Yard Fight, etc. fan so that's where I bought Argentinian straight edge and the owner of Guitarras would have played every record in his store for me. Bought the Ramones of Argentina, Riff, and a smokin early 80's hard rock band from Spain, Baron Roja. I wish we'd seen some local bands but we just missed a couple shows, plus The Boys were opening for the Dolls 3 days after we left. Food was good although I maybe wasn't as impressed as everyone else who goes there. The big things are steak, pizza and gelato. Tom ate steak every single day, I had 3. Gelato *was* very good, we never got to the best pizza places tho. Food details can be found here http://chowhound.chow.com/topics/615016.
I have to thank Claudia from No Fun Records (out of Michigan/Buenos Aires) for her initial help hooking me up with people and the ride to/from the airport. Fernando and Pablo also helped a lot, esp. during the Motörhead show. And meeting up with Pirulo and Vanessa was great, glad to have gotten all the awesome stuff that Rastrillo has put out. Also thanks to Barbi for her suggestions and glad we got lunch the last day. A rocking trip all around.
---
home | interviews | photos | features |BGN issue list | reviews
links | contact us
Copyright © 2009 Paul Lovell. All rights reserved.