Joanie's Bulgaria/Romania Vacation
October 2018
For past vacations - Click Here
So Romania had been on my list for a long time, not really sure why but why not. This wasn't the bargain flight I had to Colombia but once there, prices were pretty good. We had a fairly long plane ride (they're 7 hours ahead) and a very unsatisfactory experience with EuropCar, I can NOT recommend them. Felt like they scammed us with insurance, we had to wait for some paperwork, etc. But now we're finally driving, all the way to the Black Sea and the city of Varna in Bulgaria. If you ever hear me planning more 5 and 6 hour drives, esp. after first landing, slap some sense into me. Andrew was a trooper and the roads weren't bad until the f'n GPS started taking us down back roads and sheep crossings. Ugh, I think it screwed with us. Thankfully the border crossing was easy, even tho I could hardly stand cuz I had to go to the bathroom so bad haha. We made it to Varna around 9PM and the guest house told us to pick up the keys at the Three Lions pub downstairs. Best thing that could have happened cuz Artem the bartender was super nice and we were happy to eat some good food, have a beer, listen to the punk satellite radio and hang out with Bulgaria's #1 Patriots fan. I knew that an Iron Maiden tribute band was playing at the Varna Live Club and even tho all we'd done was travel for 24 hrs, we walked the not quite 2 miles there and enjoyed the band. Would have liked to have hung out more but it was a super long day so back to crash and a decent night sleep (one of very few).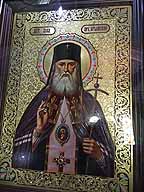 Around Varna
The Citadel Guest House had an excellent location, good sized room and was cheap as dirt but the bathroom (and shower esp) was tiny and you couldn't put toilet paper down their toilets. That happened in Peru but they actually cleaned the room every day, not here ugh. We got walking on Sat. morning starting with nice cappuccino and breakfast at Fratelli then to the very cool Retro Museum in the big mall. There were so many interesting cars, radios, cigarette packages, etc. Does the US have a Retro Museum? We walked through some food stands, got donuts fresh out of the fryolator then made our way down to the sea. Would have been nice to actually swim in the Black Sea but we settled for drinks outside then a nice fish snack at Nemo. That evening I searched for a proper cocktail but the fancy Grand Hotel couldn't quite get the drinks together (nothing like a warm martini) but it was a nice atmosphere. Good Turkish dinner then checked out Arrest Bar but didn't feel like waiting for the band to start so a quick stop at Black Sheep Pub and dessert of Baileys on the rocks.
| | |
| --- | --- |
| Retro Museum & Stone Forest | Varna food and fun |
Sun. we got the banitsa pastry that Stefan recommended on Instagram, delicious. Walked a main drag to the Sea Garden park then drove about 30 min to Stone Park, aka the Stonehenge of Bulgaria. It supposedly has healing powers but made me wonder about the real one and if it's as unexciting. Back to town for food and coffee and walking around, first by the Opera then the Roman Baths which unfortunately were closed. Our last nite we were able to sit outside for a drink then we had an amazing dinner of duck hearts, lamb/pork meatballs with grilled veggies and game sausage pizza at Staria Chinar (mmm meat) followed by chocolate mascarpone cake. Back to Three Lions pub to watch the second half of the Patriots game with Artem (thankfully they won).
| | |
| --- | --- |
| On the road | Moldova |
Mon. we left at 6:45AM for the 6 hr drive to scenic Moldova. The ride wasn't too bad at first, some cute towns, horse driven wagons, packs of dogs in a couple towns. We crossed borders from Bulgaria to Romania then a long checkpoint while crossing into Moldova and the roads took a drastic turn for the worse. It's as if Boston roads were never repaired after five winters of 2015. We found the Karagani Winery (https://www.facebook.com/KaraGani.md/) which wasn't so easy. As we got out of the car trying to figure things out, the owner came to show us the place and asked if I spoke German. I had arranged for a translator to help with the tour but she was late so he and I fumbled in German and I'd relay as much as I could to Andrew. The tour was short and lunch/dinner was waiting for us. We started with lamb rillettes and cheese, the freshest cucumbers and tomatoes I'd ever seen, a lamb soup, delicious burek (cheese pastry), bulgur with lamb, then roast lamb w/ veggie paired with wines, dessert wine for dessert. More lamb than you could shake a stick at, all very good but it felt a little rushed. The Oasis Hotel was in the next town and we conked out for a while but dragged ourselves out in the evening to check out the 05 Pub. Where I came upon my second squat toilet of the day. Umm, no thanks I can hold it (luckily). They were a craft beer kind of place, crazy cheap. We tried to go into town in morning but kids were out heading to school and the horrible roads were getting to us so we just got gas and started the drive to Brasov, never needing to exchange for Moldovian currency.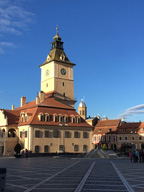 Around Brasov
It was a bad nite of sleep for various reasons, one of which was I was just too full (sad to leave the doggy bag behind) and I didn't know that our route would take us over the 180 degree curvy Transfagarasan Highway. After twisting and turning for a couple hours, it was time to puke then we completed the 6 hour drive arriving in Brasov. I was exhausted and as tempting as sleeping was, we went out to explore the town, get a bit of food and check out House of Music. After a shower and nap we had a wonderful dish at Bella Muzika in their 1360 building then over to Ceaneu for bean soup w/ smoked ham in a bread bowl and a crazy dessert. On Wed. we decided to stay in town and took the cable car up Tâmpa Mountain to check out its beautiful view, then walked down but we ended up on the back side of the mountain quite a ways from town. Two super nice guys walked us to the bus stop and helped buy tickets to head back, where we hung out at Tekafe and a nice couple gave us pointers (most of which were on my list). We walked down the one of the skinniest streets in the world, Strada Sforii (Rope St) then as the weather turned to crap, got lunch at Terroirs Boutique du Vin where besides the obvious wine, they served an excellent burger. (Side note: I've had a self-imposed moratorium on getting burgers outside the US, they're just not as good but this one was excellent.) That evening was the travel agent meal at Belvedere up quite a hill, wasn't sure Andrew would make it. Ended the evening at the very cool Bibliotheque where the bartender making cocktails seriously (had to try a throwback Brandy Alexander).
| | |
| --- | --- |
| Brasov churches, castles etc. | Food and music |
On Thurs. we went to Peles Castle in Sinaia, where it had snowed and made for nice views. Unfortunately, we couldn't have timed it worse to get into castle but after standing in the cold, we had a nice gal leading the tour and it was a pretty place. We should have spent more time in that town but wanted to get back Brasov where we got lunch at a homey place then pastry, coffee and beer at Bistro de l'Arte. The Black Church had already closed so we piddled around til dinner at Festival 39 where they have this 1939 vibe going on. Another place with good drinks and dinner was excellent. We walked a bit to the club to Rockstadt and saw a band called Aamon, one of those metal bands where the girl sings nice and the guy screams. Ugh, but it was a nice club. Quick stop at another interesting bar L'etage then packing for the last leg of the trip.
| | |
| --- | --- |
| Bucharest museums, churches, etc. | Hanging out |
Fri. morning we walked around Brasov looking for coffee and pastry then drove to Bucharest where traffic is kind of crazy. We found the Hilton Garden Inn smack dab in the middle of things and headed out to explore. Wanted to try the very old Caru' cu Bere beer hall but the people working there were dicks so we got snacks at Tip Top Bakery then off to the Parliament building (the second largest building in the world). The art museum next door wasn't open but we checked out sculptures outside then their café. Later we got some charcuterie at Vino Wines, then a stop at the bar Underground which was recommended by friend of a friend Andy. Fri. night was jumping in town, we did lots of walking around then a doner kebab for Andrew and back to the hotel bar where a bunch of drunk Swedes were hanging out. The bartender gave me the drink for free cuz they were so obnoxious.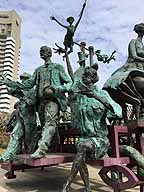 Around Bucharest
Sat. we went to the Natural History Museum then a very long walk to Bob Coffee, an outdoor flea market, lunch at a soup place, and back to the antique mall by our hotel. That evening we went to a cool cocktail place called Fix Me a Drink then met Andy for dinner at a traditional Romanian restaurant called Lacrimi si Sfinti then this bar Control with his friend Alex. It was a good last night which lasted a long time cuz we had to drop the car off by 4AM so I just stayed up the whole time. While I was washing my face I felt some movement, we had just had a 5.7 earthquake, only my second one. We got to airport and dropped off the car, don't get me started on the paperwork for it and the next extra charge we got but overall, it went pretty smoothly and now I know, never rent from EuropCar again (except they're the only ones who let you drive to Moldova).