Gdansk/Malmö/Copenhagen Vacation
November 2019
For past vacations - Click Here
Thurs. was crazy with fundraising at the station (thanks to those of you who donated), working until 3 then off to the airport. It was made crazier when I was informed that Lufthansa was having strikes for two days but thankfully, it didn't affect us. We got to Copenhagen where our Hotel Astoria was two min from the train station which was needed since we were there for just one night before an early flight to Gdansk. All of our hotels allowed early check-in which is always appreciated. We tried to hit the ground running, first stop was a nearby hot dog stand that Andrew tried. Denmark knows their hot dogs. I decided on schwarma with good Turkish bread. While walking, we passed a mural opening serving free wine and cheese, nice surprise. Later we hit our hotel's daily happy hour and got tips from the cool front desk guy. His bar suggestion was too crowded but they told us to try Duck and Cover and how could we not? Super cool people working there. Andrew decided he was too tired to go to a show so we went to John's Hot Dogs for wild boar and pork/cheese sausages (an Anthony Bourdain fave), got a drink at Zeppelin rock bar and called it a night.

Copenhagen
Got on the train at 5AM to fly to Gdansk (in a very removed, bizarre part of the airport). Nice, quick flight then took the bus into the old part of town. Our hotel IBB Hotel Dlugi Targ was awesome, well located and cost about $58/nite. Walked around the old town, had a nice lunch of goose breast and pumpkin ravioli at Bazar, went by the big ferris wheel, down to the street selling amber (the Poles love their amber) then got a great coffee at Drukarnia. Dinner was at Bar Pod Ruba, known for their potato dishes. We split one w/ pork (what else) then hit one of the fancier cocktail bars, Flisak 76, where the nice bartender kind of screwed up the check so we got a free shot. More walking, ended up at MaChiNa for a great cheese/meat plate that cost about $12.

Gdansk
Sunday we actually slept til 9:50 then made our way to the seaside town of Sopot, walked the pier, bought amber earrings, had a great cheap old school buffet lunch of goulash and pork cutlet at Kurort Cafe then got the train back to try to visit the WWII museum. It was too crowded so we went to the Solidarity Museum which had lots of interesting stuff. Got an early drink at at the funky Josef K and after regrouping, it was a great dinner of crayfish pasta and pork knuckle at Kubicki (where the waiter looked like Mike Blank) with a bonus free shot of apple vodka at the end. Dessert was banana cake in the deco looking, possibly mobbed up Cafe Libertas.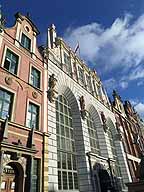 More Gdansk
Monday morning we were picked up for a visit to the Stuffhof Concentration Camp. We had a great guide Michael who lived in Somerville at one time, so he was fun. The tour was a little too rushed, so much to see and take in but since it was raw and cold, I'm not sure how much more we could have handled. Got back for a lunch of pierogi and soup at Pierogarnia u Dzika, climbed the 400+ stairs of St. Mary's Basilica where I ran into Michael again with another tour, more coffee to warm up then later got our fancy dinner at Restauracja Gdanska. Maybe the most ornate place I've ever eaten. Service was formal and sometimes weird, soups were great, entrees okay and dessert was a bust but glad we went. We ended the night at the Red Light pub cool where I asked this guy Danny from Scotland if he wanted to join us. Amusingly he used to be in a metal band called Man Must Die so we had a fun chat.
Tues. we decided to pay for breakfast at the hotel which had a huge assortment of stuff. We finally got into the WWII museum and spent 2.5 hrs there, tons of stuff. I actually found an iced coffee at Marina Café then we were denied at the City Museum cuz of a private function. Even so, Gdansk was our most cultural stop on the trip. That night we began at a more modern restaurant Prologue where we split apps of tempura sardines and potato purée then down the street to one of the oldest restaurants, Gdanske Bowen, for delicious fish and potato salad. We finally found a time to walk right into Pijalnia Wodki I Piwa (always packed) and got vodka shots of ginger and plum. Super nice gal working, like $3 for 4 shots. We went back to Red Light where the last song we heard was Hatebreed .

Even More Gdansk
Another early flight back to Copenhagen (splurged on a taxi) then immediately hopped on the train to Malmö. Interesting side note; as we watched TV in Gdansk, they reported on the murder of a woman and her child for some gang related violence in Malmö. And a murder in Copenhagen somehow associated with it. Little did we know that there's a gang problem in Sweden, esp. outside the three largest cities, and they like to use grenades. WTF, in Sweden? It was enough that they were checking passports on the train which NEVER happens in Scandinavia. Whatever, I obviously made it back safe and sound. We chose the Elite Hotel Esplanade partly because Muck & the Mires had stayed there when it was a Marriott, great hotel, huge room, great location. We walked right over to the Design Center then walked thru Kungsparken to the castle/museum. Grabbed a nice coffee at the museum cafe (they know their coffee over there), finally found an ATM and got lunch at Victors; a great dill shrimp salad but sadly lacking Swedish meatballs. Went to the record store around the corner from our hotel (Skivor I think, cash only) and Folk and Rock on the other side of the square, where Muck have played. Got happy hour (aka "after work" in Sweden) at Plocke e Pinn (yummy snails), and later tried to see a show with K-X-P from Finland just to see a show. Walked the 2+ miles to Plan B and talked to nice guys working there, but it was typical DIY and running late. Since we didn't care about the music, we came back to the center after a stop for a tasty doner kebab. Ended with a drink at Bastard down the street from our hotel.

Malmö
Fortified with the Esplanade's great free breakfast, we hit the Malmö Museum, walked to a coffee place then tried to find Repeat Records but they've closed (with all the vinyl still inside). Got lunch at Moosehead in our square where besides the great elk burger, we talked to fun guys Danny from Glasgow and Roy from Finland going to medical school there. That evening, we walked to Belle for an excellent daiquiri and IPA and ended up with a cheap dinner at Shawarma King, gotta take advantage of the doner and shawarma while in Europe. We ended up at the bar of our hotel's restaurant, Quan, which has really interesting drinks and a great staff.

More Malmö
Fri. I wandered around, first thru the train station, then their big food hall (too soon after bkfst to eat), got a great saffron pastry (at a place that closed a week after we left), did some window shopping, visited the Modern Museum then hit the Disgusting Food Museum. It was pretty fun but not all things were available for tasting (like bull penis and eye of sheep soup). They actually had root beer as a disgusting item to try. I walked down to Rundgang Records who had tons of stuff but there's only so much time I can invest. More coffee, more kebab then another stop at Skivor Recods where the singer of the band playing on their CD player, Problem, came in so we had a nice chat and I got the DJ discount. Ended the night with nice drinks and dinner at Kitchen and Table, a Marcus Samuelsson spot on the top floor of a hotel overlooking Malmö. Stopped by Bullen, one of the oldest places in Malmö then back to hotel bar for a last drink, crazy busy but great bartender.

More Copenhagen
Took the short train ride back to Copenhagen and had another convenient hotel, First Hotel Mayfair. We walked in the crappy weather to a Christmas market where they were making brats which fortified us for the long walk in the rain to the Design Museum. So much cool stuff at that place. Got our least best coffee of the trip and putzed around the shopping streets looking for boots but they wouldn't fit my f'd up ankle. We got a fancy drink at 1656, one of the early craft cocktail places, then got dinner at my brother's recommendation of Olive, great duck confit and venison ribs. Stopped for a drink at the Voodoo Lounge who played great music then checked out Pumphuset who had a death metal show but didn't go in (just don't feel like spending the $$ when you don't care about the music). The last day we walked a long way to a flea market only to find out it's all sneakers so we stopped at the great Emmerys cafe then got aquavit at Galionen in the Nyhavn section of town. You need to check out the awesome Bolten's food court, lots of great choices including the duck burger. I did some more shopping(new boots, yay!) and completely forgot to walk to the hippy/druggy Christiania section of town, damn. That evening was football at this pub Southern Cross where all sorts of ex pats and tourists congregate (Philly, NH, Charlotte, Baltimore). Watched the first half of the Pats there then back to the hotel where it was actually on our TV, so I stayed up all nite watching football since we had to be on the train by 4AM. And that thankfully was the last leg of traveling. Highly recommend all those cities.