Joanie's Vacation - Germany/Austria/Switzerland
October 2022
For past vacations - Click Here
Okay, this is the latest I've ever written up a report but without the immediate/free access to various programs I used to have at work, I felt very lazy about getting going. And sheesh, how many pictures did I take? Let's see if I can get this done so my next major trip, which was just completed, doesn't fall as far behind.
So a few days before flying I didn't feel great, it definitely seemed like a regular cold and cough and I just wasn't going to take a test on the off chance it was an "unflyable" issue. I wore a mask, I sneezed and coughed some throughout the 11 days but was in full on tourist mode the whole time. We left Wed. 9/28, had an easy flight on Aer Lingus via Dublin but then a delay to Frankfurt, without even a free drink. The cutest metalheads were on this flight who I found out were going to some NWOBHM festival with tons of classic bands like Saxon and Tygers of Pan Tang. Got the train to our well located Premier Inn but couldn't check in yet so out we go to schlep around, find an ATM, stop by the street food area for a bratwurst, walk by the big EU sign then to old town, the original Ratskeller, to the Domplatz and climbed the 368 steps to the top of the Frankfurt Cathedral for 3€. A long way up but great views awaited us. Time for Mike to get some food so stopped at Klosterhof for a plate of spaetzle, salad and cold beers. Perfect weather for sitting outside.

Frankfurt
Got back to our nice, modern room which was super clean (oddly no charge stations close to the beds) but had the hardest toilet paper I've experienced in a while (maybe since when East Germany used to exist). Part of the reason we added Frankfurt to the itinerary was cuz Mike saw the Stranglers were playing there. He's trying to squeeze them in as much as possible since he missed the boat first time around. No rest for the wicked so we regrouped to get on the metro to the club, Zoom , kind of a strange spot for a rock show. The Membranes opened and were ok, don't think I ever saw them before. Stranglers were quite good (they consist of JJ, long time guitar/vocalist Baz Warne and two younger kids) and fun but when you're jet lagged and exhausted, there are times you just want to curl up and nap. I rallied, we hung out with a couple from England a bit, grabbed a doner kebab and hit the sack for much needed sleep.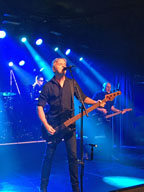 More Frankfurt
Headed out late Fri. morning to grab coffee, go by outdoor and indoor food markets, stopped in the big dept store (always a good bathroom spot), grabbed a couple excellent sandwiches from a bakery and wines from Lena's outdoor stand (for a bargain $13.50) eating outside. Why can we not get $3.50 glasses of good wine over here? Found a real iced coffee (not easy in Europe) then across the river to visit Sick Records, discover a different neighborhood then we got a drink at the Bootshaus where we had great views, bad service and ice cold beers. Regrouped for a nicer dinner at Vinum Weinkeller, a cool downstairs space with tons of wine choices, and a delish meal of schnitzel and veal sausage. Dessert at an Italian place then a stop at The Cave with dancing frat boys and nice staff. We didn't realize how close to the red light district our hotel was but we took that trash-filled sleazy route home and things were bustling. I was happy to see Dr. Mueller's sex shop was still around (spent time in their former Munich airport location on a delayed flight a millon years ago). Sadly it was a night of bad sleep before heading to part 2 of the trip.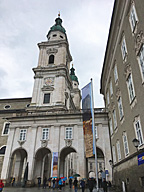 Salzburg
We got good snacks for our train ride to Salzburg on Sat., but it was messed up cuz we didn't know which car to get into and we kept sitting in reserved seats. We were able to find spaces for a while but then we had to stand for like 2 hrs , not fun. We did have the entertainment of girls in dirndl skirts (Oktoberfest time) and looking after someone's baby for 10 min til he cried. Easy walk to our Hotel am Mirabellplatz which was nice and convenient, again bad charge stations and damn those church bells just seemed to go off at all sorts of random times. Mike walked around while I chilled then out we go. First we discover about 10 wine tents in the little park by our hotel where again, we got great glasses of wine for ~$3.50 and hung out with two fun (drunk) guys. Got dumplings and whatever at Andreas Hofer Weinstube, a very traditional lively place w/ a nice server. Checked out Brick bar which started good hearing Wolfmother and they did play my Iron Maiden request, but it devolved with more bros dancing. As we walked back, I realized Brick was the wrong place so we went over to Heavy Rotation bar which was better and good enough to grab a t-shirt.
| | |
| --- | --- |
| Around the churches and museums | Festung Hohensalzburg fortress and miscellaneous |
I felt kinda shitty, those bells were ringing non-stop and it was rainy off and on that day. But we did make it to the monasteries then hit old town. Got another doner, visited Mozartplatz, then the amazing Salzburg Cathedral and Kollegienkirche. Also went to the Residenzgalerie Museum and took the funicular up to the Festung Hohensalzburg fortress. Walked thru the pretty gardens at Mirabell Palace and over to St. Peter's Catacombs. At some point we watched American football, got a drink at Flip in old town, a cool bar but not fully on top of their cocktail game. We had a decent Negroni and old fashioned then walked to Bärenwirt for venison terrine, boar dumplings w/ cabbage, berry cheese strudel and drinks all for reasonable prices.

Outside of Town and out and about
Mon., we took a tour to the Eagle's Nest, Hitler's retreat in the mountains. It's in Berchtesgaden Germany and was actually a beautiful sight, but there wasn't that much to the place, and it was pretty cold and windy up there. We got lunch in the little town of Berchtesgaden and tooled around but it was a German holiday so pretty dead. Back to Salzburg to regroup, dinner at Die Weiss, tried to go to Rockhouse and another bar but they were closed so ended up at the cute 50's looking Times bar. I had one Baileys, Mike stayed for a bit, that was it for Salzburg.

Beautiful Innsbruck
Had to wake up at 7 on Tues. (more shitty sleep) for part 3. Had the usual tough time at the train station figuring out the right track and train car but got to Innsbruck okay and walked thru the beautiful streets to our cute little Hotel Mondschein. You see this hotel in half the tourist photos of Innsbruck. It was a bizarre room more like a ship's cabin with a million doors, a separate toilet area and a tub that took some maneuvering to get in and out of, but it was fine. We got a snack at an outdoor fair then hit two record stores, got a proper iced coffee, walked by the lone strip club (that we saw at least) and by rock club PMK where Greek band Naxatras was playing that night. The show was sold out but I gave them my card and made it sound like I was an important American DJ 😄 so they said we could show up and pay that night. We chilled for a bit, got a drink in our cute hotel bar (but don't expect a lot of cocktail skills), got a dinner of dumplings and a kind of hash plate at Gasthaus Anich then off to the show. It was fun although Naxatras. are definitely more meandering than I usually care to see. Openers Half Gramme were a bit more my thing and we talked to nice kids in the bar area.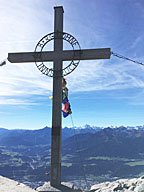 Arouond Town
Finally I slept okay (!) and a good breakfast was included in the price. We took the funicular up to Nordkette for a great view of Innsbruck and surprisingly it wasn't that cold up there. Back around town for random shopping, an iced coffee (def. better iced coffee luck on this trip) and amazing strudel, fighting off the bees. And since it was Oct. 5, I got a combination travel agent/birthday dinner. Things were good all around that evening, starting at M&M Bar where they actually knew how to make drinks, then an amazing, innovative three course dinner at Lichtblick, a modern space with views. Lots of places were closed for a nightcap so back to M&M, nice folks working there. Guess what, I slept like shit, we grabbed breakfast and made snacks and had an easy time finding our seats on the train, yay! If only there weren't a bunch of loud obnoxious Germans and smelly Indians surrounding us.

Around Zurich
It was a pretty (and easy) train ride to Zurich. Our Hotel Limmathof was in a great location and had nice employees (in a strange reception area) but it was the most old fashioned of our places with an old bathroom, a semi broken faucet, cheap lighting, and crazy low beds w/ crap pillows. We had a view but that meant hearing all the street cars and bells etc. Oh, and terrible internet which seemed to be a thing in general in Zurich. Okay, Trip Advisor review over. We got right out and walked to a separate part of town to check out some record stores, then got a cold beer by the river (back to Boston prices in Zurich unfortunately). Regrouped and actually got a burger at this place Holy Cow which was decent (I seldom get burgers in foreign countries, they're just not as good) then to the friendly Kater bar (sadly they've since closed) then tried to go to Gotthard bar but the cops had closed off streets cuz soccer hooligans were causing a commotion, so we got steered into the red light district. Always like to find the red light districts so that worked out well. We then ended the night at a metal place called Ebrietas which was okay but Mike got called the C word by a patron after I left, so not his favorite.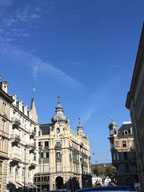 More Zurich
Fri. we hit the Fraumünster and Grossmunster churches, climbing the stairs of the latter then walked along the lake to the very cool Le Corbusier house looking at all the cool mid-century architecture and furniture. Time for wine and a gelato then to 16 Tons and Zero Zero records. That evening we walked pretty far to Rest. Bahnhof Wiedekon which wasn't worth the time. That evening was a visit to BonesKlinic Spelunk, a small bar where you could barely hear the music. Decided to check out Double U on the main drag close to our hotel where they had a classic rock DJ who played okay stuff and took requests.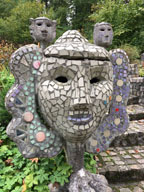 At Bruno Weber Park
Sat. was our trip out to the Bruno Weber Park which was so freaking cool. It was suggested by Rev. Beatman from Voodoo Rhythm Records. Good thing I double checked my notes cuz we almost forgot to go there. It was a bit out of town so we had to figure out the metro and buses which is never that easy (and in those countries, it's easy to ride for free, heck even the bus driver told us to get on for free cuz he was running late). I have a lot of pics of the place but you can find out more info here (https://en.wikipedia. org/wiki/Bruno_Weber_Park). Grabbed our final doner and got back to town in time to visit the Landesmuseum which had a variety of interesting stuff including an exhibit on Anne Franke. We got a drink at the fancy Central Hotel (sheesh, even they couldn't make a proper, cold Cosmo) where the piano man play a little Dave Brubeck which was a bonus. We then split a schnitzel bigger than your head w/ fries at Rheinfelder Bierhalle, a drink at Cabaret Voltaire cuz how could you not and a final stop at Bonnie Prince Pub with good music, a very cool Irish bartender who seemed to know how to make drinks but more importantly, knows that when he hears an American ask for water, you fill it up with lots of ice.
Random Sights
Our last day was a tour to Heidiland in "Heididorf" with a stop in pretty Rapperswil for a lunch break and seeing castles and deer running around. Heidiland was cute but I have no real connection to that story. However, you're in the Alps and there were cows and the grounds had amazing views so that was nice. Then we bused over to Vaduz, the capital of Liechtenstein, figured we might as well hit one more country right? You can pay 3€ to get a passport stamp (which of course isn't needed) but the dude giving them out was an ass. There was a street food fair going on but it closed too early to be able to get food. Stopped in the post office museum (whatever) and not sure it was really the way to spend the last day but it was fine. Got a good dinner of sausages although that bottle of wine was kind of forced on us (we seemed to drink it just fine tho). We got out fairly early on Mon. and had the only delayed flight in the whole Zurich airport but we had a long layover in Dublin so it didn't really matter (and going thru American customs in Dublin is a plus).

Heidiland and Liechtenstein
So there's the October 2022 trip finally finished in April of 2023. Way too many pictures but they had to be taken (and posted).