Joanie's Greek Vacation
Greece has been high on my list of places to visit yet I somehow still had never gone. Instead I'd traveled to a lot of weird ass places like Moldova so I was determined to make the trip and deal with going to Europe during a pandemic. And even though Covid started to spike again and Greece was on the list of where not to go, the friend I thought was on board to come with me decided she couldn't spend the money, the friend living there was gonna be back in Boston while I was visiting, I made a solo trip. One good thing was the airfare went down to $456 (if I had waited 5 more days, it would have gone down another $100) which is an amazing deal to Athens, it always seems to be in the $700+ range. So Lauran/Pickles (who was living in Dubrovnik when we were there 6 or so years ago) wasn't going to be in town but said I could stay at her place. Well, the best laid plans… 30 min before boarding, she texts that she's not flying to Boston (good news) cuz there was a huge flood in her place (bad news). So huge that she wasn't even staying there, so I got on the phone and started researching hotels. I got pretty lucky, all of $136 for 3 nites at the okay Hotel Vienna by the rock part of town. Convenient, clean, but the street noise was pretty bad. Another problem was that the handle of my bag no longer worked, so I had to carry it around. Ugh. Thankfully I had packed a fairly light carry on (charge was $70 for checked luggage!) but it was still a pain. I only paid for seating for the NJ-ATH portion of the flight but lucked out on seating on all other legs of the trip with no one next to me most of the time.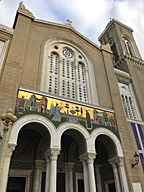 Around Athens
Anyway, on to Athens. I got a ride to the hotel from Lauran's friend's car service, waited out a rainstorm til 2:30 then checked out the city. I was looking for a famous souvlaki place but got twisted around, thankfully coming upon an amazing place by the touristy Monastiraki Square. Such good pita bread, yummy ingredients, and all of 2.50 euros. This is also where the Monastiraki flea market is so I wandered around there a little. Looked at the Acropolis from a distance, both walking and while sipping a drink at the bar 360. Went to Scarecrow Records that a friend of a friend suggested and Darek there was super nice. It's in an area with a bunch of great record stores, one thing that Athens doesn't lack. More wandering and even with the map on my phone, I managed to get twisted all the time, but a Malaysian kid was walking the same way as I headed home and helped guide me. I always like to try the "Bud of Whatever Country", so I stopped at an outdoor café in my neighborhood, Omonia Sq., for a cold Mythos, by a pretty fountain and called it a night. The noisy street didn't bother me that night, cuz jet lag, a long flight, 2 hours sleep, and all the screw ups made me exhausted. I hit the sack and got 10 desperately needed hours.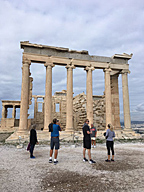 Acropolis
Saturday I walked by the street markets with all the spices, squid, cows' heads, etc. and headed to the Acropolis. Stupid me didn't think it would be so jammed in mid-October so I didn't buy advance tix. Rather than wait forever, I wandered around the outer grounds and that general area, came back to the hotel then to another section of town called Exarcheia. I was looking for Rhythm Records but kind of missed it until guys outside the store commented on my Cock Sparrer bag. The owner was really nice, great store, played some Greek punk for me which I bought when I came back to the city the last day. Took the metro to Pareus, the dock area, visited one gallery but there wasn't much going on. Kind of a warehouse section so maybe it's busier at night. Back to the center to get a glass of wine at By the Glass but I was completely ignored so I went to the rooftop bar at the Central Athens Hotel where very nice people made me a daiquiri which I enjoyed with another view of the Acropolis (and a little side of nuts, practically everywhere in Greece gives you nuts with your drink). That evening was my only real night out when I met Lauran and Kevin (from the Shods) in Exarcheia for drinks then dinner at her favorite place (fried cheese was yummy, wine was cheap). We hung out at Beatnik Road Bar where they played excellent music, but left before he got to my Hellacopters request. Then we went to a metal bar called Rezin with older owners, he went to UMass Amherst and was happy to talk to Boston people. He showed us pictures of him with Children of Bodom, too cute. Even tho I wasn't far away, I somehow got twisted around as usual. Then I get texted by a well-seasoned traveler who knew I was away, 7 hrs ahead. On top of a loud Sat. night, it was next to no sleep.

Street views
Sun. morning I'm out at 8:30AM to get to the Acropolis with the more expensive advance tickets and for some reason the audio that was supposed to be supplied didn't come in time. Whatever, not a fan of that anyway. There was a lot of Islamic prayer going on as I walked thru some back streets. The Acropolis was quite crowded but manageable and pretty impressive. After a couple hours I went to the antique flea market, got a new watch band and talked '86 Celtics with the guy, then had a nice lunch of grilled octopus and great homemade potato chips, plus they gave me a delish orange dessert for free. Had had a tentative plan with Lauran which got nixed so went to this cool place Syd records (and next door is their related bar, Barrett, get it?). Another glass of Greek wine at Vintage, time for more pita w/ a beef lamb kebab for 2.40 at Street then walked by the bar Teddy Boy but it was still too early. Even on a Sun. night, the streets were busy but it was too early for a rock bar. Boston would never look like that on a Sunday night. I wanted to watch some football but didn't know where to go plus the Pats would be on too late so tried another rooftop bar time at Artist. Back at the hotel, a friend texts after I'd slept for 3 hours saying it was a great game (but the Pats lost) then the seasoned traveler texts again at 4AM. WTF? Sleep was not on the agenda this trip.

Paros
I headed to airport early carrying my broken bag, grabbed a choc croissant and an hour or so later, I'm on the island of Paros where a bus to the center runs like once an hour. So I get another cab ride for 20 euro and check into the once grand hotel Pandrossos. I was really torn on where to stay in town and this place had conflicting reviews, but enough good recent ones that I cashed in credit card points and booked it. It was pretty cheap and overall I was happy. It was probably a stunner back in the day but quiet now and a little faded. Their main area is nice and the restaurant is huge but no one was ever there. Location was great, room was fine but you've never seen a lower to the ground bed or a tinier shower. The view however was beautiful. The pool was awesome but god damn, that water was freezing. Granted, mid Oct. wasn't quite as warm as I thought it would be but the ocean was way nicer than the pool for temperature. The previous thought of lounging, reading and lots of swimming was shot down and it was all I could do to jump in even once.

More Paros
I walked into town and it's gyro time again, this time a yummy chicken one from To Souvlaki. Checked out the cute little town of Parikia, grabbed a gelato and picked this bar Mikel for happy hour (a popular thing there). Their cocktails weren't the most innovative but they also weren't doing overly sweet silly ones either. Got a small dinner of fried cheese and a wine a couple doors down at Mira to end day 1. When you're out by yourself, there's only so many places you want to hang on your own, so it was back to the room for a Tom Cruise movie and reading. And wouldn't you know, I get another freaking text in the middle of the night from a work person, thankfully I could go back to sleep. Stomach was kind of screwy on Tuesday, but I walked way far down the beach, by all the cats, checked out the other hotel I'd thought about booking (def. picked the right one), got an iced coffee which is a different animal there, grabbed a snack and headed out to go swim in the Aegean Sea. Hardly anyone was on any beaches, just me and two Dutch folks and an Austrian dude. Freshened up in the tiny shower and was ready to eat a nice full meal but damn, that went to shit. Had seen this place Aeoli and planned on lamb chops but changed my mind for some reason and ended up with the saddest piece of grilled sea bream. Which also took forever. Unsatisfying and skimpy, came with steamed veggies and no carbs or bread, so it was gone in two minutes. Such a bummer except for the glass of wine. I had to head back to my Mikel for chocolate lava cake and a happy hour espresso martini to end on a good note. After watching an episode of Suits and that horrible show Chicago Police, I took a sleeping pill and no texts!!

Food, records, sights
On Wed. I took a Covid test for just 10 euro, results back in 10 min, then checked out the small Archeological Museum. Took a bus to the other main town, Naoussa, and visited the Moraits Winery where it was really too early for a 3 glass tasting but that's how the timing worked. Sat in the sunny courtyard and had the wines with a little plate of cheese, olives and crackers it, was an excellent bargain. Back to the center of Parikia for a pork souvlaki at Exesion. Maybe my least successful but they're still better than anything you'd get here. Coffee at Mad Hatters in the square which sadly wasn't open as late as usual cuz of Covid I assume. Walked down to this place Lobby with a bunch of pool tables but alas, I had no one's ass to kick. Got a nice piece of orange cake for dinner then back to Mikel for my final happy hour, your basic Cosmo. There are some cute places in town but I'd had my fill (so will have to visit cocktail bar Pirate next time). Read, tv, bed, sound familiar?

More Athens
Turns out if you call a taxi in advance, they charge an extra 5 euro to the airport, sigh (I never ever take cabs). The metro wouldn't take my credit card in Athens so I had to use cash, they didn't give me the round trip price, more little things sucking. I thought the Athens Starlight Hotel was going to be my nice place and it certainly was convenient to Monastiraki Sq. and the airport metro stop but my room was way small (but newly done), dark, had one of those showers that's not separated from the rest of the bathroom at all so it gets wet (why do they do that in Europe?), and those brand new marble floors could get really slippery, seemed like a law suit waiting to happen. Then my plans for the night got all screwed up (best left unsaid, I'm already Debby Downer enough). So how did the last day end: more wandering around, going down some different streets, grabbing a gyro at a very old school place, back to Rhythm Records to get my couple LPs and buy a few souvenirs (but where did my postcards go?). Later I got a cocktail at Drunk Sinatra (how could you not), wandered into bar Pulp, got a small not great bite and decided to cut my losses when the original plan shit went down the drain. So I didn't end the vacation the way it had been planned two days previous but such is life. After an okay breakfast at the hotel, I got window seats for free for both legs on the way back, and watched four decent movies (wasn't into book #2) on the long ass flight: Sound of Metal, The Little Things, The Hitman's Wife's Bodyguard and Knives Out.
So yeah, I've had better trips but Athens is cool and I'd go back, probably adding Santorini to the island portion of the trip. I'm also glad I got a trip in without worrying too much about Covid (before Omicron arrived), and of course getting major steps in (164,153/68 miles). And next trip I won't have to grovel for time off, woo hoo.