Joanie's Los Angeles and Palm Springs Vacation
February 2019
For past vacations - Click Here
LA is in my top 3 most visited places and since I always have an excellent time and it had been five years, I headed back and included a side trip to Palm Springs. Even cutting myself after wiping out on a sheet of ice at 5AM and a cold/sore throat that fully kicked in couldn't put a damper on things. Only $236 RT on a cattle call ticket but I got a window seat and found a space for the carry on, so no complaints. Stayed with my usual gracious host Galeb, a former Bostonian who's been gone almost 15 years now. He was kind enough to pick me up at LAX and we shot right down the street to Coni'Seafood for some Mexican ceviche. That was all well and good but donuts are one of my favorite things in LA (or anywhere) and I noticed V's in the strip mall across the street so that was dessert. An Asian mom & pop shop that had my favorite flavor - old fashioned cake donut w/ maple icing, best donut of the trip. Galeb had to do some work so I walked around the Miracle Mile area and strolled outside the La Brea Tarpits and LACMA museums. Then it was happy hour time, yay! Drove downtown 6 miles away (still can't get over the vastness of that city), got sliders and cocktails at the nicer Nick & Stef's then hit the down and dirty La Cita before seeing a show at Five Star Bar where our friend Mike's band The Lower Echelon were playing with Areaman. It was a good show but I'd now been up since 1AM LA time so headed back to get some sleep.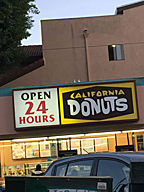 Around LA
Sat. I defied the Missing Persons song and I did walk in LA, a LOT. Three miles to Danny Trejo's donut place (dude was on Sons of Anarchy, the scary looking guy) with a stop at Pink's on the way for a quick hot dog since I hadn't been there in years. That was more of a success than donut #2, okay but no V's. I wandered around Hollywood including a half stroll down Hollywood Blvd by Mann's Chinese Theater but it was Oscar weekend and too crazy. The Hollywood Museum had interesting things including a Batman exhibit (the TV show, not movies). More wandering, half assed stop at Amoeba Records, small burger at In 'n' Out, then some regrouping before heading out for Sat. evening activities. Started with meeting former Bostonian Mark and his GF Sara at Zinc for food and drink then down the street for the Walter Lure show at Resident which I'd bought tickets for in advance. We thought we timed it to miss the first band but I'm glad things ran late cuz The Hots were pretty great if you like catchy, riffy rock and shag haircuts. Former Bostonian Gitter was there to see them and someone came up and asked if I was Joanie. Turns out Paul's a Boston person, friends with Alvin Long and in 1-4-5. Locals Crazy Squeeze were good and Walter was decent even if he looked like Red Skelton (how's that for dating myself). Halfway thru his set (where I found out later that Duff McKagen was there but didn't notice him) we went across the street for a great nightcap at Duello then an amazing late nite taco at the truck down the street from Galeb's. Only $1.40, damn.

Hollywood
Sun. we visited Galeb's neighbors who have a great house with tons of artwork (original Dali anyone?) then Korean bbq which wasn't quite what I had in mind but it was fine. We didn't properly do Griffith Observatory but wandered around some of the cool neighborhoods like Atwater Village where there are still a ton of funky 50's looking dives. Went to the Thirsty Crow in Silverlake cuz Billy Brown, another former Bostonian, was working and it was fun chatting with him and the bartenders. Got some fish tacos down the street and made donut stop #3 at SK Donuts, which I'd been to before but it wasn't as good this time.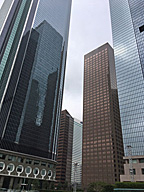 Downtown
Mon. and Tues. was our trip to Palm Springs, with a stop along the way for donut #4 at the Donut Hole in La Puente, a drive thru shaped like a donut. Providing quite decent donuts. We wanted to take the Aerial Tramway on the way into town but it was closed for two months due to washed out roads. Checked into the Caliente Tropics hotel in Palm Springs which was pretty great, esp. for the money. A little dated but it had a beautiful pool, ping pong (yay!), shuffleboard, a real restaurant and a tiki bar. Recommended. Dropped stuff off then went to the main drag to wander around the galleries and shops. Everyone was so friendly, we esp. liked the Michael Weems gallery and snarky owner Michael (he knew he could be like that with Boston people). After regrouping, we went to happy hour at Paul's Bar with another fun snarky host and a waiter who loved my Patriots shirt then off to Pappy & Harriet's in Pioneertown on Michael's recommendation. It was a cool place which I wish we had been to in the day time to get a better look. But it was jumping on a Mon. with people enjoying big plates of bbq and the rotating musical entertainment. I kept saying that Anthony Bourdain must have visited when he did the desert show on Parts Unknown and indeed, I saw later it was his first stop. Definitely worth the 30 min drive into the dark desert. Ended up at the tiki bar of our hotel where Galeb took advantage of the late happy hour.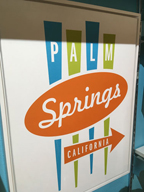 Palm Springs
Tues. morning we did the "Rat Pack" tour of mid-century modern houses. Wish we could have gone inside one of them but was happy to see the outside architecture. Got a late breakfast then visited the Palm Springs Art museum and did more shopping. We hit a good happy hour at Mr. Lyon's down the road from the hotel then later had a drink and apps at the Purple Room, an old supper club with music. We drove to another old school place Melvyn's and had a drink at the bar, not as good as Mr. Lyon's. Wed. morning was a little ping pong before breakfast and back to LA. That evening I met former work friend Becky for dinner at the oldest restaurant in Hollywood, Musso & Frank where the cocktail and bread were great, actual food not so much.

More Palm Spirings
One more day in LA and I start downtown with…donuts, big surprise. Donut #5 at Downtown Donuts in a little arcade had excellent old school donuts with fun flavors and cost the right amount. Went to the Broad Museum which has all sorts of interesting stuff including their special exhibit of Kusama's Infinity Mirror Room which was pretty cool. Wandered thru the fun Grand Central Market and ended up with a pupusa before heading back to the West Hollywood area for a stroll around Melrose Ave. and a stop in Headline Records, tons of punky stuff. I was still far from my destination so took the bus to Gulp for a happy hour drink then met former Bostonian Sandy for dinner at the Apple Pan which had been on my list forever. A hamburger joint established 1947, also known for their pies. Sandy had heard that some punk night was happening at Highland Bowl and I was happy to go back to the Highland Park neighborhood. No punk but the place was super cool and it was a good way to end my time in LA. The next morning we stopped for donut #6 at the infamous Randy's which wasn't worth the long wait, but the sign is still awesome. Even more awesome, a whole row to myself for the ride back to Boston, yay!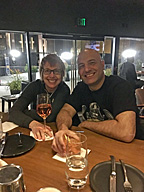 Hanging Out