Joanie's London/Manchester Vacation
February 2017
For past vacations - Click Here
You may remember I rushed to visit London in early 2015 cuz my friend Dana was moving imminently back to the States. But she's still there and I figured I'd go over again while fares were low to stay at her place in the Hammersmith area. Small glitch when her surgery was scheduled for halfway thru my time there, not much she could do about it. Got in early and after a stop at the nice outdoor market on King St. in Hammersmith and dropping off my things, I headed to the V&A museum for the exhibit "You Say You Want a Revolution". It was good, lots of fun 60's stuff but the place was jammed which made viewing a PITA. Grabbed lunch, wandered aruond the Soho record stores Sister Ray, Soul Jazz and Reckless (no 1£ or 2£ bargain singles alas) and after regrouping, we went out for our annual catch up dinner. No jet lag keeping me down! We went to a new place The Distillery that specializes in gin and hit both floors, one more pub like and one doing Spanish food. Got a good nite sleep and spent most of Sat. at Portobello Market as is my tradition. Bought a few things including some records from the guys toward the end of the market. Had a nice chat with them, one of whom contracts work from MIT. That nite I headed to the east to meet former Bostonian Matt who works at the Dirty Water label for food and hanging out with Fonzie from the Portuguese band the Parkinsons and his friend. Good time but a long ride back to Hammersmith, as was often the case this trip.
| | |
| --- | --- |
| Around London 1 | Around London 2 |
Sun. was the usual markets in the Brick Lane area that I've been going to since the 80's (and which have diversified over time). Bought a £1 t-shirt and some equally cheap souvenirs, Petticoat Lane has definitely lost its luster both in crowds and amounts of decent items (bought my first leather jacket there that I still have). Tons of great food to be had at the Upmarket and surrounding area, this year I got a nice mix n match from a Singapore table but my southern whoopie pie guys has left. Then I went to one of the fancy cocktail places that was open earlier in the day, the Cocktail Trading Company, where I had a lovely Bee's Knees with the wonderful owner/bartender Ollie. Dana, David and I went to the Persian restaurant Sufi for a great dinner that evening, then another stop in Shepherd's Bush at the newish Dorset Hotel for a drink. Mon. was mostly rainy so a good day to take David's museum membership card and go around to a few exhibits, the best of which was the Rauschenberg at the Tate Modern. But almost as good was walking into one room and seeing that all the art was by George Condo, who played bass for the Girls back in the day. Now he's in the well-regarded Tate, pretty impressive. Got a late lunch at the Burough Market which was fairly quiet on a Mon. Dana and I hit a couple local spots later, and I was able to answer a trivia question for someone at a pub (how could they not know it was Sid Vicious who took Glen Matlock's place?).

Culture
Tues. was the train to Manchester which I managed to screw up. I'd bought tix for £44 RT in advance, went to the machine to punch in my info rather than talk to a human, and got my tickets or so I thought. When I went to the boarding area, it wouldn't let me through and the guy said I needed two more tickets. I ran back and found a Lon-Man ticket on the ground but nothing else. He said that was fine for now, talk to the Manchester guy when I arrive. That dude made a phone call to see if someone turned in the other part but was basically "sorry luv" and I had to buy another ticket to return. So annoying, esp when the first price he quoted was £82. Ended up with a £54 one way ticket but it was first class so I soaked that for all it was worth. On to Manchester, wanted to see an Industrial city and that seemed like a good one esp. since they have a branch of the Imperial War Museum. It was raining again (not the best weather for this trip), so that was a good place to start, then I hit a happy hour then grilled cheese at Northern Soul (mostly for the name). Got some nicer food later, shopped on Wed. and headed back where I quickly got a drink at the speakeasy bar down the street from Dana at the Brook Green, then back out east for a Dirty Water show at the Shacklewell Arms. The place was jammed for this Danish band Powersolo who weren't my thing but it was good to see Matt and Paul from DW and talk to some nice folks.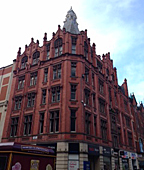 Manchester
Thurs. I went even further east to Wood St market in Walthamstow, talked to a nice guy at Mike's Records, then Matt called saying that in addition to meeting his friend (Mike, another former Bostonian from the band the Cannibals) to talk about his radio station www.trashcanradio.com , I should do a show. So I quickly zipped thru my other plans including tea at Dean Townhouse, then regrouped with my few record purchases and met Matt and Paul to head to Brixton, and pulled more stuff for the show. Some people in Boston actually heard it, it was kind of a clusterF but it was amusing. We got a drink in Brixton then Paul and I rushed to get the tube back. Fri. was a mish mash of a day after going way out to the wrong High Road and random wandering. I visited Dana at Charing Cross Hospital, that place made me think of the Shining with the long hallways and no one walking around. Plus there were 5 other people in her room, yikes. That evening I met an old friend from Berlin, Robert and his husband Hinrich for a yummy dinner then beautiful drinks at Zetter Townhouse.

Shopping and markets
I moved from Dana's condo to the lovely K&K George Hotel in Earl's Court, my old stomping ground. Sheena came down from Cambridge to stay overnight and we set off for the Broadway and Netil markets (in the east of course), hadn't been there yet. Very nice markets, crowded but civilized with lots of food options and good crafts etc. We checked out the interesting Museum of London then walked to the Cocktail Trading Co. cuz Sheena had to experience it and Ollie said he was up for the pisco sour challenge (long story but you really need to be in Peru to get the best). Everyone there is great, highly recommended. We regrouped and went to a cognac pop up happening on Wardour St. then a late dinner at the fancy restaurant Rules, opened in 1798. Sun. we got coffee then Sheena headed one way and I went to Camden both to the big markets (unfortunately I couldn't find my man w/ the duck confit sandwiches) and the awesome All Ages record store. Ended the trip seeing the Masonics and Galileo 7 at the 100 Club w/ Matt and Paul then a gelato on Wardour St. and for the 11th time, said goodbye to London.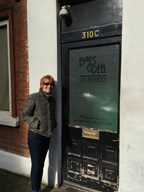 Around London 3