Joanie's Vacation - Madrid/Ganada/Seville
March 2023
For past vacations - Click Here
So we had an easy flight with a 6AM arrival in Madrid, took the subway to the pleasant and well-priced Hostal Silserranos but couldnít check in yet. We refreshed and bundled up (it was freaking cold there the first two days) and started exploring the city. Grabbed nice lattes at Ambu then down to the Plaza de la Armeria and Royal Plaza of Madrid to admire all the great buildings, statues and the Catedral de Santa Maria. First stop for tapas was at Valdemeso where we had a beer and vermouth on tap, cuz it was 5:00 somewhere (noon at that point). Found La Grammola and Killers record stores then walked down the gorgeous main drag, the Gran Via, to Plaza de Cibeles and up to the observation deck of the main building. We then got a snack at the San Anton Market and finally went back to check in and relax until the night time activities. I remembered gin & tonics being a big deal on my previous visit (back in 2010, report on BGN), so we started at the wonderful Macera with their infused gins then walked down to the ďmetalĒ part of town, with a stop at Los Angeles eating a weird eel dish with the locals. Went to the metal complex 13 years ago but it was a Mon. and hardly anything was open. It still has a decent amount of places, we decided to hang out at Sinner then Bastard where Mike played darts with some nice guys.

Day 1
Sat. we actually slept til 10:30(!) then got out to the record stores, my faves Discos Babel and Bangladesh. Got a comp of old Spanish rock then we had some traditional churros and hot chocolate at Valor (since 1881). Thatís a rich, sweet way to start the day, and everyone does a decent cheaper version if thatís your thing. It was a beautiful day so we walked to Retiro Park and took in the pond and statues and sat outdoors for a drink (of course). Walked around and came upon one of those restaurants with beautiful hams hanging in the window and decided this was the time to make a full meal of Jamon Iberico. Verso y Veta definitely delivered the goods. Hit an outdoor crafts market in our neighborhood where I bought Dali-esque gloves then we regrouped for the Stranglers show. We started with a drink at the lovely 1862 Dry Bar then trekked to Shoko for the show. It was pretty crowded and not as good as the Frankfurt show. We got out kind of late and ended up at some very local place for food that was filling but not the best.
| | |
| --- | --- |
| Night 1/Day 2 | Night 2/Day 3 |
Had to hit the big El Rastro flea market on Sun. Unfortunately, there werenít boxes and boxes of Sweet singles for 1Ä but theyíve got pretty much everything there. Itís a great place to wander around but the weather wasnít the best that day. We got a couple things then went to the Reina Sofia museum for some Dali and other cool exhibits. This museum isnít as well known as the Prado or Thyssen but worth a visit. We found the fancy Galeria Canalejas food hall where we had a nice anchovy bruschetta for lunch and I got a beverage at the Spritzeria while Mike stuck with beer. We tried to go to this highly recommended tapas place for dinner, Casa Toni, but it was jammed so we ate across the street at Taberna Alhambra and had a nice meal in a much more pleasant atmosphere. Then we stumbled upon the most beautiful place, Restaurante La Catedrale, which was absolutely gorgeous inside. We had a vermouth on tap and talked to some nice Brits who also came in cuz it was so enticing. Headed back toward our hotel where Harveyís bar was, a place on my (long) list that looked super cool with a 50ís Rat Pack vibe, so thatís how we ended the nite. Sitting at the bar with the awesome Victor who made tasty, innovative cocktails (and he let me have a taste of the orange espresso martini I didnít order, delicious). Eduardo the owner was great too, he let us sample some sherries when I said I wasnít too schooled on them. Highly recommend that place, especially when itís not too busy.

Night 3/
architecture
We took an early train to Granada, again too early to check into the Hotel Ingles. Whose lobby smelled like excessive cleaning fluid, not my favorite smell but a good, well priced and well located hotel with a view of the Alhambra out our window. We walked to a cafe where we got fresh OJ (the oranges are EVERYwhere in Granada and Seville) and Mike got crepes. Walked around cute Granada and its annoying cobblestones, stopped by Discos Bora Bora where I got a t-shirt but when we went back to actually look at records, they were in the middle of siesta time. Something I still canít get used to. Saw beautiful buildings, fountains, walkways, til we came back to regroup. We started with a Moroccan dinner in a gorgeous place but the service and food left a lot to be desired. Not the case for flamenco at Abore where we bought tix in advance that included a drink. It was a pleasant Monday night on the town with the bonus of meeting our new friends Gio and Lucas. Hung out with them for a while and agreed to meet them the next night.

Granada
Tues. was a busy day starting with walking up to the Alhambra for our 10AM tour of the palace (which we almost blew being on the wrong side of the building). We also checked out the Sacromonte caves area, got a nice outdoor lunch/beer (I drink way more beer in these countries than ever but theyíre icy cold all the time), then walked some more, ending up at the Inquisition Museum which had some really interesting stuff. Nothing like getting hung upside down and sawed in half. Gio and Lucas arenít rock people but they sounded interested in seeing the Fleshtones so we first met for dinner (delicious, unusual croquettes) then over to Planta Baja where Jorge from FOLC was kind enough to put me on the guest list. The Fleshtones were at their Fleshtone best and Gio and Lucas loved them. (Mike even said they were better than the Stranglers!) I told Peter Zaremba that Evan from Muck said hello and he was in fine form that nite. After the rush of dinner and the rock show, I just wanted to sit down in an adult bar and have a quiet drink to end the night and thought Memento Mori might serve the purpose. Had it on my list and since we stumbled upon it we went in, but it was definitely sensory overload, esp. the crazy drink I got. Check out the pics.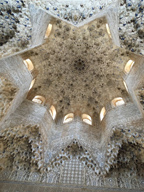 Alhambra,
and more Granada
Wed. we took the local bus to the station then a coach bus to Seville. Walked a good mile or so to our gorgeous hotel Las Casas de la Juderia. I wanted one hotel on this trip that had that Moorish feel to it and this definitely fit the bill and it was only about $129 per night (in March at least). It had a beautiful cocktail lounge and even offered mimosas in the breakfast room. Mikeís friend Sabina from Westwood High School lives there now so she met us in the lobby and we walked around town and got some lunch. Her husband Blake met us then over to the touristy Setas de Sevilla for photos (the Mushroom of Seville), then the best gelato ever at Bolas. That nite Mike and I wandered to the busy Alameda de Hercules area for food outdoors and a nightcap at Gigante Bar.

Arrive in Seville
Thurs. wasnít so nice out but no rest for the wicked. We checked out Alcazar Palace but at this point, I was getting a little palaced-out. Still some pretty things in there. What did get me back in tourist mode was visiting the Seville Cathedral, the largest gothic structure in the world. Every time you turned a corner, something beautiful was staring you in the face. Also climbing up to the belltower and looking at the view. Took a break and off to another touristy site, the Plaza de EspaŮa, also gorgeous. Definitely fulfilled our tourist duties that day. The evening though was very exciting cuz it was travel agent dinner time. First we had drinks with a nice view of the cathedral then to the gorgeous Restaurante San Fernando in the old Hotel Alfonso where the meal was absolutely perfect. And not insanely priced. Over to another bar with a view of the cathedral where we met our young Dave Barton look alike and called it a night.

The Cathedral and more
The last day in town we hit a couple record stores, got proper iced coffee, hit one of the food markets and ate more of that famous ham, walked by the bull ring, saw some graffiti, had a nice drink overlooking the river, hung at Sabinaís apartment for a while then ate at a random, mediocre place later on. Then it was time for bars, first the famous Bar Garlocchi which is a trip with their religious motif and their icky ďBlood of ChristĒ cocktail (so freaking sweet). I enjoyed Urbano Comix much more, where we heard some good rocking Spanish tunes.

Alcazar, Plaza de Espana, bars
We took the train back to Madrid for one more day before our return flight but somewhere along the line, Mike lost his phone which understandably caused a meltdown. We checked into the Hotel Sterling which was fine , Mike went thru his things one more time searching for the phone then headed back to the train station to see if someone found it and deal with their rigamarole, to no avail. I wandered around and hit the famous sherry bar La Venencia where Hemingway drank. I followed their rule of no inside photos. Piddled around town then met Mike for a late lunch where he could chill and get back to normal. Which happened surprisingly quickly all things considered. So we had one night left and made the most of it starting at Harveyís and our boys at the bar but it being Sat., it was a lot busier than the Sun a week before so not quite the same vibe. Then lots of wandering around checking out La Reina Lagarta which had a very interesting, red almost whorehouse look then over to the more regular La Vaca Austera then ended at a bar that was filled with kids, one of whom I gave most of my drink to cuz I was sick of alcohol. It was nice not to have to rush out early to catch our plane so we grabbed a treat from Granier bakery down the street and back we came, another successful trip.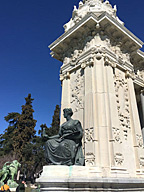 Back to Madrid
---