Joanie's Maine 2012 Vacation
April 2012
For past vacations - Click Here
Figured Iıd report on an easy trip that anyone can take since not everyone can afford the time or money for flying to Europe or wherever. I love coastal Maine (and New Hampshire) and had a great time in Camden, Bar Harbor and Portsmouth with stops in between. Left after radio and drove directly to Scarborough for a clam plate at Ken's Place. Theyıre known for having both regular batter and a tempura style, I'll stick with the original every time. Got into Camden in time for happy hour at 40 Paper which had been suggested on chowhound (report here: http://chowhound.chow.com/topics/859202). The guy took great care in making the cilantro margarita, good choices of beer, mussels weren't thrilling but it was all $5 so no complaints. I'd always wanted to stay in one of those little cabins you see in Maine on the side of Rt. 1 and finally did it in Camden, just outside of downtown. The cabin was actually bigger than I expected on pretty grounds right by the ocean. Went back into town later and had a not so great dinner but hung out at Cuzzy's which was filled with townies doing karaoke, a fun place. After homemade muffins and popovers at our inn in the morning, we zipped back into town quickly then after driving a while, hit an off the beaten path place Bagaduce Lunch in Nowheresville ME. It was a cool place on the water by reversing falls but not sure it was worth the somewhat major detour.
Click on thumbnail pictures to bring up another page of pictures.

| | |
| --- | --- |
| Drive up and back along Rt. 1 | Camden and the ride up |
Got into Bar Harbor mid afternoon, checked into our nice hotel at the edge of downtown where the desk clerk gave us a pass to Acadia that was good for two more days, We putzed around the very cute touristy town and took advantage of another happy hour. We made sure to get to the Thirsty Whale early enough because we missed out on the trip to Eastern Canada two years ago due to their early serving times. Got some suggestions from the bartender about who had a pool table so ended up down the street at the Mad Hatter with their interesting bartender (thatıs the nice way of putting it) and three other customers, so we had the pool table to ourselves (victorious yet again) and loaded the computer jukebox with lots of metal.
| | |
| --- | --- |
| Bar Harbor nature | Acadia and downtown Bar Harbor |
Saturday was a busy day with an early start at Acadia walking the "moderately" difficult trail around Jordan Pond. It was super easy until the last third maybe when some rocks showed up and you had to walk on planks. It was a nice 3+ miles and would have been more interesting had we gone left instead of right and run into Martha Stewart and her security guard doing the same trail. It's funny cuz the people who told us they passed Martha popped up again later at two different spots in town. In any case, we did the outdoor thing, checked out Cadillac Mountain then ate at the famous Jordan Pond Restaurant for a nice lunch with more popovers. Later in the afternoon, we went on a nature cruise for a couple hours. Some pretty sights with the bonus of a seeing a bald eagle and some seals hanging out. A grapefruit martini was in order after being out on the boat but after regrouping, the weather didn't really cooperate nor did our quest for a lobster dinner. Ended up with decent food with another "interesting" bartender and called it an early nite.

Portsmouth
Sun. we drove back thru Camden, partly so Andrew could buy the awesome Cuzzy's t-shirt then to the famous Moody's Diner on Rt. 1 in Waldoboro, more good t-shirts. Got into Portsmouth a little later than I'd like but took a quick walk around town and talked to the guys at Skele-tone, they sell clothes and records. I saw the ownerıs band open for Peter & the Test Tube Babies in April. We checked into the Port Inn Hotel on the edge of town. Most people wouldn't walk into town from there but I have no problem with it, takes like 20 min. Went to a new tapas place called Moxy whose bartender used to work in Boston, he was another guy who really cares about making a good drink. Then back to the Black Trumpet which is great, in a very historic building by the water, then a stop at the Coat of Arms where it was trivia nite. Back downtown in the morning to Bulldog Records, got some stuff at the cafes and walked around this super cute town, played mini golf in Hampton (alas, I was finally defeated), a stop at Nana Mal's dogs (desperately needed non seafood at this point) then over to the Clam Box in Ipswich where even on a Monday there was a line. A super nice summer vacation.
Wells/Ogunquit weekend in August
Wanted to do one more summer time trip and since I waited too long to reserve hotels at a couple spots south of Boston, took the short drive north to Wells/Ogunquit for two nites. Drove up Rt. 1 and back along much of 1A so lots of scenic stuff including numerous clam shacks, bbq huts and such. Stayed at the old fashioned Wells Moody hotel which was fine at a mere $79 per nite and just a 25 min walk from Main St. in Ogunquit, the always super busy area. Stuck my feet in the cold Atlantic for the first time in 2 years (that's just wrong) and did lots of walking and swimming and eating of seafood. Even ran into two of the guys in Burning Streets. This is an even cheaper vacation than the Bar Harbor one if you need a quick getaway and prices in September will drop, so take a road trip.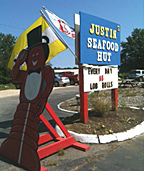 Weekend addition
---
home | interviews | photos | features |BGN issue list | reviews
links | contact us
Copyright © 2012 Paul Lovell. All rights reserved.